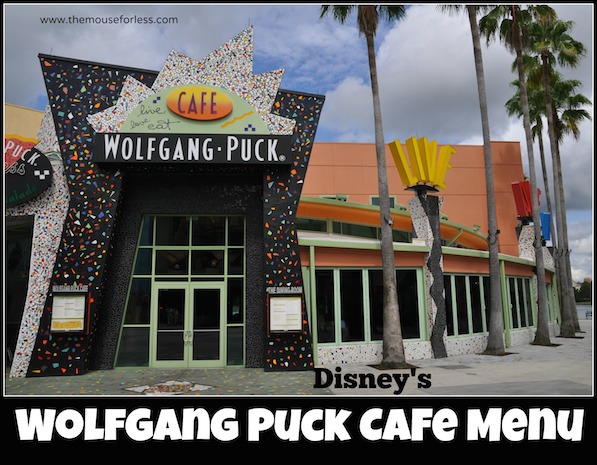 Taste a bit of celebrity by dining at this fabulous restaurant. Wolfgang Puck Grand Cafe is a unique fusion of Asian and Californian cuisine.
Restaurant Info: American, Steakhouse, Sushi; A la carte, $$ – $15 to $34.99 per adult
Find out how you can save money on dining at Walt Disney World by using one of Disney's Dining Plans.
This location closed on August 1, 2017 to make way for a new restaurant called Jaleo, a concept by Chef José Andrés, which will open in 2018. A new Wolfgang Puck dining location called Wolfgang Puck Bar & Grill in now open. 
Wolfgang Puck Grand Cafe Lunch/Dinner Menu
Menu Date: 09/2017
Soups
Butternut Squash Soup – cardamom cream, chives – Cup – $7.00 |Bowl – $9.00
Chicken Noodle Soup – carrots, celery, chives – Cup – $6.00 |Bowl – $8.00
Seasonal Selection – – Cup – $7.00 |Bowl – $9.00
Appetizers
Bruschetta – herbed ricotta, marinated tomatoes, pesto, arugula – $12.00
Crispy Calamari – gremolata aïoli, spicy marinara – $13.00
Crab Cakes – remoulade, marinated tomatoes – $16.00
Garlic & White Bean Hummus – house-made crostini, olive oil – $11.00
Chicken Meatballs – herbed ricotta, tomatoes, basil – $12.00
White Corn Nachos – ground beef, nacho cheese, pico de gallo, jalapenos – $14.00
Salads
Caesar – romaine, marinated tomatoes, crostini, parmesan – $12.00
Chopped Salad – escarole, quinoa, chick peas, cucumbers, radishes, carrots, heirloom tomatoes, pepperoncini, feta, croutons, house dressing – $14.00
Baby Iceberg – cherry tomatoes, bacon, red onions, blue cheese – $14.00
Baby Kale and Quinoa – golden raisins, apples, fennel, marinated tomatoes, chili flakes, parmesan, lemon vinaigrette – $13.00
Chinois Chicken Salad – cabbage, romaine, baby greens, pickled ginger, cashews, crispy wontons, ginger-sesame vinaigrette – $16.00
Pastas
Spaghetti – tomatoes, torn basil, garlic – $17.00
Spaghetti with Chicken Meatballs – tomatoes, torn basil, garlic, parmesan – $20.00
Rigatoni Bolognese – broccolini, herbed ricotta, basil – $20.00
Orechiette – italian sausage, cherry tomatoes, broccolini, chili – $20.00
Chicken Alfredo – rigatoni, mushrooms, baby peas, goat cheese – $19.00
Ricotta Ravioli – tomato cream sauce, roasted tomatoes, basil – $20.00
Sandwiches
Grilled Chicken – roasted tomatoes, smoked mozzarella, broccolini, lemon vinaigrette and served with house-made chips – $14.00
Bacon Wrapped Meatloaf – smoked mozzarella, crispy onion strings, garlic aioli and served with house-made chips – $15.00
Chicken Meatball – mozzarella, herbed ricotta, tomato sauce and served with house-made chips – $13.00
Hummus Wrap – arugula, fennel, cucumbers, tomatoes, feta, red onions, olives and served with house-made chips – $13.00
Sirloin Burger – lettuce, tomatoes, caramelized onions, pickles, cheddar, remoulade, garlic aioli and served with house-made chips – $15.00
Chicken Burger – romaine, tomatoes, avocado, provolone, garlic aioli and served with house-made chips – $15.00
Entrées
Half Pesto Chicken – crispy potatoes, arugula and cherry tomato salad – $23.00
Roasted Salmon – sauteed spinach, grilled lemon, gremolata – $28.00
Bacon Wrapped Meatloaf – mashed potatoes, crispy onion strings, port wine sauce – $20.00
Steak Frites – arugula, blue cheese butter – $30.00
Half Roasted Chicken – rosemary, mashed potatoes, garlic butter – $21.00
Chef's Seasonal Fish Selection – $29.00
Pizza
Margherita – torn basil, fresh mozzarella, roasted tomatoes – $14.00
Barbecued Chicken – smoked mozzarella, caramelized onions, cilantro – $17.00
Goat Cheese – pesto, roasted tomatoes, basil – $15.00
Italian Meats – salami, pepperoni, soppressata, mortadella, goat cheese, red onions, chili flakes, basil – $18.00
Fennel Sausage – roasted garlic, herbed ricotta, pepperoncini, roasted peppers – $17.00
Pepperoni Pomodoro – caramelized onions, basil, parmesan – $16.00
Pizza of the Day – Market Price
Desserts
Florida Key Lime Pie – Swiss meringue with a buttery graham cracker crust – $9.00
Classic Carrot Cake – Homemade cream cheese icing with candied pecans – $10.00
Brownie Sundae – Brownie, vanilla ice cream, chocolate and caramel sauce, whipped cream and fresh berries – $9.00
Cheesecake – $9.00
Specialty Cocktails
Planters Punch – Mt. Gay Rum, orange juice, pineapple juice, lemon juice, simply syrup and grenadine – $9.00
Sunshine Sangria – Red Raspberry Sangria or White Acai Berry Sangria – $10.00
Island Coconut – Gentleman Jack Rare Tennessee Whiskey, Coconut Water, Pineapple Juice, Simple Syrup – $10.00
Berry Basil Lemonade Martini – Deep Eddy Lemon Vodka, Strawberry, Basil, Soda Water – $9.00
Lemon Goose-tini – Grey Goose Le Citron Vodka, lemondrop lemonade, sugar rim – $11.00
Tropical Sunrise – Baracdi Limón Rum, Cointreau, Blue Curaçao, Peach Schnapps and Ginger Ale – $9.00
Sunshine Sangria – Carafe for Two – Red Raspberry Sangria or White Acai Berry Sangria – $18.00
Chocolate Fire Martini – 360 Chocolate Vodka, Rum Chata, Jack Daniels Fire, Cream and Caramel – $10.00
Peach Cosmopolitan – Stoli Peachik Vodka, Cranberry Juice, Cointreau, Fresh Lime Juice – $10.00
Elyx Martini – Absolut Elyx Vodka, Dry Vermouth, Olive Juice, choice of garnish – $15.00
Brews
Magic Hat #9 or Guiness Draft – $7.00
Yuengling or Stella Draft – $6.00
Angry Orchard Cider draft – $7.00
Bud or Bud Light – $6.00
Heineken or Dos Equis – $6.00
Corona or Corona Light – $7.00
Victory Stout or Sierra Nevada Torpedo – $7.00
Dogfish Head 60 IPA or Key West Southernmost Wheat – $7.00
Shocktop – $6.00
Chimay (Red, White, Blue) – $10.00
Frozen Creations (Non-Alcoholic)
Nada Colada – Virgin piña colada with strawberry purée float – $7.00
Fruit Blast – Take your pick to make it your very own. Strawberry, mango, peach, or mix it up – $7.00
Sake
Hot Sake – $8.00
Hakutsur Draft Sake – $12.00
Sho Chiku Bai Nigori 375ml – unfiltered, rich and sweet – $15.00
Hire Junmai Sake 300ml – $25.00
Wolfgang Puck Grand Cafe Kids Lunch and Dinner Menu
Menu Date: 09/2017
Kids Entrees
Spaghetti with Fresh Tomato Sauce – $8.00
Mac N Cheese – Melted cheddar and farm fresh cream with elbow macaroni – $7.00
Cheese Pizza – Mozzarella and tomato sauce – $8.00
Pepperoni Pizza – $9.00
Kid's Burger – mash and veggies – $9.00
Crispy Chicken Tenders – mash and veggies – $9.00
Grilled Chicken – mash and veggies – $9.00
Kid's Salmon – mash and veggies – $10.00
** Wolfgang Puck Grand Cafe Menu and Prices are Subject to Change Without Notice **