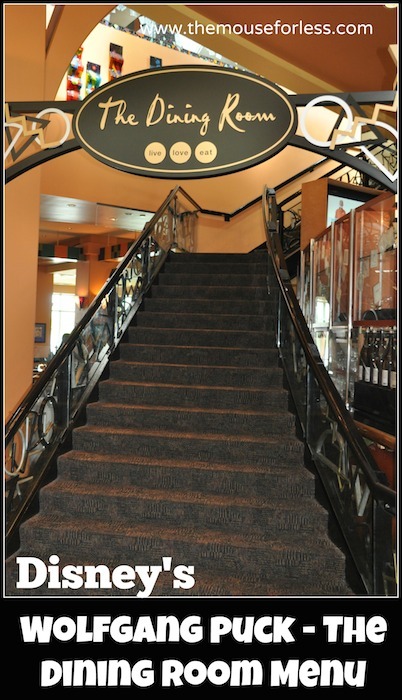 Located above Wolfgang Puck Grand Cafe, The Dining Room offers elegant Signature Dining and features impressive views across Lake Buena Vista. Experience a fusion of Asian and Californian cuisine at Wolfgang Puck Dining Room,
Restaurant Info: American, Steakhouse, Sushi Cuisine; Dinner; A la carte; $$$ – $15 to $34.99 per adult
Find out how you can save money on dining at Walt Disney World by using one of Disney's Dining Plans.
This location closed on August 1, 2017 to make way for a new restaurant called Jaleo, a concept by Chef José Andrés, which will open in 2018. A new Wolfgang Puck dining location called Wolfgang Puck Bar & Grill will be added to Disney Springs in 2018. 
Wolfgang Puck Dining Room Dinner Menu
Menu Date: 12/2017
Dinner from 5:30 p.m.
Appetizers
Tuna Tartare – chili aioli, pickled ginger, avocado, sweet soy glaze, crispy wontons – $20.00
Crab Cakes -basil aioli, marinated cherry tomatoes, fennel celery salad, chives – $18.00
Hamachi Sashimi – sesame-wasabi ponzu, sticky rice salad, avocado – $16.00
Sauteed Sea Scallops – pea puree, pea shoots, truffle vinaigrette – $18.00
Artisanal Cheese & Salumi for Two – Artisanal Cheese and Salumi for Two – $24.00
Soups and Salads
Black Bean Soup – avocado lime cream, pico de gallo, cilantro – $10.00
Baby Beet Salad – greek yogurt, pistachios, citrus, petite greens, sourdough crisps – $13.00
WP Chopped Salad – market vegetables, parmesan, balsamic vinaigrette  -$13.00
Entrées
Pan Roasted Half Chicken – yukon gold potato puree, market vegetables, rosemary jus – $29.00
New York Strip – stir fried broccolini, yuzu kosho butter – $49.00
Roasted Duck Breast – carrot-ginger puree, pickled peaches, swiss chard – $40.00
Florida Gulf Catch of the Day – saffron braised fennel, shrimp, fingerling potatoes, lobster-tomato broth – $37.00
Pan Seared Salmon – roasted mushrooms, pearl pasta, shaved asparagus & watercress salad, lemon vinaigrette – $34.00
Roasted Rack of Lamb – goat cheese gnocchi, english peas, pearl onions, rosemary lamb jus – $49.00
Crispy Pork Schnitzel – crispy pork loin, marinated cherry tomatoes, austrian potato salad, grain mustard sauce – $34.00
Tagliatelle Primevara – spring peas, rainbow carrots, roasted cherry tomatoes, pearl onion, pesto, lemon bread crumbs – $27.00
Sashimi Platter – 16 pieces of the chef's selection sashimi – $35.00
Nigiri Sushi Platter – 8 pieces of the chef's selection Nigiri Sushi – $26.00
Desserts
Old Fashioned Chocolate Cake – sour cream ganache, vanilla ice cream – $10.00
Salted Caramel Pudding – whipped cream, chocolate crumble – $10.00
Vanilla Créme Brulee – market berries, brown sugar shortbread – $10.00
Ice Cream – two scoops vanilla, salted caramel or chocolate – $5.00
Wolfgang's Apple Strudel – granny smith apples, plump raisins, salted caramel ice cream – $10.00
Cocktails
Coco Chanel – Malibu Rum, Chambord, pineapple – $9.00
Pinkberry Martini – Ketel One Citron, Peach Schnapps, splash of Cranberry – $11.00
White Chocolate Martini – Frangelico, Baileys, Smirnoff Raspberry Vodka, White Chocolate Godiva – $11.00
Wolfgang Puck Dining Room Kids' Dinner Menu
Menu Date: 12/2017
Entrees
Grilled Chicken Breast – steamed broccolini, crispy potatoes – $10.00
Grilled Salmon – steamed broccolini, crispy potatoes – $10.00
Crispy Chicken Fingers – French fries – $10.00
Cavatappi – with choice of tomato sauce or butter and cheese – $8.00
** Wolfgang Puck Dining Room Menu and Prices are Subject to Change Without Notice **