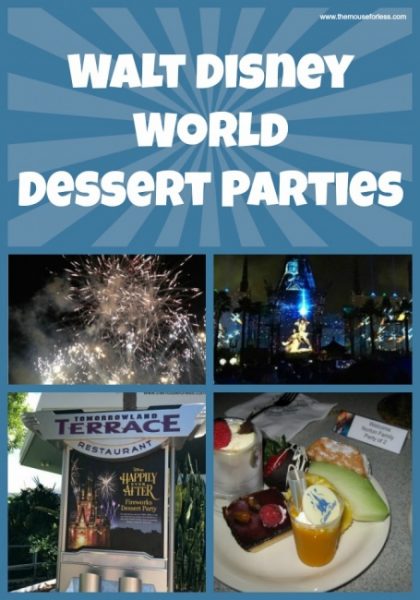 Walt Disney World offers a number of dessert party offerings to help enhance the Guest's experience and enjoy the spectaculars in a whole different and unique way. Dessert parties offer Guests a semi-private location to watch the nighttime spectacular or parade from. In addition, some dessert party options include other fun options, such as private ride-thoughs on attractions.
Dessert Parties often feature a variety of sweet treats, as well as a few more savory options, and beverages that include soft drinks, coffees, teas, and more.
Dessert Parties require an advanced reservation to attend and Reservations can be made in advance and can be made over the phone or via the MyDisneyExperience website. Do keep in mind that while some dessert parties are offered daily, a few are only offered on select nights.
Magic Kingdom Epcot Disney's Hollywood Studios Disney's Animal Kingdom Tips
Magic Kingdom Dessert Parties
Happily Ever After Fireworks Dessert Party
The Happily Ever After Fireworks Dessert Party takes place on select nights at the Tomorrowland Terrace and includes reserved viewing for Disney's nighttime spectacular, Happily Ever After, as well as a self-serve buffet. There are two tiers for this Dessert Party – The Tomorrowland Terrace Priority Seating and The Plaza Gardens View.
Ferrytale Fireworks: A Sparkling Dessert Cruise
FerryTale Fireworks: A Sparkling Dessert Cruise offers guests a unique view of the Happily Ever After fireworks, while you cruise the Seven Seas Lagoon onboard one of the iconic Walt Disney World Ferryboats, the General Joe Potter, as it is magically transformed into a "ferrytale" vessel. In addition to desserts and drinks, the Ferrytale Fireworks Dessert Cruise also offers fun activities such as a Glow-in-the-Dark Scavenger Hunt, where you'll search for Hidden Mickeys throughout the Ferryboat, as well as a strolling magician who will welcome Guests onto the ferryboat.
Epcot Dessert Parties
Frozen Ever After Sparkling Dessert Party
The Frozen Ever After Dessert Party includes the ability to see Epcot Forever from a reserved viewing area, enjoy an array of desserts, alcoholic, and non-alcoholic beverage, and take a ride on Frozen Ever After with a minimal wait in line. This party would be a great way to celebrate something special or to just celebrate a fun evening in Epcot!
Disney's Hollywood Studios Dessert Parties
Star Wars: A Galactic Spectacular Dessert Party
Experience an out of this world dessert party for viewing the Star Wars-themed nightly show, Star Wars: A Galactic Spectacular from the Star Wars:  A Galactic Spectacular Dessert Party. Guests enjoy Star Wars inspired desserts and select alcoholic and non alcoholic beverages, accompanied with a premium viewing experience for a dazzling fireworks show.
Fantasmic! Dessert and VIP Viewing Experience
The Fantasmic! Dessert and VIP Viewing Experience  includes a variety of snacks and desserts and a specialty alcoholic or non-alcoholic beverage, along with reserved seating for the nighttime spectacular, Fantasmic! The special effects range from fireworks and flames to amazing projections and beautiful fountains. Guests will receive snack boxes to enjoy prior to the show.
Disney's Animal Kingdom
Rivers of Light Dessert Party
The Rivers of Light Dessert Party is a nighttime celebration in Disney's Animal Kingdom featuring treats, beverages, and reserved seating for the Rivers of Light nighttime spectacular. Guests participating in this exclusive event will meet at the Asia viewing terrace across from Expedition Everest and there will be time to enjoy as many sweet treats as you can eat before the show. Just before the show begins, you will make your way to a reserved seating area to settle in for Rivers of Light.
Mouse For Less Tips
Looking to celebrate a special occasion while on vacation at Walt Disney World? These Dessert Parties are a great way to share an event, like a birthday or an anniversary with a loved one.