February 6 – April 11, 2021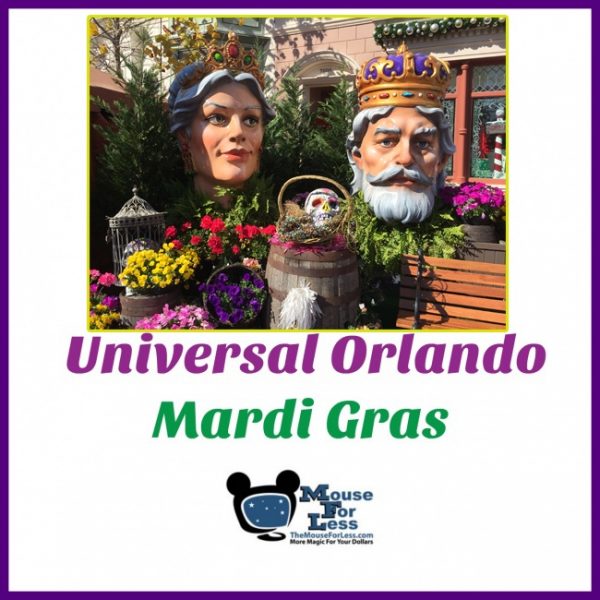 It's Florida's Biggest Party — Mardi Gras at Universal Orlando. Each spring, the sights and sounds of Bourbon Street make their way from the bayou to the streets of Universal Studios Florida. With concerts lighting up the stage; 1.8 million beads flying through the air; a wild and wonderful parade led by amazing, outrageous performers — Mardi Gras is a Universal Orlando tradition like no other. Good times and great food are on the menu with boatloads of tasty shrimp, sweet stacks of delicious beignets and so much more!  Universal's Mardi Gras celebration is the party of the year—and everyone's invited. Mardi Gras events are included with your Universal Studios theme park admission.
While Mardi Gras normally lasts only two weeks in New Orleans, at Universal Orlando Resort the party will run for two months, on consecutive dazzling nights from early February to the end of March.
Universal Orlando has been creating its special Mardi Gras celebration for years – bringing the perfect combination of the Big Easy and spectacular theme park entertainment to its guests all for the price of regular admission. Nationally renowned musical acts combine with an authentic Mardi Gras parade, dozens of colorfully costumed performers, authentic Cajun cooking, and hand-picked New Orleans bands to capture the look, feel and fun of New Orleans – all inside Universal Studios Florida.
This year's event will be a celebration of Carnavals from around the world. Take a look at our news story for additional details.

Planning a Universal Vacation?
The Mardi Gras Concerts
The Mardi Gras Concerts will not take place in 2021, due to distancing guidelines. 
You can't have a great party without great music. At Universal Orlando's Mardi Gras you can catch some of the biggest names from the worlds of pop, rock, country, R&B and more, live in concert on the Music Plaza stage in Universal Studios Florida at 8:30 p.m. on select nights.
Mardi Gras Parade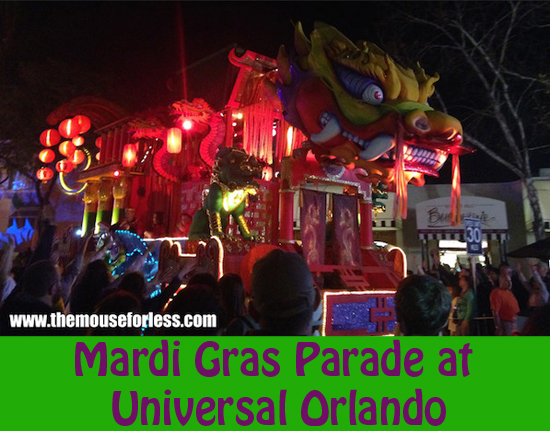 The Mardi Gras Parade will not take place in 2021, due to distancing guidelines. Guests will be able to see the floats throughout Universal Studios Florida and pose for selfies with them. 
Gather the family and catch beads by the handful as our dazzling parade winds its way through the park with incredible floats, colorful costumes, towering stilt walkers, street performers and dancers. It's fun and excitement for all ages.
For those with little ones, you can head to the Little Jester's Parade Viewing Area, which can be found in front of the Brown Derby Hat Shop. The area is available beginning one hour prior to the start of the parade.
Be sure to line the streets to catch beads and doubloons by the handful. This year's new theme is inspired by the Treasures of the Deep. In addition, to celebrate, the Riverboat and King Gator, will return with all-new décor celebrating 25 years of party.
Looking for the best spots to watch the parade from? Take a look at the map below: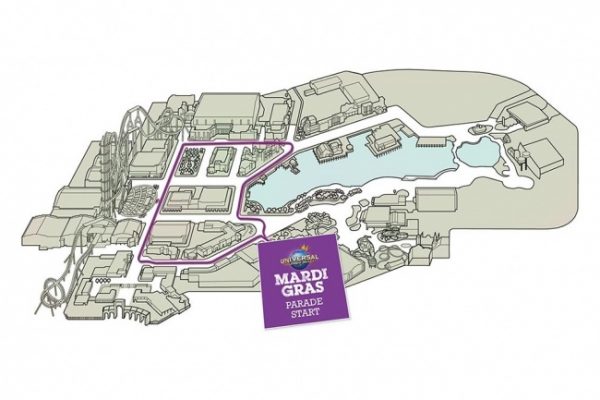 Video
French Quarter Courtyard
Want to experience the real feel of The Big Easy? Head to the French Quarter Courtyard for sizzling Cajun and Creole food, as well as authentic music. The French Quarter Courtyard opens at 4:00 pm. each night of Mardi Gras.
Performers
With a rich history of soulful performers, New Orleans is often considered to be the birthplace of true American music. Each Mardi Gras evening you can enjoy the sweet sounds of authentic jazz, blues, and zydeco bands from New Orleans.
Food & Beverage
The French Quarter Courtyard is getting a new culinary twist this year, a the park celebrates the International Flavors of Carnaval. There will be more than 70 delectable dishes and beverages available for purchase from 13 locations around the globe. All food and drinks will be served in tasting sizes. You'll now be able to enjoy a variety of the New Orleans dishes during your visit. Menu items available for purchase include dishes like shrimp gumbo, jambalaya, beignets, frog legs, crab etouffee, and crawfish! Plus, there will be a signature Mardi Gras cocktail, craft beer and more.
Take a look at the full list of dining offerings here.
For those who want to try a little bit of everything, consider picking up the Tasting Lanyard, which will be available for purchase.
Mardi Gras Tribute Store
There will be three highly themed rooms in the Mardi Gras Tribute Store for Guests to peruse, as well as exclusive in-park merch and photo ops. The rooms include:
A hopping jazz parlor straight out of the 1920s with dueling pianos and bellowing brass
A flower-filled nautical cemetery, where many sea captains were laid to rest
A waterfront warehouse, where all manner of smuggled treasures and trinkets are stashed
Mardi Gras Scavenger Hunt
Guests will be able to partake in a fun scavenger hunt throughout Universal Studios Florida.
Health and Safety Protocols
Universal Orlando Resort continues to implement its enhanced health and safety procedures and guidelines focused on "screening, spacing and sanitization." Those practices will be applied to all experiences taking place during Mardi Gras 2021: International Flavors of Carnaval. These include things like screening Guests and Team Members, enforcing social distancing, requiring face coverings, limiting capacity and increasing the already-aggressive cleaning and disinfection procedures. Guests may remove their face coverings while actively eating or drinking, but must be stationary and maintain appropriate social distancing.
CityWalk After Party
Many of these events will either not be offered or will be paired back, due to restrictions. 
After-hours, partygoers 21 and older should head to CityWalk. The New Orleans spirit can be found at Pat O'Brien's, a replica of the famed French Quarter watering hole. There you can enjoy Hurricanes, eat Cajun favorites in the Main Bar, or join the group sing-along in the Piano Lounge.
CityWalk is open each night until 2:00 a.m. and on Mardi Gras event nights, your Annual Pass or Universal Studios theme park ticket allows you to skip the cover at Pat O'Brien's and all other CityWalk nightclubs.