November 17, 2018 – January 6, 2019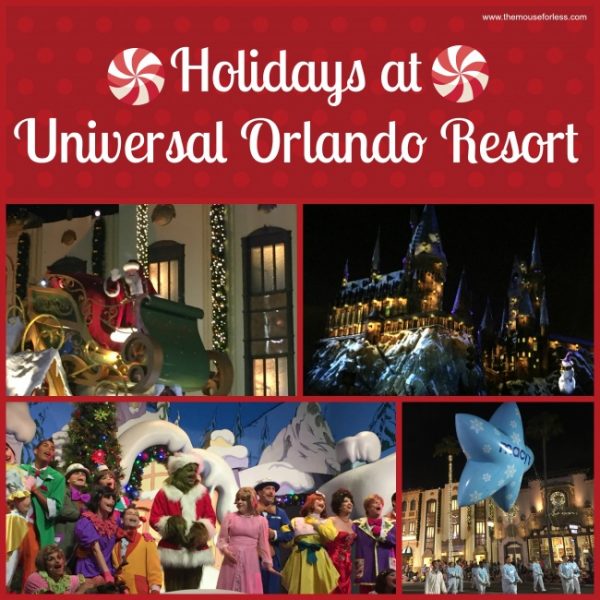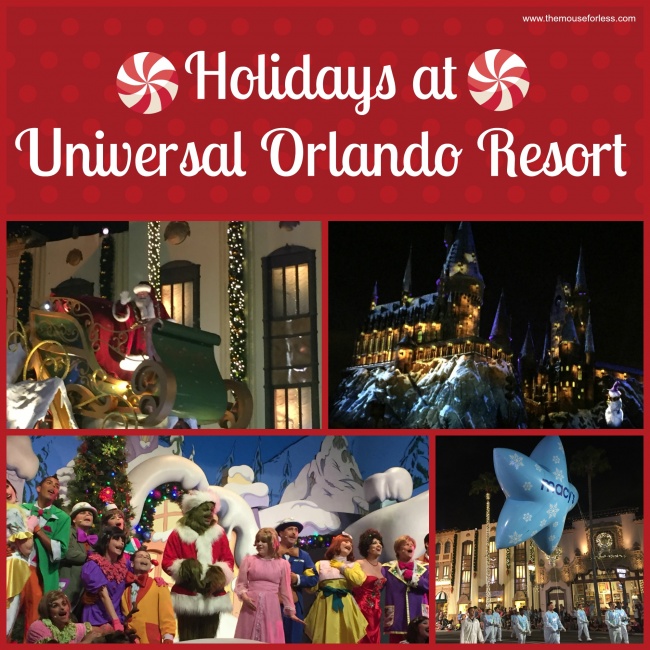 Holidays at Universal Orlando Resort
The holidays are a magical time no matter what, but what makes it that much more enchanting is celebrating at Universal Orlando Resort. From gorgeously decorated hotels, to special holiday themed shows, to a fantastical parade. During the Holidays at Universal Orlando Resort, there is so much wonderment that abounds. This year's the Holidays at Universal Orlando Resort will run from November 18 through January 6. Access to the holiday festivities is included in regular admission to Universal Studios and Islands of Adventure.
  Universal Studios Florida    Islands of Adventure    Universal Orlando Resorts New Year's Eve
This guide will be updated for 2018 when more information is released. Stay tuned.

Universal Studios Florida Holiday Offerings
Universal Studios Florida hosts several holiday events during this festive season.
Holidays in Diagon Alley
For the first time ever, Guests who visit Diagon Alley in the Wizarding World of Harry Potter will be able to experience the holiday season. There will beautifully festive decor that surrounds you like ornate garlands that will line the streets. Also Guests will be able to enjoy holiday food taken straight from the stories themselves, and finally take in great live entertainment.
Universal Holiday Parade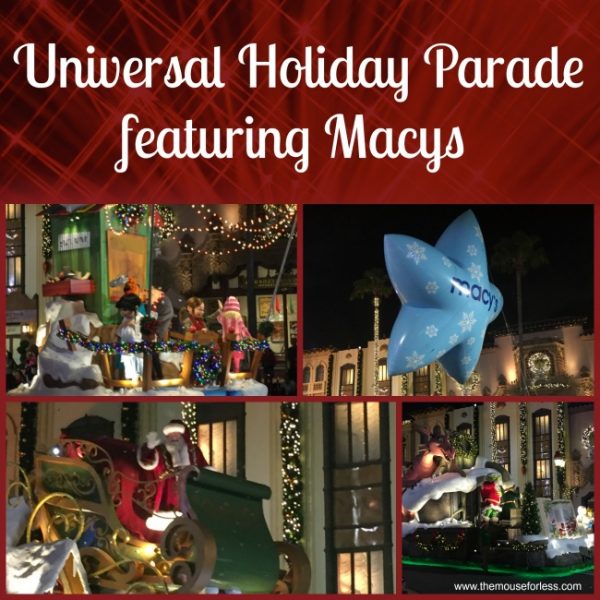 Also new will be the Universal Holiday Parade featuring Macys. The parade will star the Minions, Dreamworks characters (such as characters from Madagascar and Shrek), and of course, Santa Claus. For those of you who enjoy the parade on Thanksgiving Day, you'll also get a kick out of this parade at Universal because once the legendary Macy's New York City parade ends, many of its balloons and floats are sent straight to Universal Studios Florida!  Afterwards, enjoy the spectacular tree lighting ceremony and a dazzling display of lights. This year there will be 16 new balloons that will soar above you, 13 of which were exclusively designed by Macy's. There are also 15 huge floats and each has an astonishing lighting display and unique details to each theme.
Mannheim Steamroller
Be sure not to miss performances by the legendary Mannheim Steamroller. This fantastic group performs live on select nights during the holidays at the Universal Music Plaza Stage.
Islands of Adventure Holiday Offerings
At Universal's Islands of Adventure, the holiday fun doesn't stop.
Holidays in Hogsmeade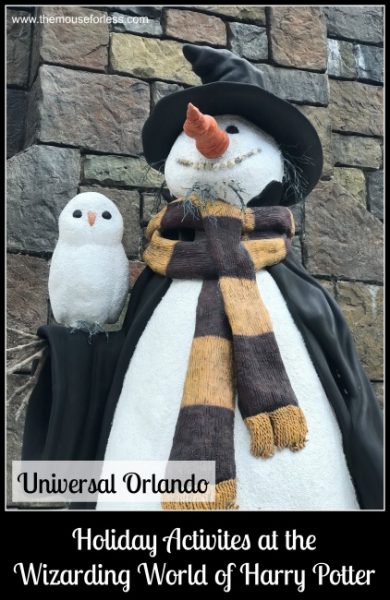 In The Wizarding World of Harry Potter's Hogemede, Guests will, for the first time ever, be a see a stunning nighttime experience at Hogwarts Castle that utilizes the latest in map-projection technology. As night falls, a magical holiday transformation of Hogwarts castle will take place right before guests' eyes. The display will be themed especially for the season and will feature incredible moments inspired by the films.
Hogsmede will also be fully decorated for the holiday with ornate garlands, special holiday food offerings will be available and brand new entertainment will be showcased.
Grinchmas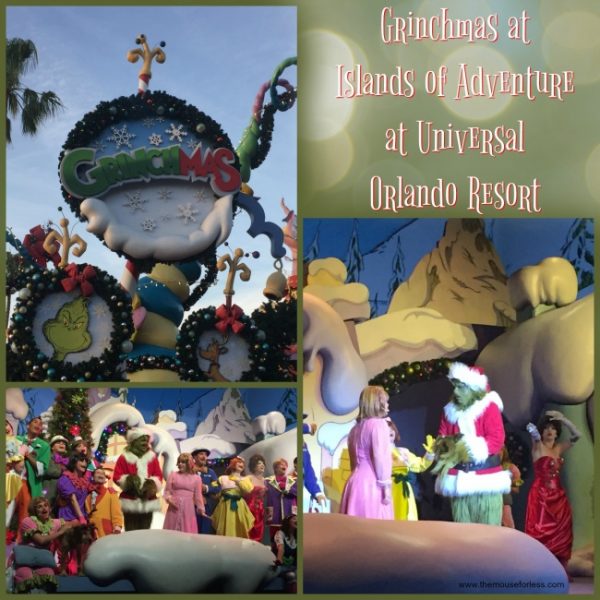 The holiday fun continues with Grinchmas, featuring the Grinchmas Who-liday Spectacular. You won't want to miss a live retelling of Dr. Seuss's classic holiday tale starring The Grinch, and featuring music recorded by Mannheim Steamroller. See characters come to brilliant life both onstage and off, as Whos from Who-ville stroll through Seuss Landing, ready to say hello and spread good cheer.
Take the opportunity to meet The Grinch! Who wouldn't want to reminisce about their warmest holiday memories meeting The Grinch? Alright, perhaps "heartwarming" isn't the right description. Maybe "hilarious," or "spectacularly sarcastic?" Either way, this is your chance to get the Grinch's autograph, shake his furry hand, and have your photo taken with the green Christmas thief himself. It's the perfect memento for those who like to do holidays their own way. If you want to spend even more time with the Grinch at Universal's Islands of Adventure, enjoy a delicious breakfast with The Grinch & Friends Character Breakfast!
Universal Orlando Resorts
Celebrate the holidays at Universal Orlando Resort! If you want to stay in the middle of the action, stay in the heart of the holidays at one of Universal's spectacular on-site hotels. From special holiday buffets to visits from Santa and everything in between, there's something cheerful for everyone to enjoy. Plus, on-site hotel guests enjoy exclusive theme park benefits that are sure to make your visit a merry one.
CityWalk
Come to EVE at Universal Orlando CityWalk, a New Years Eve party you will never forget. Indulge in multiple buffets of exquisite cuisine, signature drinks, and pyrotechnics that will blow you away. This event is strictly for those 21 years of age and older.