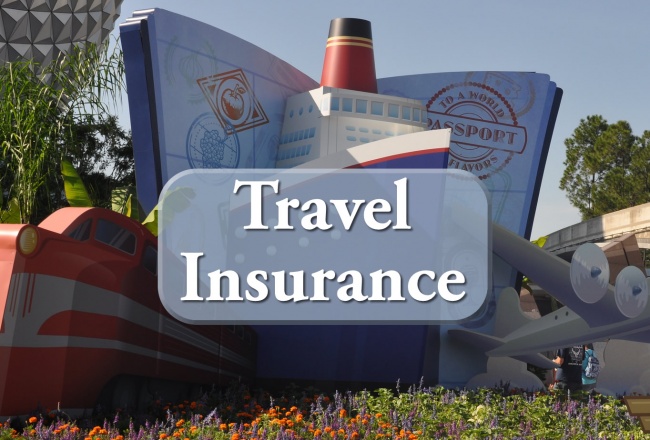 What is Travel Insurance?  Travel Insurance Providers  Cost  Top Reasons For Insurance  Purchasing Travel Insurance  Questions to Consider
What Is Travel Insurance?
Travel insurance is a tool that is intended to give you peace of mind when you travel, whether it is for that once-in-a-lifetime trip around the world or that vacation that you look forward to each year when you plan to visit your favorite Disney destination. Depending on the type of travel insurance you purchase, it can cover medical expenses, trip cancellations, trip delays, lost luggage, flight problems, or other losses that can happen while traveling.
Travel Insurance Providers
While you may be able to purchase travel insurance as part of your vacation or cruise package, such as the options available through Disney World with Aon Affinity, there are other options and things to think about with Travel Insurance considerations. Getting insurance through your vacation package is generally the easiest option, but it may not provide the coverage you need, and you may not be able to customize the coverage.  There are independent sources that compare insurance companies and policies, and one of these companies is InsureMyTrip. InsureMyTrip provides unbiased plan comparisons as well as thousands of customer reviews.  InsureMyTrip also lets you customize your plans and secure many different types of coverage. If you booked your vacation with The Magic for Less Travel, ask your travel counselor about policies available through Travel Guard that are designed to protect your trip investment.
Travel Insurance Cost
The price of travel insurance policies can be very different. While insurance purchased through your vacation plan generally has a set price per traveler, insurance through independent companies typically depends on the length of travel, type of trip, and other factors. This sometimes means that independent travel insurance companies can offer lower-priced insurance on trips.  Also, companies like InsureMyTrip will compare policies from several different insurance providers to make sure you are getting the best coverage and price.
Top Reasons for Travel Insurance
There are many reasons you may purchase travel insurance, and by comparing prices and policies at InsureMyTrip, you may find a policy that covers you for some of the common reasons listed below.
Some vacations need to be canceled before they begin
Life is complicated and can often throw a curveball. Some policies offer the ability to cancel your vacation for a covered reason and avoid some or all of the cancellation penalties.
Weather-related delays and interruptions
Unexpected weather can interrupt, delay, or even cancel your vacation. We have all seen instances of travelers stranded at the airports or unable to travel to their destination or return home from their vacation.  Some travel insurance policies reimburse you for unexpected costs and losses because of weather delays and cancellations.
Necessary medical attention
It is estimated that 30% – 50% of travelers become ill or are injured during their vacation. The majority of health insurance does NOT cover international travel and have limited coverage or a high deductible when you are using an out-of-network doctor. Having travel insurance means you are covered if you see a doctor for a medical emergency while traveling. If an emergency medical evacuation becomes necessary, most travel insurance will cover the medical evacuation as well. However, be aware that some policies may limit coverage for pre-existing conditions.
Lost luggage
Most lost luggage takes an average of five days to return to its owner. While it is only an inconvenience if the luggage is lost on the way home, it can be devastating when you are on your way to your destination. If your luggage is delayed or lost, most travel insurance will not only refund you for items lost, stolen, or damaged but will also reimburse you for necessary items you purchase to continue your trip until your baggage is returned (check your policy for more information).
Trip interruption
If you need to shorten your vacation because something happened to you, your travel companion, or your family member at home, and you need to return home for covered reasons, you may be reimbursed for the extra cost of returning home early and/or the cost of resuming your trip again.
Pre-existing conditions
If you have any health considerations, this is something that is very important, and you as the guest need to discuss your specific situation with an insurance agent from any company you are considering buying from.     Many of the insurance policies that come packaged with the trip may not cover pre-existing conditions, and they may or may not guarantee any coverage until/if an incident happens.    It is highly recommended you buy a separate travel policy prior to depositing your trip; typically you have a limited number of days from booking the trip to have pre-existing conditions covered IF they will be, then you have your ducks in a row and know you are covered.   Sadly, this means you have to pay for the insurance at that time, and your insurance costs are non-refundable if you cancel, but for peace of mind, it's worth the cost to know things are covered.
Purchasing Travel Insurance
If you are planning on purchasing insurance with your vacation package, it typically must be purchased prior to making your final payment, although purchasing it in advance may provide extra coverage. If you are planning on purchasing insurance through an independent travel company, you may have more flexibility.  However, something vital to note is that there is a time limit in which you need to purchase your protection if you wish pre-existing conditions to be covered.
Sponsor:
Looking for travel insurance to cover those unexpected travel woes? Compare prices and plans on
InsureMyTrip
to find the one that is right for you.
InsureMyTrip
guarantees that no other reputable site can offer the same plan at a better price.
Questions to Consider Before You Purchase Travel Insurance
What type of trip are you taking?
Are you going on a weekend road trip to a local destination? Or are you going for a week-long vacation? Do you have a room-only reservation with a refundable deposit? Are you staying with a package, including accommodations and tickets? Even if it is a quick weekend getaway, do you need to take a flight to your destination?
How much of your vacation is non-refundable?
If you are purchasing your insurance through Disney, the prices for each traveler is a set price. If you are purchasing your insurance through an independent company, you should know your travel costs before you purchase. Trip insurance will only cover trip costs that are pre-paid and are subject to cancellation penalties. Keep in mind which of your travel expenses will be covered when choosing the amount to insure. Typically travelers will insure flights, vacation packages, cruises, tour packages, and event tickets for their vacation.
Compare the insurance plans before purchasing
If you want ease and convenience, then purchasing insurance through your vacation package is the way to go. It is included in your vacation price, and you won't have to worry about which options to choose. If you are going to customize your plan through an independent travel company, you should consider what is important to you, what your budget is, and select the plan accordingly. Most comprehensive travel insurance plans will be similar, but the travel delay benefits, baggage protection limits, emergency medical coverage, etc., will vary greatly. Consider what is best for you before you make your decision.
Looking for that perfect cruise or a discounted rate for your Disney World Vacation? Let The Magic for Less Travel, an Authorized Disney Vacation Planner, works for you. Their concierge services are always provided free of charge, while The Magic for Less Travel will help you find the best published or unpublished discount for your vacation. Already have a vacation booked directly with Disney? Contact The Magic for Less Travel to see if they can help you find a lower rate.
GET A FREE QUOTE NOW!