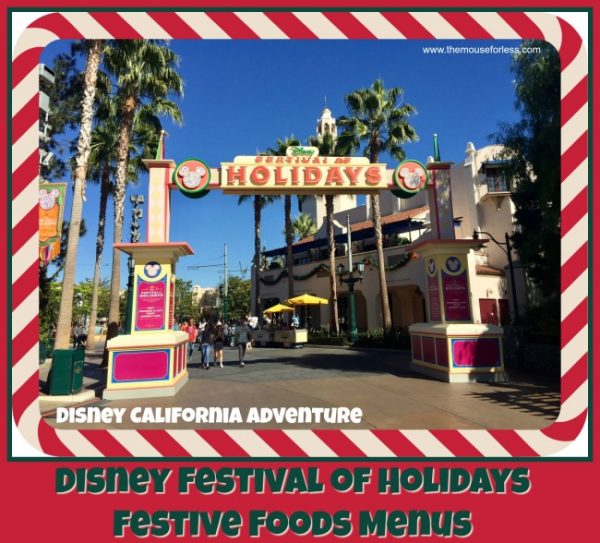 At the Festive Foods Marketplace Kiosks during the Disney Festival of Holidays, you will be able to nosh your way through holiday favorites in a culinary celebration of different cuisines and traditions. From belly-loving bites to spirited libations and decadent desserts—there's a world of possibilities to please your palate at these marketplace kiosks during Disney Festival of Holidays at Disney California Adventure.  Prices average from $4 – $6 per dish at the Festive Foods Marketplace booths. Beverages range from $5.00 – $16.00. Take a look at the Festive Foods Marketplace Menus.
The following are the menus for 2019. This event will not occur in 2020. 
Festive Foods Marketplace Kiosk Menus
Menu items and prices are for the current 2019 Holiday Season.
Holiday Duets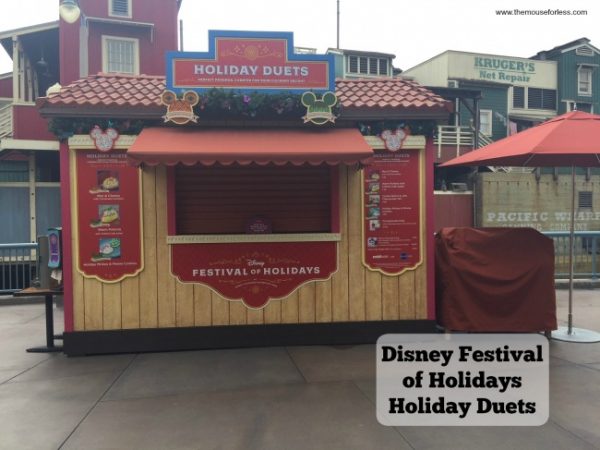 Food
Braised Pork Belly Adobo, with Garlic Fried Rice – $7.75
Shrimp and Grits with Andouille Sausage – $8.00
Holiday Mickey and Minnie Cookies – $7.00
Beverages
Cranberry Sangria – $11.25
Churro Toffee Cold Brew (non-alcoholic) – $6.50
smartwater – $5.00
Dasani Bottled Water – $4.25
Making Spirits Bright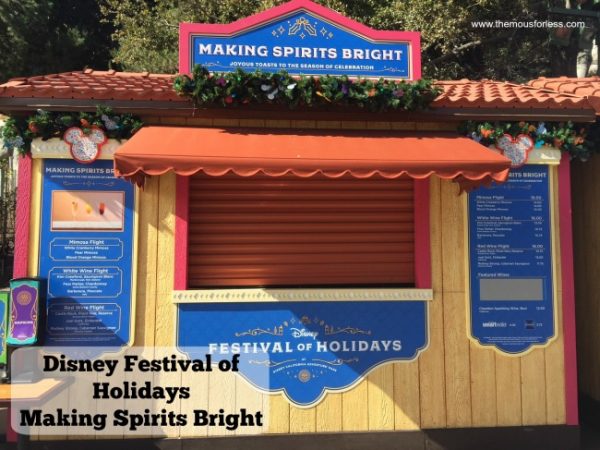 Food
Caramelized Apple Cake – $5.00
"Hot Cocoa" Marshmallow Macaron – $5.50
Beverages
Chandon, Sparkling Wine, Brut, California – $15.00
Mimosa Flight – $17.00
Apple Mimosa – $15.00
Pomegranate Mimosa – $15.00
Cran-Blackberry Mimosa – $15.00
White Wine Flight – Ggrich Hills Estate, Fume Blanc, Dry Sauvignon Blanc, Napa Valley | William Hill Estate, Chardonnay, Napa Valley | Gerard Bertrand Cote des Roses, Rose, France – $16.50
Ggrich Hills Estate, Fumes Blanc, Dry Sauvignon Blanc, Napa Valley – $15.00
William Estate, Chardonnay, Napa Valley – $15.00
Gerard Bertrand Cote des Roses, Rose, France – $12.00
Red Wine Flight – Louis Latour Pinot Noir, Bourgogne | Klinker Brick Old Vine, Zinfandel, Lodi | Austin Hope, Cabernet Sauvignon, Paso Robles – $17.00
Klinker Brick Old Vine, Zinfandel, Lodi – $12.00
Louis Latour Pinot Noir, Bourgogne – $12.00
Austin Hope, Cabernet Sauvignon, Paso Robles – $16.00
smartwater – $5.00
Dasani Bottled Water – $4.25
Favorite Things
Food
Glazed Ham Shanks – $8.00
Holiday Stuffing Mac & Cheese – $7.75
Gingerbread Mickey – $5.25
Beverages
Stone Brewing, 2014 Imperial Russian Stout – $11.75
Beer Flight – Bell's Brewery, Lager of the Lakes, Czech-style Pilsner | Kronenburg 1664 Blanc, Witbier | Modern Times Beer, Space Ways, Hazy IPA | Legendary Brewery, Cookies Galore, Chocolate Cookie Milk Stout – $15.50
Bell's Brewery, Lager of the Lakes, Czech-style Pilsner – $10.50
Kronenburg 1664 Blanc, Witbier – $11.75
Legendary Brewery, Cookies Galore, Chocolate Cookie Milk Stout – $11.75
Warm Bourbon Cider – $13.00
smartwater – $5.00
Dasani Bottled Water – $4.255
Merry Mash Ups
Food
Turkey and Stuffing Tamale – $7.75
Pork al Pastor Naan Taco – $8.00
Churros Yule Log – $6.00
Beverages
Habanero Hibiscus Margarita – $13.00
House-made Horchata with Rum Cream Liqueur – $13.00
House-made Horchata (non-alcoholic) – $6.50
smartwater – $5.00
Dasani Bottled Water – $4.25
Brews & Bites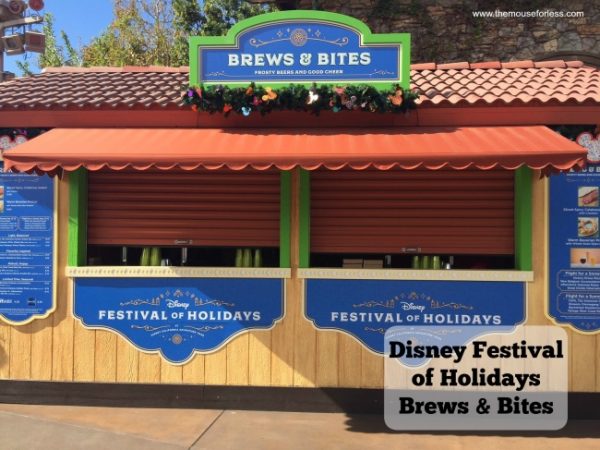 Food
Chorizo Queso Fundido – $6.50
Beverages
Festival Progressive Flight – Cerveza Rrey, Kolsch | Einstok Beer Company, Arctic Pale Ale | Alaskan Brewing, Winter, English Olde Ale | Sierra Nevada Brewing Company, Celebration IPA – $15.50
Flavor of the Season Flight – SLO Brew, Cali-Squeeze, Blood Orange Hefeweizen | Two Pitchers Brewing, Nordic Jam,  Berry Lager | The Bruery, OR Xata, Horchata Blonde | Karl Strauss Brewing Company, 10 Beers for Breakfast, Maple Stout – $16.00
Hangar 24 Craft Brewery, American Light Lager – $11.75
Cerveza Rrey, Kolsch – $11.75
SLO Brew, Cali Squeeze, Blood orange Hefeweizen – $11.75
Two Pitchers Brewin, Nordic Jam Berry Lager – $11.75
The Bruery, Or Xata, Horchata Blonde – $13.25
Einstok Beer Company, Arctic Pale Ale – $11.75
Lost Winds Brewing Company, Reddy or Not, Amber Ale – $11.75
Alaskan Brewing, Winter, English Olde Ale – $11.75
Sierra Nevada Brewing Co., Celebration, IPA – $11.75
Saint Archer Brewing Company, Mosaic, Double IPA – $11.75
Karl Strauss Brewing Company, 10 Beers for Breakfast, Maple Stout – $13.25
smartwater – $5.00
Dasani Bottled Water – $4.25
A Twist on Tradition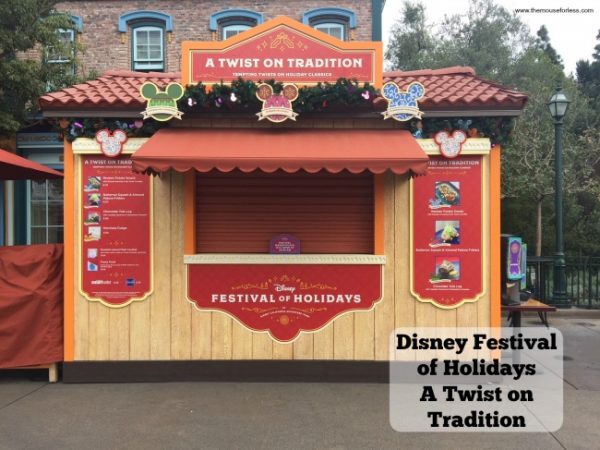 Food
Reimagined Beef Wellington – $8.50
Rueben Potato Tots – $7.00
Beverages
Vanilla Pear Mule – $14.00
Skyside, Cabernet Sauvignon, North Coast – $15.00
smartwater – $5.00
Dasani Bottled Water – $4.25
Winter Sliderland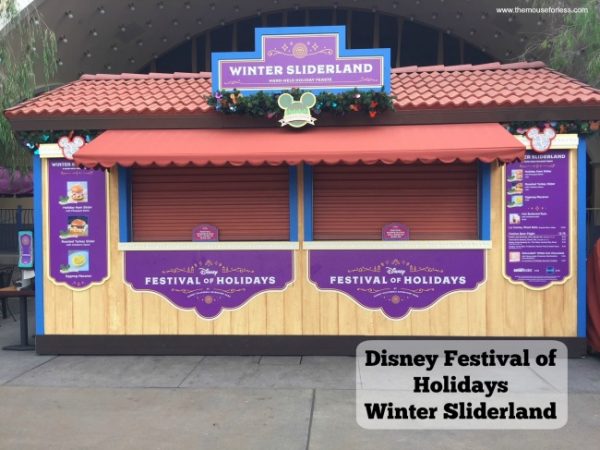 Food
Fried Turkey Slider – $7.50
Beef Pot Roast on a Potato Roll – $8.50
Beverages
Bourbon Cranberry Cocktail – $13.00
Warm Peppermint Chocolate Float – $6.50
smartwater – $5.00
Dasani Bottled Water – $4.25
Grandma's Recipes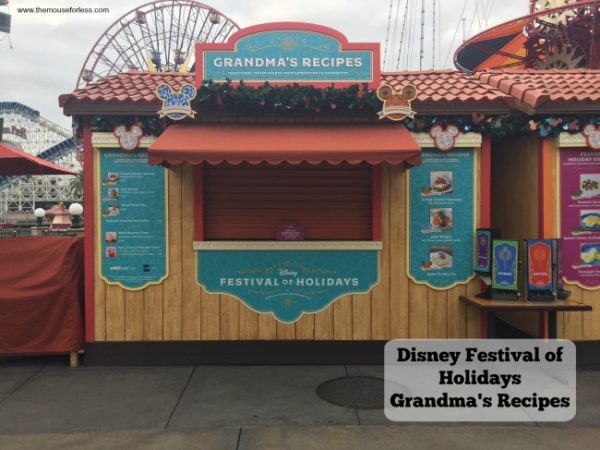 Food
Shepard's Upside Down Pie – $7.75
Curried Cauliflower & Chicken – $7.00
Beverages
Crimson Pear Beer Cocktail – $12.00
Modelo Negra, Dark Lager – $10.50
Navidad Punch – $6.00
smartwater – $5.00
Dasani Bottled Water – $4.25
*Menu items and prices subject to change without notice.*