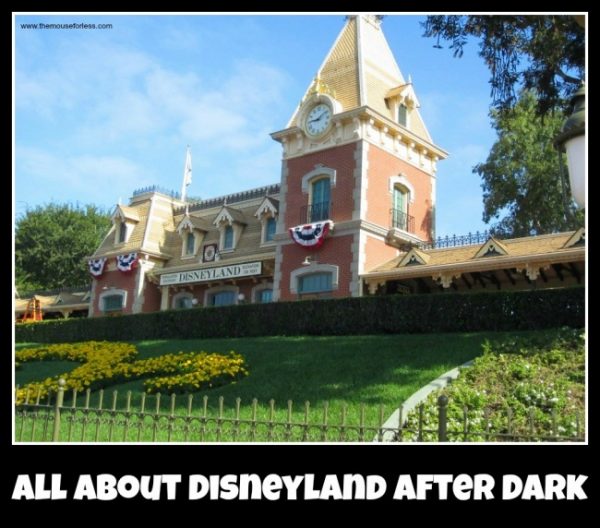 Event Details Tickets Costume Guidelines
Disneyland After Dark
Disneyland After Dark is a new series of events that are specially themed for a spectacular time. When night falls, the Disneyland Resort lights up with even more magic! For 2020, Disneyland After Dark will have 4 different events on select nights after the parks close to the general public.
Disneyland Park will hosts two of the Disneyland After Dark events, and Disney California Adventure will host the other two. Each of them lasting 4 hours. Guests are encouraged to dress up to the night's theme (guidelines below).
Types of Entertainment
Firework Displays
Themed Back Drops for Pictures
Rare & Popular Character Appearances
Dance Parties
Live Performances
Themed Menus for Select Restaurants
Commorative Keepsakes (credentials, lanyard, etc.)
Select Attractions
Disneyland After Dark Event Details
80's Nite
January 29, 2020 | Disneyland Park | 9:00pm – 1:00am
Enjoy the ultimate throw back with Disneyland After Dark's 80's Nite! Guests attending will be immersed in all things retro with a twist of Disney magic. Enjoy the tunes of the 80's, special menus at select restaurants, and Minnie Mouse's epic dance party on the Tomorrowland stage.
Sweetheart's Nite
February 12 & 13, 2020 | Disneyland Park | 9:00pm – 1:00am
Surprise your sweetheart with tickets to Sweetheart's Nite. Basque in the romance of a Valentine's themed ball, meet and greet with some of Disney's most beloved couples, and photo ops that are sweet as pie!
Pixar Nite
March 5, 2020 | Disney California Adventure Park | 5:00pm – Midnight
Pixar Nite is hosted by your favorite Pixar pals. Enjoy interactive dance parties, a chance to meet Russel from Disney Pixar's Up, and much more. Unlike the other Disneyland After Dark parties, this one has 3 different dance parties: 1. Pixar Dance Party at Pixar Pier 2. Incredibles Dance Party at Paradise Gardens Park 3. Monster's Inc. Dance Party at Hollywood Land.
Villain's Nite
April 30, 2020 | Disney California Adventure Park | 9:00pm to 1:00am
Just as it sounds, Villain's Nite is all about the bad guys you love! Watch as they perform a wicked Cabaret, and follow it up with deliciously sinful eats at participating restaurants in the park.
 Disneyland After Dark Ticket Information
Each Disneyland After Dark Ticket is $109.00 per person (ages 3+). Guests can purchase these tickets on the official Disneyland website, the Disneyland Resort ticket booth, or by calling (714) 781-4636 at least 1 day in advance.
*The number of tickets available for each Disneyland After Dark event are limited, and guests are limited to 8 tickets per purchase. Parking fees not included in price of even ticket.
What's Included in Your Disneyland After Dark Ticket?
Admission into the park 3 hours before closing time (pre-party park mix-in)
Unlimited digital downloads with Disneyland PhotoPass during event hours
Commemorative Disney credentials
Commemorative Park Map – specially themed
Costume Guidelines for Disneyland After Dark
All Guests may dress as their favorite character, but may not pose for pictures or sign autographs for other Guests.
Costumes must be family-friendly and may not be obstructive, offensive, objectionable or violent.
Costumes may not contain sharp objects, pointed objects or materials that may accidentally strike another Guest.
Layered costumes or costume props that surround the entire body are strongly discouraged and may be subject to additional security screening.
Costumes may not reach or drag on the ground. (e.g., full-length Princess dresses).
For Guests Ages 13 and Under
Costumes may be worn as well as some masks, as long as the entire face isn't covered and eyes are visible.
For Guests Ages 14 and Older
Capes may be worn if the length does not go below the waist.
Themed T-shirts, blouses, sweatshirts and hats are permitted.
Acceptable accessories include transparent wings and tutus.
Headwear may be worn as long as it does not cover the face.
Masks of any kind may not be worn, except for medical purposes.
The Mouse For Less Tips

Guests of the Disneyland Good Neighbor Hotels can purchase their Disneyland After Dark tickets at the front desk.

The pre party park mix-in hours is only for the park that is hosting the After Dark event. Guests visiting Disneyland or Disney California Adventure prior to the mix-in hours will need to pay separate admission.

Merchandise is available on Disneyland website that is specially themed to each of the Disneyland After Dark events. Pre order before you arrive so you are ready to go!

Star Wars: Rise of the Resistance will not be available during the after hours activities.

All tickets for Disneyland After Dark can be purchased now until the day before the event of your choice.