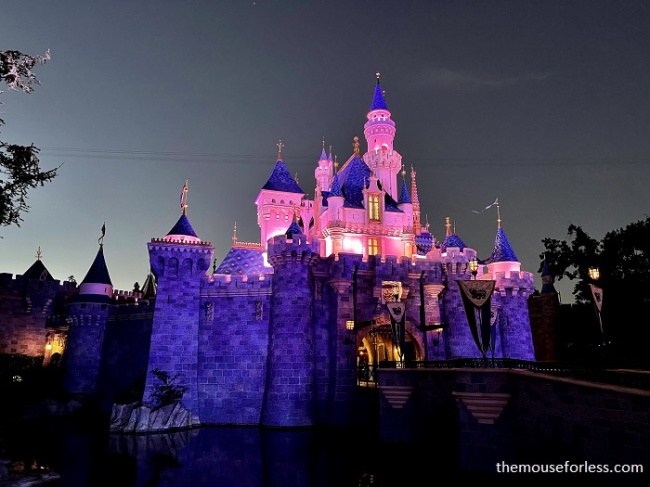 Stay tuned for a list of 2023 Disneyland After Dark themes and dates!
Disneyland After Dark are events that are specially themed for a spectacular time. When night falls, the Disneyland Resort lights up with even more magic!  On select dates, Disneyland Park and California Adventure will host separate ticketed events for four hours of fun after the parks are closed to the general public.
In addition to the four hour event itself, guests are encouraged to participate in a three hour pre-party that is included in the Disneyland After Dark ticket!  Park reservations are not required for those with Disneyland After Dark tickets when entering the parks during the the pre-party.
Each Disneyland After Dark evening is geared toward a specific theme, and this is a great opportunity to add some magic to your vacation!
Here are some of the enhancements and entertainment you can enjoy during this event.
Attractions
Select attractions will be open during Disneyland After Dark. Since this is a separate ticket event, lines are often shorter than during the day for the attractions.  Take a spin on your favorite ride!
Keepsakes to Collect and Themed Merchandise
Each guest will receive a commemorative credential, a themed park map, and unlimited digital downloads from PhotoPass photos that are taken throughout the evening.  If guests want to bring home some more memories, themed merchandise will be available to purchase.
Food and Beverages
Uniquely themed food and beverage offerings will be available to guests to enjoy!
Themed Attire is Encouraged
Guests can immerse themselves right into evening by wearing themed attire.  See costume guidelines below.
Types of Entertainment
Fireworks, a Parade, or a Live Show
Exclusive Photo Opportunities
Character Fun
Uniquely Themed Decor, Lights, and Decorations
Join the Fun and Dress to Match the Theme
Music
Live Performances
Familiar Songs to Match The Theme
Dance Parties
What's Included in Your Disneyland After Dark Ticket?
Admission into the park 3 hours before closing time (pre-party park mix-in)
Unlimited digital downloads with Disneyland PhotoPass during event hours
Commemorative Disney credentials
Commemorative Park Map – specially themed
Costume Guidelines for Disneyland After Dark
All Guests may dress as their favorite character, but may not pose for pictures or sign autographs for other Guests.
Costumes must be family-friendly and may not be obstructive, offensive, objectionable or violent.
Costumes may not contain sharp objects, pointed objects or materials that may accidentally strike another Guest.
Layered costumes or costume props that surround the entire body are strongly discouraged and may be subject to additional security screening.
Costumes may not reach or drag on the ground. (e.g., full-length Princess dresses).
For Guests Ages 13 and Under
Costumes may be worn as well as some masks, as long as the entire face isn't covered and eyes are visible.
For Guests Ages 14 and Older
Capes may be worn if the length does not go below the waist.
Themed T-shirts, blouses, sweatshirts and hats are permitted.
Acceptable accessories include transparent wings and tutus.
Headwear may be worn as long as it does not cover the face.
Medical masks are the only masks permitted.
Disneyland After Dark Tips

Guests of the Disneyland Good Neighbor Hotels can purchase their Disneyland After Dark tickets at the front desk.

The pre party park mix-in hours is only for the park that is hosting the After Dark event. Guests visiting Disneyland or Disney California Adventure prior to the mix-in hours will need to pay separate admission.

Merchandise is available on Disneyland website that is specially themed to each of the Disneyland After Dark events. Pre order before you arrive so you are ready to go!

Star Wars: Rise of the Resistance will not be available during the after hours activities.

All tickets for Disneyland After Dark can be purchased now until the day before the event of your choice.