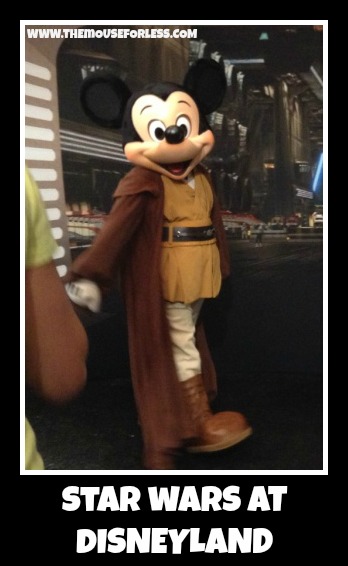 Guests at Disneyland Park should be ready for some great new Star Wars experiences in Tomorrowland.
Star Wars Themed Land at Disneyland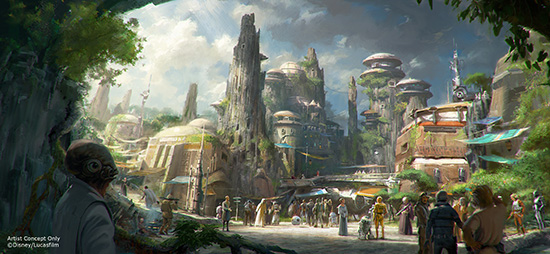 New lands created at both Disneyland in California and Disney's Hollywood Studios in will create new 14-acre lands. Guests will be transported to a hole new Star Wars planet, including an adventure that puts yo in the middle of a battle between the First Order and the Resistance. There will be two signature attractions, including the ability to take the controls of one of the Millennium Falcon. on a customized secret mission. It was announced that the Star Wars-themed land would open in 2019.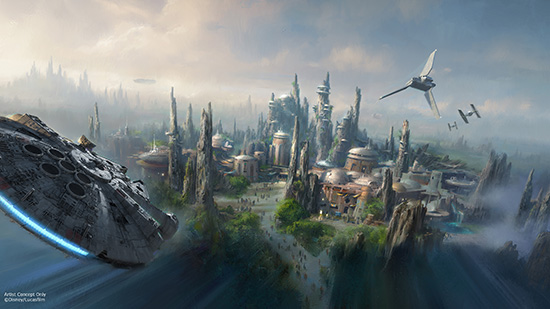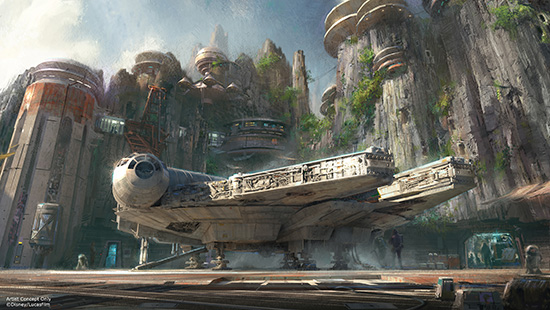 Star Wars Launch Bay
Visit your favorite characters, see special exhibits, and get a sneak peek at Star Wars: The Force Awakens.
Choose Your Destiny with Special Character Experiences
Dark Side – Encounter one of the most iconic villains from Star Wars, Darth Vader.
Light Side – Fly casual at this makeshift Rebel base, and meet the most famous co-pilot in the galaxy, Chewbacca.
Dark and Light Themed Galleries
Dark Side Gallery gives you a look at authentic pieces of Stormtrooper armor and Sith lightsabers
Light Side Gallery filled with Rebel helmets and light sabers used by Jedi Knights.
Preview Gallery contains items from the upcoming Star Wars: The Force Awakens
Starship Gallery Models of famous starships from the Star Wars saga.
Star Wars Game Center
Play the latest Star Wars games, including Disney Infinity 3.0.
Hyperspace Mountain
Launch into a galaxy far, far away about Hyperspace Mountain. Guests will find themselves in an action-packed battle between Rebel X-wings and Imperial TIE fighters. This is a limited-time experience.
Star Tours – The Adventure Continues
Guests will find a new scene inspired by Star Wars: The Force Awakens
Galactic Grill
Choose the dark side or the light at this new themed food and beverage location. In the space that currently hosts Tomorrowland Terrace, the Galactic Grill will serve up specialty menu items inspired by both sides of the Force. Here is a look at some of the menu options:
Breakfast
Darth Tamale – Blue corn tamale with scrambled eggs and chorizo, red chili sauce and tomatillo
Lunch and Dinner
First Order Specialty Burger – Angus beef and chorizo patty topped with fried cherry peppers, spicy-lime aioli on dark bun
Desserts
The Pastry Menace – Éclair with milk chocolate filling and a hint of cayenne pepper
Collectibles
BB-8 sipper
TIE Fighter premium popcorn bucket
Star Wars: Path of the Jedi
The Tomorrowland Theater presents this exclusive film that follows Luke Skywalker's path to becoming a Jedi.
Jedi Training: Trials of the Temple
Opening on December 8, 2015, experience a new twist on the Jedi Training. Encounter new characters and a new villain from Star Wars Rebels.3
Park Changes
Because of construction, the following operational changes will occur:
Through January 10, 2016:
The Disneyland Railroad and all stations will be temporarily suspended.
Attractions along Rivers of America will be unavailable including:

Fantasmic!
Mark Twain Riverboat and Sailing Ship Columbia
Rafts to Towm Sawyer Island
Pirates's Lair on Tom Sawyer Island
Davy Crockett Explorer Canoes
Closing permanently on January 10, 2016:
Big Thunder Ranch including Big Thunder Barbecue, Big Thunder Ranch Petting Farm and Big Thunder Ranch Jamboree