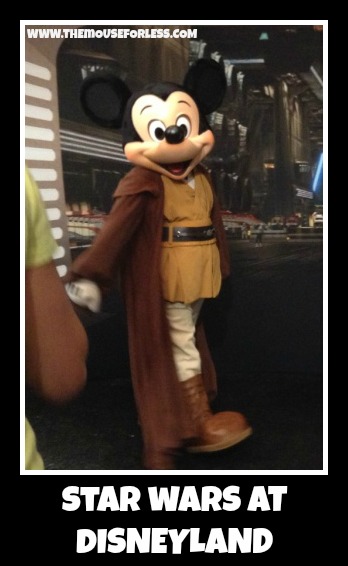 Guests at the Disneyland Resort should be ready for some great Star Wars experiences at the Disneyland Resort. With a brand new land, as well as some classic experiences, there will be plenty for those with a Star Wars fan in their family to experience.
Star Wars Themed Land at Disneyland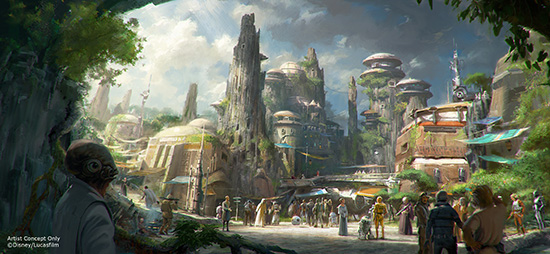 New lands created at both Disneyland in California and Disney's Hollywood Studios in will create new 14-acre lands. Guests will be transported to a whole new Star Wars planet, called Batuu. While visiting Black Spire Outpost, Guests will be able to experience two attractions that will put you in the action. The first, called Star Wars: Rise of the Resistance, Guests will get thrust into an adventure that puts you in the middle of a battle between the First Order and the Resistance.
The second of the two signature attractions, will have Guests being able to take the controls of the Millennium Falcon on a customized secret mission in Millennium Falcon: Smuggler's Run.
It was announced that the Star Wars-themed land would open in the summer of 2019.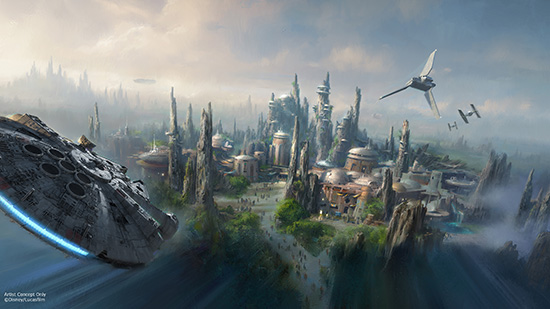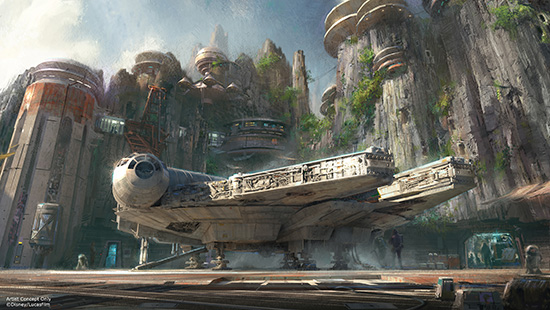 Take a look at our Guide to see exactly what to expect when Guests visit Disneyland's version of Star Wars: Galaxy's Edge, including attractions, dining, shopping, and more.
Star Wars Launch Bay
Visit your favorite characters, see special exhibits, and get a sneak peek at Star Wars: The Force Awakens.
Choose Your Destiny with Special Character Experiences
Dark Side – Encounter one of the most iconic villains from Star Wars, Darth Vader.
Light Side – Fly casual at this makeshift Rebel base, and meet the most famous co-pilot in the galaxy, Chewbacca.
Dark and Light Themed Galleries
Dark Side Gallery gives you a look at authentic pieces of Stormtrooper armor and Sith lightsabers
Light Side Gallery filled with Rebel helmets and light sabers used by Jedi Knights.
Preview Gallery contains items from the upcoming Star Wars: The Force Awakens
Starship Gallery Models of famous starships from the Star Wars saga.
Star Wars Game Center
Play the latest Star Wars games, including Disney Infinity 3.0.
Hyperspace Mountain
Occasionally, Guests will be able to experience Hyperspace Mountain. This seasonal attraction has Guests launching into a galaxy far, far away about Hyperspace Mountain. Guests will find themselves in an action-packed battle between Rebel X-wings and Imperial TIE fighters. This is a limited-time experience.
Star Tours – The Adventure Continues
Guests will find a new scenes inspired by Star Wars: The Force Awakens on this classic Disneyland attraction.