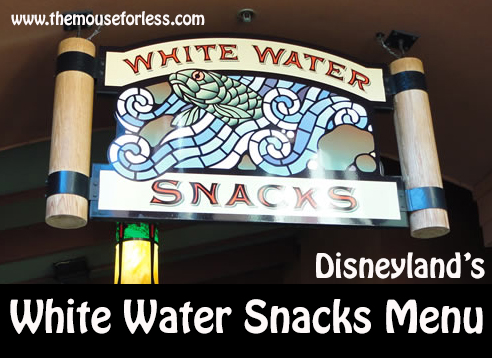 Designed after a campground pavilion, White Water Snacks is a family quick-service eatery serves entree salads, deli sandwiches, grilled chicken, pizzas, hamburgers, hot dogs and specialty coffees. Breakfast items include burritos, Mickey Mouse waffles, bagels, muffins, and sweet rolls.
White Water Snacks is located in Disney's Grand Californian Hotel & Spa.  Find more Disneyland dining locations on our Disneyland Resorts menus page.
Restaurant Info: American, Vegetarian, Lunch/Dinner, $ – Less than $14.99 Per Person
Annual Passport Discounts: Signature Passport, Premium, Signature Plus Passport: 15%
Annual Passport Discounts: Deluxe, Southern California Select, Southern California Passport: 10%

Planning a Disneyland Vacation?
For a Free no-obligation quote, contact our sponsor
The Magic For Less Travel
. The Magic For Less Travel is an Authorized Disney Vacation Planner and has been helping guests plan magical vacations since 2002. Receive the best prices and free travel planning services. Their fee-free services will help you save time, money, and stress while planning a vacation designed around you and your needs!
White Water Snacks Breakfast Menu
Menu Date: 04/2019
Entrees
Smoked Salmon Bagel Sandwich
on a Toasted Plain Bagel, with Cream Cheese, Arugula, Tomato, Red Onion, and Capers – $16.00
Belgian Waffle
with Strawberries dusted with Powdered Sugar, Chocolate Sauce, Strawberry Sauce, Chantilly Cream and fresh Mint – $13.00
Roasted Vegetable Quiche – $10.00
Three-Cheese Quiche – $10.00
American Breakfast
with Scrambled Eggs, Choice of Bacon or Sausage, Seasonal Fruit or Tater Bites, and Toast – $13.00
Egg White Scramble
Scrambled Egg Whites with Spinach and Asparagus topped with Avocado and Roasted Tomato on Crostini – $10.00
Biscuit French Toast
Buttermilk Biscuit French Toast with Banana Brulee, Toffee Sauce, Bacon Dust, and Powdered Sugar – $13.00
Avocado Toast
Grilled Sourdough with Crushed Avocado, Poached Eggs, Pomegranate Seeds, Olive Oil, pomegranate Drizzle, Parsley and Celery Leaf Salad – $12.00
Breakfast Burrito
in a warm Tortilla with Scrambled Eggs, Tater Bites, Bacon, and Cheese served with Pico de Gallo and Sour Cream – $13.00
Kids' Disney Check Meal
Power Pack
Dannon Danimals Smoothie, Cuties Mandarin, Carrots, Sliced Apples, and Whole Grain "Fish" Crackers served with choice of Small Lowfat Milk or Small Dasani Water. Meets Disney Nutrition Guidelines for Complete Meals without substitutions – $6.00
Kids' Breakfast
Breakfast Plate
with Scrambled Eggs, Turkey Bacon, Tater Bites, Seasonal Fresh Fruit and choice of Small Lowfat Milk or Small Dasani Water – $8.00
Waffle
dusted with Powdered Sugar and served with Syrup and choice of Small Lowfat Milk or Small Dasani Water – $8.00
Assorted Beverages
Coca-Cola Freestyle
assorted Coca-Cola offerings
Regular – $3.99
Large – $4.19
Dasani Bottled Water – $3.99
Coffee
Regular or Decaffeinated – $2.99
Hot Tea – $2.99
Hot Chocolate – $2.99
Simply Orange – $4.69
Simply Lemonade – $4.69
Simply Apple – $4.69
ZICO Premium Coconut Water – $3.99
Perrier Carbonated Mineral Water – $3.79
Odwalla Superfood – $3.99
Odwalla Strawberry C Monster – $3.99
Odwalla Blueberry Monster – $3.99
Dasani Bottled Water – $3.99
Suja Green Delight – $3.99
Suja Probiotic Watermelon – $3.99
Suja Berry Goodness – $3.99
Gold Peak Unsweetened Tea – $3.99
Gold Peak Sweetened Tea– $3.99
Honest Tea Honey Green Tea – $4.49
Honest Tea Pomegranate Blue Flavored Herbal Tea – $4.49
Nestle Nesquik Chocolate Milk – $3.49
Nestle Nesquik Strawberry Milk – $3.49
Lowfat Milk – $2.99
Whole Milk – $2.29
Fairlife 2% Reduced Fat Ultra-filtered Milk – $2.99
White Water Snacks Lunch/Dinner Menu
Menu Date: 04/2019
Seasonal Offerings
Mickey Mouse-shaped Artisanal Pizza
Tomato Sauce, Grana Padano, and Aged Provolone – $25.00
Mickey-shaped Pretzel – $4.79
Entrees
Poke Bowl
choice of Salmon, Tuna or Tofu marinated in Poke Sauce, with choice of Steamed White Rice or Shredded Lettuce with Red Onions, Pickled Cucumber, Edamame, Avocado, Green Onion, Furikake, Sriracha Aioli, and Togarashi Spice – $12.00
Avocado Toast
Grilled Sourdough with Crushed Avocado, Burrata Cheese, Pomegranate Seeds, Olive Oil, Pomegranate drizzle, Parsley and Celery Leaf Salad – $14.00
Nachos
choice of Chicken or Beef with Cheese Sauce, Guacamole, Pico de Gallo, Roasted Jalapeno, Crema, Queso Fresco, Green Onion, and Cilantro – $12.00
Cali-Grilled Angus Cheeseburger
8-oz Burger with Grilled Asparagus-Celery Salad, Spiced Hollandaise, Swiss Cheese, and Artichoke Aioli with choice of French Fries or Fruit – $15.00
Chicken-Fried Brisket and Waffle
Chicken Fried Brisket with BBQ Sauce, Pimento Cheese Spread and House-made Pickles – $18.00
Sustainable Fish Tacos
Battered Fish in Corn Tortillas with Yuzu Citrus Slaw, Pico de Gallo, Miso Crema, Cilantro, and Limes – $15.00
Rice Bowl
choice of Grilled Beef or Chicken with Steamed White Rice, Vegetable Egg Roll, Pickled Cucumber, Green Onions, Hard-boiled Egg, Sriracha Aioli, and Togarashi Spice – $14.00
Hot Dog of the Month
inquire with a server
House-Made Hand-Crafted Sandwiches
Mortadella Sandwich
Mortadella Sandwich with Provolone Cheese and Cornichons on a Pretzel Roll – $13.00
Prosciutto, Lettuce and Tomato Sandwich
Prosciutto, Arugula, Heirloom Tomato Sandwich with Burrata Cheese on a French Roll – $14.00
Chicken Curry Sandwich
Curried Chicken Salad Sandwich with Lettuce on a Butter Croissant – $13.00
Our Daily Soup Creation – $6.50
Skewers
Shwarma Chicken Skewers
served with Parsley-Celery Leaf Salad and Tzatziki Dip – $14.00
Bulgogi Beef Skewers
with Parsley-Celery Salad, Toasted Sesame Seeds and Green Onions – $15.00
Mediterranean Vegetable Skewers
Vegetable Skewers marinated in Arugula Pesto, with Parsley-Celery Leaf Salad and Labneh Garlic Dip – $12.00
Artisanal Pizzas from Our Pizza Oven
Margherita Pizza
with Tomato Sauce, fresh Mozzarella, Basil, Roasted Tomato, Grana Padana, and Aged Provolone Cheese – $23.00
Classic Pepperoni Pizza
with Tomato Sauce, Pepperoni, Grana Padano, and Aged Provolone Cheese – $23.00
Forest Mushroom Pizza
with Roasted Mushrooms, Vegetarian Sausage, Mushroom Spread, Caramelized Onions, Fresh Mozzarella, Grana Padano, and Aged Provolone Cheese – $23.00
Charcuterie Pizza
with Tomato Sauce, Pepperoni, Prosciutto, Salami, Fennel Sausage, Arugula, Roasted Tomato, Grana Padano, and Aged Provolone Cheese – $26.00
Desserts
Root Beer Float
served with Root Beer Soda, Vanilla Ice Cream and Chantilly Cream – $5.50
Seasonal Crostata
with Chantilly Cream – $5.50
Kids' Disney Check Meal
Power Pack
Dannon Danimals Smoothie, Cuties Mandarin, Carrots, Sliced Apples, and Whole Grain "Fish" Crackers served with choice of Small Lowfat Milk or Small Dasani Water. Meets Disney Nutrition Guidelines for Complete Meals without substitutions – $6.00
Kids' Meals
Chicken Breast Nuggets
served with choice of French Fries or Fruit and a choice of Small Lowfat Milk or Small Dasani Water – $10.00
PBJ & N Sandwich
Peanut Butter, Jelly and Nutella served with House-made Chips or Fruit, and choice of Small Lowfat Milk or Small Dasani Water – $8.00
Parmesan Crusted Grilled Cheese
Parmesan Crust, American Cheese melted on the inside, served with choice of House-made Chips or Fruit and a choice of Small Lowfat Milk or Small Dasani Water – $10.00
Mini Corn Dog Nuggets
served with choice of French Fries or Fruit and a choice of Small Lowfat Milk or Small Dasani Water – $10.00
Alcoholic Beverages
Budweiser
American-style Lager – $9.00
Bud Light
American-style Light Lager – $9.00
Coors Light
American-style Light Lager – $8.50
Modelo Especial
well-balanced taste and light Hop character with a crisp, clean finish – $8.50
Corona Extra
fruity-Honey aromas with a touch of Malt – $8.50
Blue Moon Belgian Wheat
crisp and tangy with a slow finish of Coriander and Orange spiciness – $8.50
Towne Park Blonde Ale
sweet and smooth Blonde Ale with golden hues and lightly Roasted Barley – $8.50
Towne Park White Ale
pale, unfiltered Belgian-style White Ale with a high level of Wheat – $8.50
Towne Park India Pale Ale
an herbal and citric character with a nice malty backbone – $8.50
Towne Park American Lager
rich and full-flavored Lager with a pinch of spice – $8.50
Karl Strauss Follow the Sun – $9.50
Karl Strauss Isomerizer IPA – $9.50
Karl Strauss Mosaic Session IPA – $9.50
Firestone 805
Blonde Ale with subtle Malt sweetness and a clean finish
Assorted Beverages
Coca-Cola Freestyle
assorted Coca-Cola offerings
Regular – $3.99
Large – $4.19
Dasani Bottled Water – $3.99
Coffee
Regular or Decaffeinated – $2.99
Hot Tea – $2.99
Hot Chocolate – $2.99
Simply Orange – $4.69
Simply Lemonade – $4.69
Simply Apple – $4.69
ZICO Premium Coconut Water – $3.99
Perrier Carbonated Mineral Water – $3.79
Odwalla Superfood – $3.99
Odwalla Strawberry C Monster – $3.99
Odwalla Blueberry Monster – $3.99
Dasani Bottled Water – $3.99
Suja Green Delight – $3.99
Suja Probiotic Watermelon – $3.99
Suja Berry Goodness – $3.99
Gold Peak Unsweetened Tea – $3.99
Gold Peak Sweetened Tea– $3.99
Honest Tea Honey Green Tea – $4.49
Honest Tea Pomegranate Blue Flavored Herbal Tea – $4.49
Nestle Nesquik Chocolate Milk – $3.49
Nestle Nesquik Strawberry Milk – $3.49
Lowfat Milk – $2.99
Whole Milk – $2.29
Fairlife 2% Reduced Fat Ultra-filtered Milk – $2.99
** White Water Snacks Menu and Prices are Subject to Change Without Notice **