Disneyland Resort | Fantasyland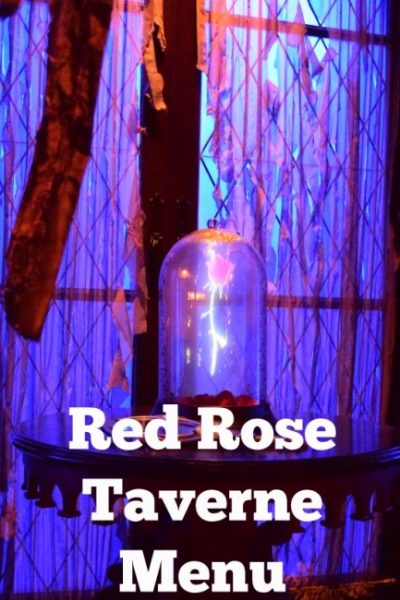 Note: The Red Rose Taverne is a limited time special dining option in the usual Village Haus Restaurant location.
Pick up lunch, dinner or the sweetest of treats, and dine inside or out, in a quaint corner of Fantasyland.
You'll find a menu board listing familiar quick-service options―but with a country French twist―like a burger with nutty Gruyère cheese and a grilled chicken sandwich topped with apple slaw, each with a side of pommes frites or sliced apples. Little beasts and beauties can quell their rumbling tummies with a variety of healthy and hearty kid-friendly choices.
Restaurant Info: French, American, Healthy Selections, Vegetarian, Lunch/Dinner, $ – Less than $14.99 per person
Annual Passport Discounts: Signature Passport, Premium, Signature Plus Passport: 15%
Annual Passport Discounts: Deluxe, Southern California Select, Southern California Passport: 10%
Red Rose Taverne Menu
Menu Date: 03/2017
Entrees
Beast's Burger – 1/3 lb Angus Beef Patty, Slow-cooked Beef, Gruyère Cheese, Caramelized Onions, Lettuce, Tomato, and Horseradish Aïoli on a Toasted Roll, served with Pommes Frites or sliced Apples – $13.49
Classic Angus 1/3 lb Cheeseburger – 1/3 lb. Angus Beef Patty with Cheese, Lettuce, Tomato and our Signature Sauce served on a Toasted Roll with Pommes Frites or sliced Apples – $10.99
Enchanted Cauli-Flower Sandwich – Grilled Cauliflower Steak, Spicy Lime Aïoli, Tempura-battered Green Beans, Lettuce, and Tomato on a Toasted Roll, served with Pommes Frites or sliced Apples – $10.99
Slow-cooked Beef Poutine – Slow-cooked Beef and Gravy over Seasoned Waffle-cut Fries, Pickled Onion and Cheese Curds – $10.99
Chicken Sandwich à la Lumière  – Grilled Chicken Breast, Apple Slaw, Onion-Bacon Jam, and fried Cherry Peppers on a Toasted Roll, served with Pommes Frites or sliced Apples – $10.99
Chef's Chopped Salad – Cabbage, Romaine,  Iceberg Lettuce, Smoked Bacon, Apples, Hard-cooked Eggs, Blue Cheese crumbles, and Apple Vinaigrette, topped with Garlic Croutons – $8.99
Add Chicken – $9.99
Poutine Flatbread – Slow-cooked Beef, Pommes Frites, Roasted Garlic Aïoli, Cheese Curds, Gravy, and Herb Oil – $9.49
Garden Mozzarella Flatbread – Marinated Tomatoes, fresh Mozzarella, Basil, and Tomato Sauce – $8.99
Pulled Pork Flatbread – Pulled Pork, Roasted Corn, Sweet Spicy BBQ Sauce, Pickled Onions and Cilantro – $9.49
Desserts
Grey Stuff Gâteau – White Chocolate Mousse and Red Velvet Cake with a Raspberry Center  – $5.49
Lemon Rose Cake – Lemon Mousse with Strawberry-Rose Filling – $5.49
Chip's Dishes (Kids' Menu)
Hamburger – with Dannon® Danimals® Smoothie, seasonal Fruit, and choice of small Lowfat Milk or small Dasani® Water – $7.49
Cheese Pizza – with Dannon® Danimals® Smoothie, seasonal Fruit, and choice of small Lowfat Milk or small Dasani® Water – $6.49
Kids' Mickey Check Meal – Kids' Carved Turkey Sandwich – with Dannon® Danimals® Smoothie, seasonal Fruit, and choice of small Lowfat Milk or small Dasani® Water. Meets Disney Nutrition Guidelines for Complete Meals without substitutions – $6.99
Kids' Mickey Check Meal – Kids' Power Pack – with Dannon® Danimals® Smoothie, sliced Apples, Carrots, Petit Banana, and Whole-Grain "Fish" crackers, and choice of small Lowfat Milk or small Dasani® Water. Meets Disney Nutrition Guidelines for Complete Meals without substitutions – $6.99
Toddler Menu
Yummy Cheesy Macaroni – served with GoGo squeeZ® Applesauce and small Lowfat Milk – $4.49
Beverages
Gaston's Famous Brew – Apple-Mango Punch topped with Passion Fruit Foam   – $4.99
with souvenir mug – $12.99
Assorted Coca-Cola Fountain Beverages – $3.29 / $3.69
Minute Maid Juice Box – $1.99
Lowfat Milk – $1.99
Nesquik Chocolate Milk – $2.99
Coffee (Reg/Decaf) – $2.99
Hot Cocoa – $2.99
Hot Tea – $2.99
Travel Mug – includes Coffee or Hot Cocoa at time of purchase – $6.99
** Menu and Prices are Subject to Change Without Notice **