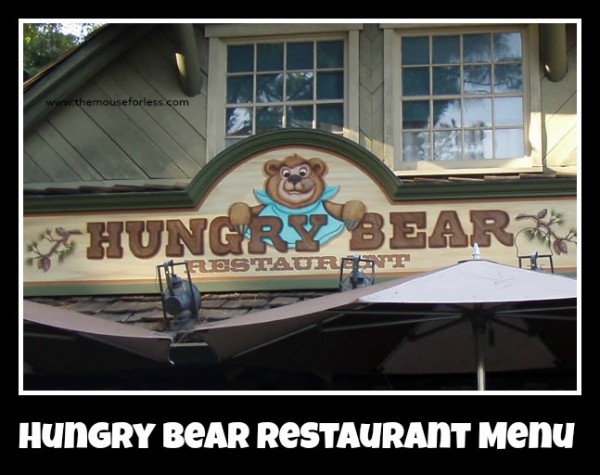 Hungry Bear Restaurant features cookout classics like country fried chicken sandwiches, fried green tomato sandwiches, chili cheeseburgers, chicken salad, sweet potato fries. Kid's Meals include chicken breast tenders or hamburger and a Kid's POWER Pack with yogurt, cheese sticks, Goldfish crackers, and apple slices.
Hungry Bear Restaurant is located in the Disneyland theme park.  Find more Disneyland dining locations on our Disneyland Resorts menus page.
Restaurant Info: American, Healthy Selections, Vegetarian, Lunch/Dinner, $ – Less than $14.99 per person, Mobile Orders Available
Annual Passport Discounts: Signature Passport, Premium, Signature Plus Passport: 15%
Annual Passport Discounts: Deluxe, Southern California Select, Southern California Passport: 10%

Planning a Disneyland Vacation?
For a Free no-obligation quote, contact our sponsor
The Magic For Less Travel
. The Magic For Less Travel is an Authorized Disney Vacation Planner and has been helping guests plan magical vacations since 2002. Receive the best prices and free travel planning services. Their fee-free services will help you save time, money, and stress while planning a vacation designed around you and your needs!
Hungry Bear Restaurant Menu
Menu Date: 10/2019
Seasonal Offerings
Haunted Mansion 50th – Dead-Cadent Funnel Cake
House Funnel Cake with decadent Brownie, White Chocolate Raspberry Ice Cream and Chocolate Pearls – $8.99
Haunted Manion 50th – The Caretaker
Crispy Pork Belly seasoned with House Spices, layered with BBQ Sauce, Grilled Onions, Cheese Sauce, House-made Pickle, and Crispy Slaw on a House-made Potato Roll – $12.99
Halloween Travel Mug – $8.49
Purple Poison Apple Premium Mug – $13.99
Fantasmic! On The Go Package
Adult Fantasmic! Package Meal
Choose one of 4 Entrees: Sustainable Salmon, Barbeque Chicken, St. Louis-style BBQ Ribs, or Plant-based Skewers – $30.99
Package Includes: Entrée, Beverage, and 1 voucher for Fantasmic! viewing area.
Child Fantasmic! Package Meal
Choose one of 4 Entrees: Sustainable Salmon, Barbeque Chicken, St. Louis-style BBQ Ribs, or Plant-based Skewers – $20.00
Package Includes: Entrée, Beverage, and 1 voucher for Fantasmic! viewing area
Honey Spiced Chicken Sandwich
Crispy Chicken, Lettuce, Sweet and Spicy Spread served with French Fries or the House Slaw  – $11.79
Classic Cheeseburger
Angus 1/3 lb Chuck Burger with Cheese, Lettuce, Tomato, and our Signature Sauce and served with French Fries or zesty Slaw – $11.79
Crispy Fish Sandwich
with Sweet and Spicy Slaw, Lemon Citrus Mayonnaise served with French Fries or House Slaw – $10.99
Classic Plant-based Cheeseburger
1/4lb Plant-based Patty, with Cheese, Grilled Onion, House-made Pickle, and House-made Sauce, served with French Fries or Slaw – $13.49
BBQ Chicken Salad
Pulled BBQ Chicken, Cherry Tomatoes, Bacon, Green Onion, Bacon, Cheese Red Cabbage, served with BBQ Vinaigrette and Flatbread  – $11.99
Double Cheeseburger  
2 Beef Patties, with Cheese, Grilled Onion, Pickle, and House-made Sauce served with Fries or Slaw – $13.99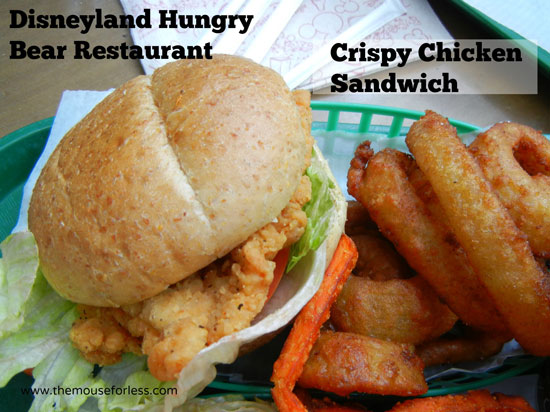 Sides
Onion Rings – $3.99
Loaded Rings – $5.99
French Fries – $3.99
Loaded Fries – $5.99
Desserts
House-made Funnel Cake
Powdered Sugar Topping – $8.99
Churro Funnel Cake
House-made Funnel Cake topped with Cinnamon Sugar, Caramel and Whipped Cream – $8.99
Strawberry Fruit Bar – $4.49
Nestle Toll House Ice Cream Sandwich – $4.79
Kids' Meals
Kids' Disney Check Meal – Kids' Power Pack
with Dannon® Danimals® Smoothie, Sliced Apples, Carrots, Petite Banana, Whole-Grain "Fish" Crackers and choice of small Lowfat Milk or small Dasani® Water. Meets Disney Nutrition Guidelines for Complete Meals without substitutions  – $5.99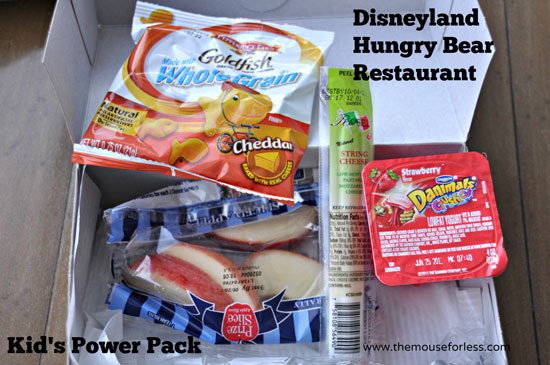 Kids' Hamburger
with GoGo squeeZ® Applesauce, and seasonal Fruit with choice of small Lowfat Milk or small Dasani® Water $7.99
Kids' Chicken Breast Nuggets
with GoGo squeeZ® Applesauce, and seasonal Fruit with choice of small Lowfat Milk or small Dasani® Water $7.99
Toddler Meal
Yummy Cheesy Macaroni
with GoGo squeeZ® Applesauce and small Lowfat Milk – $4.49
Beverages
Assorted Fountain Beverages
Regular $3.99
Large $4.49
Travel Mug 
includes Coffee or Hot Cocoa at time of purchase – $8.49
Minute Maid Juice Box – $1.99
Coffee – $3.19
Hot Tea – $3.19
Hot Cocoa – $3.19
Chocolate Milk – $3.49
Lowfat Milk – $1.99
Blueberry Lemonade – $5.99
Watermelon Lemonade Freeze – $5.99
** Hungry Bear Restaurant Menu and Prices are Subject to Change Without Notice **