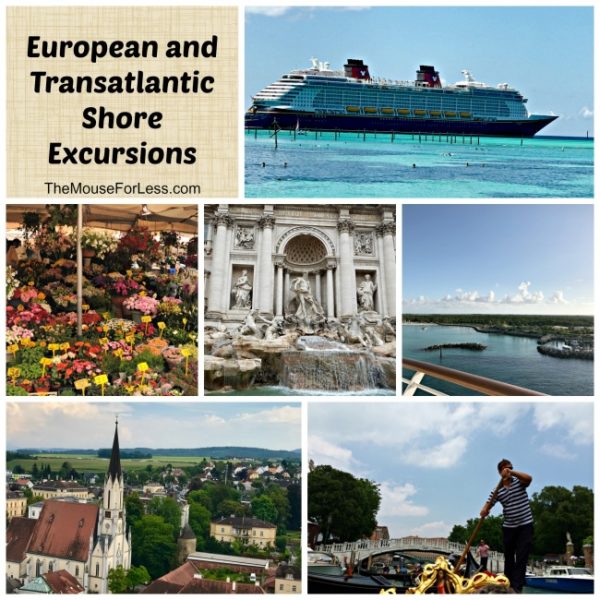 General Information Excursions
Disney Cruise Line hand picks shore excursions (Disney Cruise Line calls them Port Adventures) to allow the guest to experience a representative selection of what each port has to offer. Shore excursions can vary by cruise depending on the season and the times the ship will be in port. While there are hundreds of available options, here is a sample of a few Port Adventures that are currently available for European and Transatlantic destinations. Options available for your specific voyage can be found on Disney Cruise Line's website after booking.
Port Adventures range in price from under $50 to nearly $4,000 apiece. There is an adventure for every budget. There are hundreds of options and combinations available for each cruise. While some Port Adventures require a high level of mobility, there are others that are completely handicap accessible. Most Port Adventures are run by third-party companies, but Disney Cruise Lines makes these experiences great by coordinating with the companies to ensure that the ship's schedule aligns with the Port Adventures. This way if something goes wrong and you miss a Port Adventure you can get a full refund. Port adventures can be booked online at the time of booking your cruise and anytime after. For questions regarding your Disney Cruise call (800) 951- 3532 or contact your travel agent.

Planning a Disney Cruise Vacation?
For a Free no-obligation quote, contact our sponsor
The Magic For Less Travel
. Receive the best prices, free concierge travel planning & a shipboard credit of up to 5% of your cruise price when you book any new Disney Cruise Line vacation with The Magic For Less Travel
European and Transatlantic Shore Excursions
The following are just a few of the European and Transatlantic Shore Excursions available.
Barcelona, Spain
Castaway Cay (Transatlantic voyages)
Extreme Getaway Package – Snorkel equipment rental, one-hour bicycle rental, float or tube rental, and Castaway Ray's Stingray Adventure
Castaway Ray's Stingray Adventure
Parasailing
Watercraft Ski Adventure (Single or Double options)
Walking and Kayak Nature Adventure
Civitavecchia (Rome), Italy
Vatican City, the Coliseum and Catacombs
Pantheon, Squares and Fountains – A Walk in Renaissance Rome
Italian Countryside and Olive Oil
The Best of Rome
The Best of Rome (Adult-only Departure)
Jumping Back into Eternal Rome
Jumping Back into Eternal Rome (Adult-only Departure)
Bracciano & Wine Tasting
Dubrovnik, Croatia
Dubrovnik Scenic Cruise and Old Town City Tour
Dalmatian Coastline and Wine Tasting
Kayaking the Dubrovnik Coastline
Croatia's Silk Heritage Featuring Exclusive Family Activity
Folkloric Show, Old Town City Tour, and Panoramic Dubrovnik
Funchal (Madeira), Portugal
Madeira Caves and North Coast
4×4 Landrover Expedition
Catamaran Whale and Dolphin Watching
Kusadasi (Ephesus), Turkey
Best of Ephesus
Ephesus and Sirince Village Featuring Exclusive Youth Activity
Ephesian Modus Vivandi
Ephesus, Didyma, and Miletus with Lunch
Kusadasi by Private Vehicle ~ 8 Hour Sedan with Driver and Guide
La Spezia (Florence, Pisa), Italy
Discovering Florence
Florence and Pisa
Lerici's Castle and Dinosaurs
Cooking Lesson in Tuscany
Explore Lucca and Pisa
Mykonos, Greece
Delos Island
Island Drive and Ano Mera Village
Transfer to Kalafatis Beach
Elia Beach
Naples (Pompeii), Italy
Value Package ~ Sorrento and Pompeii
The Island of Capri
Pompeii, Sorrento, and Capri
Positano and Sorrento
The Hidden Treasures of Herculaneum
Mt. Vesuvius Hike and Pompeii
Palma Mallorca, Spain
Valldemossa, Deia, & Soller
Bike Ride through Palma de Mallorca
Beach Transfer
Santa Catarina Wine Cellar
Palma Highlights (Adult-only Departure)
Piraeus (Athens), Greece
Athens Sightseeing, Acropolis, and New Acropolis Museum with Lunch
Acropolis Sightseeing and Greek Culinary Presentation
Acropolis Sightseeing and Family Archaeological Excavation
Athens by Private Vehicle ~ 8 Hour Sedan with Driver Only
St. Maarten (Transatlantic voyages)
French Riviera Beach Rendezvous
Seaworld Explorer ~ Coral Reef Exploration Tour
Island Drive and Explorer Cruise
Mountain Bike Adventure
Under Two Flags Island Tour
Mountain Top Downhill Rainforest Trek
Kayak and Snorkeling Adventure
Historical Philipsburg by Bicycle
Family Fun, Beach, and Nature Walk
St. Maarten Discover Scuba Diving
St. Maarten Snuba
St. Maarten Two Tank Dive
Reykjavik, Iceland
Bathing at the Blue Lagoon – Bathe in the salt water lagoon at one of Iceland's most popular attractions, the Blue Lagoon. This underground mineral water is known for it's healing properties.
Countless Craters Helicopter Sightseeing – See the volcanic Iceland landscape via helicopter ride.
Fire & Ice Volcano and Glaciers Airplane Flightseeing – Board a turboprop airplane to see the glaciers, volcanos and geysers of the Iceland landscape.
Fontana Spa & Geothermal Taste – Visit the Fontanta Spa and Wellness Center, then stop at Thingvellir Nation Park to see Hengill Volcano.
Glacier Safari 4×4 & Ice Cave – See the "Ice Cave" which is a man-made cave build inside a glacier while exploring Thingvellir—the meeting point of Europe and North America.
Iceland on Horseback – Ride the unique Icelandic horse, which is a descendant of Viking breeds which have lived in breeding isolation for over 1,000 years.
Krusuvik Geothermal Field & Blue Lagoon – Sights include the Blue Lagoon, Viking World Museum (including a replica of a Viking ship), lava fields and volcanic steam jets.
Lambing Time at Hradastair Family Farm – Visit a local farm and petting zoo for a spring visit with local inhabitants—sheep, horses, cows, and more.
Lava Family Workshop – Create a lava inspired masterpiece using dried lava in this fun art workshop.
Let's Go Volcano – Explore an ancient crater, a lava tube, and bubbling hot springs on your adventure. Travel via an Icelandic Super Truck and enjoy a lobster soup lunch.
Let's Go Volcano and Bathing at the Blue Lagoon – Combine two adventures while exploring Icelandic scenery via an Icelandic Super Truck, then relax while bathing in the Blue Lagoon.
Lunar Landscapes & Hot Springs – Explore the amazing scenery and cross the bridge between continents.
Panoramic Reykjavik – Explore the wonderful city of Trykjavik from a comfortable motor coach. Hear local Viking tales, history and enjoy the amazing landscape.
Puffin Watching Adventure – See Reykjavik Bay via the water and find the Puffin seabirds, among other species, that come to nest during the summer.
Reykjavik Highlights – Tour the city and surrounding around area including Pearl vantage point, Hallgrimskirkja Church, Hofdi House and the National Museum. There is also an adult-only departure of this trip.
Ring of Fire – Learn about geothermal energy, see hot springs and volcanic landscapes, taste geothermally cooked snacks, and visit Thingvellir, a UNESCO site. There is also an adult-only departure of this trip.
Sea Angeling Adventure – Cruise out to see and try your hand at catching halibut, haddock, rockfish and pollock. This adventure can be enjoyed by experienced fishermen and those less experienced as well.
Snorkeling Into The Blue – Travel to Silfra fissure for 328 feet of underwater viability.
Super 4×4 Adventure – Visit the rugged Icelandic terrain of volcanos and ice. Travel on an Icelandic Super Truck on paved and unpaved roads.
The Golden Circle – Visit Gullfoss Waterfall, Geusir, and Thingvellir—the Golden Circle of Icelandic natural wonders. There is also an adult-only departure of this adventure, and a family Barbecue additional lunch.
Viking Horses & Volcanic Greenhouses – Visit Feidheimar farm to see two aspects of Icelandic agriculture: greenhouse farming and Icelandic Horses.
Volcanic Island of Heimaey By Plane and Interactive Volcano Museum – A turboprop plant takes guests to explore the island of Hemaey. Then visit the museum.
Whale Watching & Whales Museum – Search for whales aboard a catamaran. Then visit the museum with a walk through exhibit of life-size whale and dolphin models.
White Water Rafting on the Glacier River – Navigate the icy Hvita glacier river via raft, then warm up in a hot shower or sauna and enjoy a soup lunch.
Valletta, Malta
Valletta ~ The City of the Knights
Dolphin Swim
Blue Grotto Boat Trip and Fishing Village
The Valletta Historical Hunt
Venice, Italy
Doge's Palace, St. Mark's Basilica, and Gondola Ride
Murano Glass and Burano Lace
Evening Gondola Serenade
Cooking Lesson at a Venetian Home
Mask Workshop, St. Mark's Square, and Doge's Palace Featuring Youth Activity
Villefranche (Monte Carlo, Cannes, Nice), France
Cannes, Grasse, and St. Paul
Highlights of Monaco and Monte Carlo
Highlights of Monaco and Monte Carlo (Adult-only Departure)
Monaco, Monte Carlo, and Eze (Adult-only Departure)
Monaco, the Marina, and the Little Train
Nice and the Train Tour
Scenic French Riviera
Value Package ~ Nice and Monaco
Value Package ~ Nice and Monaco (Adult-only Departure)
*Port adventures are operated by third party contractors who are not agents of the Disney company. Disney does not control or oversee these contractors. All times given are approximate times. Please verify guest requirements and suggestions for each port adventure.