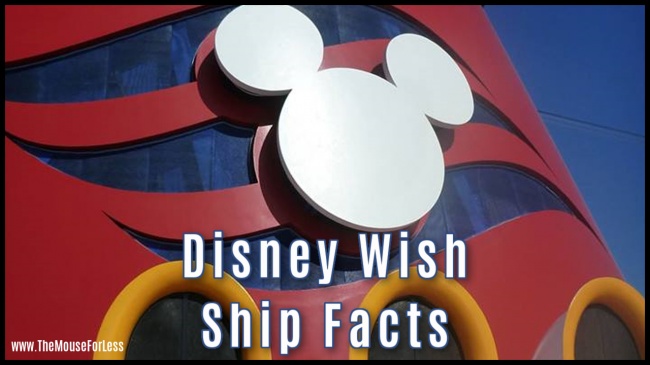 The Disney Wish is the fifth ship in the Disney Cruise Line fleet.  This Triton Class ship has 14 towering decks, the ship has the capacity to accommodate 4,000 passengers. This is the first Disney vessel powered by liquefied natural gas.  The Disney Wish's environmental footprint is significantly reduced because of this cleaning-burning fuel. On this ship you'll find the vast array of comforts, outstanding service and timeless beauty of a ship that's sure to capture your heart and imagination.  Here are some Disney Wish ship facts that you may not know.
Disney Wish Ship Facts
Birthplace Meyer Werft – Papenburg, Germany
Maiden Voyage June 9, 2022
Home Port Port Canaveral, FL
Ship's Registry Bahamas
Tonnage 144,000 gross tons
Length 1,119 feet
Beam 128 feet
Draft 272 feet
Height 221 feet
Speed 19.5 knots cruising speed (maximum 23 knots)
Crew 1,555
Passenger Decks 14
Capacity 4,000 passengers
Staterooms 1,254
121 Inside Staterooms (12%)
133 Outside Staterooms (88%)
185 ocean view
948 verandah (includes 21 suites)

Planning a Disney Cruise Vacation?
For a Free no-obligation quote, contact our sponsor
The Magic For Less Travel
. Receive the best prices, free concierge travel planning & a shipboard credit of up to 5% of your cruise price when you book any new Disney Cruise Line vacation with The Magic For Less Travel
Main Public Areas
Grand Hall Atrium – Deck 3 (atrium spans three decks)
Grand Hall Stage – Deck 3
Luna (live shows) – Deck 4 & 5
Walt Disney Theatre (1,340 capacity; offers original Broadway-style live shows, aerial acrobatics performances, grand-style productions, 3D movies; with two evening shows – at 6:15 pm and 8:30 pm) – Decks 2, 3 and 4
Never Land (84 seats) and Wonderland (86 seats) 3D Cinema  – Decks 4
Hero Zone – fully enclosed, air-conditioned sports arena – Deck 12
Preludes theatre concessions – Deck 3
Guest Services – Deck 4
Port Adventures – Deck 4
Family Areas
D Lounge – Deck 4
AquaMouse water coaster – entrance on Deck 12
Slide-a-saurus Rex – Deck 12
Toy Story Splash Zone – Deck 12
Bibbidi Bobbidi Boutique – Deck
Donald's Pool – Deck 12
Goofy's Pool – Deck 12
Mickey's Pool – Deck 11
Minnie's Pool – Deck 11
Daisy's Pool – Deck 11
Pluto's Pool – Deck 11
Funnel Vision Deck Stage – Deck 11
Youth Areas
It's a Small World Nursery – Deck 2
Fairy Tale Hall – Deck 2
Hub – Deck 2
Disney's Oceaneer Club – Deck 2, check in Deck 3
Marvel Super Hero Academy – Deck 2
Walt Disney Imagineering Lab – Deck 2
Edge tween club – Deck 5
Vibe teen club – Deck 12
Adult Areas
Star Wars Hyperspace Lounge – Deck 3
Senses Spa & Salon – Deck 5
Senses Fitness – Deck 5
Quiet Cove Pool – Deck 13
Concierge Private Sun Deck and Pool – Deck 13
Concierge Lounge – Deck 12
Cove Bar – Deck 13
Cove Café – Deck 13
The Rose – Deck 12
Dining
World of Marvel main dining – Deck 4
Arendelle main dining – Deck 5
1923 main dining – Deck 3
Palo Steakhouse  – Deck 12
Enchante by Chef Arnauc Lallement – Deck 12
Weezy's Freezys smoothies – Deck 12

Fun Facts
Here are more Disney Wish ship facts.  The Disney ships are painted in Mickey Mouse-inspired colors – black hull, white superstructure, yellow trim and two giant red funnels, each with the Disney Cruise Line Mickey Mouse logo.
Disney Cruise Line was the first cruise line to have yellow lifeboats, instead of the traditional regulation orange. Disney was granted special permission from the U.S. Coast Guard to paint the lifeboats yellow, to keep with the special color theming of the ship.
Disney ships are the only cruise ships to have four captains – the ship's captain, Captain Minnie, Captain Hook and Captain Jack Sparrow.  Disney Wish is the first Disney cruise ship to have Minnie as her captain.
Offer free soft drinks any time of day or night, with a free 24/7 beverage station offering sodas, coffee, tea and water.
In a cruise industry first, most staterooms on Disney ships feature a split "bath-and-a-half" design, providing families the added convenience of a sink and tub/shower in one room and a sink and toilet in a separate room.
The ship's horn on the Disney Wish is a prominent element of the "Sailing Away" deck party at the start of every cruise and is quite the musical talent. The horns are able to sound the first musical line of "When You Wish Upon a Star" as well as the second line of the song ("makes no difference who you are") plus, several measures of "Yo Ho (A Pirate's Life for Me)," "It's a Small World," "Be Our Guest," "Hi Diddle Dee Dee (An Actor's Life for Me)" and "A Dream is a Wish Your Heart Makes."
The character on the Disney Wish's stern is Repunzel.  Every Disney Cruise Line ship has an atrium lobby statue celebrating a classic Disney character. The Disney Wish's bronze-cast pièce de résistance is Cinderella.
The water coaster on the Disney Wish is a first-ever attraction at sea.  It is 760-feet long and the ride is 2+minutes with water effects, lighting effects with music track and show scenes.  Walt Disney Imagineers elevated the AquaMouse water coaster on the Disney Wish in order to maximize space on the deck. And with the AquaMouse in place, they had room for their imaginations to concoct yet another family activity on the Disney Wish – Toy Story Splash Zone play area for younger kids.  This area have a water slide themed to Toy Story called "Slideasaurus Rex".
At 1,119 feet, the Disney Wish is longer than the height of the Eiffel Tower in Paris (1,063 feet) and longer than the height of New York City's famous Chrysler Building (1,047 feet).
A leader in family entertainment, Disney is the only cruise line to first-run feature films, including films in 3-D, with movies premiering at sea on the same day that they are released on land.
For pricing and information contact The Magic For Less Travel
DCL-21-1740047 DISNEY WISH P3 DECK PLANS (18X12) RV FINAL