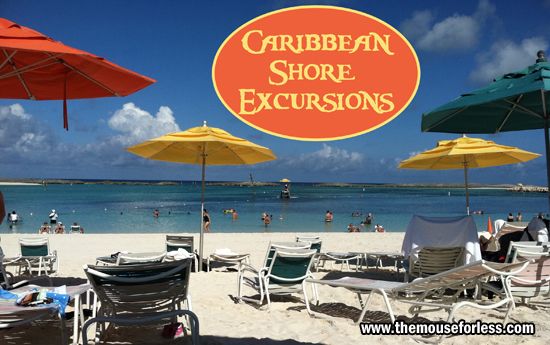 Shore Excursion General Information
Disney Cruise Line hand picks shore excursions (Disney Cruise Line calls them Port Adventures) to allow the guest to experience a representative selection of what each port has to offer. Shore excursions can vary by cruise depending on the season and the times the ship will be in port. Options available for your specific voyage can be found on Disney Cruise Line's website after booking.
Port Adventures range in price from under $50 to nearly $4,000 apiece. There is an adventure for every budget. There are hundreds of options and combinations available for each cruise. While some Port Adventures require a high level of mobility, there are others that are completely handicap accessible. Most Port Adventures are run by third-party companies, but Disney Cruise Lines makes these experiences great by coordinating with the companies to ensure that the ship's schedule aligns with the Port Adventures. This way if something goes wrong and you miss a Port Adventure you can get a full refund. Port adventures can be booked online at the time of booking your cruise and anytime after. For questions regarding your Disney Cruise call (800) 951- 3532 or contact your travel agent.

Planning a Disney Cruise Vacation?
For a Free no-obligation quote, contact our sponsor
The Magic For Less Travel
. Receive the best prices, free concierge travel planning & a shipboard credit of up to 5% of your cruise price when you book any new Disney Cruise Line vacation with The Magic For Less Travel
Caribbean Excursions
While there are hundreds of available options, here is a sample of a few Port Adventures that are currently available for Caribbean destinations.
Castaway Cay
Getaway Package – This package is a 3-in-1 experience that includes snorkel equipment rental, one-hour bicycle rental, and float or tube rental.
The Wild Side Teen Adventure  – For guests 14 to 17 years of age this excursion includes bike rides, a speed boat ride, and snorkeling in the blue waters!
Parasailing – See Castaway Cay from the air with 5-7 minutes at 600-1000 feet.
Watercraft Ski Adventure (Available as Single Rider or Double Rider) – After a 15-minute safety orientation, you follow your guide on a WaveRunner while passing the Disney Cruise Line ship and heading out of the lagoon. At two stops (weather permitting), you will learn about the history of the local area before heading back to Boat Beach. Approximately 45 minutes.
Walking and Kayak Nature Adventure – Enjoy the nature of Castaway Cay as you experience the island in the following ways: nearly a 45-minute walk through the rural parts of the island while the guide shares some of the history of the area, an almost hour-long kayak adventure through the tidal zones and native mangroves, and a 30-minute swim on a deserted beach.
Costa Maya, Mexico
Chacchoben Mayan Ruins – This tour begins with a one hour ride on an air conditioned bus while learning about the Costa Maya area. Upon arrival at the Chacchoben Mayan Ruins, the guide will lead you on an approximately 105-minute steady walk of around 0.8 miles. The walk is around an archaeological site and covers mixed walking surfaces including: cobblestones, uneven ground, and uphill to include stairs. The tour of the ruins is followed by the motor coach ride back to the pier.
Mini Jeep Adventure – This adventure begins with a 45-minute ride on an air conditioned bus to the Uvero Beach Club. Once there, you will meet with your bi-lingual guide for your safety instruction and training on how to use your all-terrain vehicle. (Only those 21 and over with a valid driver's license may drive) Then, you will head out on a 75-minute adventure on the Costa Maya coastline's primitive trails. After this adventure has come to an end, you will have the opportunity to swim in the ocean or have a light snack (extra charge) for an hour at an exclusive beach club. Another option for this one hour time is a snorkeling trip in the Caribbean waters. (Snorkeling gear is included.) Afterward, enjoy the bus ride back to the pier.
Tacos & Tequila Beach Break – Relax and indulge in this tequila tasting with family and new friends. Paired with the tequila, specialty fish tacos are prepared as well. This Port Adventure or shore excursion is offered to only guests 21 years of age or older.
Jaguar Adventure Expedition – Take a ride in the Jaguar Expedition truck that's loaded down with bicycles and paddleboards for a day of adventure and play. Guests will start by cycling a mile and a half to Mayan Cenote where you will be ready to splash and cool off! Here you can sit back and relax or join in and enjoy the serenity of paddle boarding.
Cozumel, Mexico
Cozumel Beach Break – A 25-minute ride takes you to the Playa Mia Grand Beach and Water Park where you can relax on a beach chair or play in the water. Play in the Buccaneers Bay Swimming Pool, Oasis Island Pool, and/or the Twin Twister Waterslide. The following is included in your adventure: international buffet and domestic open bar, aquatic floating sports center, kayaks, water trampolines, aquatic iceberg, paddle boats, floating mats, water bicycles, ping pong tables, volleyball and soccer courts, and an entertainment team with a kids' club.
Xcaret Eco Archaeological Park – A 45-minute ferry ride to Playa del Carman, a 15-minute walk, and a 20-minute air conditioned bus ride will bring you to the Xcaret Eco Archaeological Park. Once you arrive, you will enjoy a 30-minute float on an underground river or have a dip in the Caribbean waters. You will also explore the archaeological site, look through a botanical garden, see a wild bird-breeding aviary, and gaze at exhibits at the Museum of Mayan Archaeological Sites. Lunch is included with this tour.
Mayan Frontier Horseback Riding Tour – The trip to the hacienda Santa Emilia is a 25-minute drive in open-air vehicle. After arriving and listening to the safety briefing, it will be time to be assigned a horse. Horses are assigned based on the height, weight, and riding ability of the rider. All equipment is provided, including the mandatory helmet. Ride your horse back through time as you visit the Mayan frontier. Tour replicas of Mayan Ruins on horseback. The trail ride is about 90 minutes long and is followed by a return to the hacienda for a refreshing beverage. While at the hacienda, you have about 30 minutes to visit the working ranch before the return to the pier.
Eco Park and Snorkel – Board an all-terrain, open-air vehicle for a 35-minute ride to Punta Sur Ecological Park. Once you are at the park, there will be stops at a crocodile-filled lagoon, an ancient Mayan structure, and the Punta Sur Lighthouse and Nautical Museum. After about 90 minutes of exploring, you will arrive at the beach. The beach portion of this tour lasts about 60 minutes with a chance to either soak up the sun on the beach or go on a beginner's snorkel adventure.
Salsa & Salsa – After a 30-minute drive, you'll arrive at a beachfront resort where the "dancing chef instructors" are waiting to teach salsa and salsa. To start with, the "dancing chef instructors" will take you step-by-step through making a few Mexican salsas and margaritas. Next, the dancing chefs will teach you how to dance the salsa in 4 easy steps.
Falmouth, Jamaica
Chukka Horseback Ride and Swim with Dunn's River Falls and Lunch – This tour begins with a 70-minute drive in an air conditioned bus along the coastline to Dunn's River Falls. Here you will have the chance to climb the 600-foot falls. Afterward, re-board the bus to continue on to the Chukko Cove Farm where you will eat a Jamaica jerk grill barbeque lunch. After lunch, it is time for the horseback ride to begin.
Dolphin Swim and Dunn's River Falls – This tour starts out with a one hour drive in an air conditioned vehicle along the coastline to Dunn's River Falls. You will have an opportunity to hike the 600 foot falls, and afterward, it is a quick ride to Dolphin Cove. The hiking portion of this tour, with the Sea Trek Helmet, gives the ability to walk about 15-feet underwater while the dolphins swim around you. Afterwards, there is time to experience the other activities that Dolphin Cove has to offer. There is also a Jamaican-style buffet.
Chukka's Amazing Race – Any fan of The Amazing Race will love this shore excursion. Enjoy solving riddles and navigating through the streets, across ziplines, and much more. Join the winner's circle when all is done and lunch, fiesta style with jerk chicken and rum tasting.
Dolphin Cove & Dunn's River Falls – This tour starts out with a one hour drive in an air conditioned vehicle along the coastline to Dunn's River Falls. You will have an opportunity to climb the 600 foot falls, and afterward, it is a quick ride to Dolphin Cove. Dolphin Cove is surrounded by tropical jungle and has a variety of animals: a family of bottlenose dolphins, exotic birds, snakes, and iguanas. Interaction with dolphins is not a part of this adventure. You will have almost 3 hours to experience the different things Dolphin Cove has to offer:
Watch the dolphins play in the Caribbean Sea
Walk through the lush tropical jungle
Experience snakes and iguanas
Feed the lovebirds in the bird aviary
Visit the touch tank display filled with exotic sea creatures
Take in a hands-on experience on how to make unique pottery
Watch the local wood carver bring wood to life
Visit a replica of Jamaica's most famous pirate "haunt"
Watch the humorous shark show
Watch the stingrays in their lagoon
Enjoy a Jamaican-style buffet
George Town, Grand Cayman
Adventure To The Stingray City Sandbar – By bus, guests will ride to Snug Harbor where you will board a 65 foot Catamaran and sail to the Stingray City Sandbar (approximately 40 minutes). Once you've gone over protocol enjoy swimming with these sea creatures. As you snorkel through the sandbar the instructor will bring little stingray friends to the top for you to pet for yourself. This portion to the adventure lasts about 45 minutes before heading back to the harbor, then returning to your Disney Cruise Line ship.
Nautilus Undersea Tour – The Nautilus is a semi-submarine. It floats like a boat but has an underwater view like a submarine. It does not submerge, though. The Nautilus trip lasts about 45 minutes. In the air conditioned underwater observatory, a marine expert will tell about the history of two ill-fated shipwrecks. At Cheeseburger Reef, divers will hand-feed the fish right outside your window, providing a great photo opportunity.
Key West, Florida
Snorkel, Kayak, and Dolphin Watching Adventure – Enjoy a 20 minute boat ride to the Key West National Wildlife Refuge where you will begin your 45 minute kayak adventure. Next, you will spend about 45 minutes snorkeling in shallow waters where you can see tropical marine life. After your snorkeling adventure ends, the boat will take travel to the "Dolphin Playground" where a resident pod of nearly 100 bottlenose dolphins live.
Old Town Trolley or Conch Train Tour – The trolley or train will travel through the streets of Key West. The trolley or train will pass by many different sights, including Earnest Hemingway's house, Sloppy Joe's Restaurant, and more.
Presidents, Pirates, and Pioneers – This is a guided 2-hour walking tour of Key West's famous and historical sights.
Back to Nature Kayak Tour – This tour begins with a boat ride to the Wildlife Sanctuary followed by a guided 90 minute kayak adventure on "sit-on-top" kayaks. Enjoy a complimentary cocktail on the boat ride back to the dock.
St. Thomas/St. John, U.S. Virgin Islands
St. John Champagne Catamaran Sail and Snorkel – Sail to St. John, snorkel with the turtles, and enjoy fresh bread, fruit, cheese, and champagne on the return trip.
Coral World Ocean Park – This adventure begins with a 25-minute ride to Coral World Ocean Park. After arriving, you will board the Nautilus VI, one of the most advanced semi-submarines. This 45-minute underwater ocean tour will allow you to see marine life out the viewing windows at about eight feet below the ocean surface. After the Nautilus VI, you will have about 90 minutes to explore the Coral World Ocean Park.
Best of St. Thomas Island Tour and Shopping – Tour St. Thomas in an open-air safari bus followed by an optional downtown shopping drop off.
*Note – Port adventures are operated by third party contractors who are not agents of the Disney company nor are they controlled or overseen by the Disney company. All times given are approximate times.