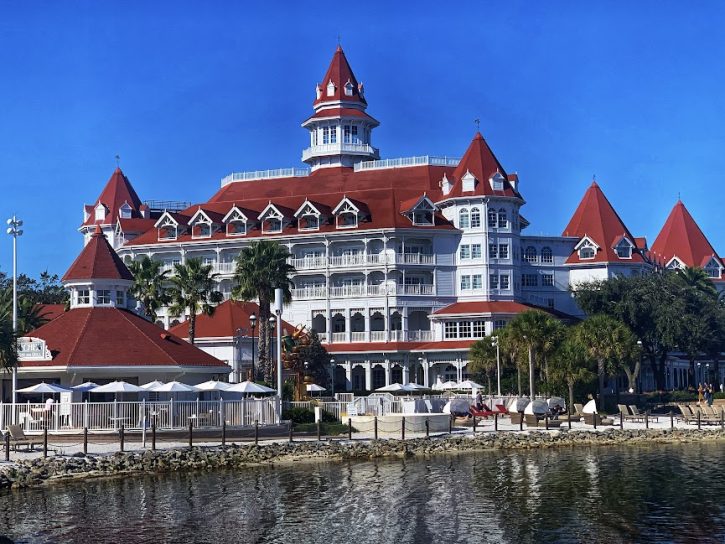 Walt Disney World Resort Benefits
The benefits to staying at a Walt Disney World Resort are endless. To see all benefits, scroll through the list and check out all Disney Resorts have to offer.
Dining Plan Transportation Parking
Package Delivery Room Charging
Location
Walt Disney World is huge! We are talking 47 square miles huge. It is twice the size of Manhattan huge. Staying at one of the many Walt Disney World Resort Hotels, means you are closer to the action.  If you are going to play in the magic, shouldn't you stay in the magic?
Theme
Each Walt Disney World Resort boasts its own unique theme. There are a range of themes and something is sure to interest everyone. The attention to detail, whether a guest is in a value room or a deluxe suite, is something that makes an on-site Disney stay stand out from a regular hotel room. The Value Resorts feature huge and over the top icons and pool areas. For example, at Disney's All Star Sports Resort, there is sports equipment fit for a giant sprawled throughout the resort. The theming only gets more inspired as you move up to a Deluxe Resort. Consider a stay at the incredible Animal Kingdom Lodge complete with an African Savannah where guests can view animals anytime of day.
Early Theme Park Entry And Extended Evening Park Hours
All onsite guests staying at a Walt Disney World Resort are able to take advantage of Early Theme Park Entry. Onsite guests can enter a park 30 minutes before the official opening time.  This allows time to get a nice head start on grabbing a cup of coffee or heading to your favorite attraction.
Guests staying at Deluxe Resort Hotels and Disney Deluxe Villas can enjoy Extended Evening Park Hours at select theme parks on select nights.
MagicBands
Guests staying onsite at at the Walt Disney World Resort can purchase a MagicBand for each Guest in their party at a pre-arrival price for up to six days before trip arrival.  Guests can use these bands to open resort doors, charge meals and purchases to rooms, link  PhotoPass photos to your account, and even access your tickets for park entry. They are the ultimate in convenience and make your vacation planning even more exciting! MagicBands are available in a variety of colors and styles.
Early Access to Lightning Lane Options and Park Reservations
All guests at Walt Disney World have the benefit of using the  Genie + Lightning Lane service which allows guests to reserve ride times and skip the wait. Only Guests staying in a Walt Disney World Resort have the added benefit of purchasing a Lightning Lane selection at 7:00 AM.  This is a big benefit for on-site Walt Disney World Resort guests because non-resort guests cannot purchase a Lightning Lane option until the parks are open.
Onsite guests can also make park reservations for the number of days on their tickets.  Those not staying onsite can reserve three park days at a time.
Disney's Dining Plan
A Disney Dining Plan creates the opportunity for guests to check out many of Disney's fantastic restaurants with a convenient pre-paid package. Guests of a Disney resort also have the benefit of booking all dining reservations for their trip at 60 days out from the first day of the trip for up to 10 days, whereas guests not at a Disney resort book dining reservations at 60 days from each day of the trip.  It is available for reservations 2024 onwards.
Transportation
Walt Disney World Resort Benefits allow guests unlimited (and FREE!) use of all Disney transportation.  Disney will make sure that you get where you need to go. Motor coach, ferryboat, Skyliner,  and monorail services are available to take you throughout Walt Disney World Resort. Some resorts are even close enough to walk to certain Theme Parks.  Sit back and leave the driving and navigation to Disney!  The ferryboats, Skyliner, and monorail are a fun way to get to and from the parks.  Many guest consider these transportation options to be attractions to experience.
Free Parking
If you do choose to drive while on Disney property, guests staying at a Disney resort are entitled to free parking at the theme parks.  This is a big savings!
Resort Package Delivery
This service is currently suspended, though we anticipate it could return.  Did you find that most amazing souvenir at the parks, but don't want to carry it with you all day? No problem! With resort package delivery, guests can select resort package pick-up when paying for their purchase. Items are delivered directly to their resort (usually the gift shop there) to be retrieved once your park touring is done for the day.
Room Charging
Guests staying at a Walt Disney World Resort can use their MagicBands to charge purchases to their room.  MagicBands are a great commodity for all guests at Disney, but are especially useful with specific Walt Disney World Resort Benefits. If a credit card is on file, guests can charge purchases directly to the room, no matter where they are on Disney property. They can also access their Dining Plan credits this way. A MagicBand provides access to souvenirs, food, Genie+ and even opens the door back at the room. How convenient!
Payment Option with Disney Gift Cards
The Walt Disney World Resort accepts payment for resort stays with Disney gift cards.  Buying a few gift cards at a time is a great way to save for a Walt Disney World Resort vacation, and there can be a savings if the gift cards are bought with a discount at big box warehouse stores.  The Magic For Less Travel can accept the gift cards as payments for resort stays.
All the Magic, all the time. As you can see, staying on-site offers a great deal of flexibility. There are so many Walt Disney World Resort Benefits. At every turn, Disney cast members work hard to make your stay memorable. Without the hassle of traveling off property, guests can have everything they need right at their finger tips. The magic of Disney for an entire vacation could be the best benefit of all!

Planning a Walt Disney World Vacation?
For a Free no-obligation quote, contact our sponsor
The Magic For Less Travel
. Services are provided free of charge and their expert planning advice will help you make the most of your vacation time and money.