September 2-5, 2016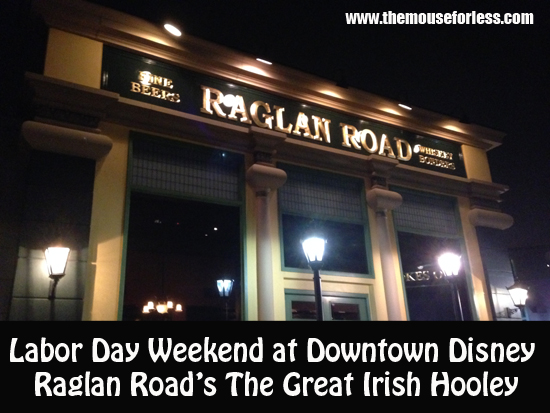 The Great Irish Hooley signifies that we're halfway to St. Patrick's Day and features traditional live music, dancing, and delicious Irish cuisine.
Live Entertainment Additional Activities
2016 The Great Irish Hooley Info
This year we celebrate the fifth installment of this authentically Irish annual weekend at Raglan Road in Disney Springs. Festivities begin at noon on Friday, September 2 and will run through the evening of Monday, September 5. This authentic Irish festival features inventive cuisine by Irish celebrity chef Kevin Dundon, live music by popular Irish artists, along with performances by award-winning Irish dancers. The celebration will take place from 12:00 p.m. until 1:30 a.m.
New for 2016, Raglan Road will present a brand-new, 90-minute live show of music and dance – The Rhythms of Raglan – produced in Ireland, exported to Raglan Road and directed by David Hayes (Riverdance, "The Voice" Ireland edition) with guest choreographers including Michael Donellan (Lord of the Dance).
Live Entertainment
Top Irish talent will be on hand for the event including many award-winning bands. The full line up for this year's event includes:
Screaming Orphans 
The Screaming Orphans are the four Diver sisters from Bundoran, Co.Donegal, Ireland. They are a captivating and entertaining live band that combining their own original, pop/rock music with the Ceili tradition style of music that was inherited from their family roots.
The Raglan Roots Coalition
The Raglan Roots Coalition is plays soul rocking Celtic bluegrass with a touch of  funky roots beats.
Flat Out
Flat Out are an award winning four-piece band that place a mix of folk, traditional, pop, and new world music. They play fresh original music along with funky covers.
The Marianne Fraser Band
Marianne is one of the most sought after guitarists and is supported by Danny Hunter on fiddle and Ali Levack on whistles and pipes. The band performs high a high energy mix of traditional and modern songs, as well as Marianne's own compositions.
The High Road
This is a predominately Irish traditional group, but they also play British folk, blues, and soul. Their combined talents provide for an exciting live show.
Swingin' on the Gate
This four-piece band of multi-instrumentalists have both traditional and classic training. They are multiple medal winners at Fleadhs Music Competitions.
The Flyin' Marys
They Flyin' Marys are a hip, all-girl band from Ireland. They are able to blend raucous tunes, beautiful ballads, and strong vocals.
Cooney & Ryan
Both considered masters of their chosen instrument, Cooney & Ryan are one of the finest traditional Irish music duos around.
Jake Richardson
Jake is a singer–songwriter and musician from Dublin Ireland with unique vocals, catchy songs and a passion for music.
The Raglan Road Irish Dancers
The Raglan Road Dancers perform throughout the long weekend. You can even learn a few traditional Irish dance steps. Everyone is welcome no experience necessary!
For the full schedule of performances, check here.
Additional Activities
Celtic Face Painting
Available from Noon til 8:00 p.m. on Saturday, Sunday and Monday.
The Great Irish Hooley's schedule is subject to change without notice due to inclement weather. Please allow extra time for parking. Guests may find parking at the multi-level parking garage.
For full details on the event, click on this link.