September 2018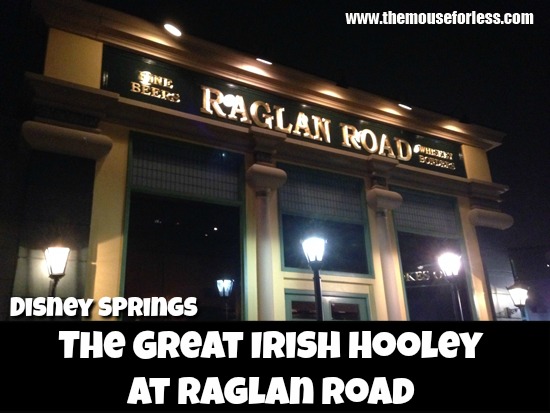 The Great Irish Hooley signifies that we're halfway to St. Patrick's Day and features traditional live music, dancing, and delicious Irish cuisine.  The Hooley is a unique Irish festival that is packed with some of the best Irish music you'll hear, as well as other entertainment opportunities.
Live Entertainment Additional Activities
More Information about 2018 Events will be added when released. The following is what occurred in 2017.
2017 The Great Irish Hooley Info
This year we celebrate the sixth installment of this authentically Irish annual weekend at Raglan Road in Disney Springs. Festivities begin at 3:00 p.m. on Friday, September 1 and will run through the evening of Monday, September 4. This authentic Irish festival features inventive cuisine by Irish celebrity chef Kevin Dundon, live music by popular Irish artists, along with performances by award-winning Irish dancers.
Live Entertainment
Top Irish talent will be on hand for the event including many award-winning bands. The full line up for this year's event includes:
Elevation
Appearing at Raglan Road for the first time in four years, Elevation is a U2 tribute act who will play two special nighttime shows on September 2 and 3. The band will be paying homage to the U2 world tour celebrating 30 years of the ground-breaking Joshua Tree album.
Lisa Canny Band
Combining traditional Irish, R&B and Hip Hop, the Lisa Canney Band will perform nightly during the Hooley.
Gary O'Meara Band
A traditional Irish banjo player with a prolific career as a solo artist and as a member of multiple legendary Irish music acts.
The Raglan Roots Coalition
This authentic Irish house band will be performing Roots style. Think soul-rocking Celtic bluegrass with some funky roots beats.
Jake Richardson
A singer-songwriter-musician from Dublin whose passion for music inspires audiences as he entertains with unique vocals and catchy songs.
Over the Bar
A vibrant four-piece, predominantly Irish traditional group that includes folk, blues and soul.
Rollickin' Rua
This fresh traditional Irish music ensemble from Ireland and Scotland create a cacophonous crescendo of music and song with their clash of Celtic cultures.
Aaron O'Sullivan
A singer-songwriter and guitarist from County Cork who mixes traditional Irish ballads and modern Irish songs.
The Raglan Road Irish Dancers
The Raglan Road Dancers perform throughout the long weekend. You can even learn a few traditional Irish dance steps. Everyone is welcome no experience necessary!
For the full schedule of performances, check here.
Additional Activities
Celtic Face Painting
Available from 5:00 p.m. on Friday and from Noon on Saturday, Sunday and Monday.
The Great Irish Hooley's schedule is subject to change without notice due to inclement weather. Please allow extra time for parking. Guests may find parking at the multi-level parking garage.
For full details on the event, click on this link.