September 1-4, 2023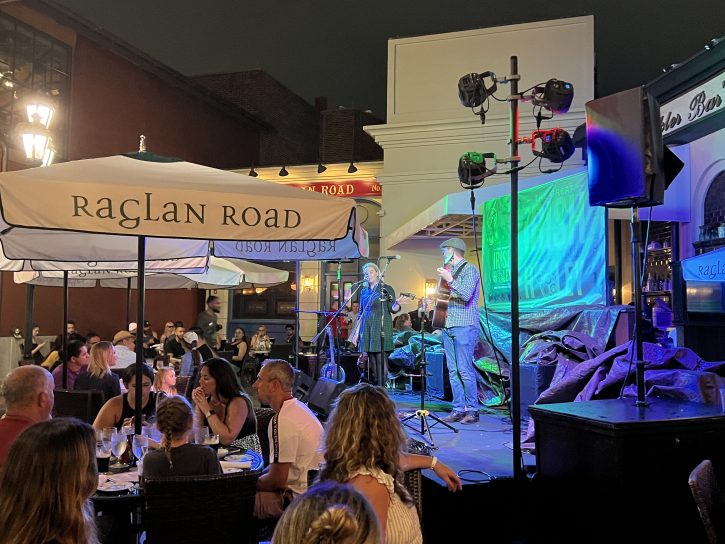 The Great Irish Hooley signifies that we're halfway to St. Patrick's Day and features traditional live music, dancing, and delicious Irish cuisine.  The Hooley is a unique Irish festival that is packed with some of the best Irish music you'll hear, as well as other entertainment opportunities.
Live Entertainment Additional Activities
2023 The Great Irish Hooley Info
This year we celebrate this authentically Irish annual weekend at Raglan Road in Disney Springs. Festivities begin at 4:00 p.m. on Friday, September 1 and will run through the evening of Monday, September 4. This authentic Irish festival features inventive cuisine by Irish celebrity chef Kevin Dundon, live music by popular Irish artists, along with performances by award-winning Irish dancers.
Live Entertainment
Top Irish talent will be on hand for the event including many award-winning bands. This year's artists include:
Strings & Things
Sina Theil
One for the Foxes
They Byrne Brothers
The Connemara Ramblers
Oliver Havlin
The Raglan Road Irish Dancers
The Raglan Road Dancers perform throughout the long weekend. You can even learn a few traditional Irish dance steps. Everyone is welcome no experience necessary!
For the full schedule of performances, check here.
Dining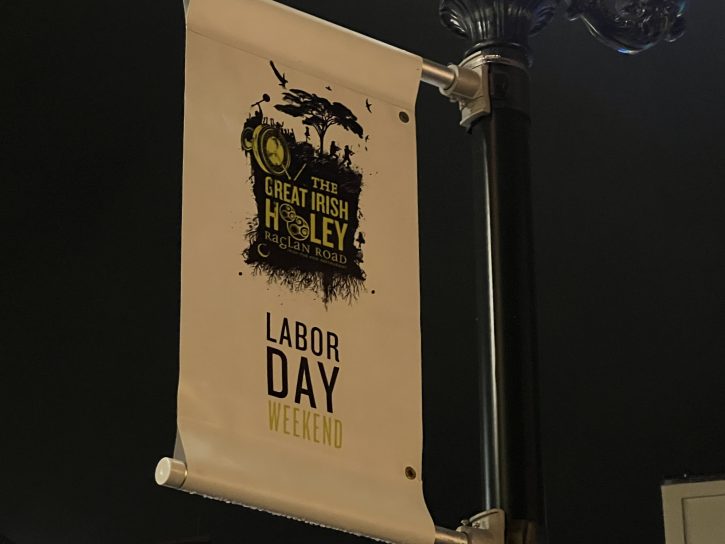 During the festival, Guests will be able to enjoy classics like Fish & Chips and Shepherd's to Die for Pie. Or you can enjoy all-new bites like the Crispy Cream Goats Cheese Salad. Some of the dishes debuting at the Hooley include Guinness & Onion soup and the Sea Board – a sharing board for two featuring a variety of savory seafood bites. These dishes will remain on the menu after the Hooley, through the fall. At Cookes of Dublin, there will also be new menu items during the festival including a Combo Box with Battered Cod & Shrimp, a new recipe for their Hog in a Box (Slow Roasted Pork Shoulder), Bang Bang's Loaded: Buttermilk fried chicken with a spicy mayo sauce and loaded chips, and Cookes' Cheesecake.
In addition to the pub's All-Day Menu, the delicious Rollicking Raglan Brunch will be served throughout the weekend and Monday from 10:00 a.m.- 3:00 p.m.
Raglan Road will also debut its new "Stars & Hearts" Keeper's Heart Whiskey flight, an Irish-American collaboration aged in stout barrels. Also, bartenders also are whipping up new cocktails for the festival including "Heart of the Hooley," made with Keeper's Heart Irish Bourbon and blackberry and mint shrub.
Additional Activities
Celtic Face Painting
There will also be complimentary face painting. Get in the spirit of the Hooley with Celtic artistry!
There is no cover charge, and reservations are recommended. Reservations can be made through the My Disney Experience app or by calling 407-938-0300.
The Great Irish Hooley's schedule is subject to change without notice due to inclement weather. Please allow extra time for parking. Guests may find parking at the multi-level parking garage.
Want see what it's like to experience The Great Irish Hooley? Check out The Mouse For Less Blog for a great article.