April 22, 2016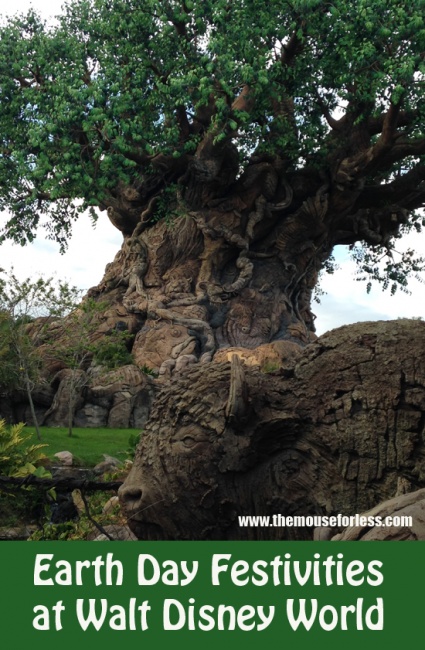 Earth Day sprouted as a grassroots event on college campuses and in local communities on April 22, 1970. Over 20 million people participated in the first Earth Day, and it continues to be celebrated around the world. Earth Day has evolved into a yearly celebration with Disney–in the parks, in the theaters and at the Disney Stores.
Disney's Animal Kingdom theme park opened its doors on Earth Day, April 22, 1998, giving families a whole new way to appreciate, enjoy and interact with animals, and Disney an even bigger reason to celebrate Earth Day. In 1998, an elaborate grand-opening ceremony was attended by a crowd of 2,000, with primatologist Jane Goodall, Ph.D., playing a special role in the festivities. Then-CEO Michael Eisner introduced the theme park to the world, calling it "a kingdom we enter to share in the wonder, gaze at the beauty, thrill at the drama and learn."
2016 information will be added as it becomes available
Earth Day at Disney's Animal Kingdom
Party for the Planet
Each year Earth Day events at Disney's Animal Kingdom park integrate animal themes to create fun activities for the whole family to enjoy and learn about conservation. Animal Kingdom's Party for the Planet events which will be presented by Disneynature are held throughout the park. Throughout the day, Guests can discover fun and engaging activities throughout every land in the park. These activities are designed to encourage Guests to connect with nature. The offerings around the park are a special way for Guests to connect with nature and gives them a chance to meet a Conservation Guide and see first-hand how Disney monitors wildlife and is working to reverse the decline of endangered species around the world.Party for the Planet activities are unique each year and included with regular admission to Animal Kingdom park.
During the day, special food and merchandise offerings will be available, engaging activities will help young Guests learn about the world around them, and Jiminy Cricket will make special appearances at Rafiki's Planet Watch throughout the week to commemorate the occasion. Most events will occur on Earth Day proper, however a few activities
The Oasis
The Jungle Book Matching Game
Uncover little known facts about select animals featured in Disney's upcoming live action film, "The Jungle Book."
The Jungle Book sand sculpture
In celebration of the movie release, Guests can take photos of "The Jungle Book" sand sculpture through April 24.
Discovery Island
Measure Your Footprint
Discover the size of your environmental footprint and learn some new ways you can make it smaller to protect our planet.
Book signing by Imagineer Joe Rohde
Joe will be at Discovery Trading Company from 1-2 p.m. signing original art and the new Disney Conservation Fund book. A wristband will be required to meet Joe Rohde.  A limited number of wristbands will be distributed at the time of art or book purchase at Discovery Trading Company on April 22.  Wristbands are available while supplies last.
Vendors outside Island Mercantile
Boiled Books (April 20-24) will be selling books made from pressed flowers/plants and the Fairy House Ladies (April 21-24) will sell fairy houses made from material found in nature.
Africa
Simba Says
Use your flippers, wings or paws and take a walk on the wild side, but only if Simba says!
Special treats
Earth Day inspired pineapple treats at Zuri's Sweets Shop
Jorta Boutique (April 20-24)
This vendor will be set up outside Mombasa Marketplace and will sell jewelry made from seeds/pods
Rafiki's Planet Watch
Become a Bird
Soar over to Rafiki's Planet Watch and see how you would measure up to a bird your size.
Character greetings
Meet Jiminy Cricket April 17-23.
Asia
Leap for Wildlife
Show your enthusiasm for conservation and discover the lengths you can go to protect wildlife and wild places.
DinoLand U.S.A.
Dino Plant Exploration
Use your imagination and help survey the prehistoric on a top-secret mission.
Guests will also be able to pick up a special Earth Day cupcake that features chocolate mousse and then topped with buttercream dipped in Oreo crumbs, a chocolate flowerpot and gummy worms. Guests can find these cupcakes at  Isle of Java, Creature Comforts, and Kusafiri Coffee Shop & Bakery.
Earth Day at Epcot
At Epcot, Earth Day will be celebrated during the Epcot Flower and Garden Festival all weekend, from April 22-24.
The Jungle Book Matching Activity
at The Jungle Book Sand Sculpture
Guests will be able to play a matching game in which they match species featured in The Jungle Book to a fun fact about the unique animals!
Butterfly Citizen Science
at Pollinator Garden
Guests will have the opportunity to be a part of a butterfly citizen science project by collecting data that will help the conservation and horticulture teams learn about Florida native butterflies and their native plant preference.
Meet Captain Ron
at The Seas with Nemo & Friends
A professional turtle egg sniffer, Captain Ron the beagle helps conservation experts by sniffing out turtle egg nests to help protect them! Captain Ron and his trainer Pepe Peruyero will have appearances at 10:30 a.m, 12:30 p.m. and 2:30 p.m. on the Friday, Saturday and Sunday of Earth Day weekend. The duo will also give a short presentation about their work, and will be available for photos.
Festival Center
Catch horticulture and wildlife experts leading seminars about aquaponics, making your property wildlife-friendly and how to grow new plants from the plants you already have.
Other activities:
National Park Foundation map activity
At 11:00 a.m. each day during Earth Day weekend, you can get an up-close look at a nest with a purple martin expert, presented by the The Florida Audubon.
Leap for Wildlife at National Wildlife Federation Garden
Discover your Footprint at The Nature Conservancy Garden