Select Nights November – December 2023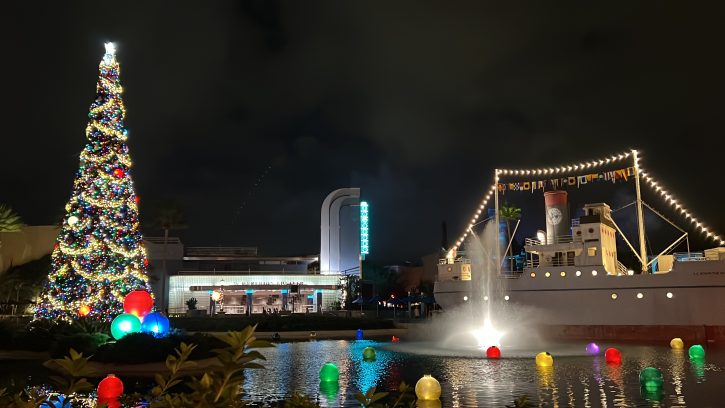 Ticket Information Essential Info for Attending Entertainment Schedule Tips
This festive season, Disney's Hollywood Studios at Walt Disney World is hosting a brand-new nighttime party called Disney Jollywood Nights on select nights from November 11 to December 20, 2023.
So what can you expect in this party that's made for Tinseltown? First of all, it will be the return of the holiday nighttime fireworks spectacular, Jingle Bell, Jingle BAM! This show is jam-packed with music, fireworks, special effects and dazzling state-of-the-art projections. This will be a Disney Jollywood Nights exclusive show.
Also part of the event will be a brand new show at the Theater of the Stars that is hosted by Kermit the Frog and Miss Piggy. The show will include Disney friends and a spirited sing-along. There will be special appearances from Princess Tiana, Belle and more.
Guests will find a DJ spinning holiday tunes. They will also be able to stop at a jazz lounge at The Hollywood Brown Derby and an other-worldly soiree at The Hollywood Tower Hotel Courtyard. And, if you head over to Commissary Lane, you'll find a Latin Street Fair.
On top of all that, you'll be able to experience your favorite Disney's Hollywood Studios attractions at Disney Jollywood Nights! Plus there will be lots of other fun surprises, as well.
Disney Jollywood Nights is a special event held on select nights at Disney's Hollywood Studios. Purchase of an event admission ticket is required to attend Disney Jollywood Nights. Separate theme park admission is not required to attend the party, nor is your party ticket connected to your Disney theme park admission ticket in any way. Purchasing your tickets to Disney Jollywood Nights in advance is strongly recommended.
2023 Disney Jollywood Nights Ticket Information
2023 Dates:
Saturday, November 11 – Sold Out
Saturday, November 18
Monday, November 20
Monday, November 27
Wednesday, November 29
Monday, December 4
Wednesday, December 6
Saturday, December 16
Monday, December 18
Wednesday, December 20
Time: All parties are from 8:30 p.m. to 12:30 a.m. Guests may link their special-event tickets in their My Disney Experience accounts. Party-goers can enter the park as early as 7 p.m. on the day of the party using just their party ticket or linked-MagicBands. Wrist bands are distributed at the gate and can also be picked up at in various park locations beginning at 7:00 p.m. The party goes on rain or shine, and there are no refunds for inclement weather.
2023 General Public Tickets Prices (tax not included)
Event tickets are $159 to $179 per ticket, plus tax (prices vary by event date).
| Event Date | Event Ticket for Ages 10 and Up (Excludes Tax) | Event Ticket for Ages 3-9 (Excludes Tax) |
| --- | --- | --- |
| November 11, 2023 – Sold Out | $159 | $159 |
| November 18, 2023 | $159 | $159 |
| November 20, 2023 | $159 | $159 |
| November 27, 2023 | $159 | $159 |
| November 29, 2023 | $159 | $159 |
| December 4, 2023 | $169 | $169 |
| December 6 2023 | $169 | $169 |
| December 16, 2023 | $169 | $169 |
| December 18, 2023 | $169 | $169 |
| December 20, 2023 | $169 | $169 |
General Information: Generally, the party right before Christmas is not only the most expensive ticket, but will also be the most crowded. Another frequently crowded night is the first party of the season. The number of tickets for each party is limited and events often sell out early. (This event is fully expected to sell out FAST for this year.)
Annual Passholder & DVC Member Tickets Prices (tax not included)
Annual Passholders and Disney Vacation Club Members can save $10 per ticket to Disney Jollywood Nights, valid for select event nights.
-Passholders can purchase for themselves and up to 3 Guests.
-DVC Members can purchase for themselves and up to 5 Guests.
Essential Info for Attending
Rides and Attractions
Guests have unlimited use of popular attractions such as Rock n' Roller Coaster, Slinky Dog Dash, The Twilight Zone Tower of Terror and many more. Keep in mind that not all attractions will be open during the party. Lines will be the shortest during the fireworks when many families with young children leave the park.
Keep in mind that a virtual queue will be in place for Star Wars: Rise of the Resistance.
Food
Food is always an important part of these events and this one is no exception. Guests can buy specialty offerings like Spicy Korean Chicken on a Mini Funnel Cake, a Christmas Tree Cookie Stack inspired by the iconic Echo Lake Christmas Tree and classic cocktails and holiday beverages.
Merchandise
Holiday merchandise will be available at many of the shops, including limited edition Disney Jollywood Nights merchandise.
2023 Entertainment Schedule
Jingle Bell, Jingle BAM!
The nighttime spectacular called Jingle Bell, Jingle BAM! will take place at Disney's Hollywood Studios exclusively during Disney Jollywood Nights. This show will occur on the facade of the Chinese Theater and will bring Guests merriment and holiday cheer. It is a seasonal nighttime spectacular that's jam-packed with music, special effects and dazzling state-of-the-art projections.
Musical Variety Show
This new musical variety show will include special guests Kermit the Frog and Miss Piggy at Theater of the Stars. There will also be special appearances from Princess Tiana, Belle and more.
Sing-Along Experience
Join in the fun during a spirited sing-along experience at Hyperion Theater. More details to come!
Entertainment
"Holiday Fiesta En La Calle" will be one of the entertainment offerings. Guests will head down Commissary Lane and discover a holiday street fair filled with lively energy. Latin holiday music will fill the air as musicians play along the walkways. Warm lighting and colorful décor will give the street a vibrant feel as guests sip drinks and nibble treats inspired by Latin holiday traditions.
Other entertainment offerings will include:
The event will welcome Guests with a DJ spinning a holiday mix on Hollywood Boulevard.
Enjoy a jazzy Hollywood-themed lounge at The Hollywood Brown Derby Restaurant.
Drop in to the The Hollywood Tower Hotel courtyard for a limited-capacity, otherworldly soirée.
Characters
Meet Mickey Mouse, Minnie Mouse and friends in Animation Courtyard on a hot set with holiday props.
Over in Echo Lake enjoy a throwback bash! You may even spot Powerline Max, Phineas and Ferb!
Strike a pose with Edna Mode at Pixar Place.
Disney PhotoPass Opportunities
Pose for fun photo ops and get downloads of your Disney PhotoPass digital photos and videos from the event. These are included with your event ticket.
Photographers & Special Effects – Disney PhotoPass photographers will be on hand to capture your memories,. Be sure to ask about holiday-themed Magic Shots which are available at select Disney PhotoPass locations only.
Special Disney PhotoPass Lens – Take snapshots and videos with an event-themed Lens.
Disney PhotoPass Video Memories – Create video stories featuring memorable moments from your evening using a special Disney Jollywood Nights-themed template.
Disney Jollywood Nights Party Tips
Do a little advance planning before and after purchasing Disney Jollywood Nights tickets. Typically, Tuesday parties are the less crowded than parties that occur on other days of the week. If you're on the fence about attending, consider that the Magic Kingdom usually closes earlier during party dates, and this may be one of your few opportunities to be in the Magic Kingdom after 9 p.m. during your trip.
Since you can enter Disney's Hollywood Studios as early as 7 p.m. with your party ticket, you may want to make Advance Dining Reservations at a Disney's Hollywood Studios restaurant for dinner. Table Service restaurants book up early on party nights so book as far in advance as possible. You can book up to 70 days out if you are staying at a Walt Disney World resort, and 60 days in advance otherwise. Allow yourself enough time to finish eating before the party begins. If you're planning on eating at a Quick Service restaurant prior to the party, be aware that some restaurants may close earlier than expected. This is especially true for Quick Service restaurants that will not be opened during the party.
If you'll be attending Disney Jollywood Nights and are also purchasing Magic Your Tickets for your trip, you may want to skip purchasing an admission day for your party date. Earlier in the day would make a wonderful time to visit some of the Deluxe resorts to check out the decorations and even some of the holiday activities. You can find a few suggestions listed on our holiday page. If your tickets are more than 3 days in length, you may find this only reduces your costs by $10, but if you really won't be able to visit a theme park on party day, that's a savings you could put toward your Disney Jollywood Nights ticket. And remember, you can enter Disney's Hollywood Studios as early as 7 p.m. using nothing but your party ticket.
To help prepare for the late night, try to relax or even take a nap in the afternoon before Disney Jollywood Nights. Then arrive a little early to dine or to review the special party map and guide and decide what everyone in your party would enjoy doing.
Make sure to dress appropriately. There are no refunds for inclement weather so if rain is in the forecast, bring a rain poncho if you have one. Ponchos can also be purchased in the park. Check the temperature the day of the party. Evenings in November and especially December can require a sweatshirt or light jacket, or even better, one of those special holiday sweaters. Come dressed for the occasion!
Those attending Disney Jollywood Nights will be given a wrist band as they enter the park through a designated turnstile. If you entered the park prior to wrist bands being distributed, you may also obtain a wrist band in select locations by showing your Disney Jollywood Nights ticket. There are different color bands for each party night. Make sure you do not remove your Disney Jollywood Nights wrist band. Cast Members do check for wrist bands, and without one, you will not be able to get on rides, meet characters, enter stores, purchase food or do anything else. If you are spotted without a wrist band, you will be asked to leave the park once the party has started. There are no exceptions. If you don't have a ticket but would like to stay in the park and attend the party, you can check at Guest Relations to see if tickets are available for that particular evening. Some parties do sell out in advance, but if tickets are available, they may be purchased at Guest Relations without exiting the park.
Don't overlook the Disney Jollywood Nights special shows because you won't be able to see the party's shows anywhere else! Make sure to arrive early to get a spot for these as they will be popular.
Character meet & greet locations are marked on the Disney Jollywood Nights maps. You can pick up a special Disney Jollywood Nights map as you enter the park. A small flashlight will help to read the map at night. The areas where Photopass photographers take photos can get quite crowded, especially the character meet & greets. And speaking of characters, this will be a unique opportunity to get photos of Disney characters in their holiday attire, as well as with some rare Disney characters. Try to get a few photos done when the party first starts or towards the end of the night. And don't forget to bring your own camera so you don't miss that special shot in case there is no Photopass photographer around. Many characters will be unavailable to meet during the parade since they will be taking part in the parade.
If you're not into meeting characters or Dance Parties, Disney Jollywood Nights is a great time to ride as many rides as possible. Favorite rides will be operating and since Disney limits attendance to the parties, lines are usually short throughout most of the night. This includes when the party is a sellout.
Don't forget to stop and smell the poinsettias. Disney's Hollywood Studios decorations are lovely this time of year with tinsel hung everywhere and snow gently falling. Holiday music plays throughout the park with pieces themed to each land. Also, Disney uses special lighting effects on buildings and pavements to add to the holiday decor during the parties.
---