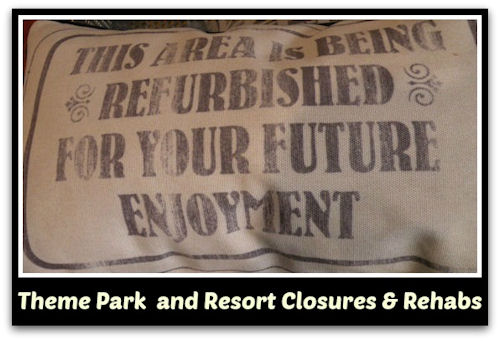 Walt Disney World Theme Park and Resort Closures and Rehabs
** All information is subject to change.**
  Magic Kingdom Epcot Disney's Hollywood Studios Disney's Animal Kingdom
Disney Water Parks Disney Springs
Disney Resorts Elsewhere at the Walt Disney World Resort
Not all Walt Disney World Theme Park and Resort Closures and Rehabs listed appear on Disney's official rehab calendar. For updated information on attraction closings, call 407-W-DISNEY (934-7639) just prior to your scheduled visit. Schedules below are meant as an informative rather than official guide and are gathered from a number of official and unofficial sources.
Magic Kingdom
Epcot
Mission: SPACE and the Advanced Training Lab will be closed for refurbishment from June 5 – July 28.
Disney's Hollywood Studios
A new Toy Story Land will be coming to Disney's Hollywood Studios. The 11-acre land will include a family-friendly roller coaster and an alien saucers attraction, in addition to a third track for Toy Story Mania to accommodate even more guests.
A Star Wars-themed Land will be coming to Disney's Hollywood Studios, allowing Star Wars fans to step into the stories from a galaxy far, far away. Plans to bring Star Wars to life include creating Disney's largest single-themed land expansions ever at 14-acres. This authentic land will have two signature attractions that will transported guests to a never-before-seen planet with experiences including a customized secret mission on the Millennium Falcon and an epic Star Wars adventure that puts guests in the middle of a climactic battle. The Star Wars-themed land is expected to open in 2019.
Animal Kingdom
Pandora – The World of AVATAR will officially open on May 27. This new land will bring the fantasy world of James Cameron's AVATAR to life at Animal Kingdom Park. There will be two new attractions –  Flight of Passage, that will allow Guests to soar on a winged creature known as a Banshee over a vast alien world and the Na'vi River Journey where Guests will set out in canoes down a mysterious sacred river hidden within the bioluminescent rainforest. For more info, visit our Guide to Animal Kingdom's Expansion.
Disney Springs
Portobello Country Italian Trattoria has officially closed. A new concept will debut in the Fall of 2017.
DisneyQuest indoor interactive theme park will officially close on July 3 to make way for the NBA Experience.  Leading up to its closure, DisneyQuest will still operate as usual, offering classic arcade games and unique interactive experiences, such as Buzz Lightyear's AstroBlasters and CyberSpace Mountain.
Disney Springs is undergoing a multi-year transformation. New and completed areas will open in phases, and the project is expected to continue through 2017.
Disney Resorts
Due to dry conditions, there are currently fire restrictions throughout Central Florida. As a result, campfires at Resort hotels will not take place as scheduled. Other recreation activities will continue to be held. Additionally, charcoal grills, where available, may not be utilized at this time. Propane grills will be permitted for use.
Disney's Art of Animation Resort

Disney's Art of Animation Resort is currently undergoing refurbishments across the Resort. During this time, the Resort will be in full operation with all amenities available, including dining, merchandise and recreation locations. It is possible that construction may be seen or heard, but noise should not be heard from Guest rooms between dusk and 9:00 a.m.
Disney's BoardWalk Inn & Villas

Exterior Maintenance and Painting through May 2017. All work with the highest potential for noise will be limited between 9:00 a.m. and 5:00 p.m.
Disney's Caribbean Beach Resort

Disney's Caribbean Beach Resort will see a reimagining of Centertown that will add more amenities to this dining and shopping marketplace. Old Port Royale Food Court, Shutters at Old Port Royale, Cabana Pool Bar and Calypso Trading Post will be closed from refurbishment from May 1. Work is expected to take place for two years.  There will be a variety of dining options available for breakfast, lunch and dinner. Centertown, a dining location, will serve an all-you-care-to-enjoy buffet for breakfast and dinner. A selection of grab-and-go meals will be conveniently available for purchase in three island markets located in the Aruba, Jamaica and Martinique regions of the Resort. Additional a la carte offerings will be available at mobile food vending locations. Additionally, in-room dining will remain available. Any work most likely to cause a noise impact will not begin until 9:00 a.m.
Disney's Coronado Springs Resort

Disney's Coronado Springs Resort will be transformed over the next two years. A new 15-story tower will be added with views overlooking beautiful Lago Dorado. There will be 500 more Guest rooms featuring suites and concierge level services, along with additional new features for Guests to enjoy, including a rooftop restaurant. The project will take approximately two years.
Resort Room Refurbishments will take place beginning November 2016.
Disney's Grand Floridian Resort

The flooring of the fitness center is being replaced, but some of the equipment will be moved to Salon 9 to accommodate those Guests wanting to work out.
Disney's Old Key West Resort

Exterior resort maintenance will occur through July 27. Work will not begin until after 9:00 a.m. daily to minimize disruptions.
Disney's Pop Century Resort

Room Refurbishments will take place through May 7, 2018. To minimize any disruptions, work will be limited to 9:00 a.m – 5:00 p.m.
Disney's Wilderness Lodge and Villas

Roaring Fork and Trout Pass Pool Bar is closed for refurbishment through July 17. During this time Guests may visit the new Geyser Point Pool Bar & Grill which will serve breakfast, lunch and dinner. Also, Territory Lounge will offer a continental-style breakfast featuring gourmet coffees, pastries and a yogurt parfait.
Cub's Den (Children's Activity Center) will be unavailable through 2017.
Hidden Springs Quiet Pool, Resort Beach & Marina, Playground and Fire Pit will be closed through 2017 for refurbishment. During this time, the recently-renovated Silver Creek Springs Pool, featuring a 67-foot waterslide and a water play area for kids, will remain open for guest use. Noise may be overheard while this work is being completed, but construction will not begin until after 9 a.m. Boat rentals will not be available during this time. Certain pathways, including the nature trail will be unavailable continuing into 2017.
Disney's Yacht Club Resort

Guest Room Renovations are scheduled to occur through June 23. During this time, Guests may see or hear work in progress and certain pathways may be unavailable. To minimize any disruptions, work will attempt to be limited to 9:00 a.m – 5:00 p.m.
Captain's Grille will be closed for refurbishment May 15 through September 30. During refurbishments, the Captain's Grille is relocating to Ariel's.
Elsewhere at Walt Disney World Resort
ESPN Wide World of Sports has announced a new expansion coming to the complex, with completion of the project by mid 2017. The expansion will include seating for over 8000 guests, a performance and warm-up space, a new multi-use sports and entertainment venue with the ability to host 6 regulation basketball courts, 6 regulation volleyball courts or concert configurations. Concessions will be included throughout the building, along with an additional box office and entry to the complex.
Save
Save
Save
Save
Save
Save
Save
Save
Save
Save
Save
Save
Save
Save
Save
Save
Save
Save
Save
Save
Save
Save
Save
Save
Save
Save
Save
Save
Save