Disney Springs | West Side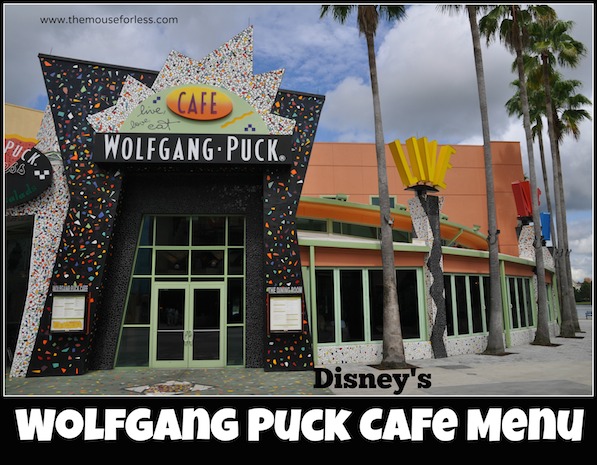 Lunch/Dinner Menu   Kids' Menu   Reviews

Taste a bit of celebrity by dining at this fabulous restaurant. Wolfgang Puck Grand Cafe is a unique fusion of Asian and Californian cuisine.
Restaurant Info: American, Steakhouse, Sushi; A la carte, $$ – $15 to $34.99 per adult
Find out how you can save money on dining at Walt Disney World by using one of Disney's Dining Plans.
Wolfgang Puck Grand Cafe Lunch/Dinner Menu
Menu Date: 06/2017
Soups
Butternut Squash Soup – cardamom cream, chives – Cup – $7 |Bowl – $9
Chicken Noodle Soup – carrots, celery, chives – Cup – $6 |Bowl – $8
Seasonal Selection – – Cup – $7 |Bowl – $9
Appetizers
Bruschetta – herbed ricotta, marinated tomatoes, pesto, arugula – $12.00
Crispy Calamari – gremolata aïoli, spicy marinara – $13.00
Crab Cakes – remoulade, marinated tomatoes – $16.00
Garlic & White Bean Hummus – house-made crostini, olive oil – $11.00
Chicken Meatballs – herbed ricotta, tomatoes, basil – $12.00
White Corn Nachos – ground beef, nacho cheese, pico de gallo, jalapenos – $14.00
Salads
Caesar – romaine, marinated tomatoes, crostini, parmesan – $12.00
Chopped Salad – escarole, quinoa, chick peas, cucumbers, radishes, carrots, heirloom tomatoes, pepperoncini, feta, croutons, house dressing – $14.00
Baby Iceberg – cherry tomatoes, bacon, red onions, blue cheese – $14.00
Baby Kale and Quinoa – golden raisins, apples, fennel, marinated tomatoes, chili flakes, parmesan, lemon vinaigrette – $13.00
Chinois Chicken Salad – cabbage, romaine, baby greens, pickled ginger, cashews, crispy wontons, ginger-sesame vinaigrette – $16.00
Pastas
Spaghetti – tomatoes, torn basil, garlic – $17.00
Spaghetti with Chicken Meatballs – tomatoes, torn basil, garlic, parmesan – $20.00
Rigatoni Bolognese – broccolini, herbed ricotta, basil – $20.00
Orechiette – italian sausage, cherry tomatoes, broccolini, chili – $20.00
Chicken Alfredo – rigatoni, mushrooms, baby peas, goat cheese – $19.00
Ricotta Ravioli – tomato cream sauce, roasted tomatoes, basil – $20.00
Sandwiches
Grilled Chicken – roasted tomatoes, smoked mozzarella, broccolini, lemon vinaigrette and served with house-made chips – $14.00
Bacon Wrapped Meatloaf – smoked mozzarella, crispy onion strings, garlic aioli and served with house-made chips – $15.00
Chicken Meatball – mozzarella, herbed ricotta, tomato sauce and served with house-made chips – $13.00
Hummus Wrap – arugula, fennel, cucumbers, tomatoes, feta, red onions, olives and served with house-made chips – $13.00
Sirloin Burger – lettuce, tomatoes, caramelized onions, pickles, cheddar, remoulade, garlic aioli and served with house-made chips – $15.00
Chicken Burger – romaine, tomatoes, avocado, provolone, garlic aioli and served with house-made chips – $15.00
Entrées
Half Pesto Chicken – crispy potatoes, arugula and cherry tomato salad – $23.00
Roasted Salmon – sauteed spinach, grilled lemon, gremolata – $28.00
Bacon Wrapped Meatloaf – mashed potatoes, crispy onion strings, port wine sauce – $20.00
Steak Frites – arugula, blue cheese butter – $30.00
Half Roasted Chicken – rosemary, mashed potatoes, garlic butter – $21.00
Chef's Seasonal Fish Selection – $29.00
Pizza
Margherita – torn basil, fresh mozzarella, roasted tomatoes – $14.00
Barbecued Chicken – smoked mozzarella, caramelized onions, cilantro – $17.00
Goat Cheese – pesto, roasted tomatoes, basil – $15.00
Italian Meats – salami, pepperoni, soppressata, mortadella, goat cheese, red onions, chili flakes, basil – $18.00
Fennel Sausage – roasted garlic, herbed ricotta, pepperoncini, roasted peppers – $17.00
Pepperoni Pomodoro – caramelized onions, basil, parmesan – $16.00
Pizza of the Day – Market Price
Desserts
Florida Key Lime Pie – Swiss meringue with a buttery graham cracker crust – $9.00
Classic Carrot Cake – Homemade cream cheese icing with candied pecans – $10.00
Brownie Sundae – Brownie, vanilla ice cream, chocolate and caramel sauce, whipped cream and fresh berries – $9.00
Cheesecake – $9.00
Specialty Cocktails
Planters Punch – Mt. Gay Rum, orange juice, pineapple juice, lemon juice, simply syrup and grenadine – $9.00
Sunshine Sangria – Red Raspberry Sangria or White Acai Berry Sangria – $10.00
Island Coconut – Gentleman Jack Rare Tennessee Whiskey, Coconut Water, Pineapple Juice, Simple Syrup – $10.00
Berry Basil Lemonade Martini – Deep Eddy Lemon Vodka, Strawberry, Basil, Soda Water – $9.00
Lemon Goose-tini – Grey Goose Le Citron Vodka, lemondrop lemonade, sugar rim – $11.00
Tropical Sunrise – Baracdi Limón Rum, Cointreau, Blue Curaçao, Peach Schnapps and Ginger Ale – $9.00
Sunshine Sangria – Carafe for Two – Red Raspberry Sangria or White Acai Berry Sangria – $18.00
Chocolate Fire Martini – 360 Chocolate Vodka, Rum Chata, Jack Daniels Fire, Cream and Caramel – $10.00
Peach Cosmopolitan – Stoli Peachik Vodka, Cranberry Juice, Cointreau, Fresh Lime Juice – $10.00
Elyx Martini – Absolut Elyx Vodka, Dry Vermouth, Olive Juice, choice of garnish – $15.00
Brews
Magic Hat #9 or Guiness Draft – $7.00
Yuengling or Stella Draft – $6.00
Angry Orchard Cider draft – $7.00
Bud or Bud Light – $6.00
Heineken or Dos Equis – $6.00
Corona or Corona Light – $7.00
Victory Stout or Sierra Nevada Torpedo – $7.00
Dogfish Head 60 IPA or Key West Southernmost Wheat – $7.00
Shocktop – $6.00
Chimay (Red, White, Blue) – $10.00
Frozen Creations (Non-Alcoholic)
Nada Colada – Virgin piña colada with strawberry purée float – $7.00
Fruit Blast – Take your pick to make it your very own. Strawberry, mango, peach, or mix it up – $7.00
Sake
Hot Sake – $8.00
Hakutsur Draft Sake – $12.00
Sho Chiku Bai Nigori 375ml – unfiltered, rich and sweet – $15.00
Hire Junmai Sake 300ml – $25.00
Wolfgang Puck Grand Cafe Kids Lunch and Dinner Menu
Menu Date: 06/2017
Kids Entrees
Spaghetti with Fresh Tomato Sauce – $8
Mac N Cheese – Melted cheddar and farm fresh cream with elbow macaroni – $7
Cheese Pizza – Mozzarella and tomato sauce – $8
Pepperoni Pizza – $9
Kid's Burger – mash and veggies – $9
Crispy Chicken Tenders – mash and veggies – $9
Grilled Chicken – mash and veggies – $9
Kid's Salmon – mash and veggies – $10
** Wolfgang Puck Grand Cafe Menu and Prices are Subject to Change Without Notice **
Save