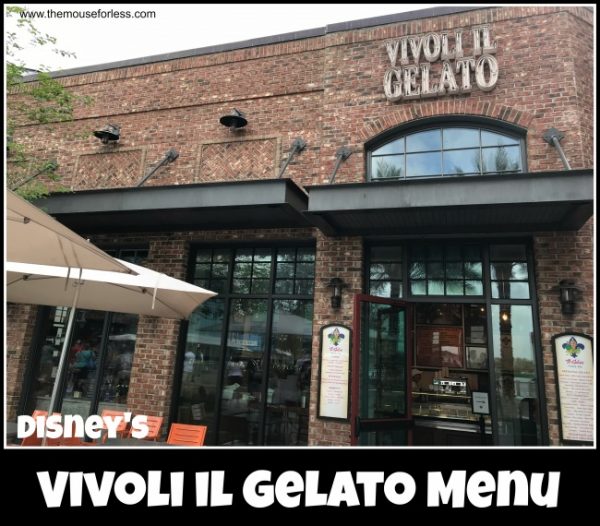 Experience a little taste of Italy at Vivoli il Gelato. Founded in Florence, Italy, Vivoli il Gelato showcases the art of gelato making as perfected by three generations of family. The Disney Springs location is Vivoli's first U.S. storefront and serves traditional Italian treats including more than a dozen gelato flavors, sorbet, panini sandwiches, espresso drinks, and more.
Vivoli il Gelato is located in Disney Springs.  Find more Walt Disney World dining locations on our Walt Disney World menus page.
Restaurant Info: Italian, Snack, A la carte, $ – $14.99 and under per adult
Find out how you can save money on dining at Walt Disney World by using one of Disney's Dining Plans.

Planning a Walt Disney World Vacation?
For a Free no-obligation quote, contact our sponsor
The Magic For Less Travel
. The Magic For Less Travel is an Authorized Disney Vacation Planner and has been helping guests plan magical vacations since 2002. Receive the best prices and free travel planning services. Their fee-free services will help you save time, money, and stress while planning a vacation designed around you and your needs!
Vivoli il Gelato Menu
Menu Date: 12/2022
Sorbetto Flavors – Selections May Vary
Coconut – Coco
Lime – Lime
Mango – Mango
Orange – Arancia
Pineapple – Ananas
Strawberry – Fragola
Gelato Flavors – Selections May Vary
Black Cherry – Amarena
Cake Batter – Pastella Torta
Cannoli – Cannoli
Chocolate Chip – Stracciatella
Chocolate Hazelnut – Bacio
Coffee – Cafè
Cookies and Cream – Biscotti e Crema
Chocolate – Cioccolato
Dulce de Leche – Dolce di Latte
Mint Chocolate Chip – Menta e Cioccolato
Peanut Butter – Burro D'Arachidi
Pistachio – Pistacchio
Spiced Apple Cider – Sidro di mele speziato
Tiramisu – Tiramisu
Vanilla Bean – Vaniglia
Gelato (21+)
Brew Bus Basic – Pumpkin Spice Latte Milk Stout (21+)
Orange Blossom Pilsner (21+)
Schöfferhofer Pineapple (21+)
Gelato and Sorbetto
Kids Cup – $6.25
One Scoop – Cup or Cone – $7.50
Two Scoops – Cup or Cone – $8.75
Waffle Cone – $1.50
Toppings – $1.50
(21+) Scoop  – $1.00
Seasonal Specials
Hot Chocolate
Served with whipped cream and marshmallows – $6.00
Red Velvet Cannoli
Ricotta cheese, red velvet cake, and chocolate chips – $7.25
Santa's Little Helper
Chocolate and mint chocolate chip gelato, chocolate sauce, crushed peppermint, and whipped cream – $15.25
Bah Humbug
Cake batter gelato, red velvet cake, and whipped cream – $19.00
Apple Jingle (21+)
Spiced Apple Cider gelato with Cigar City Homemade Apple Cider – $18.00
Cookies and Chianti (21+)
Cookies and cream gelato, Chianti, whipped cream – $18.00
Milk Shakes
Build Your Own Shake
Up to two flavors of gelato, milk, whipped cream – $11.00
Sorbetto Smoothie
Your choice of one or two flavors of sorbetto, Fresca sparkling water, and whipped cream – $11.00
Cake Batter
Cake batter gelato, milk, whipped cream, and rainbow sprinkles – $12.00
Cannoli Shake
Cannoli gelato, waffle cone and whipped cream – $15.00
Tiramisu Shake
Tiramisu gelato, waffle cone, whipped cream – $15.00
Strawberry Orange Mimosa (21+)
Strawberry and Orange sorbetto, South Beach Strawberry Orange Mimosa, and whipped cream – $17.00
Floats
Barqs Root Beer Float
Vanilla Gelato, Barqs Root Beer, Whipped Cream and Cherry – $11.00
Brown Cow
Vanilla gelato, Coca Cola, chocolate sauce, whipped cream and cherry – $12.00
The Garage (21+)
Lime Sorbetto, Orange Gelato, Big Storm Grapefruit Vodka Soda, Candied Lime and Orange – $17.00
Breakfast Sangria (21+)
Lime and Orange sorbetto, Prosecco, Fresca sparkling water, candied orange and lime – $18.00
Rose Sangria (21+)
Strawberry and Orange sorbetto, Rose Prosecco, Fresca sparkling water, candied orange – $18.00
Sparkling Affogato
Vanilla gelato and sparkling coffee – $12.00
House Specials
Bombolato
1 scoop of gelato, and your choice of sauce inside a warm Italian donut – $10.25
Truffle Brownie A la Mode
Truffle brownie bar, choice of gelato, sauce and whipped cream – $13.00
Espresso Affogato
Your choice of gelato, shot of espresso, and whipped cream – $10.25
Stuffed Pineapple
Pineapple sorbetto in a natural pineapple shell – $14.00
Waffle Bowl Sundae
Your choice of three scoops of gelato, sauce, peanuts, whipped cream, and cherry – $15.00
Gelato Waffle
Your choice of gelato, with a shot of espresso and whipped cream – $13.00
All Day Brunch
Pearl Sugar Waffle – $6.00
Churro Waffle
Pearl sugar waffle with cinnamon sugar – $7.00
Strawberry Waffle
Pearl Sugar waffle with fresh strawberries and whipped cream – $7.50
Nutella Waffle
Pearl sugar waffle topped with Nutella – $7.50
Fruity Pebbles Cannoli
Sweet cream of ricotta, fruity pebbles – $7.00
Fruity Pebbles Shake
Vanilla gelato, fruity pebbles, whipped cream and a bomboloni – $17.00
Maple Bacon Cannoli
Sweet cream of ricotta, maple syrup and bacon – $7.00
Cannoli
Traditional Cannoli
Ricotta cheese sweet cream, topped with chocolate chips or pistachios – $7.00
Breakfast Cannoli
Ricotta cheese, mixed with the cereal of the month – $7.00
Cake Batter Cannoli
Cake batter ricotta sweet cream, topped with rainbow sprinkles – $7.00
Nutella Cannoli
Cannoli filled with Nutella – $7.00
Raspberry Cannoli
Raspberry, ricotta cheese, and sugar – $7.00
Snickers Cannoli
Sweet cream of ricotta and crushed snickers – $7.00
Bakery
Mini Bomboloni (Italian Doughnut)
Cream or Nutella – $2.25
Bomboloni (Italian Doughnut)
Plain, Pistachio Glaze, or Fruity Pebbles – $5.80
Truffle Brownie – $6.00
Meringue Cookie – $1.25
Chocolate Chip Shortbread (Gluten Free) – $1.25
Raspberry Shortbread (Gluten Free) – $1.25
Nutella Shortbread (Gluten Free) – $1.25
Raspberry Tart (Gluten Free) – $6.00
Café
Espresso – $3.75
Double Espresso – $4.50
Cappuccino – $5.75
Café Latte – $5.75
Americano – $3.75
Mocha Latte – $6.25
Caramel Latte – $6.25
Hot Tea – $3.75
Beverages
Canned Soda
Coke, Coke Zero, Sprite, Barq's Root Beer, Fresca – $4.00
Bottled Soda – $4.75
Milk – $4.00
Sparkling Coffee – $5.50
Dasani – $4.50
Powerade – $5.50
Monster – $6.00
Simply Orange® Juice – $5.50
** Vivoli il Gelato Menu and Prices are Subject to Change Without Notice **