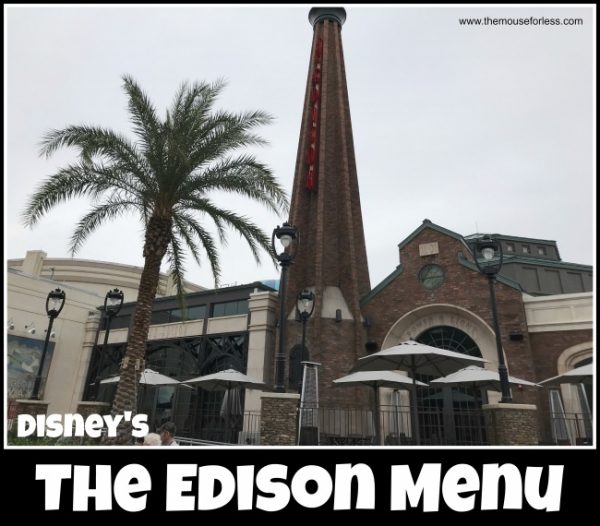 The Edison – a lavish "Industrial Gothic"-style restaurant, bar, and nighttime destination – serves up exceptional classic American food, artisanal craft cocktails, plus old-world style, sophistication, and romance. Themed to a 1920s-period electric company, The Edison recalls an exuberant era of invention and imagination. With 35-foot ceilings, a range of themed areas will include The Lab performance space, The Ember Parlour, Telegraph Lounge, The Patent Office, The Tesla Lounge, The Radio Room, and a Waterfront Patio. The Lab performance room will feature entertainment such as contortionists, palm readers, live DJs, and more.
The Edison is located in Disney Springs.  Find more Walt Disney World dining locations on our Walt Disney World menus page.
Restaurant Info: Classic American
Find out how you can save money on dining at Walt Disney World by using one of Disney's Dining Plans.
 Dinner Menu  Kids Menu  Drinks Menu

Planning a Walt Disney World Vacation?
For a Free no-obligation quote, contact our sponsor
The Magic For Less Travel
. The Magic For Less Travel is an Authorized Disney Vacation Planner and has been helping guests plan magical vacations since 2002. Receive the best prices and free travel planning services. Their fee-free services will help you save time, money, and stress while planning a vacation designed around you and your needs!
The Edison Dinner Menu
Menu Date: 07/2022
Shares & Nibbles
DB 'Clothesline Candied Bacon'
Maple, Black Pepper, Fruit Mostarda, Sweet and Spicy Pickle – $18.00
Guacamole and Tortilla Chips
California Avocados, Fresh Lime, House-made Tortilla Chips – $18.00
Electri-Fries
Hand-cut Idaho Russet Burbank Potatoes, Edison Special Sauce, Bacon, Grated Parmesan Cheese, Chopped Green Onion – $16.00
Fried Calamari
Crispy Rings, Cherry Peppers, Marinara Arrabiatta, Citrus Aïoli – $19.00
Creamy Spinach Cheese Dip
Fresh Spinach, Toasted Bread Crumbs and House-made Tortilla Chips – $18.00
Short Rib Flatbread
Short Rib, White Cheddar Cheese Sauce, Pickled Red Onion, Arugula, Balsamic Glaze – $22.00
Chicken Flatbread
Grilled Chicken, White Cheddar Cheese Sauce, Red Onions, Arugula, Sundried Tomato, Balsamic Glaze – $22.00
Entree Salads
Caesar
Romaine Lettuce, Shaved Parmesan, Brioche Croutons and Classic Caesar Dressing – $15.00
House Salad
Romaine Lettuce, Frisée Chicory, Cucumbers, Tomatoes, Red Onions, Red Peppers, Banana Peppers, White Balsamic Glaze – $18.00
Strawberry Salad
Spring Mix, Red Onions, Red Peppers, freshly sliced Strawberries, Gorgonzola, Balsamic Vinaigrette – $18.00
Enhance Your Salad
Add Chicken (7) or Shrimp (9) or Steak (11)
Patented Specialties
Queen Cut Prime Rib
Boneless 14-oz, Au Jus, Horseradish Cream Sauce, Popover. Choice of Baked Potatoes, Mashed Potatoes or Fries. (Available after 5pm) – $43.00
Organic Tomato Soup and Gooey Grilled Cheese
Fontina, Muenster, Gruyère, and Alpine Swiss on Buttered Sourdough. Add Tomato (4) | Add Onion (3) | Add Bacon (5) – $22.00
Barolo Short Rib
Barolo Red Wine Mushroom Gravy, Mashed Potatoes, Glazed Rainbow Carrots – $39.00
Spare Ribs
Dry Rubbed and Roasted St. Louis Ribs, served with Sweet and Spicy BBQ Sauce and Slaw pickled in Champagne Vin and side of Fries – $38.00
Grilled Salmon*
Served with Crushed Marble Roasted Potatoes, Braised Swiss Chard with Bacon and Topped with a Citrus Herb Butter – $32.00
Blackened Mahi
Roasted Vegetable Medley of Carrots, Cauliflower and Tomatoes and Spinach. Topped with a Citrus Buerre Blanc. – $33.00
Patented Partners
Burbank Hand-cut Fries
Spicy Ketchup – $11.00
Creamy Dreamy Mash
Mashed Potato, Butter – $10.00
Vegetable of the Day
Seasonal Selection – $11.00
Sweets
Triple Chocolate Voltage Cake
Chocolate Hazelnut Cream, Chocolate Crunch, Chocolate Ganache and Raspberry – $13.00
Dulce De Leche Cheesecake
Whipped Cream and Raspberry – $13.00
Caramel Apple Pie a la Mode
Cinnamon Gelato, large sliced Apples, fall-flavored Seasonings, Caramel Sauce, Whipped Cream – $15.00
The Edison Kids Menu
Menu Date: 07/2022
Kids' Starters (Choice of one)
Market Salad – Tomato and Apple
Fresh Fruit – Seasonal Melon, Grapes, and Berries
Kids' Main Course (Choice of one)
Burger or Cheeseburger – $15.00
Chicken Tenders – $15.00
Tomato Soup and Grilled Cheese – $15.00
Kids' Sweets (Choice of one)
Gelato
Chocolate Chip Cookie
Kids' Beverage (Choice of one)
Kids' Beverages – Choice of Milk, Chocolate Milk, Apple Juice, or Fruit Punch
The Edison Drinks Menu
Menu Date: 07/2022
Old-Timey Sodas and Non-Alcoholic Beverages
Springs Water
Simple Syrup, Lime Juice, Cucumbers, Mint, Basil, Soda Water and Sprite – $5.00
Strawberry Melon
Strawberry Lemongrass, Fresh Lime Juice, Watermelon and Sprite – $5.00
Red Bull
Original, Sugar Free, Tropical, or Watermelon – $5.00
Edison Mocktails
Apple Propellant
Apple Cider, Honey, Lemon Juice, Ginger Ale – $8.00
Phonograph
Lime Juice, Lemon Juice, Orgeat, Red Bull Tropical – $8.00
Smoke & Mirrors
Pineapple Juice, Lemon Juice, Lime Juice, Orgeat – $8.00
High Roller Cocktails
Cosmic Poinsettia (Winter Seasonal)
No better way to say it than a holiday infusion come to life. We started out with Stoli Elit Vodka and infused it for 72 hours with fresh cranberries, whole cloves, orange peels and cinnamon sticks. Once it was bottled back up, we introduced it to a bountiful limitless array of pear. Belle de Brillet Pear Brandy and St. Geroge Spiced Pear lend a hand to this seasonal inspiration. One for the cosmos indeed. – $30.00
Gilgamesh
Beautiful synergy of Cincoro Reposado's baking spices & toasted oak notes from its ex bourbon barrel aging, blended with bold ancho & habanero warmth, balanced by a gentle kiss of sweet – $32.00
A Fire in Vermont
Based on a classic, this Vermont-based cocktail is sure to light a fire in your heart. Served flaming barside, "A Fire in Vermont" features Whistle Pig 10 year rye, Antica Formula Vermouth, cherry brandy, Bogarts Bitters and a flame-kissed caramelized absinthe wash – $36.00
Cristóbal's Revenge
Immerse yourself in a tropical oasis when the aged flavors of Flor de Cana 25 Year Rum crash like a tidal wave into the familiarity of tiki – $38.00
Edison Vintage Cockatils
Mai Tai
Cruzan Rum, Cointreau, Orgeat, Lime Juice, topped with Kraken Rum Floater – $15.00
French 75
Nolet's Gin, Lemon Juice, Simple Syrup, Domaine Chandon Brut – $16.00
Berry Smash
Basil Hayden Bourbon, Hand-crafted Cinnamon Syrup, Honey, Lemon Juice, Blackberries, Raspberries – $18.00
Sazerac
Hennessey vs. Cognac, Peychaud's bitters, Simple Syrup, St. George Absinthe Rinse – $17.00
Paloma
Maestro Dobel Humito Smoked Tequila, Agave, Lime Juice, topped with Jarrito's Grapefruit Soda, Smoked Salt Rim – $16.00
Edison Signature Cocktails
Green Electron
Tito's Handmade Vodka, Lemon Juice, Honey, Green Tea – $15.00
The Tesla
Bulleit Bourbon, Old Camp Peach Pecan Whiskey, Green Chartreuse, Simple Syrup – $17.00
Electric Mule
Reyka Vodka, Lemon Juice, Strawberry and Lemon Grass Cordial, Q Ginger Beer – $15.00
Samantha Sterling
Grey Goose Vodka, Lillet Rose, Lime Juice, Watermelon Juice, Hand-crafted Cinnamon Syrup – $18.00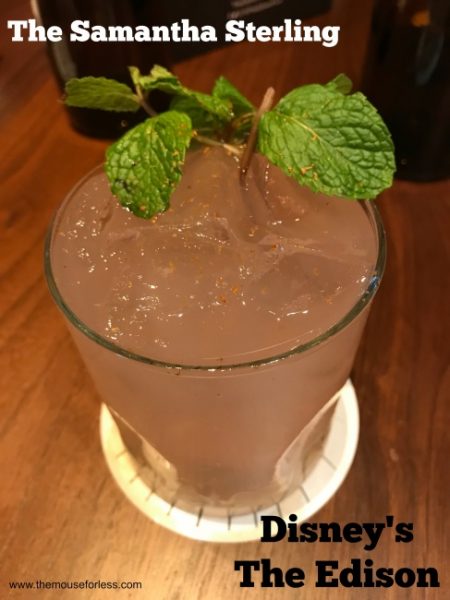 Time Turner
Bacardi Light Rum, Campari, Lime Juice, Pineapple, Orgeat – $15.00
The Edison
Woodford Reserve Bourbon, Belle de Brillet Pear Brandy, Lemon Juice, Honey Cordial – $17.00
Strawberry Fields Forever
absolut Vodka, St. Germaine Liqueur, Honey, Lime Juice, Strawberries, Mint, Lemonade – $16.00
A Dame'll Sting Ya
Sipsmith Vjop, King's Ginger Liqueur, Honey, Lemon Juice, Cranberry Juice  – $17.00
Edison Run's On…
Horse Soldier Small Batch Signature Bourbon, House-made Cold Brew Coffee, Vanilla Paste, Caramel Syrup – $22.00
The Fashionably Old Corner
Patented Old Fashioned
Basil Hayden's Bourbon, Angostura Bitters, Simple Syrup – $17.00
Bootleggers' Basil
Basil Hayden's Bourbon, Honey, Blackberries, Fresh Basil Leaves, Angostura Bitters – $17.00
Vaquero
Herradura Blanco Tequila, Simple Syrup, Vanilla Paste, Orange Bitters – $20.00
Mixologist Featured Cocktail
The Girl Scout
Fernet Branca, Branca Menta, Vanilla Paste, Simple Syrup, Chocolate Bitters, Cream – $17.00
Beer and Wine
Assorted Beer and Hard Cider – $9.00 – $13.00
Assorted Wine – $13.00 – $26.00 Glass, $48.00 – $115.00
Animated Evening – Cirque du Soleil Dining Package
$65 per person
Beverage – Choose One
Alcoholic • Non-Alcoholic
Appetizer – Choose One
Bacon • Calamari • Spinach Dip
Entrée – Choose One
Short Rib • Edison Burger • Salmon
Dessert – Choose One
Dulce de Leche • Chocolate Cake • Shortbread
A full bar featuring beer, wine, and spirits is also available.
** The Edison Menu and Prices are Subject to Change Without Notice **