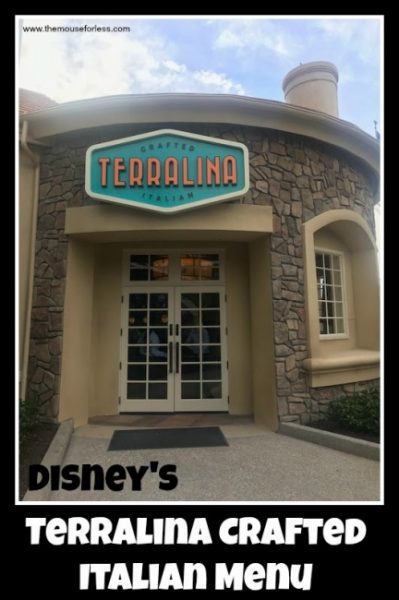 Delight in a dining experience with sweeping waterfront views and authentic Italian home cooking.  Terralina Crafted Italian is inspired by the design and lifestyle of Italy's famed Lake District.
Mingle outside at the veranda bar, settle into one of the uniquely furnished dining rooms or make yourself at home in the heart of the restaurant—Chef's kitchen, an ideal gathering place to savor the space's infectious, welcoming spirit.
Terralina Crafted Italian is located in Disney Springs.  Find more Walt Disney World dining locations on our Walt Disney World menus page.
Restaurant Info: Italian
Disney Dining plans not accepted at this location.

Planning a Walt Disney World Vacation?
For a Free no-obligation quote, contact our sponsor
The Magic For Less Travel
. The Magic For Less Travel is an Authorized Disney Vacation Planner and has been helping guests plan magical vacations since 2002. Receive the best prices and free travel planning services. Their fee-free services will help you save time, money, and stress while planning a vacation designed around you and your needs!
Terralina Crafted Italian Lunch and Dinner Menu
Menu Date: 06/2022
Brunch Offerings (Sunday 12:00pm – 3pm)
Breakfast Pizza
Sausage, Peppers, Mozzarella, Scrambled Eggs – $17.00
Bread Pudding French Toast
Fresh Berries and Powdered Sugar – $16.00
Omelet
Asparagus, Sun-dried Tomato, Fresh Mozzarella and Prosciutto accompanied by Fresh Fruit – $18.00
Omelet
Potato Planks, sautéed Spinach, Garlic and Tomato-Olive Vinaigrette – $17.00
Bloody Mary
Spiced Mozzarella, Pepperoni, Pickled Green Tomato and Marinated Olives – $18.00
Mimosa Flight
Cranberry Orange, Strawberry Hibiscus and Grapefruit Rosemary – $22.00
Antipasti
Antipasti Tower (serves four)
Prosciutto, Spicy Capicola, Grana Padano, Bocconcini, Tomatoes, Pickled Vegetables, Grilled Zucchini, Parmesan Crisp, Olives, Housemade Truffle Potato Chips – $40.00
Mussels
Spicy Lemon-Tomato broth and Grilled Baguette – $16.00
Mozzarella-stuffed Rice Balls
Tomato-Basil Sauce – $15.00
Bruschetta
Tomato, Basil Pesto, Shaved Parmesan and Balsamic drizzle – $13.00
Calamari Fritti
Pickled Vegetables, Chili-Sage Aïoli – $18.00
Meatballs
Tomato-Basil Sauce, Creamy Polenta, Shaved Parmesan – $15.00
Italian Fries
Creamy Cheese Sauce, Salami – $16.00
Seasonal Soup – $8.00
From the Garden
Caprese
Vine-ripened Tomatoes, fresh Mozzarella, Basil, Olive Oil, Balsamic – $14.00
Baby Greens – Full Order
Carrot, Celery, Onion, Fennel, Tomato, Red Wine Vinaigrette – $11.00
Baby Greens – Half
Carrot, Celery, Onion, Fennel, Tomato, Red Wine Vinaigrette – $7.00
Caesar
Croutons, Parmesan, Garlic Anchovy Dressing – $12.00
Caesar
Croutons, Parmesan, Garlic Anchovy Dressing – $8.00
Spinach with Beets
Gorgonzola, Fennel and Honey Balsamic Vinaigrette – $14.00
Terralina Crafted Italian Salad – Full
Romaine, Bocconcini, Shaved Parmesan, Fennel, Cherry Tomatoes, Red Onion, Salami, Pepperoncini, Red Wine Vinaigrette – $16.00
Wood-fired Pizza
Margherita
Fresh Mozzarella, Tomato, Basil – $16.00
Artisan Pepperoni
Pepperoni, fresh Mozzarella, Basil and roasted garlic – $18.00
Spicy Capicola
Capicola Ham, Pickled Vegetables, Roasted Garlic, Fresh Mozzarella, Herbed Ricotta, Balsamic Drizzle, Arugula – $18.00
Bacon with Mushroom
Leeks, roasted Garlic and fresh Mozzarella – $18.00
Bruschetta
Basil Pesto, fresh Mozzarella, Red Onion, Cherry Tomatoes and Balsamic Glaze – $17.00
Sausage
Fresh Mozzarella, Roasted Red Peppers, Pickled Red Onions and Tomato – $18.00
Sandwiches
Chicken Parmesan Sandwich
Mozzarella and Basil Pesto served with Housemade Truffle Potato Chips and Garlic Pickles. Substitute a Baby Greens Salad or French Fries for 3 | Italian fries 5 – $19.00
Eggplant Parmesan Sandwich
Mozzarella and Basil Pesto served with Housemade Truffle Potato Chips and Garlic Pickles. Substitute a Baby Greens Salad or French Fries for 3 | Italian fries 5 – $17.00
Crafted Burger*
Ground Chuck and Brisket, Arugula, Tomato, Pickled Red Onion, Cheddar, Chili-sage Aioli on a toasted bun served with Housemade Truffle Potato Chips and Garlic Pickles. Substitute a Baby Greens Salad or French Fries for 3 | Italian fries 5 – $21.00
Pasta
Spaghetti Pomodoro and Meatballs
Tomato, Basil, Garlic – $26.00
House-made Lasagna
Spinach, Ricotta, Mozzarella, Pecorino, Tomato Sauce, Basil Pesto. Add Meat Sauce $27 – $25.00
Terralina Alfredo
Chicken, Pancetta, Sun-dried tomato and Peas – $27.00
Rigatoni Calabrese
House-made Pork Sausage, Tomato, Olive, Mushroom, Escarole – $26.00
Pork Gnocchi
Nonna's Pork Ragu, Potato Dumplings – $27.00
Spaghetti Bolognese
Beef and Pork meat sauce and Tomato Cream – $27.00
Seafood Fettuccini
Fresh Mussels, Shrimp, Scallops, Spicy Lemon-Tomato Broth, Grilled Baguette – $36.00
Shrimp Scampi
Lemon Chardonnay Butter Sauce, Sun-dried Tomato, Parsley, Toasted Garlic, Grilled Baguette – $32.00
Wild Mushroom Rotini (V)
Asparagus, Sun-Dried Tomato, Toasted Garlic and Olive Oil – $24.00
From the Hearth
Eggplant Parmesan
Spaghetti Pomodoro – $26.00
Chicken Parmesan
Spaghetti Pomodoro – $28.00
Parmesan Duo
Chicken and Eggplant Parmesan, Spaghetti Pomodoro – $27.00
Artichoke Chicken
Crispy Chicken, Yukon Mashed Potatoes, Asparagus and Lemon Chardonnay Cream Sauce – $28.00
From the Grill
Catch of the Day* – $33.00
Ribeye*
Yukon Mashed Potatoes, Asparagus, Pickled Red Onions and Arugula – $46.00
Pork Medallions*
Creamy Polenta, Sweet Peppers and Braised Escarole – $32.00
Sides
Broccoli – $9.00
Mashed Potatoes – $9.00
Grilled Asparagus – $9.00
Fried Potato Planks – $9.00
Creamy Polenta – $9.00
Grilled Add-ons
Chicken – $9.00
Shrimp – $11.00
Salmon – $11.00
Desserts
Tiramisu
Chocolate Sauce, Fresh Berries – $12.00
Double Chocolate Cake
Caramel Sauce, Toffee Crunch, Fresh Berries – $13.00
New York Style Cheesecake
with Berry Compote – $12.00
Cannoli
Chocolate Chips, Toffee Crunch – $11.00
Seasonal Bread Pudding
served with Vanilla Ice Cream – $13.00
Ice Cream
Vanilla or Chocolate – $8.00
Whimsical White Chocolate Mousse
Salted Caramel and White Chocolate Mousse, Toffee Crunch, Cotton Candy and Gold Dust – $16.00
Beverages
Hank's Root Beer – $8.00
Pellegrino or Acqua Panna – $8.00
100% Natural Italian Cedrata or Cola (11.5 oz) – $8.00
Unsweetened Citrus Iced Tea – $4.50
Soft Drinks – Coke, Diet Coke, Sprite, Ginger Ale, Sweet Tea, Fanta Orange, Lemonade – $4.50
Strawberry-Basil Refresher – $10.00
Cocktails
Limoncello Mojito
Árvero Limoncello, muddled mint, simple syrup – $16.00
Italian Margarita
Cimarron Tequila, Amaretto, Lime – $16.00
Traditional Spritz
Aperol, Prosecco – $16.00
Mediterranean Martini
Malfy Limone Gin, Elderflower, Lemon, Simple Syrup – $16.00
Twisted Gimlet
Stoli Blueberry Vodka, Malfy Gin, Mint, Cucumber, Lime – $16.00
Negroni
Malfy gin, Aperitivo, Cocchi vermouth di Torino, Orange – $16.00
Revered Heritage
Rough Rider double cask bourbon, Cardamaro, Cocchi Vermouth di Torino, teapot Bitters and Bourbon Cherry – $16.00
Paloma
Cimmaron Tequila, Grapefruit Soda and Lime – $16.00
Sangria
Red or White. Serves 4 – $50.00
Wine
Assorted Wine – Bottle $44.00 – $100.00; Glass – $11.00 – $25.00
Aromatic & Dry-Off Flight
Tramin, Gewürztraminer | Saracco, Moscato d'Asti | Cleto Chiarli 'Amabile,' Lambrusco – $18.00
Medium & Elegant Flight
Palladio, Chianti | Prunotto, Barbera D'Asti | Zenato, Valpolicella – $18.00
Crisp Flight
Acinum, Prosecco | Riff, Pinot Grigio | Garofoli, Verdicchio – $17.00
Big & Bold Flight
Sansonina 'Evaluna', Red Blend | Terre Di Poggio, Montepulciano | Liveli 'Orion', Primitivo – $17.00
Beer Selections
Domestic Beer
Bud Light, Miller Lite, Coors Light, Michelob Ultra, Sam Adams, or O'Douls (Non-Alcoholic) – $8.00
Imported Beer
Peroni, Menabrea Bionda, Heineken, Corona Extra, Modelo Especial, or Stella Artois – $9.00
Lagunitas IPA – Petaluma, CA – $10.00
Fat Tire Amber Ale – Fort Collins, CO – $10.00
Breckenridge Vanilla Porter – Littleton, CO – $10.00
Swamp Head Wild Night Honey Ale – Gainesville, FL – $10.00
Crooked Can Cloud Chaser Hefeweizen – Winter Garden, FL – $10.00
Crooked Can High Stepper American IPA – Winter Garden, FL – $10.00
Coppertail Unholy Tripel – Tampa, FL – $10.00
Del Ducato Torrente – Parm, Italy – $14.00
Baladin Wayan – Piemonte, Italy – $14.00
Truly Hard Seltzer
ask your server for available flavors – $9.00
Angry Orchard Cider – $9.00
Terralina Crafted Italian Kid's Menu (Lunch and Dinner)
Menu Date: 6/2022
Kid's Entrées
Cheese Pizza
Mozzarella and Tomato Sauce – $9.00
Fried Cheese Ravioli
with Tomato Sauce – $9.00
Chicken Fingers
Accompanied by your choice of Applesauce, fresh Fruit, Seasonal Vegetables, or French Fries – $10.00
Grilled Chicken
Accompanied by your choice of Applesauce, fresh Fruit, Seasonal Vegetables, or French Fries – $10.00
Grilled Fresh Fish
Accompanied by your choice of Applesauce, fresh Fruit, Seasonal Vegetables, or French Fries – $12.00
Cheeseburger
Accompanied by your choice of Applesauce, fresh Fruit, Seasonal Vegetables, or French Fries – $10.00
Hot Dog
Accompanied by your choice of Applesauce, fresh Fruit, Seasonal Vegetables, or French Fries – $8.00
Kid's Spaghetti with Meat Sauce – $9.00
Kid's Spaghetti with Tomato Sauce – $8.00
Mac & Cheese
Creamy blend of Parmesan, mozzarella and cheddar – $9.00
Pepperoni Pizza
Mozzarella, Pepperoni, and Tomato Sauce – $10.00
Kid's Desserts
Kid's Sundae
choice of gelato, chocolate sauce, toffee crunch, whipped cream, cherry – $7.00
Fresh Fruit – $5.00
Sorbet – $6.00
** Terralina Crafted Italian Menu and Prices are Subject to Change Without Notice **