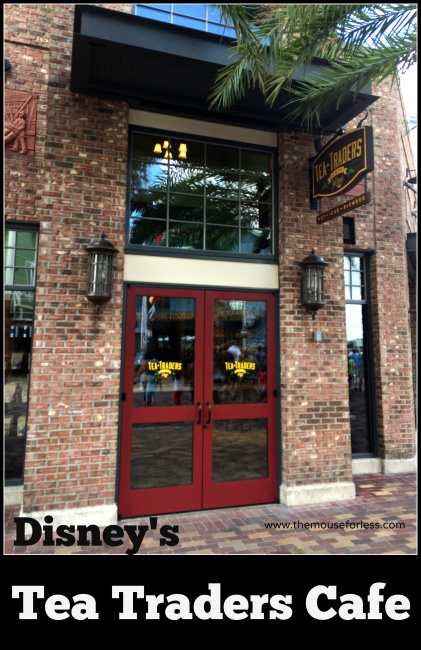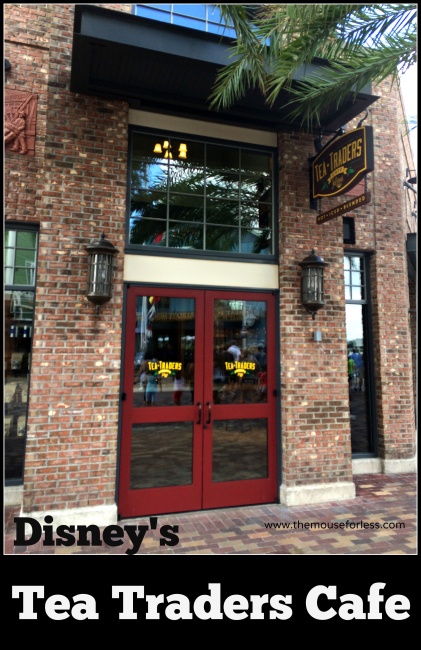 Presented by Joffrey's, The Tea Traders Cafe, or Joffrey's Coffee and Tea Company, is a modern-meets-old world tea cafe experience featuring teas from around the world, served hot, iced, frozen, blended, spirited and even edible in the form of delicious treats.
Tea Traders Cafe is located in Disney Springs.  Find more Walt Disney World dining locations on our Walt Disney World menus page.
Restaurant Info: International, Beverages & Snacks, A la carte, $ – under $14.99 per adult
Find out how you can save money on dining at Walt Disney World by using one of Disney's Dining Plans.

Planning a Walt Disney World Vacation?
For a Free no-obligation quote, contact our sponsor
The Magic For Less Travel
. The Magic For Less Travel is an Authorized Disney Vacation Planner and has been helping guests plan magical vacations since 2002. Receive the best prices and free travel planning services. Their fee-free services will help you save time, money, and stress while planning a vacation designed around you and your needs!
Tea Traders Cafe – Tea Menu
Menu Date: 09/2019
Premium Iced Teas
Traditional Unsweetened – $3.99
Luscious Peach – $3.99
Green Blackberry Jasmine – $3.99
Tropical Mango – $3.99
Red Raspberry – $3.99
Frozen Tea & Lemonade
Chai Tea – $5.39
Matcha Tea – $5.39
Lemonade – $5.39
Tea Lattes
African Celebration – $4.89
Masala Chai – $4.89
Matcha – $4.89
Root Beer Float – $4.89
Spirited Beverages
Joffery's Whisky Sour – Frozen Lemonade topped with Jameson Irish Whisky – $8.49
Tea Breeze – Fresh Brewed Iced Tea with Frozen Lemonade topped with Grey Goose Vodka – $8.49
Frozen or Iced Chai – Signature Frozen Chai Tea topped with Baileys Irish Cream or Grey Goose Vodka – $8.49
Frozen or Iced Matcha – Signature Frozen Matcha Green Tea topped with Baileys Irish Cream – $8.49
Raspberry Delight – Fresh Brewed Raspberry Iced Tea with Frozen Lemonade topped with Grey Goose Vodka – $8.49
Spiked Chai – Chai Latte with Baileys Irish Cream or Grey Goose Vodka – $8.49
Matcha – Matcha Green Tea topped with Baileys Irish Cream – $8.49
Tea Toddy – Fresh Brewed Black Tea with milk and honey topped with Baileys or Maker's Mark Whisky – $8.49
Orange Spice – Fresh Brewed Orange Spice Tea topped with Captain Morgan Spiced Rum – $8.49
Moroccan Mint – Fresh Brewed Morocann Mint Tea topped with Grey Goose Vodka – $8.49
Loose-Leaf Teas
Assam – A Northern India full-bodied breakfast style black tea with malty richness and a smooth finish – $3.99
Black Currant – A perfect blend of satisfying black teas balanced with brisk black currant and sweet berry – $3.99
Ceylon – A refreshingly simple, classic black tea with a medium body and soft, sweet finish – $3.99
Joffrey's Breakfast Blend – A wonderfully vibrant cup with notes of sweet caramel and malty oats. Excellent in every way – $3.79
Orange Vanilla White Chocolate – An indulgent dessert tea with creamy vanilla, bright black tea, and sweet citrus – $3.99
Masala Chai – An exuberant cup of black tea and spice is a delicious time-honored favorite – $3.99
Orange Spice – Bold black teas expertly blended with fragrant orange, elegant floral notes and a dash of spice – $3.99
Pineapple Coconut – Brisk black tea, juicy pineapple and creamy coconut make a refreshingly tropical brew – $4.49
Earl Grey – Fine Italian Bergamot and quintessential hearty black tea is this traditional favorite – $3.79
Chocolate Pu' Erh – Lush, cramy chocolate joined with savory dark tea is dessert in your cup – $3.99
Lemon Ginger – Refreshing green tea mixed with spicy ginger and zesty lemon – $3.99
Sencha Traditional – A time-honored Japanese green tea with mellow vegetal notes – $4.99
Coconut Almond – Creamy sweet coconut, rich almond and natural green tea goodness – $3.99
Jasmine – A classic green tea sweetly scented with pleasing soft notes of Jasmine – $4.49
Moroccan Mint – Vibrant gunpowder green tea paired with a brilliant blend of uplifting mints – $3.79
Cirtus Sorbet – A juicy blend of high mountain oolong enhanced with sweet zesty citrus – $4.49
Tahitian Vanilla Rose – Sweet vanilla combined with the natural floral notes of classic oolong and delicate rose – $4.49
Huang Jin Gui – An elegantly rolled green oolong with natural floral notes and a soft cup – $3.99
Root Beer – A tantalizing, sweet herbal blend that tastes just like root beer sans the fizz. – $3.99
Raspberry Rose – A flavorful blend of sweet raspberry, tart hibiscus, lemon and rose reveals a vibrant cup – $3.99
African Celebration – An opulent combination of premium Rooibos, petals and herbs with rich notes of almond, vanilla, and Mandarin orange – $3.99
Yerba Mate – Earthy and invigorating, this is a lighter, green version of the darker classics – $3.99
Honey Bush – A nectar-like aroma with a satisfying, somewhat sweet cup growninS.Africa. Itpresents a balanced, natural flavor – $3.79
Chamomile Lemon – The natural apple character of Chamomile strikes just the right balance between the natural apple notes of Chamomile and the subtle citrus of lemon grass – $3.99
Honeybell Orange – Crisp white tea coupled with delicate jasmine and the sweet nectar of honeybell orange makes this an invigorating, bright cup – $4.99
Strawberry Seduction – Chinese Bai Mu Dan white tea is blended with succulent strawberries, enhancing the natural sweetness of this full leaf white tea – $4.99
Tea Smith Reserve
Bai Hao Silver Needle – this elegant Spring Silver Needle Tea is fresh from the garden in Fujian Provence, China. Soft young buds are plucked and processed producing a mild, elegant cup unlike any other – $5.99
Darjeeling First Flush – renowned as the "Champagne of Teas" this exceptional, authentic first flush has mild astringency mixed with fruity black notes – $5.99
Golden Monkey Superior – an exquisite superior grade Black Tea with beautiful gold twisted leaves makes this almost as lovely to look at as to drink. Enjoy the intoxicating flavors of Caramel-like character and delicious lingering finish – $5.49
Oriental Beauty – an absolutely spectacular dark Oolong, this full-bodied classic Taiwanese Tea offers subtle hits of Peach and notes of Honey – $5.49
Beverages
Hot Chocolate – $3.89
Coffee
Coffee – $3.99
Cappuccino – $4.89
Mocha Latte – $5.39
Frozen Cappuccino – $5.39
Double Espresso – $3.49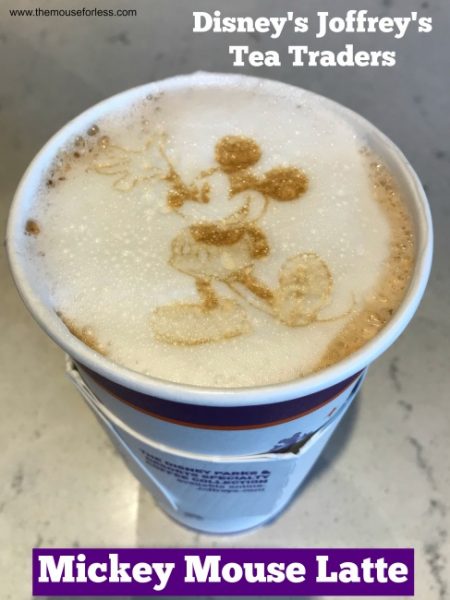 Café Latte – $4.89
Vanilla Latte – $5.39
Mouse For Less Tip
At Tea Traders Cafe, Guests can order Disney-character inspired coffee art on their beverage. Guests can choose from one of four images that can be printed onto your beverage that is made from print edible toner (which is made of coffee dust). The options are the Joffrey's logo, the Disney Springs logo, Mickey Mouse, and Minnie Mouse.
** Tea Traders Cafe Menu and Prices are Subject to Change Without Notice **