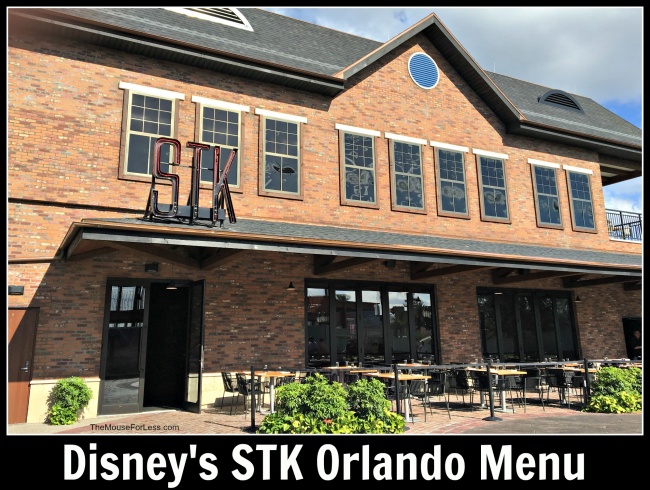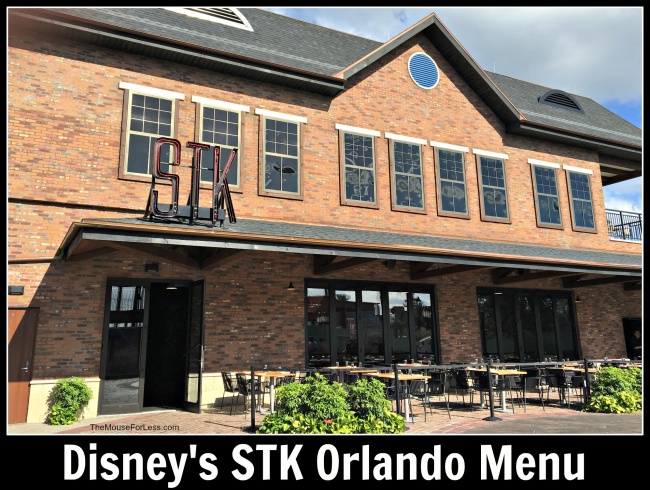 STK Orlando, a modern steakhouse mixed with the ambiance of a sleek lounge, is one of the largest STK locations in the world, occupying 14,000 square feet. STK Orlando emphasizes a social and fun environment, featuring a main level and a rooftop dining area with incredible views of Disney Springs.
STK Orlando is located in Disney Springs.  Find more Walt Disney World dining locations on our Walt Disney World menus page.
Restaurant Info: American, Lunch/Dinner, $$$$ – $35.00-$59.99 per adult
Find out how you can save money on dining at Walt Disney World by using one of Disney's Dining Plans.
Lunch Dinner  Kids' Meals  Weekend Brunch Menu  Lounge Menu

Planning a Walt Disney World Vacation?
For a Free no-obligation quote, contact our sponsor
The Magic For Less Travel
. The Magic For Less Travel is an Authorized Disney Vacation Planner and has been helping guests plan magical vacations since 2002. Receive the best prices and free travel planning services. Their fee-free services will help you save time, money, and stress while planning a vacation designed around you and your needs!
STK Orlando Lunch Menu
Menu Date: 11/2021
Market Salads and Starters
Baby Gem Caesar
manchego cheese – lemon black pepper emulsion – herb crouton – $20.00
Blue Iceberg
nueske's applewood smoked bacon – point reyes blue – cherry tomato – $19.00
Bigeye Tuna Tartare
hass avocado – taro chips – soy-honey emulsion – $26.00
Crispy Calamari
basil – shishito peppers – roasted garlic & lime aioli – asian chili sauce – $23.00
Lil' BRGs
wagyu beef – special sauce – sesame seed bun – $21.00
Jalapeño Pickled Shrimp Cocktail
cocktail sauce – lemon – $27.00
Entrees
Maple Rub Ora King Salmon*
pickled cherry tomatoes – piquillo broccolini – olive dressing – $45.00
Free Range Chicken
butternut squash purée – grilled asparagus – roasted king oyster mushroom – $43.00
Braised Short Rib Quesadilla
fontina cheese – tomatoes – chimichurri – flour tortilla – mustard cream – $23.00
Grilled Chicken Breast Sandwich
white cheddar (melt or not) – bacon – lettuce – tomato – ranch dressing – served with small salad – $20.00
STK Sandwich
shaved coffee-rubbed ribeye – gruyere – caramelized onion – horseradish cream – fries – $19.00
Crispy Shrimp Po' Boy
southern fried shrimp – tomatoes – iceberg lettuce – avocado – spicy remoulade sauce – $27.00
Wagyu Burger & Fries
7oz beef patty – lettuce – tomato – onion – american cheese – fries . add ons: egg 3 | bacon 3 | grilled onions 3 | avocado 3.5 – $15.00
Buttermilk Fried Chicken Thigh
honey bbq sauce – coleslaw – homemade pickles – $19.00
Shrimp Scampi
sautéed shrimp – linguini – tomato – garlic white wine sauce – $32.00
Steak Frites
8oz ribeye – french fries – choice of sauce – $29.00
Meatball Hot Wrap
red onion – red pepper tapenade – chili flakes – chipotle ketchup – cheddar cheese – $25.00
STK
Filet 6 oz. – $48.00
Wagyu Flat Iron 8 oz – $40.00
Filet 10 oz. – $61.00
NY Strip 14 oz. – $61.00
Bone-In Filet 14 oz. – $75.00
Dry-Aged Delmonico 14 oz. – $78.00
Cowgirl Ribeye 16 oz – $80.00
Dry-Aged Bone-In Strip 18 oz – $81.00
8oz Filet & 2 Grilled Prawns – $59.00
Sauces
Choose 1 – Additional are $2.00 each
STK
STK Bold
Peppercorn
Chimichurri
Red Wine
Toppings
Alaskan King Crab – $17.00
Shrimp – $8.00
Truffle Butter – $10.00
Peppercorn Crusted – $5.00
Desserts
Cheesecake
key lime curd – $12.00
Bag O' Donuts
rolled in cinnamon sugar – 3 dipping sauces: dulce de leche – spiced chocolate – raspberry – $12.00
Warm Chocolate Chip Cookie
vanilla ice cream – caramel sauce – $12.00
Chocolate Cake
chocolate ganache sauce – $12.00
Apple Pie
cinnamon crumble – maple crème fraîche – $12.00
Mocktails
Don't Mock Me
wtrmln wtr – cucumber juice – mint – splash of soda – $12.00
Cocktails
Cucumber Stiletto
grey goose le citron vodka – st~germain – muddled cucumber – mint – $20.00
Spiced Watermelon
patrón silver tequila – st~germain – wtrmln wtr – fresh lime – jalapeño – $20.00
Not Your Daddy's Old Fashioned
woodford reserve bourbon – angostura – bitters – brown sugar – vanilla bean – $20.00
Strawberry Cobbler
belvedere vodka – muddled strawberry – graham cracker crust – $20.00
STK Mule
belvedere ginger zest – fresh lime – yellow chartreuse – fever tree ginger beer – $20.00
Rendezvous
bacardi 4 and oakheart rum – pineapple, orange, grapefruit, & cherry juice – $20.00
Fernet About It
the botanist gin – fernet branca – carpano antica sweet vermouth – $20.00
Black Jack
jack daniel's – blackberry purée – simple syrup – $20.00
The Influencer
hennessy vs – sparkling wine – simple syrup – luxardo cherry – $20.00
Because Tequila
volcán tequila – ancho reyes chile liqueur – strawberry purée – watermelon – $20.00
Aperol Spritz
aperol – prosecco – club soda – orange slice – $20.00
Fever Tree Gin & Tonic
aromatic or traditional – botanist gin – $20.00
Wine and Beer
Assorted Wine by the Glass – $13.00 – $37.00
Assorted Beer – $8.00 -$14.00
STK Orlando Dinner Menu
Menu Date: 11/2021
Market Salads and Starters
Baby Gem Caesar
manchego cheese – lemon black pepper emulsion – herb crouton – $20.00
Blue Iceberg
nueske's applewood smoked bacon – point reyes blue – cherry tomato – $19.00
Tuna Tartare*
hass avocado, taro chips, soy-honey emulsion – $26.00
Crispy Calamari
basil – shishito peppers – roasted garlic & lime aioli – asian chili sauce – $23.00
Lil' BRGs
wagyu beef – special sauce – sesame seed bun – $21.00
Jumbo Lump Crab Cake
whole grain mustard cream, chili thread, cucumber mustard seeds salad – $29.00
Burrata
heirloom tomatoes – pickled red onions – balsamic glaze – extra virgin olive oi – $23.00
Raw Bar
Oysters on a Half Shell – Half Dozen
mignonette – cocktail sauce – lemon – $24.00
Oysters on a Half Shell – Dozen
mignonette – cocktail sauce – lemon – $48.00
Alaskan Red King Crab – $32.00
Jalapeño Pickled Shrimp Cocktail
cocktail sauce – lemon – $27.00
Ceviché
chef's daily creation – $22.00
Seafood Platters
Shellfish Platter for the Table (2 person minimum)
oysters – ceviche – calamari – clams – mussels – jalapeño pickled shrimp – Alaskan king crab – Maine lobster: served family-style for the table with cocktails sauce, mignonette, and lemon dijonnaise – $42.00
Entrees
Maple Rub Ora King Salmon*
pickled cherry tomatoes – piquillo broccolini – olive dressing – $45.00
Free Range Chicken
butternut squash purée – grilled asparagus – roasted king oyster mushroom – $43.00
Braised Beef Short Rib
creamed potatoes – roasted pepper relish – crispy shallots – red wine glaze – $44.00
Maine Lobster Linguini
tomato – lemon – garlic – creamy lobster sauce – parmesan – $49.00
Mushroom and Truffle Tagliatelle
pecorino – braised mushrooms – baby spinach – shaved black truffle – $47.00
Miso Glazed Chilean Sea Bass
sautéed bok choy – ginger – crispy shallots – thai basil – $51.00
STK
Filet 6 oz. – $48.00
Wagyu Flat Iron 8 oz – $40.00
Filet 10 oz. – $61.00
NY Strip 14 oz. – $61.00
Bone-In Filet 14 oz. – $75.00
Dry-Aged Delmonico 14 oz. – $78.00
Cowgirl Ribeye 16 oz – $80.00
Dry-Aged Bone-In Strip 18 oz – $81.00
Dry-Aged Porterhouse 28 oz. – $110.00
Dry-Aged Tomahawk Ribeye 34 oz. – $152.00
Surf & Turf: Filet and Lobster Tail
8 oz. filet – Lobster Tail – $69.00
Surf & Turf: Spinalis and King Crab "Oscar"
8 oz. spinalis – king crab – $99.00
Sauces
Choose 1 – Additional are $2.00 each
STK
STK Bold
Au Poivre
Horseradish
Chimichurri
Red Wine
Blue Butter
Béarnaise
Red Wine
Sauce Plate – $16.00
Toppings
King Crab Oscar – $22.00
Shrimp – $8.00
Truffle Butter – $10.00
Peppercorn Crusted – $5.00
Sides
Yukon Gold Mashed Potatoes – $16.00
Tater Tots – $16.00
Parmesan Truffle Fries – $16.00
Sweet Corn Pudding – $16.00
Brussels Sprouts
bacon – cider glaze – $16.00
Asparagus – $16.00
Creamed Spinach – $16.00
Mac & Cheese – $16.00
Bacon Mac & Cheese – $19.00
Lobster Mac & Cheese – $29.00
Mac & Cheese Trio
traditional – bacon – lobster – $39.00
Desserts
Cheesecake
key lime curd – $12.00
Bag O' Donuts
rolled in cinnamon sugar – 3 dipping sauces: dulce de leche – spiced chocolate – raspberry – $12.00
Warm Chocolate Chip Cookie
vanilla ice cream – caramel sauce – $12.00
Chocolate Cake
chocolate ganache sauce – $12.00
Apple Pie
cinnamon crumble – maple crème fraîche – $12.00
Mocktails
Don't Mock Me
wtrmln wtr – cucumber juice – mint – splash of soda – $12.00
Cocktails
Cucumber Stiletto
grey goose le citron vodka – st~germain – muddled cucumber – mint – $20.00
Spiced Watermelon
patrón silver tequila – st~germain – wtrmln wtr – fresh lime – jalapeño – $20.00
Not Your Daddy's Old Fashioned
woodford reserve bourbon – angostura – bitters – brown sugar – vanilla bean – $20.00
Strawberry Cobbler
belvedere vodka – muddled strawberry – graham cracker crust – $20.00
STK Mule
belvedere ginger zest – fresh lime – yellow chartreuse – fever tree ginger beer – $20.00
Rendezvous
bacardi 4 and oakheart rum – pineapple, orange, grapefruit, & cherry juice – $20.00
Fernet About It
the botanist gin – fernet branca – carpano antica sweet vermouth – $20.00
Black Jack
jack daniel's – blackberry purée – simple syrup – $20.00
The Influencer
hennessy vs – sparkling wine – simple syrup – luxardo cherry – $20.00
Because Tequila
volcán tequila – ancho reyes chile liqueur – strawberry purée – watermelon – $20.00
Aperol Spritz
aperol – prosecco – club soda – orange slice – $20.00
Fever Tree Gin & Tonic
aromatic or traditional – botanist gin – $20.00
Wine and Beer
Assorted Wine by the Glass – $13.00 – $37.00
Assorted Beer – $8.00 -$14.00
STK Orlando Kids Menu
Menu Date: 11/2021
STK Little Cheeseburgers
2 Little Burgers, White Cheddar Cheese, Tomato, Sesame Seed Bun – $10.00
Crispy Mahi Fingers
Seasonal Veggies – $10.00
Grilled Chicken Breast
Seasonal Veggies – $10.00
House-made Chicken Fingers
Seasonal Veggies – $10.00
Kid's STK
filet mignon, hand-cut fries – $17.00
Mac & Cheese – $10.00
Weekend Brunch Menu (Saturday and Sunday only)
Menu Date: 11/2021
Market Salads and Starters
Baby Gem Caesar
manchego cheese – lemon black pepper emulsion – herb crouton – $20.00
Blue Iceberg
nueske's applewood smoked bacon – point reyes blue – cherry tomato – $19.00
Bigeye Tuna Tartare
hass avocado – taro chips – soy-honey emulsion – $26.00
Crispy Calamari
basil – shishito peppers – roasted garlic & lime aioli – asian chili sauce – $23.00
Lil' BRGs
wagyu beef – special sauce – sesame seed bun – $21.00
Jalapeño Pickled Shrimp Cocktail
cocktail sauce – lemon – $27.00
Entrees
Smoked Pork Belly Benedict
maple glazed bacon – shishito peppers – poached eggs – hollandaise – toasted english muffin – chili flakes – $25.00
Eggs & Avocado on Toast
smashed avocado – cilantro – grilled sourdough bread – poached eggs – jalapeño – extra virgin olive oil – toasted pumpkin seeds – $24.00
Lobster & Eggs Benedict
lobster – baby spinach – poached eggs – caviar hollandaise – toasted english muffin – $35.00
Wagyu Burger BKFT
7oz beef patty – american cheese – bacon – fried egg – lettuce – tomato – onion – special sauce – fries – $23.00
Cinnamon French Toast
brioche – berries – cream cheese icing – maple syrup – $21.00
Truffle Steak and Egg*
8-oz wagyu flat iron, truffle-buttered brioche fried egg, crispy potatoes, shaved truffle – $44.00
Hot Chicken & Waffle
buttermilk waffles – fried hot chicken thigh – pickles – coleslaw – maple BBQ sauce – $24.00
Egg White Omelet
roasted pepper relish – caramelized onions – avocado – sautéed spinach – mushrooms – emmental cheese – baby green leaves – $23.00
STK
Filet 6 oz. – $48.00
Wagyu Flat Iron 8 oz – $40.00
Filet 10 oz. – $61.00
NY Strip 14 oz. – $61.00
Bone-In Filet 14 oz. – $75.00
Dry-Aged Delmonico 14 oz. – $78.00
Cowgirl Ribeye 16 oz – $80.00
Dry-Aged Bone-In Strip 18 oz – $81.00
Dry-Aged Porterhouse 28 oz. – $110.00
Dry-Aged Tomahawk Ribeye 34 oz. – $152.00
Surf & Turf: Filet and Lobster Tail
8 oz. filet – Lobster Tail – $69.00
Surf & Turf: Spinalis and King Crab "Oscar"
8 oz. spinalis – king crab – $99.00
Sauces
Choose 1 – Additional are $2.00 each
STK
STK Bold
Peppercorn
Chimichurri
Red Wine
Toppings
King Crab Oscar – $22.00
Shrimp – $8.00
Truffle Butter – $10.00
Peppercorn Crusted – $5.00
Sides
Yukon Gold Mashed Potatoes – $16.00
Tater Tots – $16.00
Parmesan Truffle Fries – $16.00
Sweet Corn Pudding – $16.00
Asparagus – $16.00
Mac & Cheese – $16.00
Bacon Mac & Cheese – $19.00
Lobster Mac & Cheese – $29.00
Mac & Cheese Trio
traditional – bacon – lobster – $39.00
Desserts
Cheesecake
key lime curd – $12.00
Bag O' Donuts
rolled in cinnamon sugar – 3 dipping sauces: dulce de leche – spiced chocolate – raspberry – $12.00
Warm Chocolate Chip Cookie
vanilla ice cream – caramel sauce – $12.00
Chocolate Cake
chocolate ganache sauce – $12.00
Mocktails
Don't Mock Me
wtrmln wtr – cucumber juice – mint – splash of soda – $12.00
Cocktails
Just Ten More Minutes
bacardi limon – passionfruit syrup – fresh lime – mint – $20.00
Cucumber Stiletto
grey goose le citron vodka – st~germain – muddled cucumber – mint – $20.00
Missed My Flight
buffalo trace bourbon – aperol – montenegro – luxardo – fresh lemon – $20.00
Strawberry Cobbler
belvedere vodka – muddled strawberry – graham cracker crust – $20.00
Bed Head
casamigos blanco – cointreau – strawberry – fresh lime – simple syrup – $20.00
Espresso Martini
kahlua – bailey's – belvedere vodka – espresso – $20.00
Bottoms Up
Mimosa or Bloody Mary. 90 minutes. Ask your server for details. – $30.00
Spike Your Caffeine
Bailey's, Jameson, Frangelico. Served with fresh whipped cream and mini sugar cinnamon donut – $9.00
Wine and Beer
Assorted Wine by the Glass – $13.00 – $37.00
Assorted Beer – $8.00 -$14.00
Lounge Menu
Menu Date: 11/2021
Lounge menu available 3:00-6:30pm
Social Hour
Specialty Drinks
Half off specialty cocktails, $10 Justin Cabernet and Whispering Angel Rosé
Oysters – $2.00
Lil' BRG and Truffle Fries – $5.00
Tater Tots – $5.00
Olive Tapenade & Hummus – $5.00
Beef Tartare* – $7.00
Jalapeño Cheddar Grit Croquettes – $7.00
Grilled Chimi Filet* – $7.00
Tuna Tartare Taco* – $8.00
Crispy Calamari – $8.00
Jalapeño Pickled Shrimp Cocktail – $8.00
** STK Orlando Menu and Prices are Subject to Change Without Notice **