Disney Springs | The Landing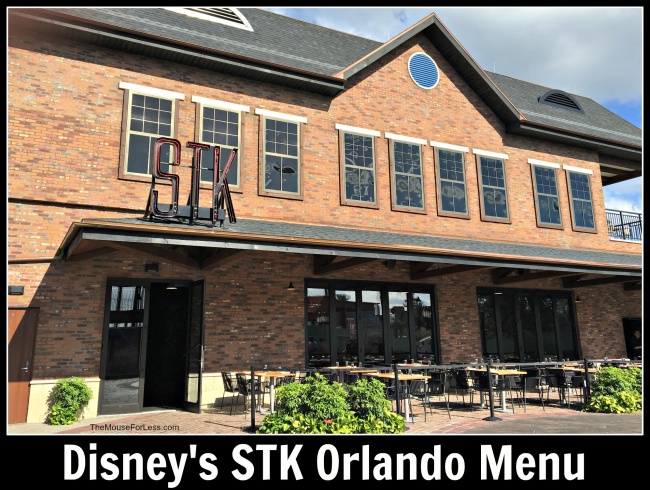 Lunch Dinner Kids' MealsBrunch Menu
STK Orlando, a modern steakhouse mixed with the ambiance of a sleek lounge, is one of the largest STK locations in the world, occupying 14,000 square feet. STK Orlando emphasizes a social and fun environment, featuring a main level and a rooftop-dining area with incredible views of Disney Springs.
Restaurant Info: American, Lunch/Dinner, $$$$ – $35.00-$59.99 per adult
Find out how you can save money on dining at Walt Disney World by using one of Disney's Dining Plans.
STK Orlando Lunch Menu
Menu Date: 01/2018
Appetizers
Tuna Tartare– avocado, soy honey emulsion, taro chip – $17.00
Lil' BRGs – wagyu beef, special sauce, sesame seed bun – $18.00
Grilled Octopus – purple potatoes, capers, heirloom tomatoes – $18.00
Crispy Rock Shrimp – chili remoulade – $18.00
Raw Bar
Shrimp Cocktail – cocktail sauce, lemon – $19.00

Oysters on a Half Shell – Half Dozen mignonette, cocktail sauce, lemon – $18.00
Oysters on a Half Shell – Dozen mignonette, cocktail sauce, lemon – $36.00
Alaskan King Crab – $26.00
Half Chilled Maine Lobster – Market Price
Market Salads
Hearts of Romaine – garlic crouton, parmesan lemon dressing – $14.00
Blue Iceberg – Nueske's smoked bacon, Point Reyes blue cheese, cherry tomato – $14.00
Shaved Brussels Sprout Salad – apple, cranberry, aged goat cheese, marcona almonds – $15.00
Buratta – local heirloom tomato, arugula pesto, serrano ham – $16.00
Burgers & Sandwiches
Classic Burger – 8 oz. prime beef, cheddar, potato bun, grilled onion served with fries or small salad – $18.00
STK Wagyu Burger – smoked bacon, blue cheese, cherry peppers served with fries or small salad – $28.00
Crispy Mahi Mahi Sandwich – pickled slaw, chili remoulade, and potato bun served with fries or small salad – $18.00
Grilled Chicken Club – smoked bacon, avocado, baked egg served with fries or small salad – $15.00
Entrees
Florida Grouper – miatake mushroom, fingerling potato, truffle, lobster brown butter – $38.00
STK Salad – skirt, asian greens, pickled mango, peanuts – $24.00
Springer Mountain Chicken – pickled butternut squash, epazote, pumpkin seed puree – $28.00
Seared Tuna – thumbelina carrots, black sesame tahini, preserved lemon – $38.00
STK
Filet Medallion – 6 oz. – $36.00
Skirt Steak – 8 oz. – $28.00
Loin Strip – 10 oz. – $31.00
Bone-In Filet – 14 oz. – $54.00
Bone-In Rib Steak – 20 oz. – $51.00
Dry-Aged Delmonico 14 oz. – boneless ribeye, generous marbling, decadent and tender – $62.00
Dry-Aged Bone-In Sirloin – 20 oz. – $68.00
Dry-Aged Bone-In Porterhouse – 28 oz – $98.00
Dry-Aged Tomahawk – 34 oz. – long bone ribeye (for two) – $128.00
Toppings
Peppercorn Crust – $4.00
Shrimp – $6.00
Alaskan King Crab "Oscar" – $15.00
Truffle Butter – $8.00
Alaskan King Crab – $10.00
Maine Lobster – Market Price
Sauces
STK – $2.00
Au Poivre – $2.00
Horseradish – $2.00
Chimichurri – $2.00
Blue Butter – $2.00
Béarnaise – $2.00
STK Bold – $2.00
Red Wine – $2.00
Sides
Creamy Yukon Potatoes – $10.00
Mac & Cheese – $10.00
Parmesan Truffle Fries – $11.00
Lobster Mac & Cheese – $22.00
Wild Mushrooms – $12.00
Broccolini – $8.00
Desserts
Caramelito Bar – cocoa nib marshmallow, chocolate Bavarian – $10.00
Orange Dream Cheescake – bruleed oranges, whipped cream – $10.00
Ice STK – mini ice cream cone sampler – $10.00
Bag O' Donuts – dulce de leche filling, spiced chocolate sauce, raspberry sauce – $10.00
Warm Baked Cookie – chocolate sauce, caramel, vanilla ice cream – $10.00
Berry Parfait – berry compote, strawberry sauce, raspberry sorbet – $10.00
Bottled Beers
Amstel Light – $8.00
Sam Adams Seasonal – $8.00
Corona – $8.00
Stella Artois – $8.00
Not Your Father's Root Beer – $8.00
Founder's All Day IPA – $8.00
Bell's 2 Hearted – $8.00
Sam Adams Boston Lager – $8.00
Goose Island Sophie – $8.00
Bud Light – $8.00
Blue Moon – $8.00
Negra Modelo – $8.00
Bubbles and Wine
Stellina di Notte Prosecco, Veneto, Italy NV – $14.00
Moët & Chandon Imperial Brut Rose, Champagne NV – $28.00
Gabbiano Pinot Grigio, Venezie, Italy – $13.00
Brancott Sauvignon Blanc, Marlborough – $15.00
Kevin O'Leary Chardonnay, California -$15.00
Chateau Minuty Rose, Provence – $14.00
Terrazas de Los Andes Altos del Plata Malbec, Argentina – $17.00
Sonoma Cutrer Pinot Noir, Sonoma – $21.00
The Prisoner Red Blend, Napa Valley – $28.00
Justin Cabernet Sauvignon, Paso Robles – $19.00
Veuve Cliquot Yellow Label Brut, Champagne NV – $26.00
Chandon Rosé, California, NV – $18.00
Snap Dragon Rielsing, Sonoma – $16.00
Landmark "Overlook" Chardonnay, Sonoma – $19.00
Cloudy Bay Sauvignon Blanc, Marlborough – $22.00
A by Acacia Pinot Noir, California – $15.00
St. Francis Merlot, Sonoma – $14.00
Decoy by Duckhorn Zinfandel, Napa – $13.00
Kevin O'Leary Cabernet Sauvignon, California – $14.00         
Cocktails
Orlando Pride – bulldog gin, fresh lemon juice, muddled raspberries, egg whites – $15.00
Strawberry Cobbler – belvedere, fresh muddled strawberry, graham cracker crust – $15.00
Green Intensity – absolut elyx, fresh lime, jalapeno, basil – $14.00
Ginger Mojito – hennessy vs. muddled mint and lime, topped with ginger ale – $15.00
Key Lime Pie Martini – grey goose vodka, malibu rum, fresh lime juice with frothy pineapple cream – $15.00
Poisoned Apple – ciroc apple, grand marnier, cinnamon simple syrup, lemon juice, prosecco – $15.00
Apple Bottom – bacardi rum, cider, red or white wine, cinnamon, assorted fruit – $15.00
Not Your Daddy's Manhattan – bulleit bourbon, zinfandel port, carpano antica sweet vermouth, bitters – $15.00
Cucumber Stiletto – ketel one citroen, st. germain, muddled cucumber, mint – $15.00
STK Mule – purity vodka, lime, ginger beer – $15.00
Cherry Poppin' – the botanist gin, luxardo cordial, limemade fizz, and fresh muddled cherries – $15.00
The Harvest – maker's mark, apple cider, pumpkin puree, egg whites – $15.00
STK Orlando Dinner Menu
Menu Date: 01/2018
Appetizers
Heirloom Tomato & Watermelon – aged jack cheese, watercress, chile-honey dressing – $14.00
Baby Gem Lettuce Caesar – herb croutons, parmesan reggiano – $12.00
Shaved Brussel Sprouts – apples, cranberries, sweet grass dairy gouda, marcona almonds – $15.00
Peach & Burrate – watercress, black pepper vinaigrette, pickled onions – $17.00
Blue Iceberg – Neuske's smoked bacon, Point Reyes blue cheese, cherry tomatoes – $14.00
Tuna Tartare – hass avocado, soy honey emulsion, taro chips – $17.00
Lil' BRGs – wagyu beef, special sauce, sesame seed bun – $18.00
Pork Ribs – balsamic BBQ sauce, pickled watermelon rind, crispy garlic – $17.00
Grilled Octopus – purple potatoes, capers, heirloom tomatoes – $18.00
Mussels – oven-dried tomato, herb butter, chardonnay broth – $14.00
Crispy Rock Shrimp – chili remoulade – $18.00
Garden Salads
Hearts of Romaine – garlic crouton, parmesan lemon dressing – $14.00
Buratta – heirloom tomatoes, arugula purée, kalamata olive croutons – $16.00
Blue Iceberg – smoked bacon, maytag blue, cherry tomato – $14.00
Shaved Brussels Sprout Salad – apple, cranberry, aged goat cheese, marcona almonds – $15.00
Baby Beets – Florida oranges, toasted pistachios, goat cheese – $15.00
Raw Bar
Shrimp Cocktail – cocktail sauce, lemon – $19.00

Oysters on a Half Shell – Half Dozen mignonette, cocktail sauce, lemon – $18.00
Oysters on a Half Shell – Dozen mignonette, cocktail sauce, lemon – $36.00
Alaskan King Crab – $26.00
Half Chilled Maine Lobster – Market Price
Ceviche – lime, red onions, choclo – $18.00
Entrees
Springer Mountain Chicken – pickled butternut squash, epazote, pumpkin seed puree – $28.00
Market Fish – Market Price
Spice Rubbed Rack of Lamb – sweet potato, shaved apple, date chutney – $46.00
Glazed Beef Short Rib – green apple confit, horseradish cream – $29.00
Seared Tuna – bok choy, snap peas, baby carrot, shiso – $38.00
Florida Grouper – miatake mushroom, fingerling potato, truffle, lobster brown butter – $38.00
Grilled Maine Lobster – shiitake mushroom, red chiles, ginger coconut broth – Market Price
STK
Filet Medallion – 6 oz. – $36.00
Skirt Steak – 8 oz. – $28.00
Loin Strip – $31.00
Bone-In Filet – 14 oz. – $54.00
Bone-In Rib Steak – 20 oz. – $51.00
Filet – 10 oz. – $46.00
Sirloin – 16 oz. – $44.00
Dry-Aged Delmonico – 14 oz. – boneless ribeye, generous marbling, decadent and tender – $68.00
Dry-Aged Bone-In Sirloin – 20 oz. – $68.00
Dry-Aged Porterhouse – 28 oz."king of steak" – combination of NY striploin and filet mignon (for two) – $98.00
Dry-Aged Tomahawk  – 34 oz. long bone ribeye (for two) – $128.00
Sauces
STK – $2.00
Au Poivre – $2.00
Horseradish – $2.00
Chimichurri – $2.00
Blue Butter – $2.00
Béarnaise – $2.00
STK Bold – $2.00
Red Wine – $2.00
Toppings
Peppercorn Crust – $6.00
Truffle Butter – $8.00
Foie Gras Butter – $8.00
Shrimp – $6.00 each
King Crab – $10.00
King Crab "Oscar" – $15.00
Maine Lobster – Market Price
Sides
Creamy Yukon Potatoes – $10.00
Mac & Cheese – $11.00
Jalapeno and Cheddar Grits – $9.00
Broccolini – $8.00
Brussel Sprouts and Bacon – $10.00
Parmesan Truffle Fries – $11.00
Grilled Neuske's Smoked Bacon – $13.00
Caulliflower Gratin – $10.00
Lobster Mac & Cheese – $22.00
Creamed Spinach – $9.00
Wild Mushrooms – $12.00
Desserts
Caramelito Bar – cocoa nib marshmallow, chocolate Bavarian – $10.00
Orange Dream Cheescake – bruleed oranges, whipped cream – $10.00
Ice STK – mini ice cream cone sampler – $10.00
Bag O' Donuts – dulce de leche filling, spiced chocolate sauce, raspberry sauce – $10.00
Warm Baked Cookie – chocolate sauce, caramel, vanilla ice cream – $10.00
Berry Parfait – berry compote, strawberry sauce, raspberry sorbet – $10.00
Bottled Beers
Amstel Light – $8.00
Sam Adams Seasonal – $8.00
Corona – $8.00
Stella Artois – $8.00
Not Your Father's Root Beer – $8.00
Founder's All Day IPA – $8.00
Bell's 2 Hearted – $8.00
Sam Adams Boston Lager – $8.00
Goose Island Sophie – $8.00
Bud Light – $8.00
Blue Moon – $8.00
Negra Modelo – $8.00
Bubbles and Wine
Stellina di Notte Prosecco, Veneto, Italy NV – $14.00
Moët & Chandon Imperial Brut Rose, Champagne NV – $28.00
Gabbiano Pinot Grigio, Venezie, Italy – $13.00
Brancott Sauvignon Blanc, Marlborough – $15.00
Kevin O'Leary Chardonnay, California -$15.00
Chateau Minuty Rose, Provence – $14.00
Terrazas de Los Andes Altos del Plata Malbec, Argentina – $17.00
Sonoma Cutrer Pinot Noir, Sonoma – $21.00
The Prisoner Red Blend, Napa Valley – $28.00
Justin Cabernet Sauvignon, Paso Robles – $19.00
Veuve Cliquot Yellow Label Brut, Champagne NV – $26.00
Chandon Rosé, California, NV – $18.00
Snap Dragon Rielsing, Sonoma – $16.00
Landmark "Overlook" Chardonnay, Sonoma – $19.00
Cloudy Bay Sauvignon Blanc, Marlborough – $22.00
A by Acacia Pinot Noir, California – $15.00
St. Francis Merlot, Sonoma – $14.00
Decoy by Duckhorn Zinfandel, Napa – $13.00
Kevin O'Leary Cabernet Sauvignon, California – $14.00         
Cocktails
Orlando Pride – bulldog gin, fresh lemon juice, muddled raspberries, egg whites – $15.00
Strawberry Cobbler – belvedere, fresh muddled strawberry, graham cracker crust – $15.00
Green Intensity – absolut elyx, fresh lime, jalapeno, basil – $14.00
Ginger Mojito – hennessy vs. muddled mint and lime, topped with ginger ale – $15.00
Key Lime Pie Martini – grey goose vodka, malibu rum, fresh lime juice with frothy pineapple cream – $15.00
Poisoned Apple – ciroc apple, grand marnier, cinnamon simple syrup, lemon juice, prosecco – $15.00
Apple Bottom – bacardi rum, cider, red or white wine, cinnamon, assorted fruit – $15.00
Not Your Daddy's Manhattan – bulleit bourbon, zinfandel port, carpano antica sweet vermouth, bitters – $15.00
Cucumber Stiletto – ketel one citroen, st. germain, muddled cucumber, mint – $15.00
STK Mule – purity vodka, lime, ginger beer – $15.00
Cherry Poppin' – the botanist gin, luxardo cordial, limemade fizz, and fresh muddled cherries – $15.00
The Harvest – maker's mark, apple cider, pumpkin puree, egg whites – $15.00
STK Orlando Kids Menu
Menu Date: 01/2018
STK Little Cheeseburgers – 2 Little Burgers, White Cheddar Cheese, Tomato, Sesame Seed Bun – $10.00
Crispy Mahi Fingers – Rice Flake Crusted Mahi Mahi, Shoestring Fries, Rémoulade – $10.00
Kid's Mac & Cheese – $10.00
House-made Chicken Fingers – Shoestring Fries – $10.00
Grilled Chicken Breast – Seasonal Veggies – $10.00
Fruit Plate – Assorted Seasonal Fruit – $10.00
Weekend Brunch Menu (Saturday and Sunday only)
Menu Date: 01/2018
Getting Started
Cinnamon Monkey Bread – cream cheese icing – $6.00
Bag of Stuffed Donuts – daily flavors – $6.00
Appetizer
Hangover Ceviché – shrimp, mussels, crab, octopus, jalapeños, house-made clamato – hair of the dog: add Don Julio Silver Tequila, Vidal Mezcal, or Belvedere Vodka for 8.00 each – $21.00
Neuske's Smoked Bacon – balsamic BBQ, celery leaves, pickled onions – $16.00
Oysters on a Half Shell – Half Dozen – mignonette, cocktail sauce, lemon – $18.00
Oysters on a Half Shell – Dozen – mignonette, cocktail sauce, lemon – $36.00
Baby Gem Lettuce Center – herb croutons, parmesan reggiano – $14.00
Shrimp Cocktail – cocktail sauce, lemon- $19.00
Tuna Tartare – avocado, soy honey emulsion, taro chips – $18.00
Lil' BRGs – wagyu beef, special sauce, sesame seed bun – $18.00
Sandwich & Entrée Salad
Big Lil' BRG – wagyu beef, special sauce, sesame seed bun, hand-cut fries. Add ons: thick-cut bacon 4, fried egg 3, double BRG 12 – $24.00
Avocado Toast – poached eggs, smoked bacon, shaved radishes – $16.00
STK Salad – skirt steak, tomatoes, chimichurri, point reyes blue cheese – $23.00
Beef Short Rib & Egg Sandwich – pickled onions, aji amarillo sauce, hand-cut fries – $19.00
The Ultimate Brunch for Two
Brunch for Two – Dry Aged Tomahawk Steak, Butter-poached 2 lb. Lobster, King Crab Scrambled Eggs, and a Bottle of Veuve Clicquot – $275.00
STK
Filet Medallion 6 oz. – $36.00
Skirt Steak 8 oz. – $28.00
Filet 10 oz. – $46.00
Sirloin 16 oz. – $44.00
Bone-In Filet 6 oz. – $54.00
Dry-Aged Delmonico 14 oz. – boneless ribeye, generous marbling, decadent and tender – $36.00
Dry-Aged Bone-In Strip 18 oz. – known as the NY Strip, tender and full-flavored – $67.00
Bone-In Rib Steak 20 oz. – $51.00
Dry-Aged Tomahawk 34 oz. – long bone ribeye (for two) – $128.00
Dry-Aged Porterhouse 28 oz. – "king of steak" – combination of NY striploin and filet mignon (for two) – $98.00
Entrée
Shrimp & Grits – crispy rock shrimp, jalapeño grits, cherry tomatoes – $23.00
Arctic Char – rock shrimp, spring peas, horseradish   – $27.00
Crab Cakes Benedict – poached eggs, whole grain mustard béarnaise, asparagus salad – $25.00
Lemon-Ricotta Pancakes – marinated berries, lemon curd, whipped cream – $14.00
Fried Chicken & Funnel Cake – sriarcha honey, lime, burnt onion-powered sugar – $25.00
Old School – eggs, thick-cut bacon, fingerling potato home fries. Add ons: skirt steak 12, king crab 12, lobster MP – $16.00
Sides
Fingerling Potato Home Fries – $7.00
Mac & Cheese – $11.00
Lobster Mac & Cheese – $22.00
Jalapeño & Cheddar Grits – $9.00
Creamy Yukon Gold Potatoes – $10.00
Grilled Asparagus – $12.00
Zellwood Triple Sweet Corn Pudding – $10.00
** STK Orlando Menu and Prices are Subject to Change Without Notice **