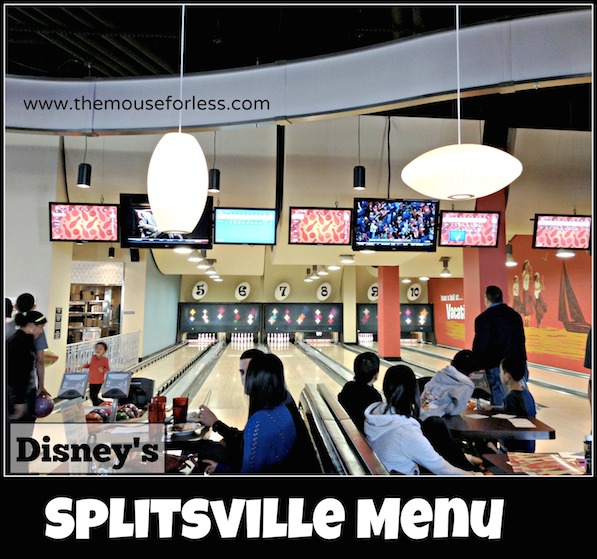 The Splitsville menu is distinctly different than your typical bowling alley fare. Guided by award-winning chef Tim Cushman, the menu features a variety of higher-end offerings such as grilled Mahi Mahi with "Voodoo" shrimp, filet sliders and grilled chicken parmesan, plus a kids menu, in addition to traditional bowling alley food items. Splitsville even features two sushi bars where guests can get fresh-rolled sushi.
Splitsville is located in Disney Springs.  Find more Walt Disney World dining locations on our Walt Disney World menus page.
Restaurant Info: American, Lunch/Dinner A la carte, $$ ($15 to $34.99 per adult
Find out how you can save money on dining at Walt Disney World by using one of Disney's Dining Plans.

Planning a Walt Disney World Vacation?
For a Free no-obligation quote, contact our sponsor
The Magic For Less Travel
. The Magic For Less Travel is an Authorized Disney Vacation Planner and has been helping guests plan magical vacations since 2002. Receive the best prices and free travel planning services. Their fee-free services will help you save time, money, and stress while planning a vacation designed around you and your needs!
Splitsville Lunch & Dinner Menu
Menu Date: 03/2020
Appetizers
Cone of French Fries
Classic crinkle-cut fries, lightly seasoned and served with chive dip – $10.00
Loaded Fries
Fries smothered in Queso Blanco, Bacon, Ranch and Scallions – $14.00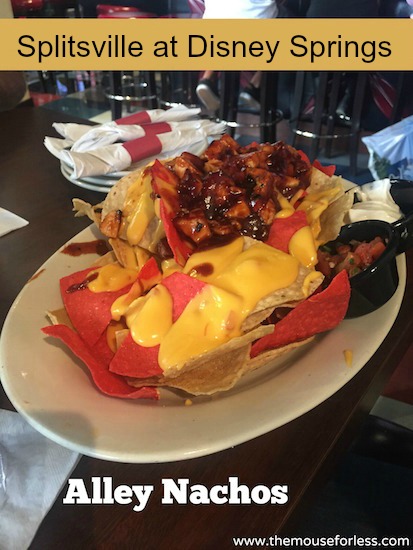 Macho Nachos
Loaded with seasoned ground beef, shredded jack, Queso, and Black Bean Corn Salsa drizzled with avocado ranch – $16.00
Chicken Tenders
Chicken tenderloins are hand-battered with our Parmesan breading then fried and served with ranch dressing – $13.00
Edamame
Steamed and tossed in kosher salt. Spice it up with chili sauce for $1 – $8.00
Cheeseburger Sliders
Three slider-style burgers topped with cheese, caramelized onions, our special sauce, lettuce, tomato, and pickles – $15.00
Filet Sliders*
Two sliders with thick slices of beef tenderloin served with onion rings and horseradish cream – $16.00
Fig & Pig Flatbread
Prosciutto, fig spread, goat cheese, fresh mozzarella, maraschino onions, dried figs and topped with dressed arugula – $14.00
BBQ Chicken Flatbread
Grilled chicken, BBQ sauce, smoked Gouda, mozzarella, cilantro and red onion – $14.00
Sushi
All rolls include sushi rice and sesame seeds. Happy Hour (Monday – Friday from 3pm to 6pm), offes select Sushi Rolls and Alcoholic Beverages.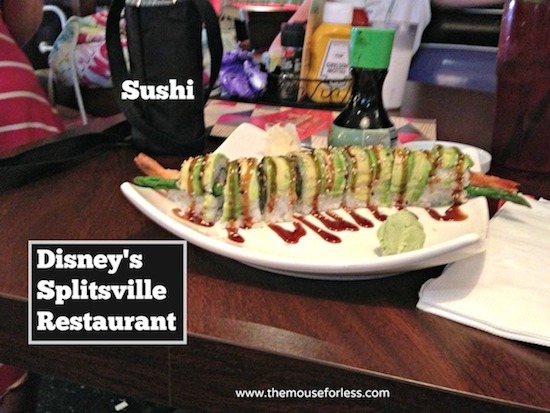 California Roll
Sushi rice, Kani Kama krab, cucumber, and avocado – $12.00
California Crunch
Tempura Kani Kama krab, cucumber, and avocado, topped with tempura crunch, spicy mayo, and kimchee ponzu – $13.00
Spicy Tuna
Fresh tuna, spicy mayo, cucumber and scallions drizzled with sriracha hot chili sauce – $13.00
Ninja Crunch
Tempura-fried salmon and Kani Kama krab rolled with fresh salmon and topped with tempura crunch, spicy mayo and eel sauce – $15.00
Cucumber Kani Su
No rice, just lean protein and veggies. Spicy tuna, cream cheese and avocado rolled in thinly sliced cucumber and served with lemon ponzu sauce and drizzled with sriracha sauce – $13.00
Volcano Roll
Tempura shrimp, avocado, cream cheese, and spicy volcano krab mix – $16.00
Crouching Dragon
Tempura shrimp, asparagus and avocado topped with spicy krab mix and drizzled with eel sauce, spicy mayo and sriracha – $16.00
Galaxy Roll
Ahi tuna seared in kimchee ponzu, spicy krab mix, avocado, and cream cheese rolled in soy paper. Topped with spicy shrimp mix, eel sauce, scallions, and sesame seeds – $20.00
Fantasy Roll*
A sushi dream come true! Fresh salmon, ahi tuna, cucumber, avocado, and steamed shrimp are rolled in soy paper and drizzled with spicy kimchee ponzu sauce – $18.00
Grilled Avocado and Ahi Tuna
A halved avocado is grilled and filled with a generous portion of seared ahi tuna tossed in spicy kimchee ponzu sauce and topped with scallions and spicy mayo served with sushi rice and crispy wonton chips – $17.00
Pizza
Cheese
House-made crust, mozzarella and fresh tomato – $16.00
Pepperoni
Our homemade cheese pizza loaded with pepperoni – $18.00
Meat Lovers
Smoked sausage, pepperoni, bacon, and Italian meatballs – $19.00
Margherita
Fresh mozzarella, Roma tomatoes, basil, tomato sauce on honey wheat crust – $17.00
Veggie
Mozzarella, mushrooms, red and green peppers, onions, black olives, broccoli and tomato sauce on honey wheat crust – $17.00
Firehouse
Mozzarella, diced chicken tenders, spicy Buffalo sauce, bleu cheese and drizzled with ranch dressing – $17.00
Hawaiian Pizza
House-made crust, tangy BBQ sauce and mozzarella cheese topped with crispy bacon, Canadian bacon, fresh pineapple, and cilantro – $18.00
Entrees & Salads
Fish N Chips
Hand-battered and golden-fried fish filet served with seasoned French fries, coleslaw and tartar sauce – $21.00
Grilled Salmon with Mango Chutney
Fresh salmon is grilled and topped with mango chutney and served with broccoli and sushi rice – $26.00
Sweet N' Spicy Chicken Bowl
Tempura-battered chicken, broccoli, red and green peppers are tossed in spicy Thai chili sauce and served over sushi rice – $22.00
Taco Bowl
Seasoned ground beef, black bean-corn salsa and white rice topped with shredded lettuce, pickled jalapeños, cheddar jack cheese, and sour cream. Served in a crunchy tortilla shell – $21.00
Power Bowl
Pan-roasted chicken, loads of kale and broccoli stir-fried in kimchee tataki sauce and served over roasted sweet potatoes. Topped with avocado and sesame seeds. – $22.00
Spicy Veggie Bowl
Broccoli, kale and crisp mixed veggies are stir-fried in spicy kimchee tataki sauce and topped with avocado and green onions. Served over sushi rice – $18.00
with pan-roasted chicken – $23.00
Smothered Chicken
Blackened chicken breast smothered with creamed spinach, chopped bacon, sautéed mushrooms, and melted Colby jack cheese. Served over mashed potatoes and veggies – $26.00
Make it sublime with beef tenderloin for $7
Southern Goddess Salad
Chopped fried chicken tenders, avocado, deviled eggs, cucumber, bacon, shaved red onion, roasted corn, and heirloom tomatoes over butter and romaine lettuce with green goddess dressing and a Stingin' Honey Garlic drizzle – $18.00
Ahi Tuna
Sushi grade tuna and avocado over mixed greens tossed in Asian pear dressing with yellow peppers, heirloom grape tomatoes, carrots, cucumbers, and tataki sauce on the side – $19.00
Chicken Chopped
Chopped pan-roasted chicken, tomatoes, shaved red onion, bacon, and blue cheese crumble tossed in creamy Parmesan vinaigrette. Topped with avocado and drizzled with balsamic reduction – $18.00
Blackened Salmon Caesar
Romaine lettuce, heirloom grape tomatoes, and croutons are tossed in Caesar dressing and topped with blackened Salmon and shaved Parmesan cheese – $18.00
Handhelds
Cheeseburger Deluxe
Our Classic Burger with cheese and special, top-secret sauce. Served with lettuce, tomato, pickle, onion, and fries – $17.00
Bacon Cheeseburger
Classic burger with cheese and crispy bacon served with lettuce, tomato, pickle, onion, and fries – $18.00
Foghorn Burger
Our Classic Burger smothered in pepper jack cheese and topped with a fried egg, fried jalapeños, sriracha, and cilantro-lime sauce. Served with lettuce, tomato, pickle, onion, and fries – $18.00
Mushroom and Swiss
Our Classic Burger smothered with melted Swiss and savory sautéed mushrooms served with lettuce, tomato, pickle, onion, and fries – $18.00
Buffalo Chicken
Breaded chicken breast spiced up with hot sauce and cooled off with ranch dressing, lettuce, and tomato. Served with fries – $16.00
Turkey Club Supreme
Shaved turkey, miso aïoli, chopped lettuce, tomato, bacon, and muenster cheese garnished with a dill gherkin pickle and grape tomato. Served with fries – $17.00
French Dip
Roast Beef on a French Roll with Dijon Mustard, Creamy Horseradish, Caramelized Onions, Swiss Cheese, and Au Jus for dipping served with fresh Fruit, House-made Chips or French Fries – $19.00
Impossible Burger
Plant-based, an all-natural patty topped with melted American cheese, awesome sauce, lettuce, tomato, onion, and pickle. Vegan options upon request. Served with fries – $20.00
Black Jack Chicken
Grilled, blackened chicken breast smothered in melted Colby jack cheese served on a bun topped with crispy bacon, guacamole, lettuce, tomato, and fries – $17.00
Desserts
Ghirardelli Brownie
Ghirardelli Triple Chocolate Brownie topped with vanilla ice cream, chocolate sauce, whipped cream, and sprinkles – $8.00
Super Sundae
Heaping scoops of vanilla and chocolate ice cream are topped with chocolate sauce, caramel sauce, whipped cream, sprinkles, and a cherry – $8.00
Root Beer Float
Root beer or Coca-Cola and vanilla ice cream served in a super-sized schooner glass. – $7.00
Cupcake
Who doesn't love a cupcake? Ours are gluten-free and locally baked. Ask for the chef's featured flavor! – $8.00
Giant Cake
A mountainous portion of the chef's featured cake with layers so high you might need a ladder! – $9.00
Beverages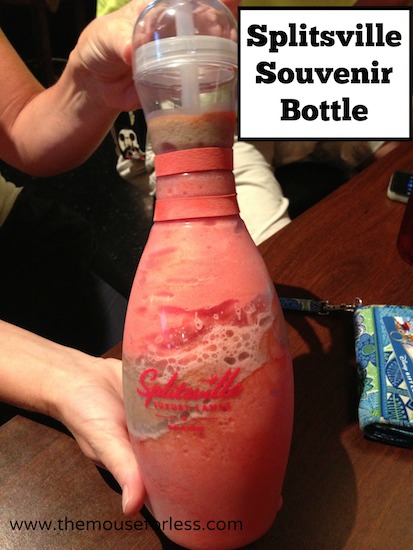 Coca-Cola Soft Drinks – $4.00
Assorted Juice Boxes – $2.50
Bottled Water – $3.25
Milk – $3.25
Chocolate Milk – $3.25
Coca-Cola Freestyle
100+ flavors and free refills all day! – $6.00
Bowl Drinks
Long Island Tea
Vodka, rum, gin and triple sec mixed with sour and a splash of Coke – $16.00
Blueberry Lemonade – 18 ounce
A sublime blend of Three Olives Blueberry Vodka, lemonade and lime juice with fresh blueberries, lemons and a splash of Sprite – $16.00
Kingpin Margarita – 18 ounce
1800 Tequila, triple sec and freshly squeezed lime juice – $16.00
Mai Tai – 18 ounce
A blend of amber and dark rums with orange curacao, orgeat syrup and freshly squeezed lime, orange and pineapple juice – $16.00
Handcrafted Spirits
Watermelon Smash
Watermelon-infused moonshine, muddled with fresh watermelon, lime juice, and simple syrup – $13.00
Moscow Mule
Vodka, Lime juice, and a splash of Q Ginger Beer – $13.00
Spicy Mango Margarita
seedless jalapeno slices muddled with fresh mango and blended with Dobel Tequila, lime juice, and simple syrup topped with sparking Grapefruit soda and garnished with a Fresno Pepper – $13.00
Cucumber Cooler
Tito's Vodka, Lime juice, simple syrup, and sliced cucumber – $13.00
Old Fashioned
Old Forester Signature 100 Proof Bourbon, simple syrup, dash of bitters, fancy cherry and an orange twist – $13.00
Mojito
Light rum, plenty of fresh mint and lime juice, simple syrup. Crisp, tart and slightly sweet – $13.00
Frozen Drinks
Piña Colada – 16 ounce
A tropical vacation-full of rum, pineapple, and creamy coconut -$13.00
Rumrunner – 16 ounce
Rum, blackberry brandy, banana liqueur, lime juice and cranberry -$13.00
Miami Vice – 16 ounce
If a Piña Colada and a Rumrunner had a baby, this would be it -$13.00
Swampwater – 16 ounce
151 Rum, grain alcohol, blue raspberry and lemonade -$13.00
Froze' – 16 ounce
A refreshing, fruity frozen slushy with rosé, strawberry, lemonade and vodka -$13.00
Top it Off with a Floater
151 Rum, Kraken Black Spiced Rum, Cuervo Especial Silver -$4.00
Draft & Bottled Beer
Bud Light Draft – 19 oz. Stein Mug – $8.00
Miller Lite Draft – 19 oz. Stein Mug – $8.00
Yuengling Draft – 19 oz. Stein Mug – $9.00
Sam Adams Seasonal Draft – 19 oz. Stein Mug – $9.00
Stella Artois Draft – 19 oz. Stein Mug – $10.00
Local Craft Draft – $10.00
Founders All Day IPA Draft – $10.00
Kona Big Wave Golden Ale Draft – 19 oz. Stein Mug – $9.00
Blue Moon Draft – 19 oz. Stein Mug – $10.00
Modelo Especial Draft – $10.00
Miller High Life – 16 oz can – $6.00
Budweiser or Bud Light Bottle – $6.00
Kona Gold Cliff IPA Bottle – $8.00
Coors Light Bottle – $6.00
Michelob Ultra Bottle – $6.50
Corona Bottle – $7.00
Founders Seasonal Bottle – $9.00
Heineken Bottle – $7.00
Goose Island Next Coast IPA Bottle – $9.00
Local IPA Bottle – $9.00
Guinness Draught Bottle – $9.00
Victory Golden Monkey (12 oz can) – $9.00
Orange Blossom Pilsner (12 oz can) – $8.00
Magners Pear Cider – $8.50
White Wines
House Chardonnay
$9.00 Glass | $36.00 Bottle
William Hill Chardonnay
$10.00 Glass | $40.00 Bottle
Sonoma-Cutrer Chardonnay
$12.00 Glass | $48.00 Bottle
Honig Sauvignon Blanc
$12.00 Glass | $48.00 Bottle
House Sauvignon Blanc
$9.00 Glass | $36.00 Bottle
House Pinot Grigio
$9.00 Glass | $36.00 Bottle
J Vineyards Pinot Gris
$12.00 Glass | $48.00 Bottle
Red Wines
House Merlot
$9.00 Glass | $36.00 Bottle
House Pinot Noir
$9.00 Glass | $36.00 Bottle
Edna Valley Pinot Noir
$10.00 Glass | $40.00 Bottle
Buena Vista The Count Red Blend
$12.00 Glass | $48.00 Bottle
1000 Stories Zinfandel 
$10.00 Glass | $40.00 Bottle
Hess 'Alomi' Cabernet Sauvignon
$13.00 Glass | $52.00 Bottle
House Cabernet Sauvignon
$9.00 Glass | $36.00 Bottle
La Crema Pinot Noir
$13.00 Glass | $52.00 Bottle
Blush & Bubbly
Coppo Monclavina Moscato
$10.00 Glass | $40.00 Bottle
Juliette Rose
$9.00 Glass | $36.00 Bottle
Sofia Blanc de Blanc
$13.00 Glass | $52.00 Bottle
Splitsville Kid's Menu
Menu Date: 03/2020
for Guests Ages 9 and Under
Kid Burger
Juicy small burger served plain on the bun. Choice of Fries, Applesauce, Carrot Sticks or Veggies. Add cheese $1 – $8.00
Chicken Tenders
Crispy or Grilled chicken fingers served with honey mustard dipping sauce. Choice of Fries, Applesauce, Carrot Sticks or Veggies – $8.00
Hot Dog
Hot dog grilled and served in a bun. Choice of Fries, Applesauce, Carrot Sticks or Veggies – $8.00
Grilled Cheese Sandwich
Thick-sliced American cheese melted to perfection on Texas toast. Choice of Fries, Applesauce, Carrot Sticks or Veggies – $8.00
Cheese Pizza
Housemade crust, mozzarella and tomato sauce. Add pepperoni ($1.00) – $8.00
Kid Pasta
Linguini noodles tossed in butter. Alfredo or marinara sauce. Toasted garlic bread on the side – $8.00
** Splitsville Menu and Prices are Subject to Change Without Notice **