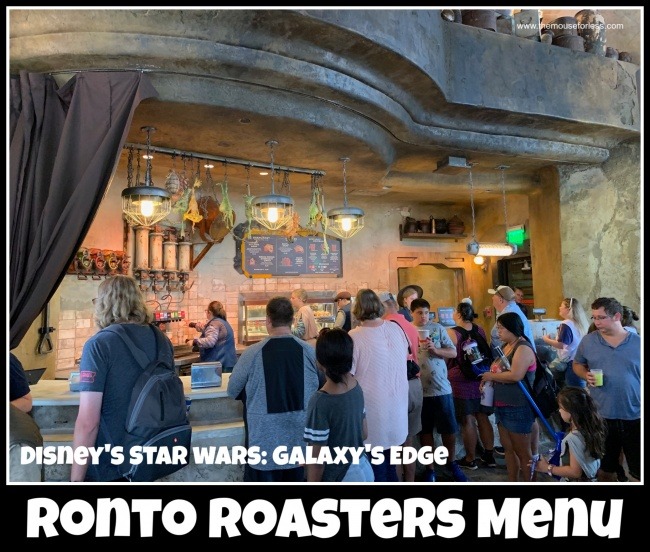 As you wander the market, follow the intoxicating scent of grilled meat wafting through the air. Ronto Roasters is a favorite stop for crews prepping for their next mission. Inside, spot the hanging podracer engine heating up a spit of meats. A pitmaster droid turns the mechanical spit, grilling a large side of ronto—a massive beast native to the planet Tatooine. Enjoy your tasty treat with a specialty beverage while you explore the rest of the market. Ronto Roasters is located in Disney's Hollywood Studios theme park. Find more Walt Disney World dining locations on our Walt Disney World Resort menus page.
Restaurant Info: American, Snacks and Beverages, $ – under $14.99 per adult, Mobile Orders Available
Find out how you can save money on dining at Walt Disney World by using one of Disney's Dining Plans.

Planning a Walt Disney World Vacation?
For a Free no-obligation quote, contact our sponsor
The Magic For Less Travel
. The Magic For Less Travel is an Authorized Disney Vacation Planner and has been helping guests plan magical vacations since 2002. Receive the best prices and free travel planning services. Their fee-free services will help you save time, money, and stress while planning a vacation designed around you and your needs!
Ronto Roasters Breakfast Menu
Menu Date: 07/2023
Souvenir Specialties
Light Up! Acid Spitter Orb Sipper with Lanyard
Served with any Coca-Cola® Fountain Drink – $18.79

Breakfast Specialties
Ronto Morning Wrap
Eggs, Grilled Pork Sausage, Shredded Cheddar, and Peppercorn Sauce in Pita Bread – $12.49
Rising Moons Overnight Oats
Oats, Dragon Fruit, Yogurt, Seasonal Fruit – $6.99

Entrees
Ronto Wrap
Roasted Pork, Grilled Pork Sausage, Peppercorn Sauce, and Tangy Slaw wrapped in Pita Bread – $12.99
Kyryll Pork Rinds
Pork Rinds seasoned in a Savory Blend of Ancho Chile, Cheddar, Smoke, and Cinnamon – $7.49
Plant-based
Triple Suns Breakfast Wrap
Plant-based Egg, Smoky Chickpea-Onion Slaw, and Roasted Tomato Sauce wrapped in Pita Bread – $11.49
Andoan Fruit with Muja Sauce
Sticks of Jicama, Cucumber, Pineapple, Melon and Dragon Fruit doused in a Tamarind Sauce and dusted with Peppercorn Ash (Plant-Based) – $6.99
Non-Alcoholic Specialty Beverages
Tatooine Sunset
Gold Peak® Unsweetened Tea, Minute Maid® Lemonade with Melon and Blueberry – $5.99
Beverages with Alcohol
Coruscant Cooler
Maker's Mark Bourbon, Luxardo Maraschino Liqueur, Carpano Antica Sweet Vermouth, Cranberry, Lime Juice – $16.50
Surly Sarlacc
Ketel One Botanical Grapefruit and Rose Vodka, Minute Maid© Limeade, Raspberry, Spicy Mango Flavors – $14.50
Trandoshan Ale – Dogfish Head, Miami, FL
16 oz draft Spiced Wheat Ale – $13.50

Beverages
Assorted Fountain Beverages
Assorted Coca-Cola® Offerings
Regular – $4.29
Large – $4.99
DASANI® Bottled Water – $4.50
Ronto Roaste Lunch/Dinner Menu
Menu Date: 07/2023
Souvenir Specialties
Light Up! Acid Spitter Orb Sipper with Lanyard
Served with any Coca-Cola® Fountain Drink – $18.79
Entrèes
Ronto Wrap
Roasted Pork, Grilled Pork Sausage, Peppercorn Sauce, and Tangy Slaw wrapped in Pita Bread – $12.99
Kyryll Pork Rinds
Pork Rinds seasoned in a Savory Blend of Ancho Chile, Cheddar, Smoke, and Cinnamon – $7.49
Plant Based
Zuchii Wrap
Grilled Zucchini, Smoky Chickpea-Onion Slaw, Creamy Garlic-Tahini Sauce, and Fresh Cilantro wrapped in Pita Bread – $11.99
Andoan Fruit with Muja Sauce
Sticks of Jicama, Cucumber, Pineapple, Melon and Dragon Fruit doused in a Tamarind Sauce and dusted with Peppercorn Ash (Plant-Based) – $6.99
Non-Alcoholic Specialty Beverages
Tatooine Sunset
Gold Peak® Unsweetened Tea, Minute Maid® Lemonade with Melon and Blueberry – $5.99
Beverages with Alcohol
Coruscant Cooler
Maker's Mark Bourbon, Luxardo Maraschino Liqueur, Carpano Antica Sweet Vermouth, Cranberry, Lime Juice – $16.50
Surly Sarlacc
Ketel One Botanical Grapefruit and Rose Vodka, Minute Maid© Limeade, Raspberry, Spicy Mango Flavors – $14.50
Trandoshan Ale – Dogfish Head, Miami, FL
16 oz draft Spiced Wheat Ale – $13.50

Beverages
Assorted Fountain Beverages
Assorted Coca-Cola® Offerings
Regular – $4.29
Large – $4.99
DASANI® Bottled Water – $4.50
** Ronto Roasters Menu and Prices are Subject to Change Without Notice **