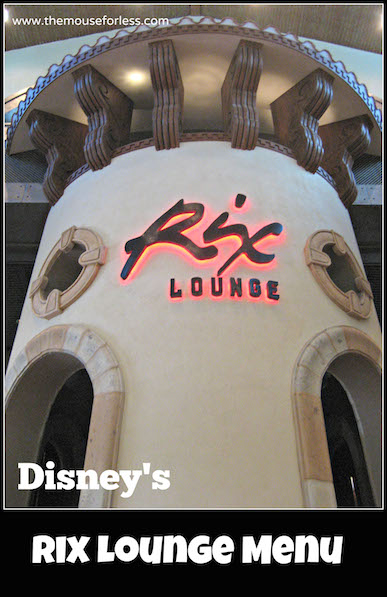 Experience vibrant nightlife in an upscale setting with light food options and specialty cocktails at Rix Sports Bar & Grill.
Rix Sports Bar & Grill is located in Disney's Coronado Springs Resort. Find more Walt Disney World dining locations on our Walt Disney World menus page.
Breakfast Menu  Lunch/Dinner Menu

Planning a Walt Disney World Vacation?
For a Free no-obligation quote, contact our sponsor
The Magic For Less Travel
. The Magic For Less Travel is an Authorized Disney Vacation Planner and has been helping guests plan magical vacations since 2002. Receive the best prices and free travel planning services. Their fee-free services will help you save time, money, and stress while planning a vacation designed around you and your needs!
Rix Sports Bar & Grill Breakfast Menu
Menu Date: 2023
Entrées
Rix Omelet* – $18.00
Choice of 3 toppings, Sautéed Peppers, Mushrooms, White Onions, Spinach, Bacon, Sausage or Diced Ham. Topped with Shredded Cheddar Cheese and served with Herb Butter House Potatoes and a choice of Toast
All American Breakfast* – $15.00
Two Fresh Eggs Prepared any Style, Herb Butter Potatoes and warm, served with Applewood Smoked Bacon or Kielbasa Sausage
Dolce de Leche Maduros French Toast – $16.00
Brioche Bread soaked in our home-made crema, topped with Sweet Plantains and drizzled with Caramel. Served with Bacon or Kielbasa Sausage
Power Bowl – $13.00
Layered Organic Acai and Greek Yogurt with Natural Grain Granola and sliced Almond, topped with Fresh Seasonal Fruit
Southern Chicken Biscuit – $18.00
Fried Chicken Tenders, atop warm fluffy Biscuits, and smothered with savory Sausage Gravy
Big Stack Pancakes – $15.00
Three Buttermilk Pancakes, topped with Seasonal Berries, and dusted Powdered Sugar. Served with choice Applewood Smoked Bacon or Kielbasa Sausage
Healthy Start – $13.00
Natural Grain Granola Cereal with Yogurt Parfait and Seasonal Fruit
Country Beef Skillet – $20.00
Strips of Sirloin Steak served over Farm Fresh Scrambled Eggs, Herb Butter House Potatoes, topped with Chives, Cheddar Cheese, Chipotle Salsa, and Warm Toast
Avocado Toast – $14.00
Fresh Crushed Avocados served on Toasted Multi-Grain Bread, topped with a Farm Fresh Sunny Side Egg, and served with a Spring Mix Salad and Lemon Vinaigrette
Chicken Stuffed Waffles – $18.00
Four Mickey Waffles stuffed with Chicken Tenders and Maple Syrup, served with Herb Butter House Potatoes
Bagel & Lox – $17.00
Warm Toasted Bagel topped with Smoked Salmon, Cream Cheese, Fried Capers, Tomatoes, and Pickled Onions. Served with a Fresh Spring Mix Salad
Sides
Applewood-smoked Bacon – $5.00
Sausage Links – $5.00
Breakfast Potatoes – $4.00
Add One Egg Any Style – $4.00
Fruit Cup – $5.00
Kielbasa Sausage – $6.00
Biscuit & Gravy – $7.00
Kids' Meals
Seasonal Fruit Platter – $8.49
served with Yogurt and Granola
Oatmeal – $7.49
served with Fruit
Cereal – $7.49
served with Fruit
Scrambled Eggs with Bacon – $8.49
served with Breakfast Potatoes
Brioche French Toast – $8.49
served with Bacon
Buttermilk Pancake – $8.49
served with Bacon
Beverages
Choice of Juice – $4.00
Orange, Grapefruit, Cranberry, or Apple
Premium Selection of Hot Teas – $4.29
Cold Brew – $4.75
Fresh-brewed Coffee – $4.29
Double Espresso – $4.45
Cappuccino – $5.39
Cafe Americano – $4.29
Latte – $4.00
Flavor Shot – $1.00
Caramel, Hazelnut, Vanilla or Seasonal
Mimosas
The Classic – $10.00
Sparkling, Blood Orange Puree
The Whip – $12.00
Vanilla Vodka, Pineapple Juice, Sparkling, Whipped Cream
The Caramel Apple – $12.00
Bourbon, Caramel, Sparkling
El Dorado Sunrise – $12.00
Passion Fruit, Guava, Orange Juice, Sparkling
Mimosa Flight – $24.00
Blood Orange, Pineapple, Cranberry, Passion Fruit, Guava
DIY Mimosa – $45.00
Bottle of Sparkling Wine accompanied by two Juice carafes of your choice: Orange, Pineapple, Cranberry
Beer & Specialty Cocktails
Assorted Beer, Cider, and Hard Seltzer – $8.00 – $10.25
Assorted Cocktails Available – $12.00 – $16.00
Rix Sports Bar & Grill Lunch/Dinner Menu
Appetizers
Rix Boneless Wings – $17.00
Ten Wings Tossed in Choice of Buffalo, Kickin Bourbon, Korean BBQ, Sweet & Sour Chili, or Garlic Parmesan and served with Celery and House Blue Cheese or Ranch dressing
Rix Bone-In Wingers – $20.00
Ten Wings Tossed in Choice of Buffalo, Kickin Bourbon, Korean BBQ, Sweet & Sour Chili, or Garlic Parmesan and served with Celery and House Blue Cheese or Ranch dressing
Fried Mozzarella – $14.00
Seared Cheese Sticks with Herb Chimichuri and fresh Chives
Watchos – $15.00
Crispy Waffle Fries loaded with House Blend Queso Blanco, Bacon and Scallions
Fried Green Beans – $13.00
Season Battered Green Beans fried golden brown, served with Cajun Aioli and Korean dipping sauce
Craft Beer Cheese Dip – $12.00
Creamy blend of melted Cheese and Amber Ale, Togarashi Spice and Roasted Shishito Peppers, and served with Pretzel Bites
BBQ Rib Tips – $14.00
Grilled Rib Tip served with House BBQ sauce, Arugula Greens, dressed with Honey Mustard Vinaigrette and Pickled Red Onion
Soups & Salads
Soup du Jour – $10.00
Fresh Seasonal Garnish
Soup du Jour & Grilled Cheese – $16.00
A cup of Soup Du Jour served with Grilled Cheese on Sourdough Bread
Caesar Salad – $13.00
Romaine Hearts, Brioche Croutons, and House-made Caesar Dressing. Add Chicken $6, or Shrimp $8
Rix Salad – $14.00
Wedge of Bulb Lettuce, Crumbled Maytag Blue Cheese, Chopped Bacon, Red Onion, Cherry Tomatoes, drizzled Balsamic Glaze and Maytag Blue Cheese dressing
Add Chicken – $6
Add Shrimp – $7
Add Salmon – $8
Signature Sandwiches and Favorites
Rix Steak Sandwich – $21.00
Seared Beef Tenderloin served with Red Onion, Chimichurri, Roasted Horseradish Aioli and Arugula on a toasted Basil Focaccia Roll. Served with French Fries or choice of side
Bacon Cheddar Burger* – $19.50
Half-Pound Burger, Applewood-smoked Bacon, Cheddar Cheese, Green Leaf Lettuce, Fresh Tomato, and Red Onion on a toasted Roll. Served with French Fries or choice of side
Add Fried Egg – $3.00
Substitute Plant-based Burger Patty – $2.00
Rix Burger – $18.00
Half-pound Burger topped with Swiss Cheese, Caramelized Onion, Black Garlic Aioli, Arugula, and served on a toasted Roll and with French Fries or choice of side
The Cuban – $17.00
Roasted Mojo Pork, Smoked Ham, Bread & Butter Pickles, Swiss Cheese, and Mojo Aioli on a toasted Roll. Served with French Fries or a choice of side
Sausage & Peppers – $16.00
Seared Kielbasa Sausage served with Grilled Onions and Peppers, topped with Spicy Ground Mustard in a toasted Roll. Served with French Fries or choice of side
Croissant Turkey Club – $17.00
Oven Roasted Turkey, Brie Cheese, Smoked Bacon, Lettuce, Tomato, and Mayonnaise served on a toasted Croissant. Served with French Fries or a choice of side
California Chicken Sandwich – $19.50
Grilled Chicken Breast, Applewood-smoked Bacon, Lettuce, Tomatoes and Guacamole with a Roasted Garlic Horseradish. Served with French Fries or choice of side
Mac n' Cheese Burger – $19.50
Half-pound Burger, Crisp and Creamy Macaroni and Cheese, Sharp Cheddar Cheese, Tomato, and Onion on a Toasted Roll
Spiced Tuna – $19.00
Seared Yellowfin Tuna served with Avocado Wasabi Aioli, Sesame Soy Dressing and Pickled Vegetables
Bourbon Salmon – $24.00
Citrus Bourbon Salmon served with Red Bliss Mashed Potatoes and Seasonal Vegetables
Sides
Cole Slaw – $5.00
Onion Rings – $7.00
Seasonal Vegetables – $8.00
Mac 'n Cheese – $8.00
French Fries – $8.00
Loaded Red Bliss Mash Potatoes – $8.00
Desserts
Berry Marscapone Cake – $11.00
Bourbon Pecan Pie – $11.00
Seasonal Sherbert – $5.00
Kids' Meals
Hamburger – $12.00
served with choice of Waffle Fries or Side of Grapes, and Cuties Mandarin Orange
Chicken Nuggets – $12.00
Served with choice of Waffle Fries or Side of Grapes, and Cuties Mandarin Orange
Hot Dog – $12.00
All Beef Hot Dog Served with choice of Waffle Fries or Side of Grapes, and Cuties Mandarin Orange
Grilled Chicken – $12.00
Grilled Chicken Breast, Served with Fresh Broccoli, and Cuties Mandarin Orange
Mac & Cheese – $12.00
served with choice of Waffle Fries or Side of Grapes, and Cuties Mandarin Orange
Scoop Ice Cream – $5.00
Vanilla or Chocolate
Kids' Mocktails
Caramel Apple – $5.00
Apple Cider, Caramel, Ginger Soda
Coco-Nut Colada – $5.00
Coconut Cream, Pineapple & Lime Juice, Club Soda
Beer, Wine, & More
Assorted Beer and Cider – $8.00 – $10.25
Assorted Wine – $10.00 – $16.00
Assorted Liquor – $12.00 – $45.00
Signature Cocktails
Sweet Tea Old Fashioned – $15.00
Rye, Sweet Tea Syrup, Lemon Bitters
Honey Suckle Lemonade – $13.00
Honeysuckle Vodka, Lavender Bitters, Lemonade
Cucumber Jalapeño Margarita – $14.00
Tequila, Orange Liqueur, Lime, Cucumber, Jalapeño, Tajin rim
Everything Hurts – $15.00
Hatian Rhum, Coconut, Pineapple, Orange, Blackstrap Bitters, Nutmeg
Rose Sangria – $12.00
Citrus Rum, Peach, Grapefruit, Lime, Sparkling Rosé
Bourbon Smash – $15.00
Michters, Ginger Beer, Cinnamon Maple Syrup
** Rix Sports Bar & Grill Menu and Prices are Subject to Change Without Notice **