Disney Springs | Marketplace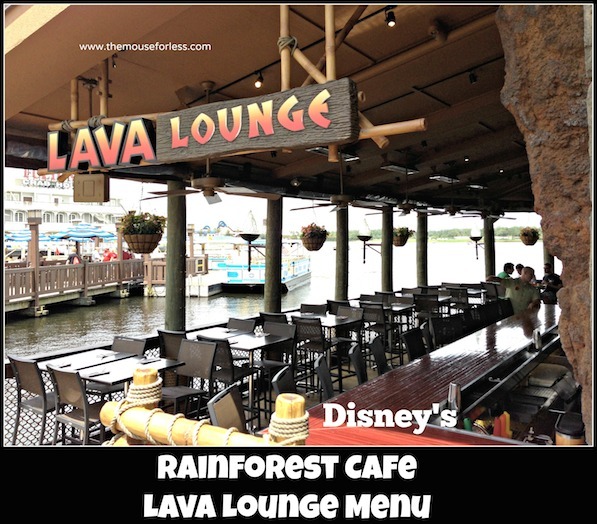 The food and service alone at Rainforest Lava Lounge may dazzle you (don't miss the Sparkling Volcano dessert), but if you need more to get you fired up, the Rainforest Cafe Volcano should do the trick. "Erupting" multiple times each evening, it's a sizzling display of flame spires, fireballs, steam bursts and fog that erupts in sync with a light and sound show.
Restaurant Info: American, Snacks, $ – $14.99 and under per adult
Find out how you can save money on dining at Walt Disney World by using one of Disney's Dining Plans.
Rainforest Lava Lounge Menu
Menu Date: 01/2017
Appetizers
Awesome Appetizer – Ideal for four or more, featuring our Chimi-Cha-Chas, Crustacean Crab Dip with tri-color tortilla chips, Cheese Sticks and Chicken Tenders. Served with fresh Guacamole, Marinara and Coconut Curry Sauce – $18.99
Margarita Flatbread – Flatbread brushed with Olive Oil, topped with Mozzarella Cheese, Buffalo Mozzarella, sliced Tomatoes and fresh Basil – $10.99
Coastal Calamari – An eruption of flavors featuring fried calamari, pepperocini, carrots and banana peppers, served with sweet Thai chili sauce – $9.99
Crustacean Crab Dip – Our creamy house made dip of tender crabmeat, peppers, onions and tomatoes, served with pita points – $10.99
BBQ Pork Sliders – Smoked Pulled-Pork simmered in BBQ Sauce, served on Slider Buns topped with Coleslaw and served with a side of Pickles – $10.99
Buffalo Honey Garlic Wings  – Our traditional style Buffalo Wings deep fried and then tossed in a Buffalo Honey Garlic sauce, finished on the grill, to give just a touch of sweetness – $10.00
Polynesian Pot Stickers – Seared pork pot stickers with refreshing and tangy soy-lime dipping sauce – $10.99
Lava Nachos for Two – A hot favorite from south of the border! Crispy tri-color Tortilla Chips topped with seasoned Ground Beef, Peppers, Onions, Black Beans and Cheddar Cheese. Garnished with Green Onions, Sour Cream and Pico de Gallo – $16.99
Specialty Cocktails
Island Punch – A vacation in a glass! Captain Morgan Spiced Rum, Bols Amaretto, Southern Comfort Liqueur and a blend of fresh juices with a splash of Finest Call Grenadine
Cheetah Rita – Sauza Blue Silver Tequila, Patrón Citrónge Orange Liqueur and just the right amount of sweet-and-sour, served with a salted rim
Strawberry Mojito – Cruzan Strawberry Rum muddled with fresh Mint, Lime, splash of Tropics Strawberry Purée and topped with Sprite®
Volcanic Colada – Refreshing blend of Tropics Piña Colada and Fireball Cinnamon Whisky
Blue Nile – Cruzan Mango Rum, DeKuyper Blue Curacao Liqueur, Finest Call Blood Orange Sour with Sweet-and-Sour
Amazon Journey – Begin this trip with the perfect mixture of Bacardi Superior Rum, Cruzan Mango Rum, Cruzan Strawberry Rum, Triple Sec, Fruit Juices and Finest Call Grenadine
Beso Del Sol Red Sangria – 100% Spanish Tempranillo Wine blended with natural Citrus Juices and a touch of Cinnamon
Mongoose Mai Tai – An Island Favorite! Don Q Coconut Rum, Myers's Original Dark Rum, DeKuyper Crème de Almond, Orange and Pineapple Juices
Playa Del Mar – Sauza Hornitos Reposado Tequila, Patrón Citrónge Orange Liqueur, Agave Nectar and Fruit Juices are combined to quench even the largest of thirsts
Full bar menu available
** Rainforest Lava Lounge Menu and Prices are Subject to Change Without Notice **