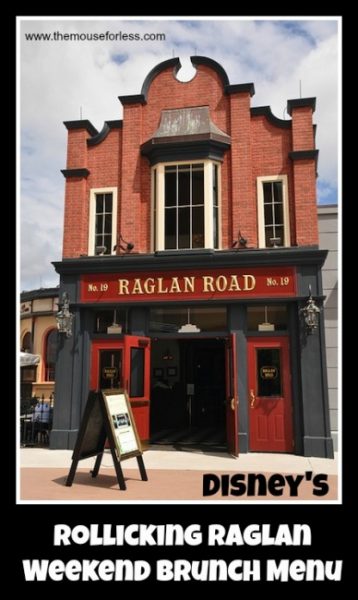 Raglan Road offers a delicious Weekend Brunch that is sure to tantalize your taste buds. Rollicking Raglan Weekend Brunch includes the perfect mix of breakfast and lunch flavors created by Master Chef Kevin Dundon. Also featured is Sunday afternoon live entertainment from their award-winning Irish Dancers.
Raglan Road is located in Disney Springs.  Find more Walt Disney World dining locations on our Walt Disney World menus page.
Restaurant Info: Irish, Brunch, A la carte/family style, $$ -$15 to $34.99 per adult/$$$- $30-$59.99 per adult
Find out how you can save money on dining at Walt Disney World by using one of Disney's Dining Plans.

Planning a Walt Disney World Vacation?
For a Free no-obligation quote, contact our sponsor
The Magic For Less Travel
. The Magic For Less Travel is an Authorized Disney Vacation Planner and has been helping guests plan magical vacations since 2002. Receive the best prices and free travel planning services. Their fee-free services will help you save time, money, and stress while planning a vacation designed around you and your needs!
Rollicking Raglan Weekend Brunch Menu
Menu Date: 05/2022
Call (407) 938-0300 for reservations or stop by! Please note… for Host the Roast offering; all orders must be placed by 1 pm on Friday before your Sunday Brunch Reservation.
Brunch Hours: Saturday and Sunday Only 10 a.m. – 3 p.m.
Raglan Road Dancers – Rollicking Raglan Brunch Show Saturday & Sunday 12 p.m. – 4 p.m.
Weekend Brunch Starty Stuff
Soul Soup
Made fresh daily. Your lovely server has the info. – $8.50
Scallop Forest
Foleys all natural Georges Bank sea scallops in a golden batter served with citrus lime dipping sauce and sweet chili jam – $26.00
Pull the Boxty
Irish style crispy boxty potato cake, pulled ham hock and caramelized red onions with a Dubliner cheese sauce – $17.00
Nom Nom Wings
Sweet 'n' spicy wings tossed in a honey, chili flake, soy and ginger sauce – $16.00
Whiskey BBQ Lollipop Chicken
Whiskey BBQ chicken lollipops with roasted corn and bacon crumble – $17.00
Kiss Before Shrimp
Pan-seared shrimp in a garlic and chili lemon butter sauce with sliced baguette – $18.00
Rack of Heaven
Slow roasted Guinness glazed full rack of baby back ribs. Great for sharing – $31.00
Weekend Brunch Brunchy Stuff
Full Irish
Full Irish breakfast with Cheshire hertiage pork Irish banger, black and white pudding, bacon, roasted tomato, mushrooms and fried eggs with roasties – $25.00
Salmon Royalty
Irish-style Foleys smoked salmon, poached eggs, sautéed spinach, caper hollandaise on Irish soda bread – $22.00
All This… And Eggs On Top
Pulled slow braised beef, potato hash with sautéed mushrooms, green onions, mushroom ketchup topped with 2 sunny side up eggs – $22.00
Pancakes Diaspora
Homemade pancakes with crème fraîche, maple syrup and mixed berry compote – $16.00
The Anglo Irish
Eggs benedict with sliced Irish ham, wilted spinach on a brioche muffin pullman bread topped with hollandaise – $21.00
Hipsters Lament
Smashed avocado, Irish bacon and poached eggs on sourdough with chive butter, roasties and roasted tomato – $21.00
Weekend Brunch Lunchy Stuff
OMG Burger
Dry aged prime short rib and brisket beef burger, Irish bacon, Dubliner Irish cheddar, crispy potato straws with Jameson Irish whiskey BBQ sauce – $22.00
Shepherd's to Die for Pie
Braised and pulled beef and lamb with root vegetables in a rich red wine jus with Irish peat smoked mashed potato – $27.00
Pie in the Sky
Chicken, wild mushrooms and leeks in a white wine cream sauce in puff pastry with roasted vegetables – $26.00
Worth the Wait Beef Sandwich
12-hour braised beef, sautéed mushrooms, crispy onions, garlic aïoli and smoked cheddar on ciabatta – $26.00
The Non-Irish Caesar
Baby gem lettuce, crispy smoked bacon, focaccia croutons and shaved pecorino – Add Chicken 7 | Shrimp 9 – $15.00
Bangin' Bangers & Mighty Mash
Cheshire heritage pork Irish banger, mashed potato and onion gravy – $25.00
Now You're Talkin' Chicken Sandwich
Fried buttermilk chicken breast, hot sauce, scallions, shredded pickled slaw, truffle aioli and grated parmesan – $22.00
Fish & Chips
Our famous beer battered fish and chips served with our fresh tartar sauce (Ask your lovely server for gluten free option) – $27.00
This Shepard Went Vegan
Faro barley, carrots, wild mushrooms, green onion, peas and rutabaga topped with olive oil mashed potato with a burnt onion gravy – $25.00
Citrus Salmon Salad
North Atlantic salmon filet, mixed green leaves, charred pickled pearl onions, smoked almonds and carrots with a citrus dressing – $20.00
Weekend Brunch Side Stuff
Maple and Bacon Roasted Brussels Sprouts – $9.00
House Salad  – $7.00
Caesar Salad – $7.00
Onion Rings – $8.00
Chips – $7.00
Mashed Potato – $7.00
Garlic and Parmesan Chips – $10.00
Seasonal Vegetable Medley – $8.00
Desserts
Ger's Bread & Butter Pudding
Like no other pudding you have ever tried. Believe us – $11.00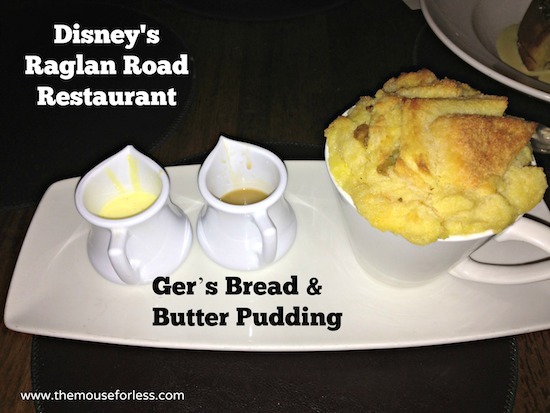 Fluffy Lemon Clouds
Intense lemon curd tart topped with fluffy meringue – $11.00
Got Chocolate?
Dark and milk chocolate mousse with fresh raspberries and chocolate nut crumble – $11.00
Weekend Brunch Kid's Offerings
Bacon and Eggs
Irish rashers of bacon with 2 fried eggs – $9.00
Stack O' Pancakes
A generous stack of homemade pancakes with a fruit compote, crème fraîche and maple syrup – $8.00
Grillin' Chicken
Tender chicken breast served with mashed potatoes, veggies, and choice of side – mashed potatoes, mixed greens salad with ranch, Irish chips, vegetable medley – $12.00
Little Big Burger
Sirloin beef burger char-grilled topped with Dubliner cheddar cheese and choice of side – mashed potatoes, mixed greens salad with ranch, Irish chips, or vegetable medley – $9.00
Gold'n Chicken
Two (2) deep fried chicken goujons and choice of side – mashed potatoes, mixed greens salad with ranch, Irish chips, or vegetable medley – $9.00
Atlantic Fish
Fresh Atlantic fish deep fried in a crispy batter and choice of side – mashed potatoes, mixed greens salad with ranch, Irish chips, or vegetable medley – $10.00
Macaroni & Cheese
Macaroni pasta with Dubliner cheese and choice of side – mashed potatoes, mixed greens salad with ranch, Irish Chips, or vegetable medley – $10.00
Mini Bangers & Mash
Mini pork sausages, mashed potato with onion gravy and choice of side – mashed potatoes, mixed greens salad with ranch, Irish Chips, or vegetable medley – $10.00
Ice Cream
Vanilla ice cream with butterscotch sauce – $3.00
Juicy Fruit
Freshly chopped fruit with a drizzle of honey – $5.00
Chocookberry
Ice cream with Cookies and berries smothered in a chocolate sauce – $5.00
Strawberry Delight
Vanilla ice cream with pavlova, cream, fruit coulis, and fresh strawberries – $5.00
Specialty Libations
Iced Irish
Paddy's Irish Whiskey, butterscotch schnapps and Baileys Salted Caramel, with iced coffee topped with whipped cream – $15.00
Strawberry Fields Mimosa
Grey Goose Vodka, Aperol, lemon juice & house made strawberry puree topped off with prosecco – $15.00
Arthurs Old Fashioned
Tullamore Dew 12, Guinness simple syrup, Guinness cured bacon, angostura orange bitters – $15.00
Gurteena Colada
Tullamore Dew Caribbean Cask, Captain Morgan coconut, house made pineapple cordial, Magners Irish Cider, fresh pineapple – $15.00
Rosemary and Maple Whiskey Sour
Dickel 12 Tennessee Whisky, crushed rosemary, dark maple syrup, egg white and lemon sour – $15.00
Baileys Shake
Frozen mix of ice cream, Baileys, coffee liqueur – $15.00
Florida Grove Spritz
Ketel One Orange, Aperol, Bergamot Italicus Liquor, Elderflower Tonic water, dehydrated orange – $15.00
Irish Espresso Martini
Slane Irish whiskey, Miami club coffee liqueur, Guinness simple syrup, fresh espresso – $15.00
Strawberry & Cucumber Mojito
Bacardi Superior Rum, Strawberry purée, muddled cucumber and mint, lime sour and ginger ale – $15.00
Dublin Donkey
Teelings Small batch Irish whiskey, ginger beer, fresh lemon sour, candied ginger and lime – $15.00
PJ's Poison
Gunpowder Irish Gin, muddled orange, rhubarb bitters, lemon juice, orange whiskey marmalade and fever tree tonic with an orange twist – $15.00
Blueberry Mint Lemonade
Smirnoff Blueberry Vodka, natural lemonade, fresh muddled mint and blueberry – $15.00
Wine and Beer
Assorted Wine – $12.00- $13.00 Glass; $40.00 – $54.00 Bottle
Imported Draughts
Guinness Irish Stout, Smithwicks Irish Ale, Harp Irish Lager, Kilkenny Irish Cream Ale, Magners Irish Cider, Magners Pear Cider – $9.50
American Craft
Sierra Nevada Hazy Little Thing IPA, Samuel Adams Boston Lager, Samuel Adams Seasonal, Yuengling Lager, Lagunitas IPA – $9.00
Domestic
Miller Lite Lager – $8.00
Raglan Road Signature Brews
Raglan Irish Stout, Bloomsday Pale Ale, Tri Wishes Grand Irish Red Ale, De Cider Belgian Witte Cider, Blagger Organic Blonde Lager, King of Shoals NE Style IPA, One for The Road Hoppy Pilsner, Paddys Blue Berry Wheat Ale, So Berry Les, Strawberry/Lime Seltzer – $9.75
Bottled Beer
Corona, Coors Light, Heineken, Angry Orchard, Red Bridge (Gluten Free), Heineken 0.0 (Non-Alcoholic)
Craft Bottled Beer
Kopparberg Strawberry & Lime Premium Cider, Dogfish Head SeaQuench Session Sour Ale, Magners Berry Cider, New Belgium Voodoo Ranger Imperial IPA, Ballast Point Grapefruit Sculpin, Bell's Two Hearted IPA, Oskar Blues G'Knight Imperial Double IPA, Delicious IPA Stone Brewing, Up River, Jai Alai, Tourist Trappe, Funky Buddha Floridian, Einstock White Ale, La Fin Du Monde Triple, Duvel Strong Golden Ale, Einstock Toasted Porter, Victory Golden Monkey, Lexington Kentucky Bourbon Barrel Ale, Lo-Ca. Tropical Blonde Ale, TRULY Hard Seltzer, Wild Berry, TRULY Strawberry Lemonade, White Claw Hard Seltzer, Mango, High Noon Sun Sips – $9.00 – $14.00
The Four Provinces
Guinness, Smithwicks, Harp, Kilkenny – $10.50
Cream of the Crop
Your choice of our fine draught beer selection – $11.50
Raglan Road Signature Collection
Raglan Irish Stout (Coppertail Brewing Co.), Bloomsday Pale Ale (Orange Blossom Brewing), Tri Wishes Grand Irish Red Ale (Crooked Can Brewing), De Cider Belgian Witte Cider (Vermont Cider Co.) – $11.50
Flights of the Whiskey
Bushmills Trio
Red Bush – Black Bush – Bushmills 10YR – $27.00
John Jameson's Choice
Jameson – Green Spot – Yellow Spot – $27.00
The Midlands Flight
Tullamore Dew – Tullamore Dew 12YR – Tullamore Dew Trilogy – $25.00
The Comparison Flight
Knappogue 12YR – Glenlivet 12YR – Elijah Craig 12YR – $24.00
The Heart of Dublin
Teeling Blackpits – Single Grain – Single Malt – $25.00
The Single Malts
Cragganmore – Talisker – Oban 14YR – $30.00
The World of Whiskey Flight
Powers Johns Lane Release – Whistle Pig 10YR Mars Shinshu Iwai – Laphraoig Select – $38.00
Irish Whiskey
Bushmills / Bushmills 10 / Bushmills 12 / Bushmills 16 / Bushmills 21 / Bushmills Black Bush / Bushmills Red / Busker's Blended Clonakilty Single Grain / Connemara / Drumshanbo Single Pot Still / Glendalough Double Barrell / Glendalough Poitin / Glendalough Pot Still / Grace O'Malley Blend / Irish Mist Honey / Irishman Founder / Jameson Black Barrell / Jameson Cask Stout / Jameson Green Spot / Jameson Cask IPA / Jameson Irish / Jameson Yellow Spot / Jameson Blue Spot / Knappogue 12 / Knappogue 16 / Knockmore / Lost Irish / Limavaddy Single Grain / Midleton Vintage / Paddys Irish / Powers Gold Label / Powers John Lane / Proclamation Blend Proper 12 / Redbreast 12 / Redbreast 15 / Slane Triple Cask / Teelings Black Pits / Teelings Single Malt / Teelings Single Grain / Teelings Small Batch / The Quiet Man / The Sexton / Tullamore / Tullamore 12 / Tullamore 14 / Tullamore Caribbean Rum Cask / Tyrconnell / Writers Tears
Scotch Whisky
Chivas 12 / Cragganmore 12 / Dewers / Dewers 12 / Glenfiddich / Glenkinchie 12 / Glenlivet 12 / Glenmorangie / Lasanta / Glenmorangie 10 / Glenmorangie Ruban / J&B / JW Black / JW Blue / JW Red / Laphroaig Select / Macallan 12 / Macallan 18 / Oban 14 / Tallisker
American Whisky
Angels Envy / Basil Hayden / Bib & Tucker / Blade & Bow / Brekenridge / Bulleit Bourbon / Bulleit Rye / Smooth Amber Contradiction / Dickel 12 / Early Times / EH Taylor / Elijah Craig 12 / Jack Daniels / Jim Beam / Knob Creek / Larceny / Makers Mark / Mitchers / Redemption Bourbon / Seagrams 7 / Southern Comfort / Wild Turkey / Woodford Reserve / Whistle Pig Rye
** Rollicking Raglan Weekend Brunch Menu and Prices are Subject to Change Without Notice **