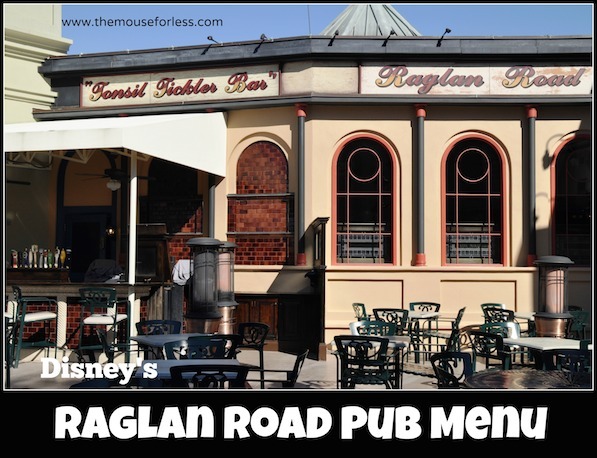 Feel the luck of the Irish at this authentic pub and restaurant with jovial charm, homey atmosphere, and cheerful service. There is always a reason to celebrate at this jolly watering hole, with four elaborate bars, traditional dancing and storytelling, and live Irish music that kicks the party into high gear. Raglan Road Tonsil Tickler Bar features gastronomic delights feature traditional Irish fare with a modern twist. And, since you're visiting an authentic Irish pub, try the make-your-own beer flight!
Raglan Road is located in Disney Springs.  Find more Walt Disney World dining locations on our Walt Disney World menus page.
Restaurant Info: Irish, Late Night, A la carte; $ – under $14.99 per adult
Find out how you can save money on dining at Walt Disney World by using one of Disney's Dining Plans.

Planning a Walt Disney World Vacation?
For a Free no-obligation quote, contact our sponsor
The Magic For Less Travel
. The Magic For Less Travel is an Authorized Disney Vacation Planner and has been helping guests plan magical vacations since 2002. Receive the best prices and free travel planning services. Their fee-free services will help you save time, money, and stress while planning a vacation designed around you and your needs!
Raglan Road Tonsil Tickler Bar Pub Grub Menu
Menu Date: 04/2018
Hours: 11 p.m. til Late
Entrees
Calamari City – Salt n' pepper calamari and mixed tempura vegetables with a spicy remoulade – $13.00
Chicken and Chips – Beer battered chicken tenders with a honey mustard dipping sauce and Chips – $16.00
Nom Nom wings – Sweet and Spicy Wings tossed with Honey, Chili flake, Soy and Ginger sauce  – $15.00
Dub Schpuds – Herb Roast Potato Wedges with Smithwicks and Dubliner Cheese Dip  – $13.00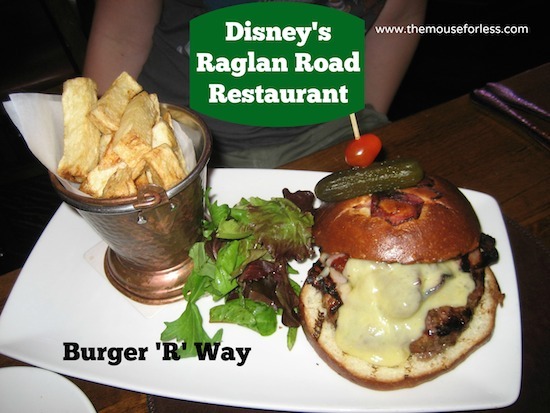 Burger 'R' Way – Char-Grilled Sirloin Beef Burger with Bacon, Tomato Chutney, and Dubliner Cheddar. Choice of one Side – $18.00
Fish & Chips – Our famous Beer Battered Fish n Chips with Fresh Tartar Sauce – $22.00
Hail Caesar – Classic Caesar with Pancetta Crisps, Grape Tomatoes, Croutons & Shaved Parmesan – $14.00
Add Chicken – $5.00
Add Shrimp – $7.00
Mushroom Moments – Crispy Fried Garlic Mushrooms served with Garlic Aioli – $12.00
Dessert
Ger's Bread and Butter Pudding – $11.00
Chocolate Heaven – Flourless Chocolate cake, Fresh berries, chocolate ganache with Whipped Cream – $10.00
Beer
Guinness Irish Stout – Import Draught Beer – $8.25
Smithwick's Irish Ale – Import Draught Beer – $8.25
Harp Irish Lager – Import Draught Beer – $8.25
Kilkenny Irish Cream Ale – Import Draught Beer – $8.25
Magner's Irish Cider – Import Draught Beer – $8.25
Guinness Blonde Lager – Import Draught Beer – $8.25
Carlsberg Lager – Import Draught Beer – $8.00
Miller Lite Larger – Domestic Draught Beer – $6.75
Sam Adams Seasonal – American Craft Beer – $7.50
Sierra Nevada Pale Ale – American Craft Beer – $7.50
Blue Moon – American Craft Beer – $7.75
Samuel Adams Boston Lager – American Craft Beer – $7.50
Terrapin Liquid Bliss (Choc and PB Porter) – American Craft Beer – $7.50
Yuengling Lager – American Craft Beer – $7.50
Woodchuck Gumption Cider, – American Craft Beer – $7.50
Fat Tire Amber Ale – American Craft Beer – $7.50
Raglan Road Irish Stout – Irish Craft Beer – $8.75
Raglan Road IPA – Irish Craft Beer – $8.75
Raglan Road Keeping Red Ale – Irish Craft Beer – $8.75
McGargles Fancy Frank's Lager – Irish Craft Beer – $8.50
Bottled Beers – Budweiser, Corona, Heineken, Bud Light, Coors Light, Corona Light, Heineken Light, Michelob Ultra, Stella Artois, or Red Bridge (Gluten Free), or Kaliber (Non-Alcoholic) – Market Price
Raglan Road's Tonsil Tickler Bar offers Happy Hours from 3 p.m. to 7 p.m. – featuring a full bar serving cocktails, wine and bubbly
** Raglan Road Tonsil Tickler Bar Menu and Prices are Subject to Change Without Notice **