Disney Springs | The Landing
Lunch Menu   Dinner Menu   Kids' Menu   Reviews

Delight in the purest flavors of Italy at this contemporary venue. Portobello Country Italian Trattoria overlooks serene Lake Buena Vista Lagoon.
Restaurant Info: Italian, Lunch, Dinner, A la carte, $$ – $15 to $34.99 per adult
Find out how you can save money on dining at Walt Disney World by using one of Disney's Dining Plans.
Portobello Country Italian Trattoria Lunch Menu
Menu Date: 01/2017
Appetizers
Antipasti Platter (serves two) – prosciutto, soppressata, Parmigiano Reggiano, Pecorino Toscano, bocconcine, farmer's market pickled vegetables, olives – $21.00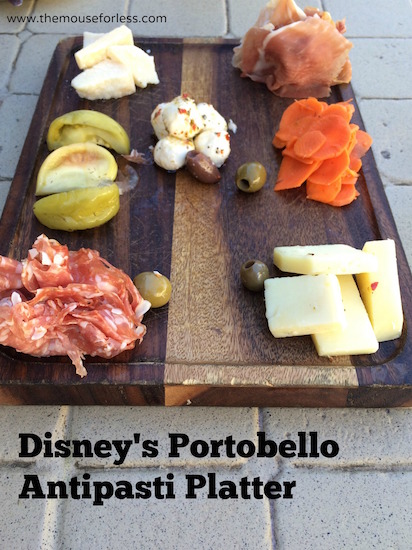 Calamari – rings lightly fried with tomato basil sauce – $13.00
Chilled Shrimp – salsa verde, lemon – $14.00
Mozzarella Stuffed Rice Balls – crispy fried risotto, fresh mozzarella, marinara sauce – $11.00
Sicilian Eggplant Fries – tomato basil sauce – $9.00
Portobello Mushroom – wood roasted, gorgonzola, polenta, rosemary sauce – $11.00
Radicchio and Goat Cheese Crostini – goat cheese and radicchio marmalade – $11.00
Nonna's Meatballs – polenta, tomato sauce, crostini – $10.00
House – mixed greens, fennel, celery, carrots, cucumbers, cherry tomatoes, red wine vinaigrette – $8.00
Caesar – romaine, garlic croutons, parmigiano, traditional Caesar dressing – $8.00
Mozzarella and 'Nduja Crostini – spicy Calabrian chile and pork spread – $14.00
Seasonal Soup – $7.00           
Entrée Salads
House Salad – radicchio, arugula, fennel, celery, carrots, cucumbers, cherry tomatoes, red wine dressing – $11.00
Pizzaria – romaine, olives, salami, bocconcini, pepperoncini, tomato – $13.00
Spinach – frisée, orange slices, avocado, roasted garlic, olive oil vinaigrette – $12.00
Caesar – romaine, garlic croutons, parmigiano, traditional Caesar dressing – $11.00
Wood Burning Oven Pizza
Pepperoni – tomato sauce, mozzarella – $14.00
Margherita – tomato sauce, mozzarella, basil – $12.00
Four Cheese – mozzarella, gorgonzola, parmigiano, fontina, sun-dried tomatoes – $12.00
Wood Roasted Mushroom – olive oil, fresh mozzarella – $14.00
Quattro Formaggi – mozzarella, gorgonzola, parmigiano, fontina, sun dried tomatoes – $11
Power – spinach, olive oil, Pecorino Romano – $13.00
Italian Sausage – shaved red onion, mozzarella, tomato sauce – $14.00
Pasta and Entrées
Penne Bolognese – slow cooked beef and pork meat sauce – $13.00
Spaghetti with Meatballs – tomato basil sauce – $14.00
Gnocchi – potato dumplings with Nonna's Sunday pork ragu – $14.00
Chicken Farfalle – snow peas, asparagus, tomatoes, parmigiano cream sauce – $14.00
Rigatoni Calabrese – Italian sausage, mushrooms, tomatoes, olives, escarole – $13.00
Housemade Artisan Lasagna – spinach, ricotta, mozzarella, spicy tomato – $15.00
Eggplant Parmesan – tomato, basil, mozzarella – $14.00
Chicken Parmesan – tomato basil sauce, mozzarella, green salad – $12.00
Sandwiches
Burger – Angus beef with lettuce, tomato, basil aïoli, French fries, housemade pickles – $14.00
Calzone – salami, pepperoni, vinegar peppers, fontina, tomato basil dipping sauce, housemade giardiniera – $13.00
Caprese – ripe tomato, fresh mozzarella, basil, olive oil, green salad – $12.00
Vegetarian – eggplant, Portobello mushroom, goat cheese, peppers, green salad – $11.00
Chicken Parmesan – tomato basil sauce, mozzarella, green salad – $13.00
Eggplant Parmesan – tomato basil sauce, mozzarella, green salad – $12.00
Menu Add-Ons
Grilled Chicken – $6.00
Grilled Shrimp – $8.00
Grilled Flat Iron Steak – $7.00
Desserts
Biramisu – Our version of tiramisu. Orlando Brewing organic porter, ladyfingers and mascarpone cream – $7.95
Chocolate Paradiso – Rich chocolate layer cake, chocolate ganache and toffee crunch – $7.95
Fragole con Saba – Marinated strawberries and berry sorbet – $6.95
Fantasia di Meringata – Gelato and sorbet with Italian meringue – $6.96
Cappuccino Gelato – Our very own chocolate coffee ice cream – $6.95
Authentic Italian Gelato & Sorbet – Your server will describe today's selections – $5.95
Italian Specialty Beverages
Local Honey Lemonade – A refreshing variation of lemonade enhanced with Winter Park Orange Blossom Honey – $8.00
Sorpresa di Fragolino – A refreshing mix of strawberry blends and lemonade – $8.00
Italian Sodas – A delightful blend of soda, cream and your favorite flavor: raspberry, strawberry or vanilla – $8.00
Aranciata – Light and refreshing blend of orange juice and soda – $8.00
Cafe Shakerato – A version of an old Italian classic—Iced coffee with a hint of vanilla – $8.00
Signature Beverages
Mediterranean Mule – House-crafted limoncello pairs perfectly with fig vodka and ginger beer – $13.00
Dolce Vita – Life is sweet & sour with this blend of tequila, Aperol and amaretto – $13.00
Cherry Noir – Grey Groose Cherry Noir, Limoncello, Pinot Noir – $13.00
Elderflower Cocktail – Grey Groose Cherry Noir, Limoncello, Pinot Noir – $13.00
Vacanza – The perfect Florida cocktail with Malibu and fruit juices  – $13.00
Italian Manhattan – Local Palm Ridge Whiskey, Liquor 43, amaretto, orange slice  – $13.00
Beer Selections
Domestic Beer Selections – Budweiser, Bud Light, Coors Light, Michelob Ultra, Miller Lite, Yuengling – $6.00
Import & Premium Beer Selections – Peroni, Menabrea Blonde, Menabrea Ambrata, Corona, Corona Light, Heineken, Heineken Light, Amstel Light, Stella Artois, Kaliber N/A, Red Ale, Olde Pelican E.P.A., 1-4 I.P.A., Blackwater Dry Porter, Sam Adams, Blue Moon, Angry Orchard – $7.00
Portobello Country Italian Trattoria Dinner Menu
Menu Date: 01/2017
Calamari – rings lightly fried with tomato basil sauce – $13.00
Chilled Shrimp – salsa verde, lemon – $14.00
Mozzarella Stuffed Rice Balls – crispy fried risotto, fresh mozzarella, marinara sauce – $11.00
Sicilian Eggplant Fries – tomato basil sauce – $9.00
Portobello Mushroom – wood roasted, gorgonzola, polenta, rosemary sauce – $11.00
Radicchio and Goat Cheese Crostini – goat cheese and radicchio marmalade – $11.00
Nonna's Meatballs – polenta, tomato sauce, crostini – $10.00
Mozzarella and 'Nduja Crostini – spicy Calabrian chile and pork spread – $14.00
Antipasti Platter (serves two) – prosciutto, soppressata, Parmigiano Reggiano, Pecorino Toscano, bocconcine, farmer's market pickled vegetables, olives – $21.00  
Soup & Salads
House Salad – radicchio, arugula, fennel, celery, carrots, cucumbers, cherry tomatoes, red wine dressing – $8.00
Pizzaria – romaine, olives, salami, bocconcini, pepperoncini, tomato – $10.00
Caesar – romaine, garlic croutons, parmigiano, traditional Caesar dressing – $8.00
Beet and Gorgonzola – arugula, balsamic – $9.00
Seasonal Soup – $7.00
Wood Burning Oven Pizza
Pepperoni – tomato sauce, mozzarella – $14.00
Margherita – tomato sauce, mozzarella, basil – $12.00
Four Cheese – mozzarella, gorgonzola, parmigiano, fontina, sun-dried tomatoes – $12.00
Wood Roasted Mushroom – olive oil, fresh mozzarella – $14.00
Power – spinach, olive oil, Pecorino Romano – $13.00
Salsiccia e Cipolle – Italian sausage, shaved red onion, mozzarella, tomato sauce – $14.00
Pasta
Penne Bolognese – slow cooked beef and pork meat sauce – $22.00
Spaghetti with Meatballs – tomato basil sauce – $22.00
Gnocchi – potato dumplings with Nonna's Sunday pork ragu – $25.00
Fettucine with Shrimp – garlic, tomatoes, asparagus, lobster broth – $26.00
Chicken Farfalle – snow peas, asparagus, tomatoes, parmigiano cream sauce – $23.00
Ravioli Gigante – handcrafted ricotta and spinach filled pasta, tomato, basil, toasted garlic – $23.00
Rigatoni Calabrese – Italian sausage, mushrooms, tomatoes, olives, escarole – $22.00
Housemade Artisan Lasagna – spinach, ricotta, mozzarella, spicy tomato – $23.00
Cappellini with Crab  -garlic, olive oil, chili pepper – $25.00
Steaks, Seafood, Chicken
Flat Iron Steak – grilled, arugula, olive oil, wood roasted tomatoes – $29.00
Grilled Fresh Fish – crispy oregano potatoes, arugula, pickled red onions – $29.00
Mahi Mahi – polenta, zucchini ribbons, tomato seafood broth – $28.00
Milk Braised Pork Shoulder – garlic mashed potatoes, pickled red onions – $26.00
Chicken Cacciatore – braised chicken thigh, tomato, mushrooms, peppers, onions, polenta – $24.00
Chicken Parmesan – with spaghetti pomodoro – $26.00
Wood Roasted  Half Chicken– garlic mashed potatoes – $26.00
Grilled Pork Chop – polenta, vinegar Florida sweet peppers – $29/00
Eggplant Parmesan – tomato, basil, mozzarella – $21.00
Desserts
Biramisu – Our version of tiramisu. Orlando Brewing organic porter, ladyfingers and mascarpone cream – $7.95
Torta al Cioccolata con Mascarpone – Flourless chocolate cake with mascarpone cream – $7.95
White Chocolate Custard – Our signature dessert! Classic white chocolate custard caramelized with a crispy candy glaze – $6.95
Chocolate Paradiso – Rich chocolate layer cake, chocolate ganache and toffee crunch – $7.95
Fragole con Saba – Marinated strawberries and berry sorbet – $6.95
Fantasia di Meringata – Gelato and sorbet with Italian meringue – $6.96
Cappuccino Gelato – Our very own chocolate coffee ice cream – $6.95
Authentic Italian Gelato & Sorbet – Your server will describe today's selections – $5.95
Italian Specialty Beverages
Local Honey Lemonade – A refreshing variation of lemonade enhanced with Winter Park Orange Blossom Honey – $8.00
Sorpresa di Fragolino – A refreshing mix of strawberry blends and lemonade – $8.00
Italian Sodas – A delightful blend of soda, cream and your favorite flavor: raspberry, strawberry or vanilla – $8.00
Aranciata – Light and refreshing blend of orange juice and soda – $8.00
Cafe Shakerato – A version of an old Italian classic—Iced coffee with a hint of vanilla – $8.00
Signature Beverages
Mediterranean Mule – House-crafted limoncello pairs perfectly with fig vodka and ginger beer – $13.00
Dolce Vita – Life is sweet & sour with this blend of tequila, Aperol and amaretto – $13.00
Cherry Noir – Grey Groose Cherry Noir, Limoncello, Pinot Noir – $13.00
Elderflower Cocktail – Grey Groose Cherry Noir, Limoncello, Pinot Noir – $13.00
Vacanza – The perfect Florida cocktail with Malibu and fruit juices  – $13.00
Italian Manhattan – Local Palm Ridge Whiskey, Liquor 43, amaretto, orange slice  – $13.00
Beer Selections
Domestic Beer Selections – Budweiser, Bud Light, Coors Light, Michelob Ultra, Miller Lite, Yuengling – $6.00
Import & Premium Beer Selections – Peroni, Menabrea Blonde, Menabrea Ambrata, Corona, Corona Light, Heineken, Heineken Light, Amstel Light, Stella Artois, Kaliber N/A, Red Ale, Olde Pelican E.P.A., 1-4 I.P.A., Blackwater Dry Porter, Sam Adams, Blue Moon, Angry Orchard – $7.00
Portobello Country Italian Trattoria Kids' Lunch & Dinner Menu
Menu Date: 01/2017
Kids' Entrées
Cheese Pizza – Served with your choice of apple sauce, fresh fruit, seasonal vegetables or roasted potatoes – $7.00
Cheese Pizza with Sausage or Pepperoni – Served with your choice of apple sauce, fresh fruit, seasonal vegetables or roasted potatoes – $8.00
Spaghetti with Meat Sauce – served with your choice of apple sauce, fresh fruit, seasonal vegetables or roasted potatoes – $7.00
Spaghetti with Meatball – served with your choice of apple sauce, fresh fruit, seasonal vegetables or roasted potatoes – $7.00
Spaghetti with Tomato Sauce – served with your choice of apple sauce, fresh fruit, seasonal vegetables or roasted potatoes – $6.00
Grilled Steak – accompanied by your choice of applesauce, fresh fruit, seasonal vegetables, or roasted potatoes – $11.00
Grilled Chicken – accompanied by your choice of applesauce, fresh fruit, seasonal vegetables, or roasted potatoes – $9.00
Hamburger – with a whole wheat bun and served with your choice of applesauce, fresh fruit, seasonal vegetables, or roasted potatoes – $7.00
Fresh Fish – accompanied by your choice of applesauce, fresh fruit, seasonal vegetables, or roasted potatoes – $11.00
Hot Dog – $5.00
Kids' Desserts
Gelato Sundae – Choose your flavor of gelato, chocolate sauce, toffee crunch, whipped cream, cherry – $5.00
Fresh Fruit – $3.00
Low Fat Vanilla or Chocolate Ice Cream – $3.00
Kids' Beverages
Aranciata – Sparkling Florida orange juice – $3.00
100% Natural Fruit Juice – apple, orange, grape or cranberry – $3.00
IBC Root Beer – $4.00
Lemonade – Add strawberry or raspberry flavor – $3.00
Soft Drinks – $2.00
Milk – Whole, strawberry and low fat chocolate – $3.00
** Portobello Country Italian Trattoria Menu and Prices are Subject to Change Without Notice **
Save