Disney Springs | West Side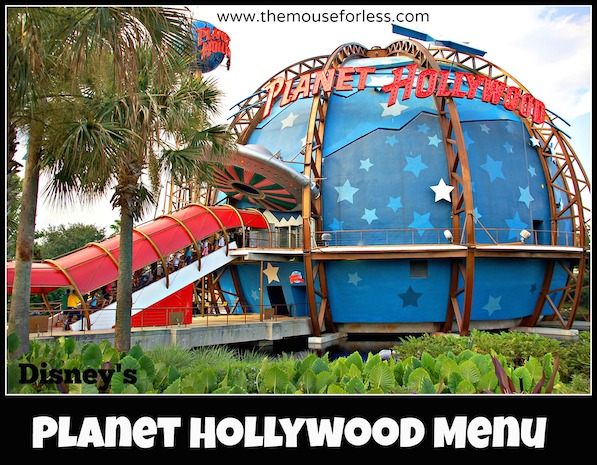 Lunch/Dinner Menu   Kids' Menu    Reviews

IMPORTANT NOTE:  Planet Hollywood will close for approximately six months starting in January 2016.  When the restaurant reopens in summer 2016, it will be renamed the Planet Hollywood Observatory.
Dine among the stars at the planet's most celestial home of fabulous food.
Restaurant Info: American, Lunch/Dinner A la carte, $$
Find out how you can save money on dining at Walt Disney World by using one of Disney's Dining Plans.
Planet Hollywood Lunch/Dinner Menu
Menu Date: 10/2015
Appetizers
Pot Stickers – Pan-seared chicken pot stickers served with ponzu sauce – $11.99
Spinach & Artichoke Dip – Spinach, artichoke hearts, mushrooms, Parmesan cheese and corn tortilla chips – $11.99
Crab & Avocado Stack – Our Avocado Stack topped with mango and lump crab meat, tossed in lime cilantro vinaigrette – $14.99
Loaded Sweet Potato Tots – Crisp sweet potato tots topped with shaved pastrami, mozzarella cheese, green onions and drizzled with Sriracha mayonnaise – $11.99
Tex-Mex Egg Rolls – Southwest seasoned chicken, roasted corn, black beans, green peppers, cilantro, onions and pepper jack cheese served with chipotle ranch – $12.99
Buffalo Wings – Chicken wings and buffalo sauce served with celery and blue cheese dressing – $12.99
Potato Skins – Potato wedges, cheddar and Monterey Jack cheeses, bacon, sour cream and green onions – $12.99
Texas Tostados – Crispy gyoza skins topped with BBQ chicken, sautéed onions, cheddar and Monterey Jack cheeses, served with sour cream and pico de gallo – $12.99
World Famous Chicken Crunch – Tender strips of chicken breast with a crunchy sweet coating served with Creole mustard – $11.99
Nachos Grande – Tortilla chips, cheddar and Monterey Jack cheeses, jalapeños, Kobe chili, pico de gallo, olives, guacamole and sour cream – $16.99
Avocado Stack – Avocado pico de gallo, sour cream, fresh lime juice and corn tortilla chips – $11.99
Kobe Sliders – Kobe beef burger, cheddar cheese, Roma tomatoes, cucumber and caramelized onions on gourmet bun – $15.99
Lobster Popovers – Fresh popovers stuffed with lobster, sautéed in Wild Turkey Honey bourbon Sauce – $15.99
Kali Short Ribs  – Kalbi boneless short ribs marinated in Korean BBQ sauce served with kimchi coleslaw – $14.99
VIP Platter – Our famous Chicken Crunch, Buffalo Wings, Texas Tostadas and Spinach Dip (Serves four) – $25.99
With Blackened Shrimp – $30.99
Salads
Spinach & Peaches Salad – Grilled chicken, baby spinach, peaches, strawberries, candied walnuts, bleu cheese crumbles served with tomato balsamic vinaigrette – $16.99
Southwestern Salad – Romaine lettuce tossed in lime cilantro and peanut vinaigrette topped with layers of fresh corn kernels, black beans, diced roma tomatoes, avocado, shredded cheddar and Monterey Jack cheese, tortilla strips and grilled chicken – $16.99
Watermelon and Feta Salad – Watermelon, feta cheese, arugula, baby spinach and tomatoes served with lemon vinaigrette. It's better with feta – $15.99
Chicken Caesar Salad – Grilled chicken, romaine hearts, croutons and shaved Parmesan cheese served with Caesar Dressing – $16.99
With Blackened Shrimp – $16.99
With Grilled Salmon – $20.99
Asian Chicken Salad – Grilled chicken, greens, cabbage mix, fresh oranges, green onions, and almonds served with a ginger vinaigrette – $17.99
Hollywood Bowl – Romaine lettuce tossed with Thousand Island dressing then topped with turkey breast, fresh avocado, hickory-smoked bacon, chopped eggs, roma tomatoes, diced cucumbers, Swiss cheese and croutons – $18.99
Burgers
BBQ Bacon Cheeseburger – 10 oz. USDA choice beef, bacon, cheddar cheese and BBQ sauce served on a gourmet bun with lettuce, tomato, pickle and french fries. Wheat bun or protein-style available upon request – $18.99
Mushroom, Onion & Swiss Burger – 10-oz USDA choice beef, mushrooms, caramelized onions and Swiss cheese served on a gourmet bun with lettuce, tomato, pickle and french fries. Wheat bun or protein-style available upon request – $18.99
Classic Cheeseburger – 10 oz. USDA Choice beef topped with your favorite cheese served on a gourmet bun with lettuce, tomato, and onion with pickle and french fries. Wheat bun or protein-style available upon request – $17.99
Kobe Burger – 10 oz. hand-formed Kobe beef with your choice of cheese served on a gourmet bun with lettuce, tomato, and onion with pickle and french fries. Wheat bun or protein-style available upon request – $19.99
OMG! Burger – Our chef loves a good burger, so every week he comes up with a new over-the-top creation that will have you saying "OMG!" after the first bite. Your server will tell you about this week's taste sensation served on a gourmet bun with lettuce, tomato, onion, pickle, and french fries. Wheat bun or protein-style available upon request – $18.99
Turkey Burger – All white turkey meat grilled to order, topped with Swiss cheese served on a gourmet bun with lettuce, tomato, onion, pickle, and french fries. Wheat bun or protein-style available upon request – $17.99
Veggie Burger – Vegetable patty made with mushrooms, water chestnuts, carrots, onions, green and red peppers and black olives topped with Swiss cheese served on a gourmet bun with lettuce, tomato, onion, pickle, and french fries. Wheat bun or protein-style available upon request – $16.99
Sandwiches
Turkey Club – Turkey breast, bacon, Swiss cheese, lettuce, tomato, and mayonnaise served on sourdough bread with a pickle, coleslaw, and french fries – $16.99
Roast Beef – Roast beef, cheddar cheese, lettuce, tomato and mayonnaise served on sourdough bread with a pickle, coleslaw and french fries – $16.99
Chicken Salad – Grilled chicken tossed with herbs, celery, basil, mayonnaise and Dijon mustard, topped with lettuce and tomato on wheat bread, served with a pickle, coleslaw and french fries – $15.99
Philly Steak & Cheese Sandwich – Shaved prime rib, sautéed mushrooms, onions and peppers topped with Asiago and Swiss cheeses on a steak roll, served with french fries – $16.99
Blackened Chicken Breast – Pepper jack cheese and chipotle ranch served on a gourmet bun with lettuce, tomato, and french fries. Wheat bun or protein-style available upon request – $16.99
Chicken Breast and BBQ Bacon Cheddar – Bacon, cheddar cheese, and BBQ sauce served on a gourmet bun with lettuce, tomato, and french fries. Wheat bun or protein-style available upon request – $16.99
Chicken Breast, Avocado & Swiss – Swiss cheese and avocado served on a gourmet bun with lettuce, tomato and french fries. Wheat bun or protein-style available upon request – $16.99
Pastas
L.A. Lasagna – Fresh pasta tubes filled with ricotta cheese and Bolognese meat sauce fried to a golden brown, with garlic cream and tomato basil sauces – $21.99
Blackened Chicken Pasta – Grilled chicken sautéed in Cajun spices with mushrooms and Roma tomatoes in a spicy cream sauce, served over linguine – $20.99
Four Cheese Chicken Mac & Cheese – Grilled chicken and cavatappi pasta in a creamy Asiago, American, feta and Parmesan cheese sauce, finished with seasoned bread crumbs – $19.99
Penne, Chicken & Broccoli – Grilled chicken and broccoli florets tossed with roasted garlic basil cream sauce and penne – $20.99
Pomodoro – Roma tomatoes, fresh basil, garlic, olive oil and spaghetti -$17.99
Garlic Shrimp – Shrimp stir-fried with garlic, ginger, onions, red pepper and sugar snap peas tossed in a spicy chili garlic sauce with egg noodles – $22.99
Linguine Alfredo with Shrimp – Jumbo shrimp sautéed with garlic, fresh cream, Parmesan and basil served on a bed of linguine – $22.99
Blackened Shrimp Pasta – Blackened Shrimp sautéed in Cajun spices with mushrooms & Roma tomatoes in a spicy cream sauce, served over linguine – $23.99
Linguine Alfredo with Grilled Chicken – Chicken with garlic, fresh cream, Parmesan and basil served on a bed of linguini – $19.99
Grille Specialties and Seafood
Teriyaki Salmon – Salmon filet lightly marinated in teriyaki sauce, grilled and served with rice and seasonal vegetables- $25.99
Chicken Piccata – Chicken breast, lemon butter sauce, capers and shallots, served with roasted garlic mashed potatoes and seasonal vegetables – $19.99
Chicken Marsala – Chicken breast, Marsala wine sauce and mushrooms, served with roasted garlic mashed potatoes and seasonal vegetables – $19.99
Thanksgiving Everyday – Two oven-roasted turkey legs served with spicy sausage stuffing, roasted garlic mashed potatoes, seasonal vegetables, cranberry apple chutney and gravy – $21.99
BBQ Ribs – St. Louis-style pork ribs, BBQ sauce, french fries and coleslaw – $29.99
Chicken Parmigiana – Breaded chicken breast covered with marinara sauce, mozzarella and Parmesan cheeses, served with spaghetti – $19.99
Sizzling Fajitas – Choice of chicken breast, steak, fresh seasonal vegetables, or a combination served with guacamole, pico de gallo, sour creamcheddar and Monterey Jack cheeses, lettuce, fiesta rice, and flour tortillas – $24.99
Shrimp Fajitas – Grilled shrimp, fresh seasonal vegetables or a combination, served with guacamole, pico de gallo, sour cream, cheddar and Monterey Jack cheeses, lettuce, fiesta rice, and flour tortillas – $26.99
Rib-Eye Steak – Rib-eye steak, seasonal vegetables and your choice of roasted garlic mashed potatoes, french fries or baked potato – $31.99
New York Strip Steak – NY strip steak, seasonal vegetables, and your choice of roasted garlic mashed potatoes, french fries or baked potato – $34.99
Sides
Roasted Garlic Mashed Potatoes – $4.99
French Fries – $4.99
Baked Potato – $5.99
White Rice – $4.99
Mexican Fiesta Rice – $4.99
Jasmine Rice – $4.99
Garlic Glazed Breadsticks – $4.99
Fresh Cut Fruit – $5.99
Seasonal Vegetables – $5.99
Coleslaw – $4.99
House Salad – $6.99
Caesar Salad – $6.99
Desserts
Key Lime Pie– Creamy key lime pie with a crumbled cookie crust topped with whipped cream – $6.99
Cheesecake – our rich, delectable cheesecake with a graham cracker crust – $5.99
Strawberry Cheesecake – Delicious, creamy cheesecake served with strawberry sause and topped with fresh strawberries and whipped cream – $6.99
Bananas Foster Cheesecake – Creamy, homemade cheesecake topped with bananas sauteed in banana liqueur – $6.99
Cool Planet Banana Split – Chocolate, vanilla and strawberry ice creams and bananas topped with whipped cream, chocolate sause and cherries – $6.99
Beverages
Assorted Coca-Cola Soft Drinks – Coke, Diet Coke, Sprite, Orange, or Pink Lemonade – $3.99
Iced Tea, Hot Tea, Coffee and Juice – $3.99
Espresso – $3.99
Latte, Cappuccino, or Double Espresso – Bottled – $4.49
San Pellegrino (500 mL) – $3.99
San Pellegrino (1 Liter) – $6.50
Aqua Panna (1 Liter) – $6.50
Smoothies – Cool frozen blends made without alcohol – $7.99
In a souvenir Planet Hollywood glass – additional cost
Hand-dipped Milk Shakes – Vanilla, Chocolate, Creamsicle, Strawberry & Banana, Chocolate Malt, Strawberry Or Oreo Cookie & Cream – $7.99
In a souvenir Planet Hollywood glass – additional cost

A full bar featuring specialty drinks, wines, and bottled beer is available
Planet Hollywood Kids Menu
Menu Date: 10/2015
Entrees
For kids 9 and under. All kids meals – $7.99
Chicken Fingers – Fried chicken fingers and french fries
Cheese Pizza – Traditional tomato sauce topped with lots of mozzarella cheese
Trees & Dogs – Turkey dog and steamed broccoli
Spaghetti & Meatball – Roma tomato sauce blended with spaghetti and topped with scrumptious meatballs
Peanut Butter & Jelly Sandwich – Served with fresh cut fruit
Kids Beverages
Milk, Juice & Soda – $1.50
Dessert
Ice Cream – $6.99
** Menu and Prices are Subject to Change Without Notice **