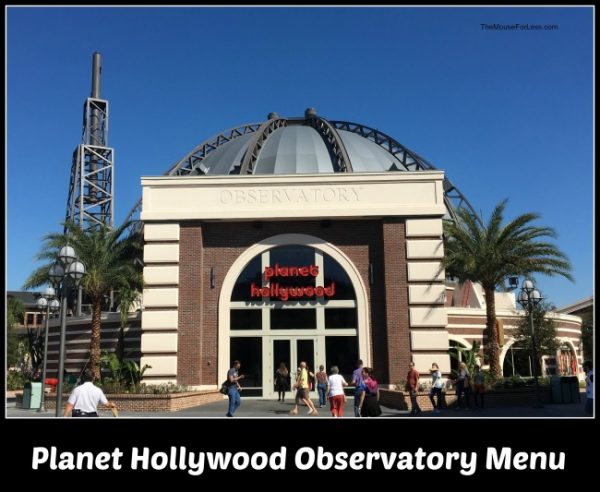 At Planet Hollywood, dine among the stars at the planet's most celestial home of fabulous food including a selection of sandwiches conceived by chef Guy Fieri.
Planet Hollywood Observatory is located in Disney Springs.  Find more Walt Disney World dining locations on our Walt Disney World menus page.
Restaurant Info: American, Lunch/Dinner A la carte, $$
Find out how you can save money on dining at Walt Disney World by using one of Disney's Dining Plans.

Planning a Walt Disney World Vacation?
For a Free no-obligation quote, contact our sponsor
The Magic For Less Travel
. The Magic For Less Travel is an Authorized Disney Vacation Planner and has been helping guests plan magical vacations since 2002. Receive the best prices and free travel planning services. Their fee-free services will help you save time, money, and stress while planning a vacation designed around you and your needs!
Planet Hollywood Overview
Planet Hollywood Menu-Lunch/Dinner
Menu Date: 06/2022
Planet Hollywood Menu Appetizers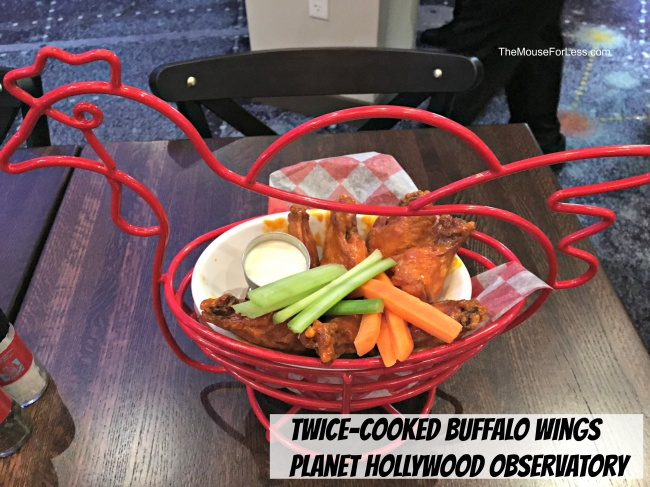 World Famous Chicken Crunch
All-natural chicken tenders hand-breaded with a crunchy sweet coating, served with our signature Creole mustard sauce – $15.99
Five Cheese Dip
A flavorful, gooey dip made of Swiss, mozzarella, provolone, Parmesan & Asiago cheeses with spinach & artichoke hearts, served with corn tortilla chips & grilled pita bread – $14.99
Twice-Cooked Buffalo Wings
Chicken wings baked & then fried to perfection & tossed in Buffalo sauce, served with celery, carrots & bleu cheese dressing – $15.99
Fried Jumbo Shrimp
Six large fried shrimp accompanied by spicy Sriracha sauce, served on cabbage slaw – $19.99
Texas Tostados
Crispy gyoza skins topped with BBQ chicken, sautéed onions, blend of cheddar & Monterey Jack cheeses & drizzled with sour cream & BBQ sauce, served with pico de gallo – $14.99
Nachos Grande
Corn tortilla chips piled high with high with chili, our special four cheese sauce, olives, jalapeño, pico de gallo, sour cream and guacamole – $17.99
High Roller Sampler
Our World Famous Chicken Crunch, Texas Tostados, Buffalo Wings, Five Cheese Dip, and Fried Jumbo Shrimp (serves 4) – $39.99
Planet Hollywood Menu Salads
Spinach & Berries
Baby spinach tossed with fresh blueberries and strawberries, candied walnuts, Roma tomato, blue cheese crumbles, and balsamic vinaigrette. Add grilled all-natural chicken breast for an additional 3.00 – $17.99
Chicken Caesar
Crisp romaine hearts, grilled all-natural chicken breast, croutons & Parmesan, served with Caesar dressing – $17.99
Hollywood Bowl
Romaine lettuce tossed with Thousand Island dressing then topped with house-roasted turkey breast, bacon, Swiss, hard-boiled egg, avocado, Roma tomato, cucumber, and croutons – $18.99
Steakhouse
House mix, sliced bistro steak, avocado, Roma tomato, cucumber, bleu cheese crumbles, Parmesan, crispy onion straws & Caesar dressing – $21.99
Planet Hollywood Guy! Big Bite Burgers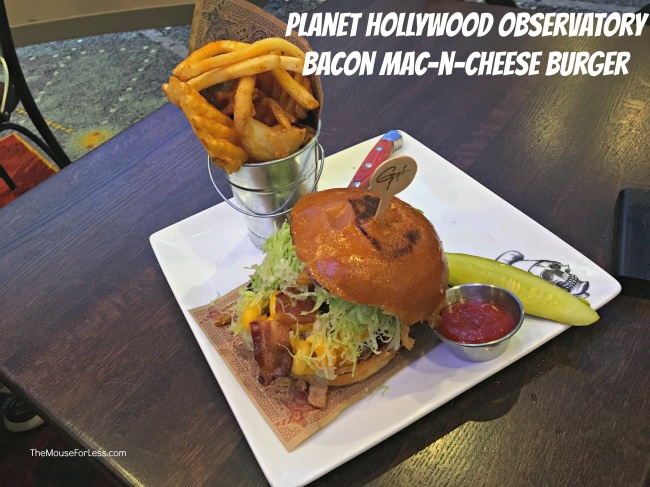 Plain Jane Cheeseburger
Guy's smash-grilled burger served with your choice of cheddar, Swiss or SMC & LTOP on the side so you can build it your way. (All Big Bite Burgers are served with seasoned fries. Add a side house salad or side Caesar salad for 7.99) – $18.99
Bacon Mac-n-Cheese
Guy's award-winning burger – Winner of NYC Wine & Food Festival Burger Bash! Guy's smash-grilled burger, Applewood smoked bacon, six cheese mac-n-cheese, cheddar, LTOP, crispy onion straws & donkey sauce on a brioche bun. (All Big Bite Burgers are served with seasoned fries. Add a side house salad or side Caesar salad for 7.99) – $20.99
Prime Time American Kobe
American-style Kobe beef, smoked gouda, cheddar, pickles, caramelized onion jam, crispy onion straws & donkey sauce on a brioche bun. (All Big Bite Burgers are served with seasoned fries. Add a side house salad or side Caesar salad for 7.99) – $19.99
The Original Ringer
Guy's smash-grilled burger, crispy rojo onion ring, Guy's signature BBQ sauce, SMC, cheddar, LTOP & donkey sauce on a brioche bun (All Big Bite Burgers are served with seasoned fries. Add a side house salad or side Caesar salad for 7.99) – $19.99
Morgan's Veggie
Scratch-made vegetable burger of black beans, white beans, chickpeas, oats, artichokes, roasted red pepper & garlic with cilantro aioli on a toasted wheat bun. LTOP served on the side. (All Big Bite Burgers are served with seasoned fries. Add a side house salad or side Caesar salad for 7.99) – $17.99
Planet Hollywood Menu Guy Signature Sandwiches
Bird is the Word
Crispy fried all-natural chicken breast, buttermilk ranch dressing, pickles, cheddar, slaw & honey hot sauce on a brioche bun (All Signature Sandwiches are served with seasoned fries) (Add a side house salad or side Caesar salad for 7.99) – $17.99
Championship Pulled Pork
Crisped pulled pork with Guy's signature BBQ sauce, slaw, pickles & crispy onion straws on a brioche bun (All Signature Sandwiches are served with seasoned fries) (Add a side house salad or side Caesar salad for 7.99) – $17.99
Turkey Pic-A-Nic
House-roasted turkey breast, cranberry relish, Swiss, BBQ kettle chips, LTOP and donkey sauce on a pretzel bun (All Signature Sandwiches are served with seasoned fries) (Add a side house salad or side Caesar salad for 7.99) – $18.99
Planet Hollywood Menu Pastas
L.A. Lasagna
Fresh pasta tubes filled with ricotta & Bolognese meat sauce, fried to a golden brown, served with roasted garlic cream & tomato basil sauce (Add a side house salad or side Caesar salad for 7.99) – $22.99
Penne, Chicken & Broccoli
Grilled all-natural chicken breast & broccoli florets tossed with roasted garlic pesto cream sauce & penne (Add a side house salad or side Caesar salad for 7.99) – $19.99
Shrimp Florentine
Six large shrimp, Roma tomato & baby spinach with spaghetti tossed in roasted garlic cream sauce (Add a side house salad or side Caesar salad for 7.99) – $25.99
Planet Hollywood Menu Grille Specialties
Bistro Sirloin Steak
10 oz. USDA Choice sirloin steak served with hand-cut steak fries & green bean blend. (Add Salmon or Shrimp 8.99) (Add a side house salad or side Caesar salad for 7.99) – $32.99
BBQ Ribs
Slow-cooked in-house St. Louis-style pork ribs smothered with BBQ sauce, served with seasoned fries (Add a side house salad or side Caesar salad for 7.99) – $31.99
Slow-Roasted Chicken
Tender, juicy, slow-cooked all-natural double chicken breast & pan gravy with roasted garlic mashed potatoes and green bean blend (Add a side house salad or side Caesar salad for 7.99) – $28.95
Fresh Florida Mahi Mahi*
Grilled mahi mahi topped with tropical fruit salsa, served with house-made cilantro rice and green bean blend (Add a side house salad or side Caesar salad for 7.99) – $31.99
Sesame Ginger Salmon
Fresh salmon grilled with soy-ginger glaze, served with house-made cilantro rice and green bean blend (Add a side house salad or side Caesar salad for 7.99) – $31.99
Roasted Prime Rib of Beef (Available after 4pm)
14 oz. Prime Rib – Served with roasted garlic mashed potatoes & green bean blend (Add Salmon or Shrimp 8.99) (Add a side house salad or side Caesar salad for 7.99) – $39.95
Sides
Roasted Garlic Mashed Potatoes – $5.99
Loaded Mashed Potatoes
Served with SMC, bacon bits & scallions – $7.99
Loaded Baked Potato
Served with sour cream, bacon bits, butter, SMC & scallions – $7.99
Seasoned Fries – $5.99
Loaded Fries
Seasoned fries, SMC, bacon bits & scallions – $7.99
Cilantro Rice – $4.99
Green Bean Blend – $5.99
Desserts
Banana Pudding Star Jar
Single serving of layers of fresh bananas, vanilla wafers & creamy banana pudding topped with whipped cream – $10.99
Brownie Sundae Martini
Twelve decadent chunks of freshly baked brownies layered with six scoops of vanilla and chocolate ice cream, topped with caramel and chocolate sauce then buried in mounds of whipped cream and a cherry – $19.99
Strawberry Star Jar
Single serving of layers of fresh strawberries, pound cake & creamy strawberry pudding topped with whipped cream – $9.99
Brownie Cheesecake Star Jar
Single serving of double chocolate brownie layered with chocolate pudding & cheesecake, topped with vanilla ice cream plus a drizzle of caramel & chocolate sauce – $10.99
OREO® Cookie Bash
A pie slice of OREO® cookie universe of white 'n milk chocolate cream, starry with OREO® chunks, and showered with dark chocolate drizzle – $9.99
Beverages
Assorted Fountain Drinks
Coke, Diet Coke, Sprite, Orange, or Pink Lemonade – $4.49
Practical Magic
Pineapple & orange juices, fresh lemon & lime juices & grenadine – $8.00
La La Land Lemonade
Lemonade with Reàl strawberry syrup – $8.00
Lemonade – $4.49
Iced Tea, Hot Tea, or Coffee – $4.49
Dasani Water – $4.49
Acqua Panna Still Water – $6.50
San Pellegrino – $6.50
San Pellegrino Sparkling Water – $4.50
Signature Drinks
Arnold's Lemonade
Tito's Handmade vodka, Bottega limoncino, iced tea & lemonade – $15.00
Celebrity Margarita
Cuervo Silver tequila, Grand Marnier & fresh sour – $15.00
It's Showtime Mojito
Bacardi Superior rum, fresh lime juice & Reàl blueberry syrup with fresh blueberries & mint – $15.00
The Perfect Storm
Tito's Handmade vodka, Bottega limoncino, iced tea & lemonade served in 45oz. Planet-Bowl – $29.99
Fool's Gold
Vodka, pineapple & orange juices, fresh sour & Reàl passion fruit syrup served in 45oz. Planet-Bowl – $29.99
If You Like Piña Coladas
Cruzan coconut rum, Jim Beam Kentucky Fire & coconut purée – $12.99
The Black Pearl Mai Tai
Cruzan white rum, lime & orange juices, Reàl passion fruit syrup & grenadine with a Myers's dark rum float – $12.99
B-A-N-A-N-A-S
Cruzan coconut rum, banana liqueur, coconut purée & chocolate milk – $12.99
Red Carpet Margarita
Cuervo Silver tequila, fresh sour & Reàl strawberry syrup – $12.99
There's Something About Bloody Mary
New Amsterdam vodka & Bloody Mary juice with bacon & fresh seasonal toppings – $12.99
Pineapple Express
SKYY Infusions blood orange vodka, SKYY Infusions pineapple vodka, orange & pineapple juices, Sprite & grenadine – $12.99
Wine and Beer
Assorted Wine – Glass $9.00 – $14.00 , Carafe $28.00 – $42.00
Assorted Beer – $7.50 – $9.00

A full bar featuring specialty drinks, wines, and bottled beer is available
Planet Hollywood Kids Menu
Menu Date: 06/2022
Entrees
For kids 9 and under. All kids meals include a choice of beverage and dessert – $9.99
Chicken Fingers
Fried chicken fingers and french fries with choice of beverage and dessert – $9.99
Salad
Mixed greens with turkey, tomato, Swiss cheese, and croutons with choice of beverage and dessert – $9.99
Macaroni & Cheese
Noodles smothered in cheesy cream sauce with choice of beverage and dessert – $9.99
Spaghetti & Meatballs
Spaghetti, marinara, and meatballs with choice of beverage and dessert – $9.99
Kids Beverages
Mars Attacks
012 oz. Kids' Light-Up Cup – Coconut & strawberry purée with fresh blueberries – $10.00
Shooting Star
12 oz. Kids' Light-Up Cup – Strawberry purée, apple juice & pineapple juice – $10.00
Milk, Juice, or Soda
Dessert
Specialty Kid's Dessert
– Ask about today's treat
** Planet Hollywood Menu and Prices are Subject to Change Without Notice **