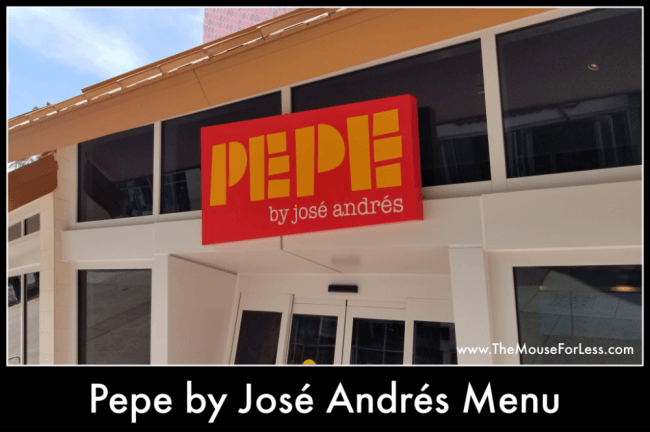 At Pepe, you can savor Spanish sandwiches, gazpacho, seasonal salads, and refreshing sangría—from famed award-winning chef, José Andrés.
After just one mouthwatering bite, you'll want to park yourself at Pepe for lunch and dinner. Many of the signature sandwiches are made with pan de cristal, a delectable thin and crispy bread unique to Spain. Savor a bowl of gazpacho soup laden with wholesome goodness, reminiscent of the Mediterranean, or dig into a seasonal salad. Linger a while over a glass of sangría—and leave with a soft serve ice cream to go!
Pepe is located in Disney Springs.  Find more Walt Disney World dining locations on our Walt Disney World menus page.
Restaurant Info: Spanish Cuisine, Casual Dining, Lunch/Dinner A la carte, $ – $14.99 and under per adult
Find out how you can save money on dining at Walt Disney World by using one of Disney's Dining Plans.

Planning a Walt Disney World Vacation?
For a Free no-obligation quote, contact our sponsor
The Magic For Less Travel
. The Magic For Less Travel is an Authorized Disney Vacation Planner and has been helping guests plan magical vacations since 2002. Receive the best prices and free travel planning services. Their fee-free services will help you save time, money, and stress while planning a vacation designed around you and your needs!
Pepe by José Andrés Lunch and Dinner Menu
Menu Date: 03/2022
Sandwiches – Pressed Bikini Sandwiches
Pepito Ternera
Flat Iron Steak, Caramelized Onion, Cheese, Mayonnaise and Roasted Green Peppers on Pan de Cristal – $18.00
Super Flauta
Paletilla Ibérica de Bellota and Tomate Fresco on an 18" Flauta. Add Manchego cheese 4 – $18.00
Super Flauta de Queso Manchego
Serrano Ham, Manchego Cheese and Tomate Fresco on Flaura Bread – $16.00
Futbol Club
Fried chicken breast, bacon, tomato and lettuce sandwich with mustard and mayonnaise – $15.00
Bikini de Jamón y Queso
Serrano Ham and Manchego Cheese pressed sandwich – $14.00
Bikini Menorquin
Spreadable chorizo and Manchego cheese pressed sandwich with honey – $12.00
Bikini 3 Quesos
Manchego, Havarti and Goat cheese pressed sandwich – $10.00
Frankfurt
All beef natural Hot Dog with bravioli sauce – $9.00
Something More
Gazpacho de Remolacha
Classic Chilled Spanish Soup made with roasted beets – $5.00
Ensalada Verde
Green Salad – $4.00
Patatas Bravas
Fried potatoes, aioli and brava sauce – $8.00
José Andrés Potato Chips – $4.00
Croquetas de Pollo
Traditional Chicken Fritters – $9.00
Something Sweet
Leche Merengada
The Classic Spanish Flavors of Sweetened Milk, Cinnamon, Lemon – $4.00
Buñuelos de Viento con Chocolate
Traditional Fried Spanish Pastries stuffed with hot chocolate – $8.00
Flan al Estilo Tradicional de Mamá Marisa
Traditional Spanish Flan – $6.00
Non-Alcoholic Beverages
Dasani Bottled Water – $4.00
Honest Kids Organic Juice – $4.00
Bottled Soda – Coke, Sprite, Diet Coke – $4.00
Alcoholic Beverages
Sangria Roja – $9.00 glass; $35.00 carafe
Granizado de Sangria
Frozen Sangria – $12.00
Ah-So Red
Red Wine – $14.00
Ah-So White
White Wine – $14.00
Beer – Cigar City
Jai Alai, FL, IPA (7.0%) – $9.00
Miller Lite – $9.00
Corona – $9.00
** Pepe Menu and Prices are Subject to Change Without Notice **