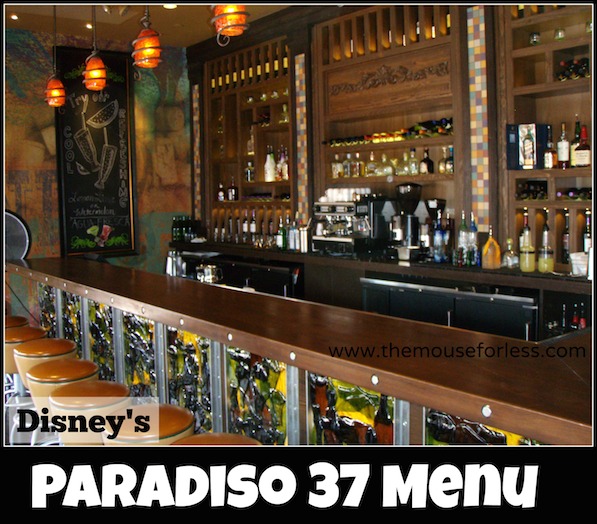 Step into this chic restaurant with fantastic food and an atmosphere to match! This high-energy restaurant and bar serve up unique cuisine inspired by the Street Foods of the Americas. Paradiso 37 menu items from North, South, and Central America will be featured for lunch and dinner. Paradiso 37 features an international wine bar and a one of a kind tequila tower bar with more than 50 kinds of tequila and a selection of signature frozen margaritas. Come in for a cup of specialty coffee at Paradiso 37 when they open at 11:00 a.m., and return in the evening for festive food, the world's coldest beer (29 degrees), and entertainment; the restaurant closes late at night.
Paradiso 37 is located in Disney Springs.  Find more Walt Disney World dining locations on our Walt Disney World menus page.
Restaurant Info: Multiple Cuisines, Lunch/Dinner – A la carte, $$ – $15 to $34.99 per adult
Find out how you can save money on dining at Walt Disney World by using one of Disney's Dining Plans.

Planning a Walt Disney World Vacation?
For a Free no-obligation quote, contact our sponsor
The Magic For Less Travel
. The Magic For Less Travel is an Authorized Disney Vacation Planner and has been helping guests plan magical vacations since 2002. Receive the best prices and free travel planning services. Their fee-free services will help you save time, money, and stress while planning a vacation designed around you and your needs!
Paradiso 37 Lunch and Dinner Menu
Menu Date: 05/2022
Appetizers
P37 Salsa Dip – $6.00
P37 Queso Dip – $12.00
P37 Spinach Dip – $14.00
P37 Guacamole Dip – $14.00
P37 Dipping Trio
Guacamole, P37 Salsa, cheese queso – $16.00
San Juan-Style Beef Empanadas
Artisan pastries filled with savory beef, served with sour cream – $16.00
Border Nachos (Serves Two)
Corn tortillas, cheese sauce, chili corn carne P37 Cheese, shredded lettuce, sour cream, pico de gallo, jalapenos – $19.00
South American Crazy Corn
Fire roasted corn on the cob, aji amarillo, P37 Cheese – $16.00
P37 Quesadilla
Flour tortilla, P37 Cheese, sour cream, pico de gallo, barbacoa beef or chicken – $18.00
Big Smoke Poutine (Serves Two)
P37 Fries, cheese curds, cherry peppers, roasted garlic gravy, braised beef – $18.00
Peruvian Salchipapas
P37 Fries, sliced sausage, aji amarillo, cilantro lime crema – $16.00
Salads
Wall Street Caesar Salad
Romaine, seasoned croutons, Caesar dressing – $14.00
Peel Street Chopped Salad
Shredded romaine, tomato, red onions, cheddar cheese, bacon and herb vinaigrette – $16.00
Harbour Island Tropical Salad
Fresh pineapple, bacon and toasted coconut tossed with pineapple vinaigrette – $19.00
Sonora Ranchero Salad
Iceberg wedge, 6 oz steak, applewood smoked bacon, queso fresco, tomatoes, chipotle ranch dressing – $24.00
Flatbreads
Napa Valley Vegan Flatbread
Cauliflower crust, vegan mozzarella cheese, tomato, basil, balsamic glaze – $22.00
Philadelphia Flatbread
Grilled steak, caramelized onions, P37 cheese – $22.00
Havana Flatbread
Ham, pork, swiss cheese, pickles and house-made mustard drizzle – $20.00
Entrées
Argentinian Skirt Steak
Char-grilled 10 oz. steak, caramelized onions, zesty chimichurri sauce, choice of side – $38.00
All American Burger
8 oz. char-grilled angus steak burger, American cheese, lettuce, tomato red onion, pickle spear, toasted brioche bun – $21.00
Columbian Burger
8 oz. char-grilled angus steak burger, queso blanco, pineapple, creamy ketchup, cilantro crema, bacon, brioche bun – $20.00
Patagonian Seared Salmon
8 oz. salmon fillet, cilantro rice, roasted vegetables and grilled lemon – $33.00
Baja Fish Tacos
Flour tortillas, crispy battered seasonal whitefish, corn salsa, shredded cabbage, lime crema – $20.00
Authentic Nola Shrimp Po'Boy
Crispy fried shrimp, lettuce, sliced tomato, remoulade sauce and toasted french baguette – $23.00
Nashville Hot Chicken Sandwich
Buttermilk fried chicken drizzled with hot sauce, candied bacon, monterey jack cheese, lettuce, tomato ranch dressing – $21.00
LaPaz Roasted Half Chicken
Mashed potatoes, green bean, lemon garlic sauce – $30.00
Honolulu Pulled Pork Sandwich
Slow roasted pulled pork, grilled pineapple, coleslaw, whiskey BBQ sauce – $18.00
North Carolina Style BBQ Pork Ribs
16 oz. Ribs, tangy BBQ sauce, cabbage slaw and P37 Fries – $30.00
Mexican Burger
8 oz. char-grilled Angus steak burger, American cheese, guacamole, jalapenos, pico de gallo, toasted brioche bun – $21.00
P37 Veggie Burger
Plant-based burger, lettuce, tomato, chipotle aioli, brioche bun – $18.00
Sides
Wasabi, Truffle, BBQ Fries – $6.00
Roasted Vegetables – $6.00
Cilantro Rice
White Rice mixed with Cilantro Pesto – $6.00
Mashed Potatoes – $6.00
Pao de Queijo (Brazilian Cheese Bread) – $9.00
Kids Meals
Crispy Chicken Tenders
Served with BBQ sauce and French Fries – $12.00
Cheeseburger
On a fresh baked bun and topped with American cheese, served with french fries – $12.00
Cheese Pizza
Tomato sauce, mozzarella cheese. Add pepperoni +$2 – $12.00
Double Dog
Grilled hot dog and mini corndogs served with french fries – $12.00
Desserts
Maui Upside Down Cake
A warm caramelized pineapple cake, vanilla ice cream – $10.00
Mexico City Churros
Cinnamon & sugar dusted churros, caramel & chocolate dipping sauce – $12.00
P37 Mini Ice Cream Cone
Four (4) waffle cones, vanilla, chocolate, strawberry, cookies n' cream – $13.00
Brazilian Brigadeiro
Traditional Brazilian cake topped with chocolate sprinkles – $13.00
Florida Sunshine Orange Cake
Sweet Florida orange layered cake, white chocolate – $14.00
Non-Alcoholic Beverages
Agua Fresca – $5.00
Espresso or Cappuccino – $5.00
Fountain Beverages
Coke, Diet Coke, Sprite, Dr. Pepper, Orange, Minute Maid Lemonade – $4.00
Fresh Brewed Iced Tea – $4.00
Milk or Chocolate Milk – $4.00
Natural Spring or Sparkling Water – $4.00
No Jito
Muddled Mint and Lime with Lemon-Lime Soda – $6.00
Regular or Decaf Coffee – $4.00
Specialty Cocktails
Welcome to Paradise
P37 premium tequila silver, triple-sec, fresh lime juice, agave nectar – $12.00
Golden Fiesta
P37 golden tequila, gran gala, fresh lime juice, agave nectar – $16.00
Blood Orange Margarita
P37 premium tequila silver, lime juice, triple sec, blood orange sour and agave nectar – $16.00
Rio Reckless
P37 infused serrano premium tequila, fresh lime juice, triple sec and agave nectar – $15.00
Passion Party
P37 premium tequila silver, passion fruit, fresh lime juice and ginger beer – $15.00
Corona-Rita
P37 margarita accompanied with a 7 oz. Corona – $14.00
Strawberry Botanicals
P37 premium gin, strawberries, fresh lime juice, basil – $14.00
Down By the Bay
P37 premium vodka, coconut cream, pineapple juice and a splash of grenadine – $15.00
Category 5
P37 premium rum, banana liquor, grenadine, pineapple, fresh lime juice – $16.00
Kentucky Bramble
Woodford Reserve bourbon whiskey, black raspberry liqueur, lemon juice, agave nectar – $16.00
Bahama Mama
P37 premium coconut rum, grenadine, orange and pineapple juice and dark rum floater – $12.00
P37 Swirl
Our P37 Frozen Margarita swirled with our Famous Frozen Red Sangria – $16.00
Captain Skittles
P37 premium spiced rum, fresh lime juice, agave nectar, grenadine and blue curacao – $12.00
Sangria
Our special house made sangria red or white – $12.00
P37 Punch
P37 premium vodka, orange, pineapple and cranberry juices, grenadine and agave nectar – $14.00
Caribbean Mule
P37 premium rum, lime juice and ginger beer – $15.00
Whiskey Smash
Kentucky whiskey, lemon wedges, simple syrup and mint leaves – $16.00
P37 Old Fashion
Peanut whiskey, maple syrup and chocolate bitter garnished with candied bacon and orange peel – $17.00
Aviation
P37 premium gin, crème de violet, cherry liquor and lemon juice – $16.00
Rise and Fall Martini
Pumpkin spiced martini vodka, cinnamon baileys, garnished with cinnamon powder – $16.00
Beer and Wine
Assorted Beer – $7.00 – $9.00
Assorted Wine – $10.00 – $16.00 Glass; $35.00 – $56.00 Bottle
** Paradiso 37 Menu and Prices are Subject to Change Without Notice **