Disney's Water Parks | Typhoon Lagoon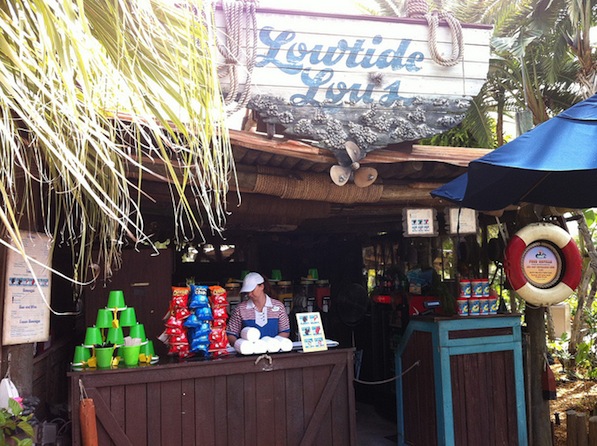 Reviews

Drop into Lowtide Lou's when the tide is low and buoy your appetite with a selection of wraps and sandwiches. Or, just kick back and relax as you soak up some suds.
Restaurant Info: Snacks, Open Seasonally, $ – under $14.99 per adult
Find out how you can save money on dining at Walt Disney World by using one of Disney's Dining Plans.
Lowtide Lou's Menu
Menu Date: 02/2016
Feature Items
Turkey Pesto – with chips – $9.49
Tuna Fish Sandwich – with chips- $9.49
Chicken Wrap – with chips – $9.49
Assorted Chips – $2.99

Mickey Check Meals
All meals come with your own Sand Pail and Shovel and include choice of small Lowfat milk or small Bottled Water

Smucker's Uncrustables – includes Grapes and Applesauce – $7.49

Turkey Sandwich – ncludes Grapes and Applesauce – $7.49

Meets Disney Nutrition Guidelines for Complete Meals without substitutions.
Desserts
Chocolate Cake Dessert Cup – $4.29

Key Lime Pie Dessert Cup – $4.29

Ice Cream & Frozen Treats
Nestlé Mickey's Premium Bar – $3.99

Nestlé Mickey's Ice Cream Sandwich – $3.99

Strawberry Fruit Bar – $3.49

Minute Maid Frozen Lemonade Cup – $3.79

Minute Maid Frozen Strawberry Lemonade Cup – $3.79

Shaved Ice – choose up to three Flavors topped with Condensed Milk – $3.99

Shaved Ice with Ice Cream – choose up to three Flavors topped with Condensed Milk – $4.99

Shark Bite – Blue Raspberry and Cherry Syrup topped with Condensed Milk – $3.99

Shark Bite with Ice Cream – choose up to three Flavors topped with Condensed Milk – $4.99

Beverages
Bottled Water – $2.75

Assorted Bottled Beverages – $2.99

Powerade – $3.79

Lowfat Milk – $1.99

Nestlé Nesquik® Chocolate Milk – $1.99

All Day Refillable Mug – $9.99
Beer and Wine
Bud Light – $6.00
Corona – $7.25
Wine – White Zinfandel, Merlot or Chardonnay – $6.95
Beso Del Sol Sangria – $6.95
Frozen Beverages
Pina Colada – Myers's Platinum Rum with Piña Colada Mix – $8.75
Grey Goose Le Citron Slush – Grey Goose Cintrón Vodka and Orange Juice with Sweet-and-Sour – $9.75
Strawberry Margarita – Sauza Gold Tequila, Triple Sec, Strawberry Purée and Sweet-and-Sour – $9.00

= Snack on the Disney Dining Plan
** Menu and Prices are Subject to Change Without Notice **