Disney Springs | The Landing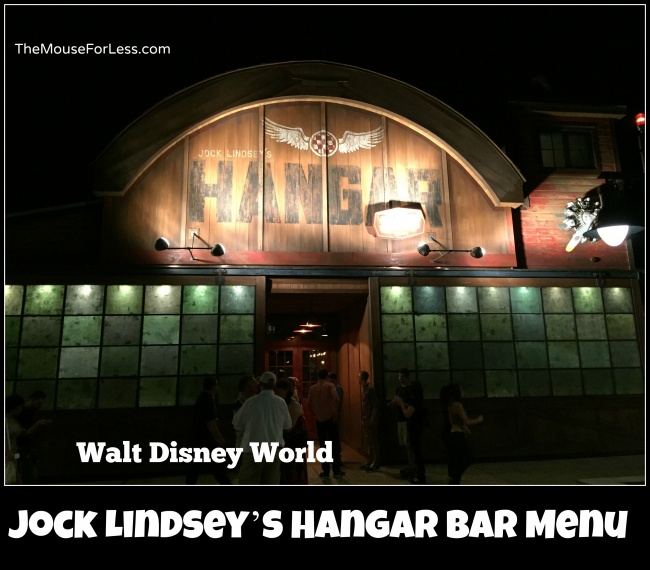 Jock Lindsey's Hangar Bar, a Disney owned venue themed to a 1940's airplane hangar turned dive bar, seats up to 150 guests, both indoor and outdoors, and offers unique beverages and small plates. The Hangar also features interactive moments based on Jock Lindsey, the pilot from the "Indiana Jones" films. Themed décor like propeller-based ceiling fans, vintage travel posters and correspondence between Jock and Indy immerses guests who visit the Hangar in a world of adventure.
Restaurant Info: American Cuisine, Snacks, $ – $14.99 and under per adult
Find out how you can save money on dining at Walt Disney World by using one of Disney's Dining Plans.
Jock Lindsey's Hangar Bar Menu
Menu Date: 04/2016
Appetizers/Small Plates
Dr. Elsa's Shrimp BLT Flatbread – Chermoula-spiced Shrimp, Nueske's Bacon, Arugula, Roasted Tomatoes, and Basil Pesto – $16.00
"Good" Dates – Goat Cheese-stuffed Dates served with Marcona Almonds and Pickled Vegetables…safe for the whole family! – $9.00
Air Pirate's Pretzels – A flight of Everything Pretzels with House-made Mustard and Beer-Cheese Fondue – $10.50
Snack of Ra – African Salads and Dips with Injera and Naan Crisps designed to satisfy a well of souls – $12.00
Brody Brats – Grilled Bratwurst served with Mustard and Pickled Cabbage. Worthy of a museum – $8.50
Lao Che's Revenge – Spicy Asian Sticky Wings direct from Club Obi Wan – $14.00
Squid! Why'd It Have to Be Squid – Fried Calamari with Harissa Aïoli – $12.50
Tanis Tacos – A Lost City Specialty! Filled with Falafel, Shredded Lettuce, and Cucumber-Tomato Salad – $10.00
Rolling Boulders Sliders – Three Spicy Meatball Sliders served with Yogurt Sauce – $11.50
Non-Alcoholic Beverages
Antidote – Sprite and Maraschino Cherry Juice – $3.79
Poisonless Dart – Soda Water with Mint, Simple Syrup, and fresh Lime Juice – $4.29
Teddy's Tea – Green Tea with Mint and Tangerine – $3.79
Diving Bell – Simply Lemonade and Watermelon topped with a Lemon-Lime Foam – $4.19
Signature Specialty Cocktails
Anything Goes – byejoe dragon fire spirit, fresh Lime Juice, Passion Fruit, and Pineapple Juice – $9.25
Shorty's Singapore Sling – Plymouth Gin, Heering Cherry Liqueur, Bénédictine, Cointreau, fresh Lime Juice, Pineapple Juice, and Grenadine – $10.25
Bedtime Story – Absolut Mandrin Vodka, Domaine de Canton Ginger Liqueur, Hibiscus Syrup, fresh Lemon Juice, and Iced Tea – $11.00
The Scottish Professor – Monkey Shoulder Blended malt Scotch Whiskey, Hendrick's Gin, Pear Nectar, Simple Syrup, and fresh Lemon Juice – $10.25
German Mechanic – Bavarian Radler a.k.a. "Shandy" with Paulaner Hefe-Weizen and Simply Lemonade – $8.75
Hovito Mojito – Barson Quebranta Pisco, fresh Lime Juice, Mint, and Simple Syrup topped with Soda Water – $10.25
The Bitter Barkeep – Barsol Quebranta Pisco, Simple Syrup, and fresh Lime Juice. Contains Pasteurized Egg Whites – $10.25
Cool-headed Monkey – Starr African Rum, Van Der Hum Tangerine Liqueur, fresh Lime Juice, Watermelon, and Pineapple Juice – $10.25
In a Souvenir Mug – $15 additional
Safari Sangria – South African Red Wine with Van Der Rum Tangerine Liqueur – $9.75
Air Pirate's Mule – Knob Creek Disney Select Single Barrel Reserve Bourbon and fresh Lime Juice topped with Fever-Tree Ginger Beer – $12.00
Pancho's Margarita – Don Julio Reposado Tequila, Grand Marnier, and fresh Sweet-and-Sour – $11.75
Wrong Island! – Siesta Key Silver Rum, Tito's Handmade Vodka, Tamiami Gin, Tippler's Orange Liqueur, and Sweet-and-Sour with a splash of Coca-Cola – $9.25
Bam's Barnstormer – byejoe dragon fire spirit, fresh Lime Juice, Passion Fruit, and Pineapple Juice – $9.25
Hail Marty – Colonel E.H. Taylor, Jr. Single Barrel Straight Kentucky Bourbon Whiskey bottled in Bond served with an Ice Sphere – $21.00
Fountain of Youth – St. Augustine Florida Cane Vodka, Bols Blue Curaçao, White Cranberry Juice, and Sweet-and-Sour – $10.25
Reggie's Revenge – Florida Cane 'Orlando Orange' Vodka, Midori Melon Liqueur, White Cranberry Juice, and fresh Lime Juice – $10.25
A full bar featuring Draft & Bottle Beer, Hard Cider, Champagne, Wines, Sake & ab Aviator's Flight are available.
** Menu and Prices are Subject to Change Without Notice **