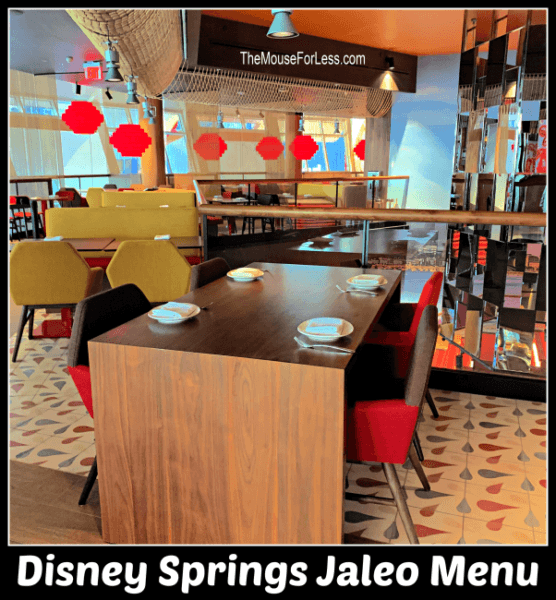 At Jaleo, plates are designed to be shared. Along with signature tapas, savory paellas, superb sangria and a wide selection of the finest Spanish cheeses, wines, and sherries, you'll always find something wholly unique and exciting at Jaleo. It's tradition and whimsy, all in one bite.
Jaleo is located in Disney Springs.  Find more Walt Disney World dining locations on our Walt Disney World menus page.
Restaurant Info: Seafood, Spanish Cuisine, Fine Dining, Lunch/Dinner A la carte, $$$ – $35 to $59.99 per adult
Find out how you can save money on dining at Walt Disney World by using one of Disney's Dining Plans.
Lunch and Dinner Menu  Kids Lunch and Dinner Menu

Planning a Walt Disney World Vacation?
For a Free no-obligation quote, contact our sponsor
The Magic For Less Travel
. The Magic For Less Travel is an Authorized Disney Vacation Planner and has been helping guests plan magical vacations since 2002. Receive the best prices and free travel planning services. Their fee-free services will help you save time, money, and stress while planning a vacation designed around you and your needs!
Jaleo by José Andrés Lunch and Dinner Menu
Menu Date: 06/2022
Chef's Tasting Menu
Jaleo Experience
A tasting of the classic and traditional tapas in addition to some original favorites – $95.00
Spanish Sips
Enjoy specially selected Spanish wines and beverages to pair with your Jaleo Experience menu – $40.00
Sherry Tasting
Enjoy sommelier-selected sherries to pair with your tasting menu – $25.00
Buen Provecho
Toasted slices of uniquely crispy and ethereal bread brushed with fresh tomato
Pan de cristal con tomate – $12.00
36-month cured ham shoulder from the legendary free range, acorn-fed, black-footed ibérico pigs of Spain
Paletilla ibérica de bellota – $30.00
Unpasteurized sheep's milk cheese. Nutty with a tangy, lingering flavor
Plato de queso Manchego – $14.00
Flauta bread brushed with tomato and extra virgin olive oil, topped with paletilla ibérica de bellota
Super Flauta. Add Manchego cheese 3 – $22.00
Cured Meats
Cured pork chorizo from the legendary free range, acorn-fed, black-footed iberico pigs of Spain
Chorizo ibérico de bellota – $18.00
Cured acorn-fed pork sausage
Salchichón ibérico de bellota – $17.00
24-month cured Serrano ham
Jamón serrano – $12.00
48-month cured ham from the legendary free range, acorn-fed, black-footed pigs of Spain, hand carved
Jamón ibérico de bellota 5J cortado a mano – $30.00
Spreadable cured sausage from Mallorca made with iberico pork and Spanish pimentón served with honeycomb and toasted bread
Sobrassada ibérica con miel – $15.00
Selection of ibérico Spanish cured meats
Selección de embutidos – $40.00
Cheeses
Caña de cabra
(Murcia) A soft, semi-sweet pasteurized goat's milk cheese paired with a rosemary cracker and fig jam
Queso Manchego
(D.O. La Mancha) A traditional unpastuerized Manchego cheese paired with moscatel compressed apples
Valdeón
(D.O. Leon) An intensely flavored blue cheese of pasteurized cow and goat milk, paired with raisins and Pedro Ximénez compressed pears
Rey Silo Blanco
(D.O. Asturias) An intensely-flavored unpasteurized cow's milk cheese paired with honey, rosemary and almond shortbread and PX reduction moscatel compressed apples
Rey Silo Rojo
(D.O. Asturias) A bold and spicy unpasteurized cow's milk cheese with pimentón, almonds, and bitter orange jam
Murcia al vino
Semi-soft goat cheese immersed in red wine paired with honey, rosemary, and pine nuts shortbread and PX reduction
Tetilla
(Galicia) A semi-soft cow's milk cheese with a light taste paired with quince paste
Verduras (Vegetables)
Endives with goat cheese, oranges, and almonds
Endivias con queso de cabra y naranjas – $11.00
Seared piquillo peppers filled with goat cheese
Pimientos del piquillo rellenos con queso Caña de cabra – $10.00
Sautéed spinach with pine nuts, raisins, and apples
Espinacas a la catalana – $12.00
Spanish omelette with potatoes and onions
Tortilla de patatas – $11.00
Roasted sweet onions, pine nuts, and Valdeón blue cheese
Cebolla asada – $10.00
Catalan "coca" with roasted vegetables and boquerones
Coca de escalivado con boquerones – $14.00
Salads & Soups
Mixed greens with cherry tomatoes, onions, and olives with sherry dressing
Ensalada verde – $9.00
Sliced apple and fennel salad with Manchego cheese, walnuts, and sherry dressing
Manzanas con hinojo y queso Manchego – $12.00
Traditional Catalan bean salad with tomatoes, olives, and sherry dressing
Empedrat de mongetes – $11.00
Beet salad with Valdeon blue cheese, pistachios, and citrus with a sherry dressing
Ensalada de remolacha con queso Valdeón, pistachos y citricos – $14.00
Beet gazpacho with goat cheese
Gazpacho de remolacha con queso de cabra – $12.00
From the Fryer
Traditional chicken fritters
Croquetas de pollo – $13.00
A Jaleo favorite – fried potatoes with spicy tomato sauce and alioli
Patatas bravas – $12.00
Fried cod and potato fritters with honey alioli
Buñuleos de bacalao con alioli de meil – $14.00
Andalusian style fried squid with squid ink alioli
Calamares a la romana con alioli de tinta – $14.00
Sandwiches
Pressed sandwich of Spanish ham and Manchego cheese
Bikini de jamon con queso Manchego – $18.00
Sobrassada and Manchego cheese pressed sandwich with honey
Bikini de sobrassada con Manchego y miel – $18.00
José's Way
Salmon tartare and trout roe cone (sold per each)
Cono de salmón crudo con huevas de trucha – $5.00
Quince marmalade, goat cheese, and walnut dust cone (sold per each)
Cono de queso de cabra con membrillo y nueces – $5.00
Jamón ibérico de bellota and Royal Ossetra caviar
José's taco – $18.00
Ferran Adria liquid olives and stuffed olives with piquillo pepper and anchovy
Aceitunas clasicas y modernas – $12.00
1 oz. of Royal Ossetra caviar
1 oz. de caviar Royal Ossetra – $155.00
Seafood
The very, very famous tapa of shrimp sautéed with garlic
Gambas al ajillo – $18.00
Seared fish of the day with stewed vegetables
Pescado con pisto Manchego – $16.00
Head-on shrimp with garlic and extra virgin olive oil prepared as Jose does in summer
Gambas a la Zahara – $29.00
Traditional "paella" made with toasted pasta with shrimp and squid sofrito
Rossejat – $28.00
Traditional toasted pasta "paella" with head-on shrimp, squid ink, calamari sofrito, and alioli
Rossejat Negra – $31.00
Charcoal grilled octopus with potatoes and tomato confit
Pulpo a la brasa con tomates confitadios – $22.00
Meat
Josper-grilled pork sausage with sautéed white beans and alioli
Butifarra casera con mongetes – $14.00
Grilled flat iron steak with confit piquillo peppers
Carne asada con piquillos – $26.00
Josper roasted Bell & Evans organic chicken thigh with garlic sauce
Pollo al ajillo – $18.00
House-made traditional chorizo with olive oil mashed potatoes
Chorizo casero con puré de patatas al aceite de oliva – $15.00
Chicken, pork, and foie canelones with béchamel sauce
Canelones de cerdo y pollo con foie – $18.00
Large Plates
Josper grilled rack of lamb with rosemary sauce and honey alioli
Chuletas de Cordero con alioli de miel y salsa de romero – $42.00
Josper grilled secreto Ibérico with pan con tomate, mojo verde and honey mustard alioli
Secreto ibérico – $85.00
Desserts
Chocolate custard with caramelized bread, olive oil, and brioche ice cream
Pan con chocolate – $10.00
Traditional Spanish sweet rice dessert
Arroz con leche – $10.00
A classic Spanish custard with "espuma" of Catalan cream and oranges
Flan al estilo tradicional de mamá Marisa con espuma de crema catalana – $11.00
Basque goat cheesecake served with seasonal sorbet
Quesada Asturiana – $14.00
Daily selection of sorbets
Sorbetes caseros – $9.00
Compressed pineapple with Spanish rum, lime, and mint
Pina borracha – $10.00
Selva Negra
Celebrate Disney's 50th Anniversary with a decadent mousse made of Manjari 64% chocolate atop a crunchy feulletine base with black cherry chocolate sponge cake and topped with a chocolate glace – $14.00
Non- Alcoholic Beverages
Diet Coke – $5.00
Fever Tree Ginger Beer – $5.00
Mexican Coke – $5.00
Mexican Sprite – $5.00
Teatulia Iced Tea – $4.00
Water – Still or Sparkling – $8.00
Limonda – $6.00
Estrella Galicia 0.0 (non-alcoholic beer) – $7.00
Cocktails
Jerez Old Fashion
Contradiction bourbon, Spanish Solera brandy, cinnamon, fernet – $15.00
Sevilla Spritz
Tanquerey Sevilla gin, hibiscus syrup, lime, cava – $15.00
Castaway Old Cuban
Pineapple rum, lime, sherry vinegar, Cava, mint – $15.00
Cropping Rope
Crop Cucumber vodka, Lillet Blanc, Green Chartreuse, lime, soda – $13.00
Inside Out
Spanish sweet vermouth, Penedés brandy, bourbon, Angostura bitters – $14.00
Salt Air Margarita
Milagro Blanco tequila, Combier L'Original, lime, salt air – $15.00
Token
Cachaça, Mexican Coca-Cola, lime, Angostura bitters, nutmeg – $14.00
Agua de Sevilla
Bourbon, cava, pineapple, sage, orange bitters – $15.00
Margarita Donostiarra
Chile de arbol infused tequila, Del Maguey Vida mezcal, lime, laurel, piparra brine, sherry salt – $13.00
Rum Sour
Barbancourt 8, lime, sugar, bitters – $14.00
Rebujito
Manzanilla sherry wine, Sprite – $12.00
Wines by the Glass
Cuvée Jose Raventós i Blanc, Xarel·lo, Macabeo, Parellada – $15.00
Brut Rosé Juvé y Camps, Pinot Noir – $13.00
Zárate Eulogio Pomares, Albariño – $14.00
Candea Quinta da Muradella, Treixadura, Doña Blanca – $12.00
Louro Rafael Palacios, Godello – $16.00
Ultreia St. Jaques Raúl Pérez, Mencía – $15.00
José Selección Ontañon, Tempranillo, (Graciano, Garnacha) – $13.00
Manzanilla Pasada Pastrana H.La Gitana, Palomino Fino – $10.00
Fino Hidalgo Emilio Hidalgo, Palomino Fino – $7.00
Amontillado Los Arcos Lustau, Palomino Fino – $9.00
Oloroso 15 anos Maestro Sierra, Palomino Fino – $13.00
Palo Cortado Leonor Gonzalez Byass, Palomino Fino – $12.00
Albenc Torralbenc, Parellada, Sauvignon Blanc, Viogner – $15.00
Mus Miguel Arroyo, Verdejo – $12.00
Liquid Geography CVA, Garnacha – $12.00
Le Naturel Vintae, Garnacha – $12.00
Bardos Crianza, Tempranillo – $17.00
Gran Coronas Torres, Cabernet Sauvignon – $16.00
Vega Escal Crianza, Garnacha, Carinena, Cabernet – $17.00
Beer
Clara – $8.00
Alhambra 1925 Lager – $9.00
Crooked Can Cloud Chaser Hefeweizen, Florida – $8.00
Crooken Can The Workaholic American Pale Ale, Florida – $8.00
Estrella Dramm Lager, Spain – $8.00
Mahou Lager, Spain – $8.00
Sierra Neveda Dankful IPA – $9.00
Estrella Galicia – $8.00
Jaleo by José Andrés Kids' Lunch and Dinner Menu
For Kids Ages 9 and Under
Menu Date: 06/2022
Kids' Offerings
Tomato Bread
Toasted slices of uniquely crispy and ethereal bread brushed with fresh tomato – $6.00
Serrano Ham
24-month cured serrano ham – $7.00
Croquetas de pollo
Traditional chicken fritters – $10.00
Patatas bravas
A Jaleo favorite – fried potatoes with spicy tomato sauce and alioli – $5.00
Grilled Cheese
served with Jose's chips – $10.00
Grilled Skirt Steak
served with your choice of mashed potatoes, rice or traditional Spanish tomato and vegetable stew – $14.00
Grilled Chicken Breast
served with your choice of mashed potatoes, rice or traditional Spanish tomato and vegetable stew – $12.00
** Jaleo Menu and Prices are Subject to Change Without Notice **