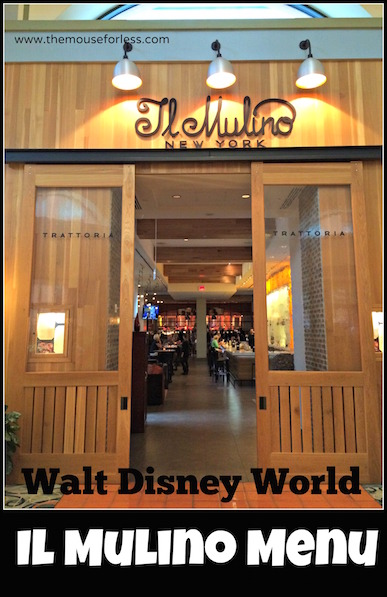 Traditional Italian cuisine from the Abruzzi region of Italy served in a dynamic, rustic trattoria and feature a diverse offering of exciting and bountifully presented dishes, prepared from original Italian recipes. Il Mulino Trattoria features live entertainment Friday and Saturday evenings.
Il Mulino Trattoria is located in the Walt Disney World Swan Hotel.  Find more Walt Disney World dining locations on our Walt Disney World menus page.
Restaurant Info: Italian, Dinner – Ala Carte, $$$

Planning a Walt Disney World Vacation?
For a Free no-obligation quote, contact our sponsor
The Magic For Less Travel
. The Magic For Less Travel is an Authorized Disney Vacation Planner and has been helping guests plan magical vacations since 2002. Receive the best prices and free travel planning services. Their fee-free services will help you save time, money, and stress while planning a vacation designed around you and your needs!
Il Mulino Trattoria Dinner Menu
Menu Date: 11/2022
Antipasti
Arancini Di Carne
Italian Rice Balls stuffed with House-Made Bolognese over Spicy Marinara Sauce – $14.00
Polpette Al Forno
Italian Meatballs with Tomato Basil Sauce, and Parmesan Cheese – $15.00
Carpaccio Di Carne
Thinly Sliced Tuscan-style Beef served with Arugula, Extra Virgin Olive Oil, Fresh Lemon Juice, and our Original Carpaccio Sauce – $17.00
Pollo Fritto Di Toscana
Fried Chicken, Rosemary, Crispy Artichokes with a Garlic Lemon Dipping Sauce – $15.00
Gamberi Al Mulino
Jumbo Shrimp with Il Mulino Spicy Cocktail Sauce – $16.00
Calamari Fritti
Lightly Fried Calamari with a Spicy Marinara Sauce – $18.00
Gamberi con Fagioli
Sautéed Jumbo Shrimp over Cannellini Beans, and Pancetta – $15.00
Cozze
Mussels with Spicy Garlic White Wine Sauce or Spicy Fra Diavolo – $16.00
Insaccati Misti (For Two)
A Platter of Italian Delights: Prosciutto, Mortadella, Sopressata, Cacciatorini, Parmigiano Reggiano, Roasted Red Peppers, Spicy Cherry Vinegar Peppers, Castelvetrano Olives, and Buffalo Mozzarella – $26.00
Insalate (Salads)
Trattoria Salad
Local Farmer's Greens, Radish, Red Onions,  Feta Cheese, Marcona Almonds, Sun-Dried Tomato Vinaigrette, and Toasted Focaccia Croutons – $14.00
Insalata Caesar
The Classic Il Mulino Caeser Salad – $14.00
Insalata Caprese
Buffalo Mozarella with Beef Steak Tomatoes and Roasted Peppers – $15.00
Carpaccio
Carpaccio Di Carne – Thinly Sliced Tuscan-Style Beef served with Arugula, Extra Virgin Olive Oil, Fresh Lemon Juice & Original Carpaccio Sauce – $15.00
Zuppe (Soups)
Minestrone
Vegetable Soup with Orecohiette, and Pesto – $10.00
Tortellini In Brodo
Meat Tortellini in Chicken Broth – $10.00
Pizza
Margherita
Tomato Sauce, Basil, and Buffalo Mozzarella – $19.00
Rustica
Tomato Sauce, Mozzarella, and Sliced Pepperoni – $20.00
Bosco
Tomato Sauce, Mozzarella, Italian Sausage Mushrooms, and Truffle Oil – $21.00
Quattro Formaggi
Fontina Cheese, Pecorino Romano Cheese, Mozzarella Cheese with an Herbed Ricotta, Topped with Marinated Artichoke, Roasted Garlic, and Arugula – $21.00
Pasta
Gnocchi Bolognese
Potato Dumplings with Meat Sauce – $28.00
Ravioli Cacio e Pepe
Cracked Black Pepper, Parmesan Cheese Sauce, and Heirloom Cherry Tomatoes – $28.00
Rigatoni con Funghi
Rigatoni with Wild Mushrooms, Spicy Cherry Peppers, Garlic, and Truffle Oil – $28.00
Spaghetti Carbonara
Spaghetti with Pancetta, Cheese, and Egg – $26.00
Linguine Alle Vongole
Linguine with Spicy Red or Spicy White Clam Sauce – $29.00
Penne Rigate
Penne served with our Original Il Mulino Marinara Sauce, Parmigiana, and Ricotta Cheese – $25.00
Risotto con Funghi
Arborio Rice with Wild Mushrooms, and Truffle Oil – $30.00
Ravioli Al Formaggio
Ricotta Cheese Filled Ravioli with Tomato Basil Sauce, Parmesan Cheese, and Parsley – $27.00
Piatti Per Il Tavolo (Family Style)
Family style items are served for parties of four or more: items are priced per person
Insalata Trattoria
Served for parties of four or more and priced per person – Local Farmer's Greens, Radish, Red Onions, Feta Cheese, Marcona Almonds, Sun-Dried Tomato Vinaigrette, and Toasted Focaccia Croutons – $10.00
Insalata Caesar
Served for parties of four or more and priced per person – The Classic Il Mulino Caeser Salad – $10.00
Arancini Di Carne
Served for parties of four or more and priced per person – Italian Rice Balls stuffed with House-Made Bolognese over Spicy Marinara Sauce – $9.00
Calamari Fritti
Served for parties of four or more and priced per person – Lightly Fried Calamari with a Spicy Marinara Sauce – $12.00
Gnocchi Bolognese
Served for parties of four or more and priced per person – Potato Dumplings with Meat Sauce – $16.00
Penne Rigate
Served for parties of four or more and priced per person – Penne served with our Original Il Mulino Marinara Sauce, Parmigiana, and Ricotta Cheese – $14.00
Rigatoni Con Funghi
Served for parties of four or more and priced per person – Rigatoni with Wild Mushrooms, Spicy Cherry Peppers, Garlic, and Truffle Oil – $16.00
Bistecche (Steaks)
Bistecca Ribeye
14-ounce Grilled Boneless Ribeye served with Fried Onions, Sautéed Spinach and Chianti Sauce – $63.00
Medaglione Di Filetto Con Funghi
10-ounce Beef Tenderloin served with Roasted Potatoes in a Mixed Mushroom Sauce – $68.00
Costolette Di Maiale
Pork Chop with Spicy Cherry Vinegar Peppers and Mushroom Sauce served with Roasted Potatoes – $37.00
Pollo (Chicken)
Pollo Fra Diavolo
Boneless Chicken with Sausage and Vegetables in a Spicy Red Sauce – $30.00
Pollo Parmigiana
Pounded, Breaded Chicken Breast served with Fresh Tomato Sauce, and Italian Cheese – $34.00
Pollo Scarpariello
Hand-Cut Chicken with Garlic, White Wine, Wild Mushrooms, and Spicy Cherry Peppers – $31.00
Vitello (Veal)
Costoletta Di Vitello Milanese
Thinly Pounded Veal Chop, Lightly Breaded and Pan Fried, Topped with Arugula, Tomatoes, and Red Onions – $46.00
Costoletta Di Vitello
Single Cut Veal Chop with Sage and Garlic over a Bed of Potatoes – $43.00
Costoletta Di Vitello Parmigiana
Thinly Pounded Veal Chop, Lightly Breaded with Tomato Sauce, and Italian Cheese – $45.00
Saltimbocca
Sautéed Veal Scaloppini with Prosciutto served with Spinach, Sage and Marsala Sauce – $39.00
Pesce (Fish)
Branzino
Seared Striped Bass with Cherry Tomatoes, Garlic, Pancetta, and White Wine served over Sautéed Spinach – $38.00
Gamberi Francese
Egg Battered Jumbo Shrimp served with Sautéed Spinach, and White Wine Lemon Sauce – $37.00
Salmone
Sautéed Salmon in Garlic and Olive Oil with Spicy Wild Mushroom Sauce over Broccoli Rabe – $37.00
Contorini (Sides)
Spinaci Aglio E Olio
Spinach in Garlic and Olive Oil – $10.00
Rapini
Broccoli Rabe and Garlic – $11.00
Patate Al Rosmarino
Roasted Rosemary Potatoes – $10.00
Pane Agliato
Il Mulino Garlic Bread – $10.00
Funghi Con Aglio
Hand Cut Wild Mushrooms with Garlic, Olive Oil, and Fresh Thyme – $10.00
Parmigiano Reggiano (For Two)
Aged Parmesan Cheese – $12.00
Dolci (Desserts)
Gelato
Italian Ice Cream – $10.00
Frutti di Bosco con Zabaglione
Mixed Berries coated with Marsala Zabaglione – $9.00
Cheesecake Italiano
Italian Style Cheesecake served with Whipped Cream and Zabaglione – $12.00
Torta di Cioccolati
Flourless Chocolate Cake served with Whipped Cream and Zabaglione – $12.00
Le Tre Sorbetti
Trio of Flavorful Sorbets – $10.00
Tartufo
Italian Gelato encased in Chocolate and served with Whipped Cream and Zabaglione – $13.00
Tiramisu
Layered Espresso and Coffee Liqueur infused Lady Fingers coated with Marscapone Cream – $13.00
Il Mulino Trattoria Kids Menu
Menu Date: 11/2022
Children's Menu (3-9)
Margherita
Tomato Sauce and Mozzarella – $13.00
Pepperoni
Pepperoni with Tomato Sauce and Mozzarella – $14.00
Fettuccini Alfredo
Fettuccini Pasta in Cream Sauce – $14.00
Penne Rigate
Penne served with a Tomato Basil Sauce – $14.00
Spaghetti Marinara
Spaghetti Pasta served with our Il Mulino Orginal Marinara Sauce – $12.00
Chicken Parmigiana
Boneless Breaded Chicken Breast served with Fresh Tomato Sauce and Italian Cheese – $16.00
Specialty Cocktails
Quaint Pesca Spritz
Lillet Rosé, Peach Liqueur, Fresh Lemon, Aperol Topped with Sparkling Rosé – $16.00
Basilicato
Hanson's Vodka, Italicus, Fresh Lemon, Basil, Simple – $15.00
Pisolo
Don Julio Reposado, Italicus, Fresh Lime, Strawberry, Simple – $18.00
Quaranta Secondi
Stranahan's Colorado Whiskey, Chambord, Aperol, Fresh Lemon, Orange Bitters – $17.00
Testarossa
St. Augustine Vodka, Grand Marnier, Cranberry, Strawberry, Basil – $15.00
Bracé
Old Forester Bourbon, Aperol, Pineapple, Fresh Lime, Simple – $16.00
Effen Mule
Effen Vodka, Fresh Lime, Ginger Beer – $14.00
Negroni
Bulldog Gin, Carpano Antica Vermouth, Campari – $16.00
Ultima Parola
Malfy Gin, Luxardo Maraschino Liqueur, Green Chartreuse, Fresh Lime – $16.00
Peraviglioso
Siesta Key Spiced Rum, St. George Spiced Pear, Fresh Lemon, Simple – $15.00
Paloma
Maestro Dobel Diamante Tequila, Fresh Lime, Fever-Tree Sparkling Grapefruit, Salt Rim – $14.00
Wine and Beer
Assorted Beer – $7.50 – $10.50
Assorted Wine – $10.00 – $28.00
** Il Mulino Menu and Prices are Subject to Change Without Notice **