Resort Restaurants | Walt Disney World Swan Hotel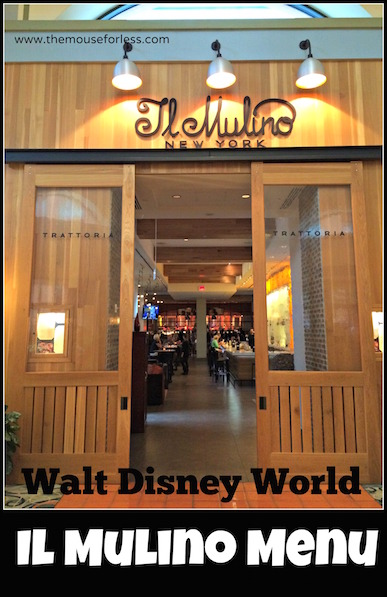 Dinner Menu   Kids Menu  Il Mulino Trattoria Reviews
Traditional Italian cuisine from the Abruzzi region of Italy, served in a dynamic rustic trattoria. Features a diverse offering of exciting and bountifully presented dishes, prepared from original Italian recipes. Live entertainment Friday and Saturday evenings.
Restaurant Info: Italian, Dinner – Ala Carte, $$$
Il Mulino Trattoria Dinner Menu
Menu Date: 11/2016
Antipasti
Arancini – Italian Rice Balls over Spicy marinara Sauce – $9
Prosciutto & Melone – Aged prosciutto with Seasonal Melon – $11
Parmigiano Reggiano / For Two – Aged Parmesan Cheese – $10
Polpette Al Forino – Italian Meatballs with Tomato and Basil and Parmesan Cheese – $12
Insaccati Misti / For Two – A Platter of Italian Delites: Prosciutto, Mortadella, Soprassata, Cacciatorini, Parmigiano Reggiano, Roasted Red Peppers, Cherry Vinegar Peppers, Sun-Dried Tomatoes and Buffalo Mozzarella – $24
Antipasti Di Mare (Appetizers From the Sea)
Gamberi Al Mulino – Jumbo Shrimp with Il Mulino Spicy Cocktail Sauce – $14
Calamari Fritti – Lightly Fried Calamari with a Spicy Marinara Sauce – $15
Gamberi Con Fagioli – Sautéed Jumbo Shrimp over Cannellini Beans and Pancetta – $13
Cozze o Vongole – Mussels or Clams with Garlic White Wine Sauce or Spicy Fra Diavolo – Mussels $13 / Clams $14
Insalate (Salads)
Insalata Trattoria – Seasonal Greens with Carrots, Red Onion with Olive Oil and Toasted Pine Nuts with a Citrus Vinaigrette – $12
Insalata Caesar – The Classic Il Mulino Caesar Salad – $11
Insalata Caprese – Buffalo Mozzarella with Beef Steak Tomatoes and Roasted Peppers – $13
Carpaccio
Carpaccio Di Carne – Thinly Sliced Tuscan-Style Beef served with Arugula, Extra Virgin Olive Oil, Fresh Lemon Juice & Original Carpaccio Sauce – $14
Zuppe (Soups)
Minestrone – Vegetable Soup with Orecchiette – $8
Tortellini in Brodo – Meat Tortellini in Chicken Broth – $8
Pizza
Margherita – Tomato Sauce, Basil and Buffalo Mozzarella – $16
Rustica – Tomato Sauce, Mozzarella and Sliced Pepperoni – $17
Bosco – Tomato Sauce, Mozzarella, Sliced Italian Sausage and Mushrooms – $18
Tre Formaggi – Whole Wheat Pizza with Tomato Sauce, Mozzarella, Locatelli, And Parmigiano Cheese – $16
Risotto
Risotto Con Funghi – Arborio Rice with Wild Mushrooms and Truffle Oil – $27
Risotto Al Fruitti Di Mare – Arborio Rice with Mixed Seafood – $32
Pasta
All of our pasta dishes are available in half order portions.
Pappardelle – Pappardelle with Tomato Basil Sauce – $21
Tortellini Alla Panna – Meat Tortellini and Peas in a Cream Sauce – $23
Spaghetti Carbonara – Spaghetti with Pancetta, Cheese and Egg – $22
Gnocchi Bolognese – Potato Dumplings with Meat Sauce – $25
Rigatoni Con Funghi – Rigatoni with Wild Mushrooms, Spicy Cherry Peppers, Garlic and truffle Oil – $25
Linguine Alle Vongole – Linguine with Red or White Clam Sauce – $26
Penne Rigate – Penne served with our Original Il Mulino Marinara Sauce and Ricotta Cheese – $21
Manicotti – Baked Pasta stuffed with Ricotta and Spinach with a Tomato Sauce – $24
Spaghetti Ai Frutti Di Mare – Baby Shrimp, Clams, Mussels and Calamari in a Spicy Red or Garlic White Wine Sauce – $32
Piatti Per Il Tavolo (Family Style)
Family style items are served for parties of four or more: items are priced per person
Insalata Trattoria – Seasonal Greens with Fennel, Carrots, Red Onion with Olive Oil and Toasted Pine Nuts with a Citrus Vinaigrette – $9
Insalata Caesar – The Classic Il Mulino Caesar Salad – $8
Arancini – Italian Rice Balls – $7
Calamari Fritti – Lightly Fried Calamari with a Spicy Marinara Sauce – $11
Pappardelle – Pappardelle with Tomato Basil Sauce – $12
Gnocchi Bolognese – Potato Dumplings with Meat Sauce – $14
Penne Rigate – Penne served with our Original Il Mulino Marinara Sauce and Ricotta Cheese – $12
Tortellini Alla Panna – Meat Tortellini and Peas in a Cream Sauce – $14
Bistecche (Steaks)
Bistecca Ribeye – 14-Ounce Grilled Boneless RibEye Served with Fried Onions, Sauteed Spinach and Chianti Sauce – $41
Medaglione Di Filetto – 10-Ounce Beef Tenderloin Served with Fried Onions, Sauteed Spinach and Chianti Sauce – $45
Medaglione Di Filetto Con Funghi – 10-Ounce Beef Tenderloin Served with Roasted Potatoes in a Mixed Mushroom Sauce – $45
Pollo (Chicken)
Pollo Fra Diavolo – Boneless Chicken with Sausage in a Spicy Red Sauce – $25
Pollo Parmigiana – Pounded, Breaded Chicken Breast served with Fresh Tomato Sauce and Italian Cheese – $29
Carne (Meats)
Costoletta Di Vitello Milanese – Thinly Pounded Veal Chop, Lightly Breaded and Pan Fried, topped with Arugula, Tomatoes and Red Onion – $42
Costoletta Di Vitello – Single Cut Veal Chop with Sage and Garlic over a Bed of Potatoes – $39
Vitello Parmigiana – Pounded, Breaded Veal with Fresh Tomato Sauce and Italian Cheese – $33
Saltimbocca – Sautéed Veal Scaloppini with Prosciutto served with Spinach, Sage and White Wine Sauce – $34
Costolette Di Maiale – Pork Chop with Cherry Vinegar Peppers and Mushrooms – $28
Pesce (Fish)
Cernia – Seared Grouper with Cherry Tomatoes, Garlic, Pancetta Italian Bacon and White Wine served over Broccoli Rabe – $34
Gamberi Francese – Jumbo Shrimp Egg Battered and Sautéed served with White Wine Lemon Sauce – $30
Salmone – Sautéed Salmon in Garlic and Olive Oil with Wild Mushrooms over Broccoli Rabe – $32
Contorini (Sides)
Spinaci Aglio E Olio – Spinach in Garlic and Olive Oil – $8
Rapini Con Salsiccia – Broccoli Rabe with Sausage and Garlice – $9
Patate Al Rosmarino – Roasted Rosemary Potatoes – $8
Piselli Alla Romana – Romana Style Peas with Pancetta and Onions – $8
Pane Agliato – Il Mulino Garlic Bread – $8
Dolci (Desserts)
Gelato – Italian Ice Cream – $7
Frutti Di Bosco Con Zabaglione – Mixed Berries coated with Marsala Zabaglione – $6
Torta Al Cioccolati – Flourless chocolate cake served with whipped cream and zabaglione – $10
Cheesecake Italiano – Italian Style Cheesecake served with Whipped Cream and Zabaglione – $10
Le Tre Sorbetti – Trio of Flavorful Sorbets – $8
Tartufo – Italian Gelato encased in Chocolate and served with Whipped Cream and Zabaglione – $11
Tiramisu – layered espresso and coffee liqueur infused lady fingers coated with mascarpone cream – $11
Dessert Wines
Michele Chiarlo, Moscato D'Asti – 375ml, 2010 – $31 Bottle
Marco Negri, Moscato D'Asti – 750ml, 2011 – $13 Glass | $52 Bottle
Feudo, Hekate – 500ml, 2005 – $67 Bottle
Far Niente, Dolce, Napa Valley – 375ml, 2006 – $150 Bottle
Meeker, Fro Zin, Sonoma – 375ml, 2005 – $48 Bottle
Inniskillin, Sparkling Ice Wine, Niagara peninsula – 375ml, 2005 – $125 Bottle
Inniskillin, "Vidal", Ice Wine, Niagara Peninsula – 375ml, 2007 – $92 Bottle
Batasiolo Brachetto Spumante – 750ml – $12 Glass | $$48 Bottle
Ports / Sherries
Cockburn's, 10 year Tawny – $8
Cockburn's, Special Reserve – $9.25
Dows 1985 – $18
Dows, 10 year Tawny – $8
Dows, 20 year Tawny – $13.50
Fonseca Bin 27 – $7.25
Graham, 40 year Tawny – $26
Sandeman Founder's Reserve – $7.25
Taylor Fladgate Late Vintage – $7.25
A selection of Wines, Cocktails, Cognacs, Brandys, Armagnacs, Malt Scotches, Bourbons, Grand Marniers, and Fine Cigars also available
Il Mulino Trattoria Kids Menu
Menu Date: 11/2016
Children's Menu (3-9)
Pizza
Margherita – Tomato Sauce and Mozzarella – $12
Pepperoni – Pepperoni with Tomato Sauce and Mozzarella – $13
Pasta
Fettuccini Alfredo – Fettuccini Pasta in Cream Sauce – $12
Penne Rigate – Penne served with Tomato Basil Sauce – $12
Spaghetti Marinara – Spaghetti Pasta Served with our Il Mulino Original Marinara Sauce – $12
Pollo (Chicken)
Chicken Parmigiana – Boneless Breaded Chicken Breast served with Fresh Tomato Sauce and Italian Cheese – $16
** Menu and Prices are Subject to Change Without Notice **