Resort Restaurants | Old Key West Resort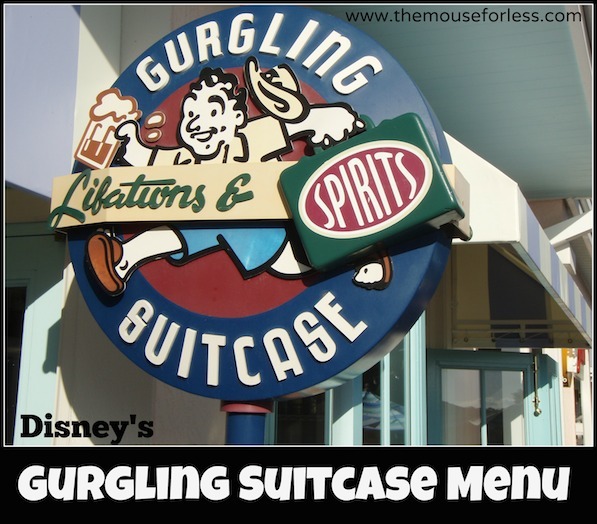 Belly up to this cozy little Key West-style bar and try the Turtle Krawl, Sultry Seahorse or your drink of choice inside or by the pool. Hungry, too? The lunch and dinner menu from Olivia's Cafe is available!
Restaurant Info: American, Lunch/Dinner/Snack, $
Find out how you can save money on dining at Walt Disney World by using one of Disney's Dining Plans.
Gurgling Suitcase Menu
Menu Date: 03/2017
Daily Food Offerings
Onion Rings – Key Lime-Mustard and Mango Ketchup – $6.49
Conch Fritters – Key Lime-Mustard and Remoulade – $11.49
Pulled Pork BBQ Nachos– House-made Potato Chips, Pulled Pork, Jalapeños, Queso Blanco, Pepper Jack Cheese and Tomato Salsa – $8.29
Grouper Bites – Crispy fried Grouper Bites served with Crisp Lettuce Wraps, Grilled-Pineapple Salsa and Remoulade Sauce – $14.99
Gurgling Burger – Fried Green Tomatoes, Crab Salad and Tomato Jam served with House-made Potato Chips – $17.49
Specialty Drinks
Sultry Seahorse – Amaretto, Creme de Banana, Pineapple Juice, Orange Juice, and a float of Cherry Brandy
Turtle Crawl – Coconut and Spiced Rums, Pineapple, Orange and Key Lime Juices, Signature Item
Rum Runner – Bacardi Rum, Creme de Banana, Blackberry Brandy, and Orange and Pineapple Juices with a touch Grenadine
Beer
Blue Moon Belgium Wheat Ale – $7.50
Stella Artois – $8.00
Corona – $7.50
New Belgium Fat Tire – $9.00
Schöfferhofer Pink Grapefruit – $9.00
Sierra Nevada Pale Ale – $9.00
Guinness – $8.50
Angry Orchard Crisp Apple Hard Cider – $8.00
Conch Republic Key Lime Wheat Ale – $8.00
Yuengling – $8.00
Key West Sunset Ale – $8.25
Cigar City Jai Alai – $8.00
7 Mile Bridge IPA – $8.00
Michelob Ultra – $7.50
Kona Longboard Island Lager – $9.00
Goose Island 312 Urban Wheat Ale – $8.00
Bud Light – $7.00
Samuel Adam Seasonal – $8.25
** Menu and Prices are Subject to Change Without Notice **