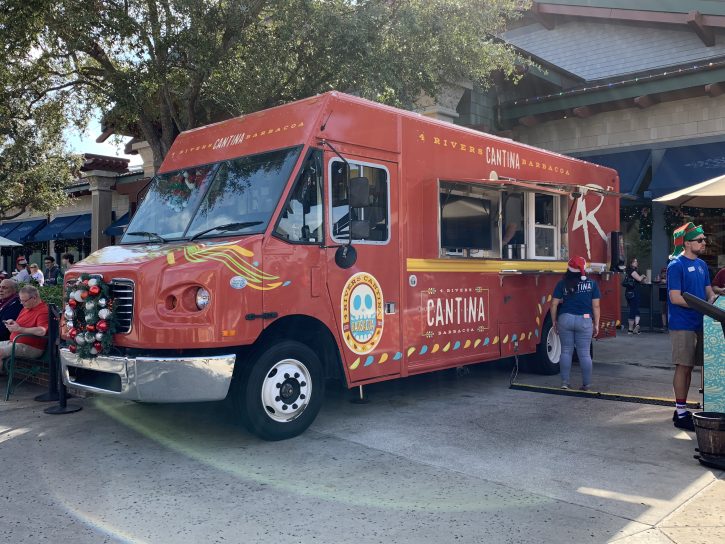 Guests to Disney Springs can now enjoy delicious food trucks cuisine! Exposition Park Food Trucks provide seating for waterside dining and scheduled live entertainment. Trucks typically open from 12:30-11 p.m. daily, weather permitting.
Exposition Parks Food Trucks is located in Disney Springs.  Find more Walt Disney World dining locations on our Walt Disney World menus page.
Restaurant Info: Variety, Dinner, Snack, A la carte, $ – $14.99 and under per adult
4 Rivers Cantina Mac & Cheese Beverages and Desserts Local Green Orlando
Local Green Orlando

Planning a Walt Disney World Vacation?
For a Free no-obligation quote, contact our sponsor
The Magic For Less Travel
. The Magic For Less Travel is an Authorized Disney Vacation Planner and has been helping guests plan magical vacations since 2002. Receive the best prices and free travel planning services. Their fee-free services will help you save time, money, and stress while planning a vacation designed around you and your needs!
4 Rivers Cantina Barbacoa Food Truck
Menu Date: 06/2023
Taco Cone
Choice of filling, Shredded Lettuce, Guacamole, Sour Cream, Pico de Gallo, Queso, Cilantro, Jalapeño and a Lime Wedge – $11.99
Street Tacos (3)
Choice of filling with Guasacaca, Crème Fraiche, Pico de Gallo, Salsa Verde, Queso Fresco and Cilantro in a Flour Tortilla, with Lime and Jalapeño – $11.75
Birria Tacos (3)
Beef Birria on two crispy griddled tortillas with melted Oaxaca cheese. Served with a rich beef jus and onion-cilantro salsa – $11.75
Burrito Bowl
Choice of filling, Black Beans, Salsa Verde, Guacamole, Pico de Gallo, Sour Cream, Queso Fresco, Cilantro, Jalapeño and Corn Tortilla Strips. Served over your choice of Rice or Lettuce – $11.75
Birria Quesadilla
Beef Birria with melted Oaxaca cheese on crispy griddled flour tortilla. Served with a rich beef jus and onion-cilantro salsa – $11.75
Black Beans & Cilantro Rice
Cilantro Lime Rice, Black Beans, Pico de Gallo and Tortilla Chips – $5.99
Mulita
Crispy tortilla stack with melted Oaxaca cheese and choice of filling, topped with queso fresco and onion-cilantro salsa – $12.25
Cantina Trio
Pico de Gallo, Guacamole and Queso with fresh Tortilla Chips – $8.00
Fillings
Adobo Pork • Chicken Tinga • Roasted Sweet Potato • Brisket Barbacoa • Tri-Tip Steak (Add $1.50)
Kid's Cheese Quesadilla  – $5.99
Margarita Bar
Lime Mousse, Graham Cracker Crust, with White Chocolate and Flake Salt – $6.49
Mac & Cheese
Menu Date: 06/2023
Barbequed Beef Macaroni & Cheese
Served with Cheddar, Crispy Onion Rings, and Smokey Sweet Barbeque Sauce – $12.50
Pine Island Florida Shrimp Macaroni & Cheese
Served with Provolone and Toasted Buttery Crackers – $13.00
Chicken Parmesan Macaroni & Cheese
with Creamy Parmesan Sauce, Marinara, Mozzarella and Basil – $11.50
Six-Cheese Crunchy Macaroni & Cheese
topped with Crunchy Cheese Puffs – $9.50
Buffalo Macaroni & Cheese
Buffalo Chicken served with Creamy Provolone Sauce, Shredded Cheddar, House-made Garlic Ranch, Crispy Bacon, and Green Onion – $11.50
Mac & Cheese Fritters
Fried Mac & Cheese with Cotija Cheese – $6.50
Add Chicken or Shrimp to any Entree – $3.00
Beverages  – Exposition Park Food Trucks Menu
Menu Date: 06/2023
Beverages
Assorted Bottled Beverages –  $5.00
Dasani Bottled Water –  $3.75
Powerade –  $5.00
Local Green Orlando
Menu Date 06/2023
Food
Bubba Sparxx
Pulled BBQ Sandwich – $13.99
Badu
Kale and Quinoa Wrap – $15.99
Monsta
Shrimp Burger – $13.99
Oh Boy
Beyond Burger – $15.99
Rappers Delight
Salmon Philly – $16.99
Kids' Meal
Lil' Meal
Beyond Cheese Burger and Fries – $7.99
Sides
Elote Street Corn – $5.99
Air Fries – $5.99
Drinks
Smoothies
Cell Therapy, Kryptonite – $9.99
Lemonades
Green-Hito, Strawberry – $4.99
Bottled Water – $3.99
** Exposition Park Food Trucks Menu and Prices are Subject to Change Without Notice **