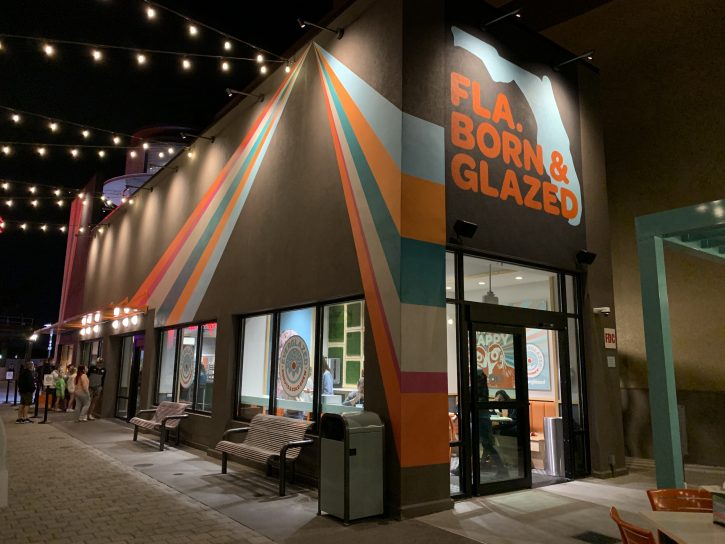 Discover hand-crafted confections featuring mouthwatering yeast and cake donuts with an assortment of cold brew pick-me-ups and a few sweet-yet-savory sandwiches. Immerse yourself in a complete donut experience as you gaze through the windows of the Everglazed working show kitchen where the humble donut is fried, glazed and piled high with a rainbow of toppings.
Everglazed Donuts & Cold Brew is located in Disney Springs. Find more Walt Disney World dining locations on our Walt Disney World menus page.
Restaurant Info: Bakery; Snack/Dessert; $ – $14.99 and under per adult
Find out how you can save money on dining at Walt Disney World by using one of Disney's Dining Plans.

Planning a Walt Disney World Vacation?
For a Free no-obligation quote, contact our sponsor
The Magic For Less Travel
. The Magic For Less Travel is an Authorized Disney Vacation Planner and has been helping guests plan magical vacations since 2002. Receive the best prices and free travel planning services. Their fee-free services will help you save time, money, and stress while planning a vacation designed around you and your needs!
Everglazed Donuts & Cold Brew Menu
Menu Date: 06/2023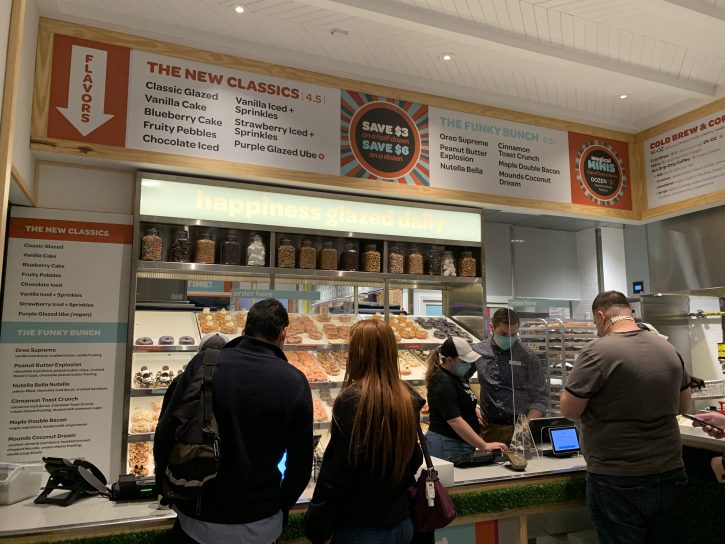 The New Classics
The New Classics – Single – $4.75
Classic Glazed | Chocolate Iced and Sprinkles | Vanilla Iced with Sprinkles | Chef's Cake | Strawberry Iced with Sprinkles | Fruity Pebbles | Purple Glazed Ube
Assorted Donut Holes – 12 Count – $5.00
The Funky Bunch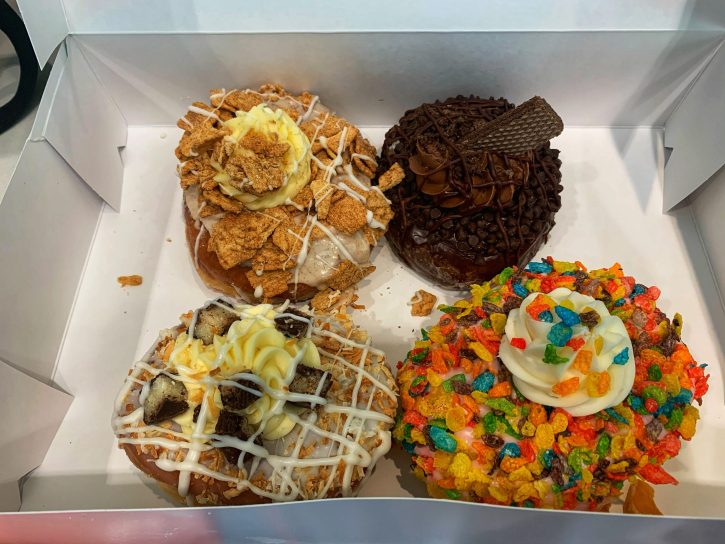 The Funky Bunch – Single – $5.75
Cookies & Cream – Vanilla Iced Donut, OREO® Cookie pieces, Vanilla frosting topped with a whole OREO® Cookie
Peanut Butter Explosion – Chocolate Iced Donut, Peanut Butter Chips, crushed Reese's Cups, Chocolate Peanut Butter Frosting
Nutella Boston Cream – Vanilla Custard-filled Donut and Nutella Icing
Smores Galore – Chocolate Iced Donut, Marshmallow Fluff, giant Toasted Marshmallow and crushed Graham Crackers
Cinnamon Toast Crunch – Cinnamon Iced Donut, crushed Cinnamon Toast Crunch, Cream Cheese Frosting, dusted with Cinnamon Sugar
Maple Double Bacon – Maple Iced Donut loaded with crispy Bacon
Mounds Coconut Dream – Coconut-Almond Iced Donut, Toasted Coconut, chopped Mounds, Cream Cheese frosting, Vanilla Icing drizzle
Brooklyn Blackout – Chocolate Glazed Donut, Chocolate Icing, Mini Chocolate Chips, Chocolate Buttercream and Chocolate Wafer Cookies
Sandwiches
The Donut Burger  – two Patties, American Cheese, Ketchup, Mayo, Lettuce, Tomato, B&B pickles – $13.00
Classic Egg & Cheese – two Eggs topped with American Cheese – $8.00
Breakfast Sammie – two Eggs, American Cheese and your choice of Bacon or Sausage – $10.00
The Funky Chicken – Fried Chicken, Ranch Slaw, BBQ & Spicy Mayo and B&B Pickles – $13.00
The Grilled Cheeeeeese – oodles of cheeses on a griddled Sweet Bun – $7.00
Breakfast Burger – Single burger patty, topped with an Egg, American cheese, and Mayo – $11.00
Fries
Fries – Waffle-style, perfectly seasoned – $6.00
Spicy Fries – topped with Buffalo seasoning, Scallions and spicy Mayo – $7.00
Loaded Fries – topped with Chili, Queso, Bacon, Scallions, Tomato, Cilantro and Sour Cream – $12.00
Cold Brew & Coffee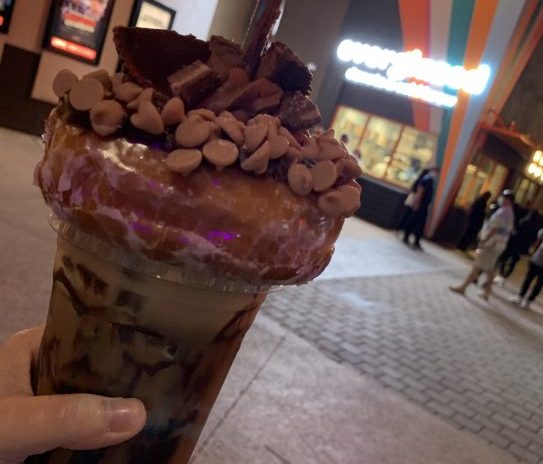 Cold Brew – delicious and on tap! with your choice of Creamer, Sweetener or Syrup – $4.50
Nitro – Cold Brew turbo charged with your choice of Creamer, Sweetener or Syrup – $5.00
Hot Drip-Drip Coffee – freshly roasted with your choice of Creamer, Sweetener or Syrup – $4.00
Dairy
Whole | Skim | Sweet Cream | Half & Half | Heavy Cream
Non-Dairy
Soy | Oat | Coconut – $.75
Sweetener
Sugar | Brown Sugar | Equal | Stevia
Syrup 
Salted Caramel | White Chocolate | Vanilla, Hazelnut | Cinnamon Bun | Peppermint -$50
Cold Foams
Salted Caramel | Cinnamon Bun | Sweet Cream | Seasonal Flavors – $.75
Toppers
Donut Top Special – The Cold Standard and Strawberry Iced Sprinkles Donut – $10.00
Super Chocolate Topper – Double Chocolate Nitro iced beverage and Brooklyn Blackout – $11.00
Cloud 9 Caramel Topper – Salted Caramel iced cold brew and Classic Glazed donut – $11.00
Peanut Butter Topper – Reese's Nitro iced beverage and Peanut Butter Explosion donut – $11.00
Purple Topper – Purple Reign iced chai tea and Purple Glazed Ube donut iced with buttercream – $11.00
Nitros & Iced Specialties
Reese's Nitro – Nitro Cold Brew, Oat Milk infused with Reese's PB Sauce, Peanut Butter and Vanilla syrups, Chocolate drizzle – $6.95
Double Chocolate Nitro – Nitro Cold Brew, Chocolate Milk, Chocolate, and White Chocolate syrups – $6.95
Purple Reign – Iced Chai Tea, Purple Ube Coconut Milk, Coconut syrup, Ube syrup swirl – $6.95
Cold Brew Classics
Peppermint Mocha – Cold Brew, Cream, White Chocolate and Peppermint syrups, Whipped Cream and Candy Cane – $6.50
Vanilla Hazelnut – Cold Brew, Milk, Vanilla and Hazelnut syrups and Whipped Cream – $6.50
Salted Caramel – Cold Brew, Milk, Salted Caramel syrup and Whipped Cream – $6.50
Chocolate Mocha – Cold Brew, Milk, Chocolate and Coffee syrups and Whipped Cream – $6.50
Cinnamon Bun – Cold Brew, Cinnamon Bun syrup, Cinnamon Toast Milk and Whipped Cream – $6.50
The Cold Standard – Cold brew, Cream, Vanilla, and Coffee syrups – $6.50
The Milky Way
Chocolate – $5.00
Strawberry – $5.00
Fruity Pebbles – $6.00
Cinnamon Toast Crunch – $6.00
Soft Drinks
Lemonade – Regular or Strawberry – $4.00
Iced Tea – Sweet, Unsweetened, Raspberry or Peach – $4.00
Assorted Coca-Cola® Fountain Sodas – $4.00
DASANI® Bottled Water – $5.00
** Everglazed Donuts & Cold Brew Menu and Prices are Subject to Change Without Notice **