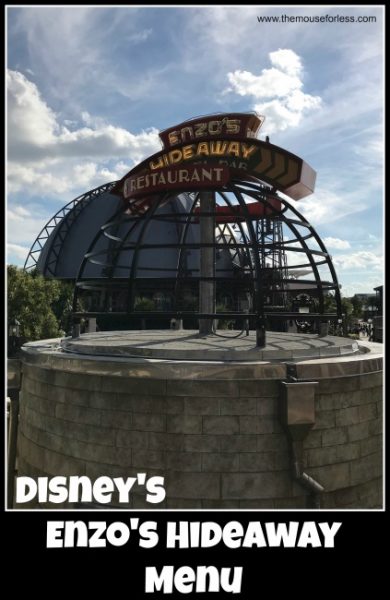 At Enzo's Hideaway, sip on Prohibition-era cocktails and enjoy delicious bites at a tunnel bar exuding an intimate, 1920s speakeasy-vibe.
Inspired by Florida's secretive "rum-running" past, this watering hole specializes in barrel-aged cocktails and has the largest selection of rums and scotches than any other restaurant at Disney Springs.
When you're craving something savory to sink your teeth into, reach for Enzo's Hideaway's food menu brimming with satisfying options like imported meats and cheeses, rustic pasta dishes and a collection of Italian-inspired entrees.
Enzo's Hideaway is located in Disney Springs.  Find more Walt Disney World dining locations on our Walt Disney World menus page.
Restaurant Info: Italian
Find out how you can save money on dining at Walt Disney World by using one of Disney's Dining Plans.

Planning a Walt Disney World Vacation?
For a Free no-obligation quote, contact our sponsor
The Magic For Less Travel
. The Magic For Less Travel is an Authorized Disney Vacation Planner and has been helping guests plan magical vacations since 2002. Receive the best prices and free travel planning services. Their fee-free services will help you save time, money, and stress while planning a vacation designed around you and your needs!
Enzo's Hideaway Lunch Menu
Menu Date: 07/2022
Piccoli Piatti
Available Monday through Friday from 11:30am – 3:30pm
Calamari
hot cherry peppers, spicy marinara, garlic aïoli – $11.00
Caprese
fresh mozzarella, toy box cherry tomatoes, basil, aged balsamic, extra virgin olive oil – $11.00
Polpettine
classic braised meatballs, whipped ricotta, parmigiano – $11.00
Cured Meats & Artisan Cheeses
Prosciutto di Parma, Salame Piccante, Finocchiona, Parmigiano, Pecorino, Fontina, Cured Olives, Grissini (bread sticks) – $16.00
Prosciutto e Melone
prosciutto di parma, melon, aged balsamic, baby arugula, extra virgin olive oil – $11.00
Marinated Olives
garlic, citrus & herb marinated olives – $9.00
Focaccia Della Casa
housemade focaccia, whipped ricotta, lemon extra virgin olive oil, sea salt, cracked pepper – $11.00
Caesar Salad
Enzo's favorite recipe; romaine lettuce, ciabatta croutons, parmigiano. Add Chicken $9 or Shrimp $10 – $11.00
Misticanza
mixed organic greens, fennel, rainbow carrots, tomatoes, honey crisp apple, parsley, oregano, white balsamic vinaigrette. Add Chicken $9 or Shrimp $10 – $9.00
Rucola
baby arugula, radicchio, gorgonzola dolce, pear, candied walnuts, aged balsamic, extra virgin olive oil. Add Chicken $9 or Shrimp $10 – $11.00
Dolce Vita
Available Saturday and Sunday from 11:30am – 3:30pm
Cured Meats & Artisan Cheeses (serves two people)
Prosciutto di Parma, Salame Piccante, Finocchiona, Parmigiano, Pecorino, Fontina, Cured Olives, Grissini (bread sticks); (serves two people) – $32.00
Insalate
Available Saturday and Sunday from 11:30am – 3:30pm
Caesar Salad*
Enzo's favorite Caesar Salad recipe with Romaine Lettuce, Ciabatta Croutons and Parmigiano. Add Chicken $9 or Shrimp $10 – $11.00
Caesar Salad*
Enzo's favorite Caesar Salad recipe with Romaine Lettuce, Ciabatta Croutons and Parmigiano. Add Chicken $9 or Shrimp $10 – $16.00
Rucola
Baby Arugula, Radicchio, Gorgonzola Dolce, Pear, Aged Balsamic, Extra Virgin Olive Oil. Add Chicken $9 or Shrimp $10 – $11.00
Rucola
Baby Arugula, Radicchio, Gorgonzola Dolce, Pear, Aged Balsamic, Extra Virgin Olive Oil. Add Chicken $9 or Shrimp $10 – $16.00
Misticanza Salad
Mixed Organic Greens, Fennel, Rainbow Carrots, Tomatoes, Honey Crisp Apple, Parsley, Oregano and White Balsamic Vinaigrette. Add Chicken $9 or Shrimp $10 – $9.00
Misticanza Salad
Mixed Organic Greens, Fennel, Rainbow Carrots, Tomatoes, Honey Crisp Apple, Parsley, Oregano and White Balsamic Vinaigrette. Add Chicken $9 or Shrimp $10 – $14.00
Panini
Available Saturday and Sunday from 11:30am – 3:30pm
Pollo Grigliato
Toasted ciabatta sandwich, grilled chicken, baby arugula, cucumber, pickled red onion, Kalamata olives, feta cheese, mixed greens salad – $17.00
Polpettine
Toasted ciabatta sandwich, Enzo's meatballs, marinara, provolone, parmigiano, mixed greens salad – $17.00
Porchetta
Toasted ciabatta sandwich, roasted pork belly, baby arugula, grana padano, extra virgin olive oil, mixed greens salad – $18.00
Vedure
Toasted ciabatta sandwich, roasted eggplant, zucchini, red peppers, portobello mushroom, baby arugula, salsa verde, mixed greens salad – $17.00
Secondi
Available Saturday and Sunday from 11:30am – 3:30pm
Spaghetti e Polpette
Marinara, Meatballs, Parmigiano and Basil – $23.00
Ravioli Ai Formaggi
Pomodoro sauce, Basil, Pesto – $22.00
Rigatoni Al Ragu Bolognese
house made paccheri pasta, veal, pork, and beef ragu, ricotta, extra virgin olive oil, parmigiano – $23.00
Linguine Alla Burrata
Roasted Mushroom, Baby Spinach, Burrata, White Wine, Mushroom Brodetto, Pecorino – $23.00
Dolci
Available Saturday and Sunday from 11:30am – 3:30pm
Cannoli Siciliano
Sweet Ricotta, Chocolate Chips and Candied Orange – $12.00
Torta della Nonna
Grandma's Lemon Custard Tart, Pinenuts and Almonds – $12.00
Gelato
Chocolate or Crema – $10.00
Tiramisu
Layered Lady Fingers, Mascarpone Cream, Coffee, Cocoa Powder – $12.00
Chocolate Ganache
Bittersweet Chocolate Tart, Toasted Marshmallow Meringue and Orange Caramel – $12.00
Specialty Beverages and Mocktails
Fragola Mule
Strawberry Purée, Ginger Beer, Lemon Juice, Sprite, fresh Strawberries – $8.00
Amalfi Coast
White Cranberry, Lemon Juice, Simple Syrup, Sprite, Blue Food Coloring, Lemon Garnish – $7.00
Taste of Primavera
Strawberry Purée, Soda Water, Sprite, Cucumbers, fresh Strawberries – $12.00
Espresso Drinks
Americano
Regular or Decaf – $5.00
Caffè Latte
Espresso with Hot Milk – $5.50
Cappuccino
Espresso with Hot Milk and Milk Foam – $5.50
Espresso – Double – $5.50
Espresso – Single – $4.50
Espresso Freddo Shakerto
Espresso, Cold Milk, and Ice – $6.00
Sangria and Spirits
Maria's White Sangria
Santa Cristina Pinot Grigio, St~Germain, Peach Schnapps, Seasonal Fresh Fruits, Orange, Cinnamon Simple Syrup – $39.00 Carafe / $15.00 Glass
Enzo's Red Sangria
Burgundy, Malbec Wine, Peach, Apricot Brandy, Grand Marnier, Seasonal Fresh Fruits and Spiced Cinnamon Simple Syrup – $39.00 Carafe / $15.00 Glass
Luciano Spritz
Combier Orange Liquor, Aperol, blood orange juice, prosecco – $39.00 Carafe / $15.00 Glass
Wine and Beer
Assorted Sparkling, Rosé, White Wine – $49 – $135 bottle, $12 – $23 glass
Assorted Red Wine – $53 – $200 bottle, $13 – $24 glass
Assorted Beer – $10 – $12
Signature Alcoholic Beverages
Enzo's Rum Punch
Flor de Cana 7 year, Chambord, orange juice, cherry juice, and pineapple juice – $18.00
Gin Con Aqua Tonica
Malfy Gin, St. Germain, Carpano Antica, Tonic, Rosemary – $17.00
Hazelnut Old Fashioned
Knob Creek, Frangelico, Orange, Luxardo Maraschino Cherry- $17.00
Limoncello Gimlet
Hendricks's Gin, Caravella Limoncello, Simple Syrup, Thyme – $18.00
Sicilian Mule
Titos Vodka, Ginger Beer, Orange Juice, Lime Juice – $15.00
Paloma Italiana
Herradura Blanco Tequila, Grapefruit, Lime Juice, Agave, Orange Bitters – $18.00
Negroni Sbagliato
Campari, Carpano Antica, Prosecco – $18.00
Strawberry Fields
Bulleit Bourbon, Fernet Branca, Strawberry Syrup, Lemon, Ginger, Cucumber – $16.00
Gentleman's Sour
Gentleman Jack Whiskey, Lemon Juice, Bitters, Simple Syrup – $19.00
Martinis
Enzo's Cosmopolitan
Absolut Citron, Cointreau, Pomegranate Juice – $17.50
Plant City
Absolut Vodka, fresh Strawberry, Simple Syrup – $16.00
Dirty
Titos Vodka, Carpano Dry, Filthy Olive Wash, Filthy Gorgonzola-stuffed Olive – $19.00
Enzo's Hideaway Dinner Menu
Menu Date: 07/2022
Piccoli Piatti
Calamari
Hot Cherry Peppers, Spicy Marinara Sauce and Garlic Aioli – $19.00
Burrata Caprese
Tomatoes, Basil, Extra Virgin Olive Oil, Sea Salt and Housemade Focaccia – $19.00
Polpettine
Classic Braised Meatballs, Whipped Ricotta, and Parmigiano – $19.00
Caesar Salad*
Enzo's favorite Caesar Salad recipe with Romaine Lettuce, Ciabatta Croutons and Parmigiano. Add Chicken $9 or Shrimp $10 – $11.00
Caesar Salad*
Enzo's favorite Caesar Salad recipe with Romaine Lettuce, Ciabatta Croutons and Parmigiano. Add Chicken $9 or Shrimp $10 – $16.00
Misticanza Salad
Mixed Organic Greens, Fennel, Rainbow Carrots, Tomatoes, Honey Crisp Apple, Parsley, Oregano and White Balsamic Vinaigrette. Add Chicken $9 or Shrimp $10 – $10.00
Misticanza Salad
Mixed Organic Greens, Fennel, Rainbow Carrots, Tomatoes, Honey Crisp Apple, Parsley, Oregano and White Balsamic Vinaigrette. Add Chicken $9 or Shrimp $10 – $15.00
Dolce Vita
Cured Meats & Artisan Cheeses (serves two people)
Prosciutto di Parma, Salame Piccante, Finocchiona, Parmigiano, Pecorino, Fontina, Cured Olives, Grissini (bread sticks); (serves two people) – $36.00
Secondi
Spaghetti e Polpette
Marinara, Meatballs, Parmigiano and Basil – $30.00
Linguine Alla Burrata
Roasted Mushroom, Baby Spinach, Burrata, White Wine, Mushroom Brodetto, Pecorino – $29.00
Pasta Della Nonna
Rigatoni Pasta, Short Rib, Meatball and Sausage, Pomodoro Sauce, Parmigiano – $38.00
Eggplant Parmigiana
Thin layers of Eggplant, Marinara, Fior di Latte Mozzarella, Parmigiano, Basil and Spaghetti Pomodoro – $29.00
Ravioli Formaggi
Pomodoro sauce, Basil, Pesto – $28.00
Lemon-Oregano Pollo Arrosto
Creamy Polenta, Fontina, Roasted Carrots and Cipollini Onions – $32.00
Salmon Alla Griglia
Grilled Salmon, Crispy Potatoes, Broccolini with Chile and Garlic, Salmoriglio – $36.00
Bistecca Alla Griglia
Grilled 16 oz. Certified Angus Ribeye, Balsamic Glazed Carrots, Green Beans, Rosemary Parmigiano Potatoes – $52.00
Dolci
Cannoli Siciliano
Sweet Ricotta, Chocolate Chips and Candied Orange – $16.00
Torta della Nonna
Grandma's Lemon Custard Tart, Pinenuts and Almonds – $15.00
Gelato
Chocolate or Crema – $12.00
Tiramisu
Layered Lady Fingers, Mascarpone Cream, Coffee, Cocoa Powder – $16.00
Chocolate Ganache
Bittersweet Chocolate Tart, Toasted Marshmallow Meringue and Orange Caramel – $15.00
Specialty Beverages and Mocktails
Fragola Mule
Strawberry Purée, Ginger Beer, Lemon Juice, Sprite, fresh Strawberries – $8.00
Amalfi Coast
White Cranberry, Lemon Juice, Simple Syrup, Sprite, Blue Food Coloring, Lemon Garnish – $7.00
Taste of Primavera
Strawberry Purée, Soda Water, Sprite, Cucumbers, fresh Strawberries – $12.00
Espresso Drinks
Americano
Regular or Decaf – $5.00
Caffè Latte
Espresso with Hot Milk – $5.50
Cappuccino
Espresso with Hot Milk and Milk Foam – $5.50
Espresso – Double – $5.50
Espresso – Single – $4.50
Espresso Freddo Shakerto
Espresso, Cold Milk, and Ice – $6.00
Sangria and Spirits
Maria's White Sangria
Santa Cristina Pinot Grigio, St~Germain, Peach Schnapps, Seasonal Fresh Fruits, Orange, Cinnamon Simple Syrup – $39.00 Carafe / $15.00 Glass
Enzo's Red Sangria
Burgundy, Malbec Wine, Peach, Apricot Brandy, Grand Marnier, Seasonal Fresh Fruits and Spiced Cinnamon Simple Syrup – $39.00 Carafe / $15.00 Glass
Luciano Spritz
Combier Orange Liquor, Aperol, blood orange juice, prosecco – $39.00 Carafe / $15.00 Glass
Wine and Beer
Assorted Sparkling, Rosé, White Wine – $49 – $135 bottle, $12 – $23 glass
Assorted Red Wine – $53 – $200 bottle, $13 – $24 glass
Assorted Beer – $10 – $12
Signature Alcoholic Beverages
Enzo's Rum Punch
Flor de Cana 7 year, Chambord, orange juice, cherry juice, and pineapple juice – $18.00
Gin Con Aqua Tonica
Malfy Gin, St. Germain, Carpano Antica, Tonic, Rosemary – $17.00
Hazelnut Old Fashioned
Knob Creek, Frangelico, Orange, Luxardo Maraschino Cherry- $17.00
Limoncello Gimlet
Hendricks's Gin, Caravella Limoncello, Simple Syrup, Thyme – $18.00
Sicilian Mule
Titos Vodka, Ginger Beer, Orange Juice, Lime Juice – $15.00
Paloma Italiana
Herradura Blanco Tequila, Grapefruit, Lime Juice, Agave, Orange Bitters – $18.00
Negroni Sbagliato
Campari, Carpano Antica, Prosecco – $18.00
Strawberry Fields
Bulleit Bourbon, Fernet Branca, Strawberry Syrup, Lemon, Ginger, Cucumber – $16.00
Gentleman's Sour
Gentleman Jack Whiskey, Lemon Juice, Bitters, Simple Syrup – $19.00
Martinis
Enzo's Cosmopolitan
Absolut Citron, Cointreau, Pomegranate Juice – $17.50
Plant City
Absolut Vodka, fresh Strawberry, Simple Syrup – $16.00
Dirty
Titos Vodka, Carpano Dry, Filthy Olive Wash, Filthy Gorgonzola-stuffed Olive – $19.00
Enzo's Hideaway Kids' Menu
Menu Date: 07/2022
Kids' Starters (choice of one)
Fried Cheese Bites with Marinara
Fruit Salad
Kids' Main Course (choice of one)
Spaghetti & Meatball – $16.00
Chicken Tenders and Fries – $16.00
Slice of Pizza – $16.00
Kids' Sweets (choice of one)
Ice Cream – Chocolate or Vanilla
Kids' Beverage (choice of one)
Milk
Soda
Apple Juice
** Enzo's Hideaway Menu and Prices are Subject to Change Without Notice **