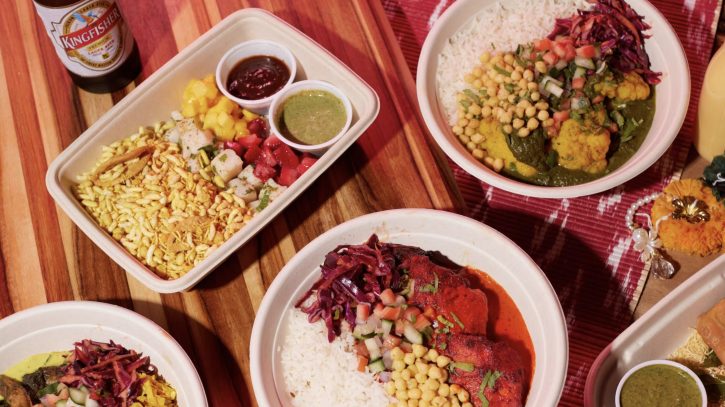 Image Courtesy the Walt Disney Company
At eet by Maneet Chauhan, you can experience authentic Indian cuisine created by celebrity Chef Maneet Chauhan in a fast-casual environment.
Enjoy shareable dishes, including Bread Service with Pimento Whipped Paneer or the Tandoori Chicken Poutine. You can also order naan pizzas, salads, make-your-own bowls, and much more, at the first Indian restaurant at Walt Disney World.
eet by Maneet Chauhan is located in the Marketplace section of Disney Springs.  Find more Walt Disney World dining locations on our Walt Disney World Resort menus page.
Restaurant Info: Indian, Lunch/Dinner A la carte, $$ – $15 to $34.99 per adult
Note: eet by Maneet Chauhan is expected to open in November 2023
Find out how you can save money on dining at Walt Disney World by using one of Disney's Dining Plans.

Planning a Walt Disney World Vacation?
For a Free no-obligation quote, contact our sponsor
The Magic For Less Travel
. The Magic For Less Travel is an Authorized Disney Vacation Planner and has been helping guests plan magical vacations since 2002. Receive the best prices and free travel planning services. Their fee-free services will help you save time, money, and stress while planning a vacation designed around you and your needs!
Menu Date: 2023
eet Lunch and Dinner Menu
Shareables
eet Bread Service with Pimento Whipped Paneer – $18.00
buttered naan, garlic naan, pimento whipped paneer cheese, masala vegetable sticks, indian pickle, coriander honey, chutneys
Tandoori Chicken Poutine – $14.00
chaat masala fries, tandoori chicken, white cheddar curds, rich tomato butter sauce
D.I.Y. Pani Puri – $12.00
(7 pcs.) crispy semolina puffs, black garbanzo beans, potatoes, tamarind, date chutney, mint cilantro water
Walking Taco – $12.00
crunchy indian puff snacks, spicy pork chili, indian pico de gallo, tamarind chutney, cojita cheese
Samosas – $9.00
(2 pcs.) savory potato & pea pastry, tamarind chutney, mint chutney
Pizza and Breads
Chicken Tikka Naan Pizza – $14.00
chicken kabab, rich tomato butter sauce, mozzarella, parmesan
Saag Paneer Naan Pizza – $14.00
saag spinach sauce, paneer tikka, mozzarella, parmesan
Spicy Green Chili Naan – $6.00
green chilies, cilantro, clarified butter
Garlic Naan – $5.00
garlic, kasoori methi, clarified butter
Buttered Naan – $4.00
traditional indian flatbread
Market Fresh
Street Style Puffed Rice Salad – $12.00
crispy puffed rice, mango, strawberry, potato, cilantro, tamarind chutney, mint chutney
Samosa Chopped Salad – $15.00
chopped lettuces, cucumber, radish, tomato, garbanzo, mini samosa croutons, chaat vinaigrette
Enhance Your Salad – $5.00
tandoori chicken | paneer tikka | basil cilantro shrimp | masala roasted cauliflower
Build Your Own Bowl
BYOB – $18.00
includes pickled red cabbage, indian pico de gallo, and masala chickpea pearls | choose base, kabab, and sauce
Pick Your Base
cumin basmati rice | turmeric riced cauliflower | fresh salad greens
Pick Your Kabab
tandoori chicken | paneer tikka | basil cilantro shrimp | masala roasted cauliflower
Pick Your Sauce
tikka (aromatic buttery tomato sauce) | saag (rich earthy spinach sauce) | moilee (golden coconut curry sauce) | korma (cashew saffron sauce) | bhunna (classic indian curry sauce)
Kids
Lil' Naan Pizza – $9.00
tomato sauce and mozzarella cheese with choice of fresh fruit or fries and served with apple juice
Lil' Sliders – $9.00
two hawaiian roll sliders, beef patties, and american cheese with choice of fresh fruit or fries and served with apple juice
Crispy Chicken Fingers – $9.00
served with ranch, choice of fresh fruit or fries, and served with apple juice
Desserts
Gulab Juman Cheesecake – $9.00
NY-style cheesecake, gulab jamun, strawberries, saffron, cardamon
Chocolate & Strawberry Naan – $8.00
chocolate sauce, strawberry sauce, white chocolate, diced strawberries, fresh mint
Signature Drinks
eet House Wines – $12.00
pinot noir, pinot gris, sparkling
eet Citra Pale Ale – $8.00
Boozy Slushies – $12.00
seasonal selections
Vanilla Cardamom Yogurt Lassi – $5.00
Mango Yogurt Lassi – $5.00
** eet Menu and Prices are Subject to Change Without Notice **