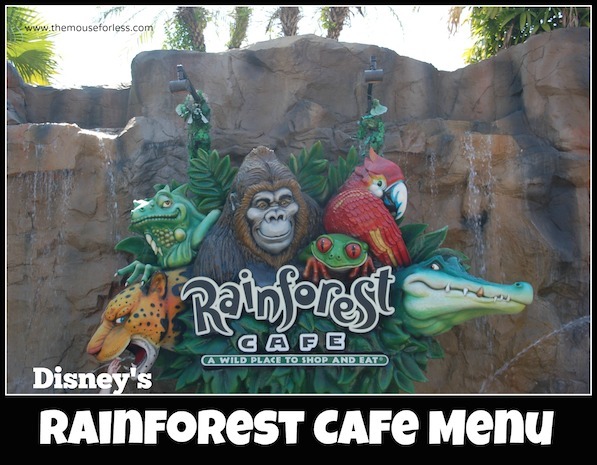 Go wild at Rainforest Cafe – a family restaurant – with cascading waterfalls, erupting volcanoes, animated jungle creatures, thunder, lightning, and outstanding food.
Rainforest Cafe is located in Disney Springs.  Find more Walt Disney World dining locations on our Walt Disney World menus page.
Restaurant Info: American, Breakfast/Lunch/Dinner A la carte, $$ – $15 to $34.99 per adult

Planning a Walt Disney World Vacation?
For a Free no-obligation quote, contact our sponsor
The Magic For Less Travel
. The Magic For Less Travel is an Authorized Disney Vacation Planner and has been helping guests plan magical vacations since 2002. Receive the best prices and free travel planning services. Their fee-free services will help you save time, money, and stress while planning a vacation designed around you and your needs!
Rainforest Cafe Lunch and Dinner Menu
Menu Date: 08/2022
Appetizers
Awesome Appetizer Adventure
Chimi-Cha-Chas, Spinach & Artichoke, Cheese Sticks, Chicken Strips. Add a side of St Louis-style Pork Spareribs $10.99 – $23.99
Chicken Quesadillas
Cajun Chicken, Monterey Jack, Cheddar and Pico de Gallo – $15.99
Spinach & Artichoke Dip – $13.49
Chicken Strips – $13.99
Cheese Sticks – $13.99
Beef Lava Nachos (For Two)
Peppers, onions, black beans, Monterey Jack cheese, cheddar cheese, green onions, sour cream, pico de gallo, salsa – $20.99
Mozzarella Flatbread with Arugula
Marinara sauce and Mozzarella topped with Arugula, Tomato & Shaved Parmesan Salad, Balsamic Glaze – $15.99
Pepperoni Flatbread – $15.99
Soups & Salads
Soup of the Day – $10.99
Little Islander Caesar Salad – $10.49
Big Island Caesar Salad – $18.99
Big Islander Chicken Caesar Salad – $22.99
Big Islander Shrimp Caesar Salad – $23.99
Volcanic Cobb Salad
Grilled chicken, blue cheese, black olives, tomatoes, egg, cucumber, bacon, green onions, balsamic vinaigrette – $22.99
Ancient Grain Bowl
Ancient grains, roasted vegetables, citrus vinaigrette, pico de gallo – $17.99
Ancient Grain Bowl with Chicken
Ancient grains, roasted vegetables, citrus vinaigrette, pico de gallo – $21.99
Ancient Grain Bowl with Shrimp
Ancient grains, roasted vegetables, citrus vinaigrette, pico de gallo – $22.99
China Island Chicken Salad
Grilled chicken, mixed greens, mandarin oranges, sesame seeds, carrots, rice noodles, green onions, wonton strips, China Island dressing – $22.49
Paradise House Salad
Mixed Greens, Roma Tomatoes, Carrots, Cucumbers, Croutons, choice of Dressing – $10.49
Sandwiches and Burgers
Rainforest Burger*
with American Cheese. All burgers served with lettuce, tomato, onion and pickle on the side. All served with Safari fries. Add Bacon, Sautéed Mushrooms, or Guacamole $3.99 – $19.99
Pulled Pork Burger*
Burger Patty with BBQ Pulled Pork, Coleslaw, and Crispy-fried Onions served with with Safari Fries – $21.99
The Beastly Burger*
with Two Patties, American Cheese. All burgers served with lettuce, tomato, onion and pickle on the side. All served with Safari fries. Add Bacon, Sautéed Mushrooms, or Guacamole $3.99 – $23.99
Iggy's Piggy Sandwich
Slow cooked Cuban style Pork, Sliced Ham, Swiss Cheese, Pickles, Creole Mustard served with with Safari Fries – $21.99
Blue Mountain Chicken Sandwich
Lemon Grilled Chicken, Bacon, Swiss cheese, Roasted Red Peppers, Lettuce, and Zesty Safari Sauce served with with Safari Fries – $21.99
BBQ Bacon Cheeseburger*
with Smokin' Mojo BBQ Sauce, Cheddar cheese, Bacon. All burgers served with lettuce, tomato, onion and pickle on the side. All served with Safari fries. – $21.99
Beyond Burger®
with Plant-based Patty, Swiss cheese, Caramelized Onions, Spicy Boom Boom sauce. All burgers served with lettuce, tomato, onion and pickle on the side. All served with Safari fries. – $22.99
Jungle Turkey Wrap
Shaved Turkey Breast, Tomatoes, Bacon, Lettuce, Caesar Dressing, Flour Tortilla, Coleslaw. Served with Safari fries. – $18.99
Seafood
Taste of the Islands
Caribbean Coconut Shrimp, dynamite scallops and shrimp, blackened tilapia topped with pineapple salsa, seasonal vegetables – $32.99
Fish-n-Chips
Served English-style, coleslaw, Safari fries – $24.99
Fried Shrimp
Coleslaw, Safari Fries – $26.99
Caribbean Coconut Fried Shrimp
Coleslaw, plum sauce, Safari fries – $26.99
Shrimp Tacos
Fried shrimp, jalapeño ranch, red cabbage, citrus vinaigrette, pico de gallo, black beans – $23.99
Blackened Fish Tacos
Jalapeño ranch, red cabbage, citrus vinaigrette, pico de gallo, black beans – $21.99
Aloha Salmon & Shrimp
Hawaiian glazed salmon and shrimp, seasonal vegetables, Jasmine rice – $31.99
Beef, Pork & Chicken
Ribs, Steak & Shrimp Trio*
Mojo Bone Ribs, sirloin steak, Caribbean Coconut Shrimp, coleslaw, Safari fries – $38.99
Mojo Bones
Half rack of St. Louis style pork spareribs, Smokin' Mojo BBQ sauce, coleslaw, Safari fries. Add an additional Half Rack of Ribs $14.99 – $28.99
Korean Spicy Stir-Fry Chicken
Chicken, broccoli, carrots, Korean sauce, Mandarin oranges, peppers, crispy wontons, red cabbage, green onions, sesame seeds, Jasmine rice – $25.99
Jungle Steak and Shrimp
Sirloin steak, Shrimp Scampi, Caribbean Coconut Shrimp, seasonal vegetables – $36.99
Top Sirloin*
Sirloin steak, red skinned mashed potatoes, seasonal vegetables – $31.99
Primal Steak*
Aged USDA choice center-cut NY strip steak, char-broiled, red skinned mashed potatoes, seasonal vegetables – $41.99
Pasta
Pastalaya (Spicy)
Shrimp, Sautéed Chicken, Bell Peppers, Onions, Tomatoes, Andouille Sausage, Hot and Spicy Cajun Sauce, Linguini. – $25.99
Rasta Pasta
Sautéed chicken, broccoli, red peppers, spinach, garlic, penne pasta. Choice of Pesto or Alfredo sauce. Substitute Shrimp add $5.00 – $22.99
Anaconda Pasta
Gluten sensitive pasta, local garden vegetables, mushrooms, basil, shaved parmesan cheese, red pepper flakes, white wine tomato sauce. Add chicken $5 Add shrimp $6 – $21.99
Creole Mac & Cheese
Shrimp, Andouille Sausage, Peppers, Red Onion, Cheese Sauce, Chili Butter Bread Crumbs, Penne Pasta – $21.99
Add-ons
Grilled Shrimp – $9.99
Fried Shrimp – $9.99
Coconut Shrimp – $9.99
Shrimp Scampi – $9.99
St. Louis Style Pork Spareribs – $10.99
Sides
Seasonal Vegetables – $5.99
Caribbean Rice – $5.99
Safari Fries – $5.99
Coleslaw – $5.99
Tortilla Chips – $5.99
Red Skinned Mashed Potatoes – $5.99
Desserts
Sparkling Volcano (For Four)
A giant rich chocolate brownie caked stacked up high, served warm with vanilla ice cream, creamy whipped topping, caramel and chocolate sauces – $20.99
Tribal Cheesecake
New York style cheesecake with creamy whipped topping, raspberry and chocolate sauces – $12.99
Key Lime Pie
Raspberry sauce, creamy whipped topping – $12.99
Smoothies & Freezes (You Keep the Glass!)
Rainforest Ricky Freeze – Mix of apple, pineapple, orange, strawberry and grapefruit juices. Available over ice or straight up
Brazilian Freeze – Coconut, pineapple, raspberry puree, and banana blended with ice
Swimming Hole – Refreshing blend of lemonade and Monin Mango and Blue Curaçao Syrups
Key Wester – Strawberries and bananas blended with nonfat frozen yogurt
Raspberry Lemonade Freeze – "Pucker up" with this blend of raspberry puree and frozen lemonade
Strawberry Lemonade – A refreshing lemonade made with real strawberries
Specialty Cocktails
Fusion Margarita served in a Souvenir Glass
Cazadores Blanco Tequila, Bacardi Pineapple Rum, Midori Melon Liqueur, pineapple juice, sweet and sour – $15.50
Blue Nile served in a Souvenir Glass
Cruzan Mango Rum, DeKuyper Blue Curaçao Liqueur, Finest Call Blood Orange Sour with Sweet and Sour – $15.50
Strawberry Mojito served in a Souvenir Glass
Cruzan Strawberry Rum, strawberry purée and sweet and sour muddled with fresh mint and lime, topped with Sprite® – $15.50
Tropical Getaway served in a Souvenir Glass
Pinnacle Tropical Punch Vodka, tropical juices and Finest Call Grenadine – $15.50
Island Daiquiri served in a Souvenir Glass
Bacardi Superior Rum with choice of strawberry, piña colada, raspberry – $15.50
Rainbow Colada served in a Souvenir Glass
Captain Morgan Original Spiced Rum, strawberries, bananas, piña colada mix, pineapple juice – $15.50
Beso Del Sol Sangria
100% Spanish Tempranillo wine, natural citrus juices, cinnamon – $15.50
Mongoose Mai Tai served in a Souvenir Glass
Don Q Coconut Rum, Myers's Original Dark Rum DeKuyper Créme de Almond Liqueur, orange and pineapple juices – $15.50
Cheetah Rita
Our premium Margarita with Sauza Blue Silver Tequila, Patrón Citrónge Orange Liqueur and fresh lime juice – $15.50
Panama Punch served in a Souvenir Glass
Don Q 151 Rum, Myers's Original Dark Rum, peach schnapps, 99 Bananas Liqueur, créme de cassis, orange and pineapple juices – $15.50
Coronarita
Frozen margarita topped with a Coronita Extra (Not available in souvenir glass) – $14.00
Moscow Mule
New Amsterdam Vodka, fresh lime juice, ginger beer (Not available in souvenir glass) – $12.00
Dragonberry Mule
Bacardi Dragon Berry Rum, St-Germaine Elderflower Liqueur, strawberry purée, ginger beer, fresh lime juice (Not available in souvenir glass) – $12.00
Rainforest Cafe Kids Menu
Menu Date: 08/2022
Kids' Entrees
All Kids' Entrees include a choice of side and choice of drink
Macaroni & Cheese – Pasta with cheese sauce- $10.99
Python Pasta – Served with your choice of Alfredo or Marinara sauce or butter – $10.99
Castaway Kid's Pizza – Cheese or Pepperoni – $10.99
Grilled Chicken – $10.99
Hot Dog – $10.99
Rainforest Rascals – Char-grilled mini burgers – $10.99
Poppin' Shrimp – Popcorn shrimp – $10.99
Jurassic Chicken Tidbits – Dinosaur-shaped chicken nuggets. Substitute Chicken Fingers for $1.00 – $10.99
Gorilla Grilled Cheese Delight – American Cheese on Texas toast – $10.99
Chicken Quesadilla – $10.99
Shrimpkens – Popcorn shrimp & Jurassic chicken tidbits – $10.99
Kids' Sides
Apple Sauce

Corn
Fresh Fruit
Steamed Veggies
Mashed Potatoes
Potato Chips
Fries
Kids' Beverages
2% Milk
Apple Juice
Capri Sun Roarin' Waters
Coca Cola Soft Drinks
Kids' Desserts
Lava Mud – Creamy chocolate pudding with crushed Oreo cookies and gummy worms – $4.99
Tuki's Ice Cream Sandwich – Classic vanilla flavored ice cream sandwich – $4.99
** Rainforest Cafe Menu and Prices are Subject to Change Without Notice **