Resort Restaurants | Disney's Grand Floridian Resort & Spa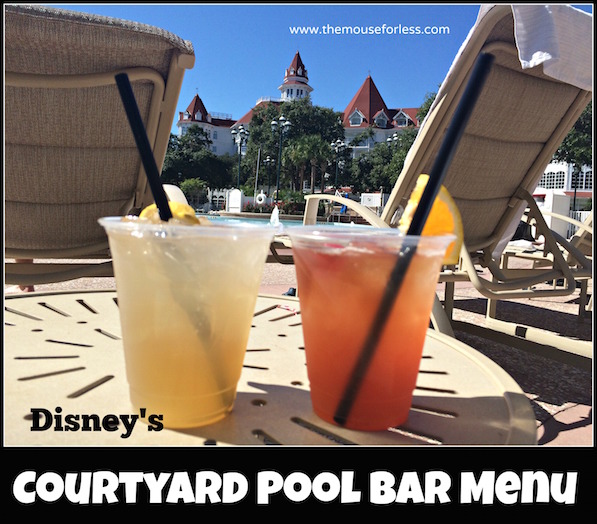 Reviews

Enjoy a refreshing dip then a refreshing sip by the largest pool at the Resort. A ping-pong table and 2 TVs provide added entertainment.
Restaurant Info: American, Lunch/Dinner/Snack, $
Find out how you can save money on dining at Walt Disney World by using one of Disney's Dining Plans.
Courtyard Pool Bar Menu
Menu Date: 03/2017
Lunch and Dinner Entrees
Roast Beef Sandwich – Roast Beef with Cheese Spread – $7.99
Ham Sandwich  – $7.99
Turkey Sandwich – Oven-roasted Turkey, Swiss Cheese, Bacon, Lettuce & Tomato on Sunflower Bread – $7.49
Caesar Salad with Chicken – Fresh-roasted Chicken Breast and Classic Caesar Dressing served with Ciabatta Croutons – $10.79
Assorted Chips  – $2.99
Kids Meals
For Guests Ages 9 and Under. All Meals served with choice of small Lowfat Milk or small Dasani Water

Turkey Sandwich– Oven-roasted Turkey, Lettuce, Tomato on Honey-Wheat Goldfish Bread, and Grapes – $5.99

Smucker's Uncrustables Sandwich – Served with Carrots, Grapes – $5.99

Meets Disney Nutrition Guidelines for Complete Meals without substitutions.
Beverages
Assorted Fountain Beverages – Coca-Cola, Diet Coke, Sprite – $3.29

Bottled Dasani Water – $2.75

smartWater – $4.50

Rapid Fill Mug – Select the number of days you want your sourvenir cup activated and enjoy refills of fountain drinks, coffee, and tea at any resort self-service beverage location – $17.99
Non-Alcoholic Specialties
Odwalla All-Natural Lemonade – $4.49

Wild Strawberry Lemonade – $4.49

Lava Smoothie – Raspberry Purée blended with Piña Colada Mix – $5.59
Strawberry Smoothie – Strawberry Purée blended with Nonfat Yogurt – $5.59
Zico Coconut Water $3.79

Alcoholic Beverages
Grand Margarita – Jose Cuervo Gold Tequila, Grand Marnier, fresh Lime Juice and Sweet-and-Sour – $11.50
Big Island Iced Tea – Pau Maui Handmade Vodka, Sammy's Beach Bar Rum, Hendrick's, Cointreau, and Sweet-and-Sour with a spalsh of Coca-Cola – $11.50
Black Cherry Lemonade – Grey Goose Cherry Noir Vodka, Odwalla® Lemonade, fresh Lime Juice and Grenadine topped with Sprite – $10.25
Apple Mule – Crown Royal Regal Apple, Dekuyper Pucker Sour Apple, and fresh Lime Juice topped with Ginger Beer – $10.75
Coco-Jito – Rum Haven Coconut Rum, Coconut Water, and fresh Lime Juice topped Soda Water – $10.25
Strawberry Margarita – Herradura Reposado Tequila and fresh Lime Juice blended with Strawberry Purée – $11.75
Beso Del Sol Sangria  – White or Red – $9.50
A full bar is also available featuring Wine, Draft and Bottled Beers

= Snack on the Disney Dining Plan
** Courtyard Pool Bar Menu and Prices are Subject to Change Without Notice **