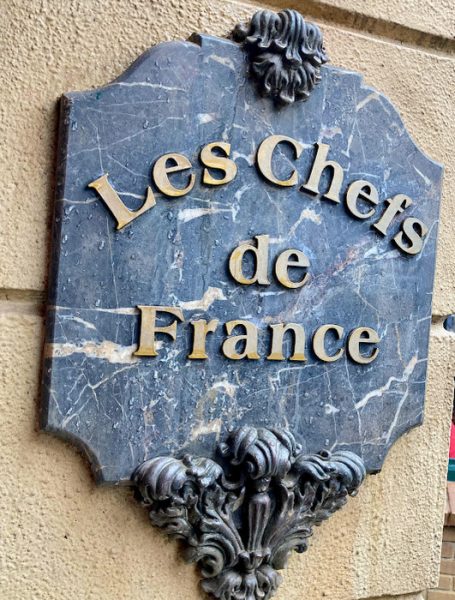 Savor French culinary masterpieces for the discriminating palate at Les Chefs de France. Bon appetit!
Les Chefs de France is located in Disney's Epcot theme park.  Find more Walt Disney World dining locations on our Walt Disney World Resort menus page.
Restaurant Info: French, Lunch/Dinner A la carte, $$ – $15 to $34.99 per adult
Find out how you can save money on dining at Walt Disney World by using one of Disney's Dining Plans.

Planning a Walt Disney World Vacation?
For a Free no-obligation quote, contact our sponsor
The Magic For Less Travel
. The Magic For Less Travel is an Authorized Disney Vacation Planner and has been helping guests plan magical vacations since 2002. Receive the best prices and free travel planning services. Their fee-free services will help you save time, money, and stress while planning a vacation designed around you and your needs!
Les Chefs de France Lunch/Dinner Menu
Menu Date: 07/2023
Appetizers
Cassolette d'escargots de Bourgogne au beurre persillé (Escargot) – Casserole of Burgundian escargots baked in parsley and garlic butter – $17.95
Tartare de saumon legerement fume, sauce a l'aneth – Raw Salmon tartare lightly smoked, cucumber, dill sauce – $17.50
Soupe à l'oignon gratinée (French Onion Soup) – topped with Gruyère cheese – $13.95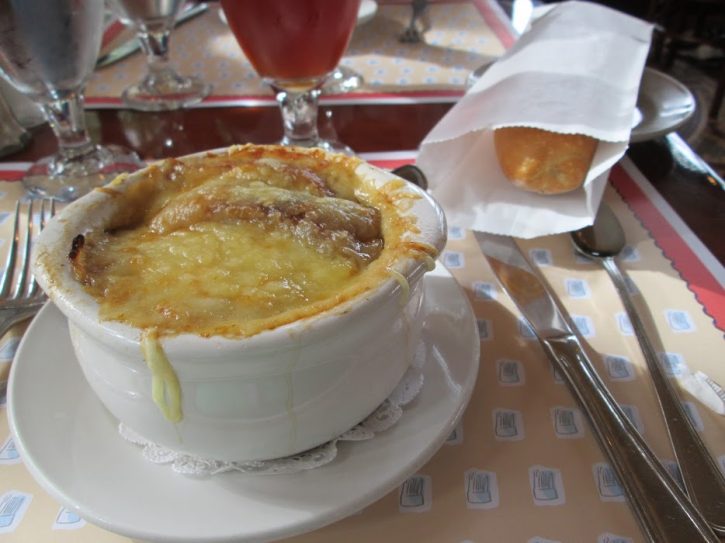 Salade de chèvre chaud (Baked Goat Cheese) – Baked goat cheese with walnuts, grapes, tomatoes, endives, mixed greens – $16.95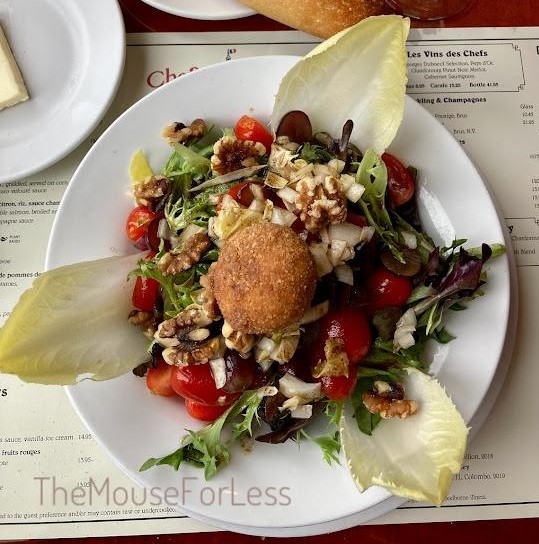 Salade aux lardons de croutons – Selected greens, house vinaigrette dressing, bacon, tomatoes, croutons – $14.75
Entrées
Brochette de crevettes a la Basque, sauce Aurore Large shrimps marinated in tomato & garlic griddled served on corn, mushrooms, shallots, with cauliflower, tomato velouté sauce – $33.95
Filet de saumon mariné au vin blanc et citron, riz, sauce champagne* – White wine and Lemon marinated sustainable Salmon, broiled and served with rice, sweet peas & carrots, champagne sauce – $34.95
Jerret de porc braise au miel, pommes puree, tomatoes – Braised Heritage pork shank, mashed potatoes. Scallions, tomatoes – $39.95
Filet de Thon a la Provencale, calamars, ratatouille, mais, olives – Tuna Saku rare, calamari, almond, ratatouille, creamy corn, olives – $35.95
Ratatouille sur quinoa – Ratatouille served on quinoa with kale (Plant-based) – $26.95
Gratin de macaroni – Macaroni baked with cream and Gruyère cheese – $25.95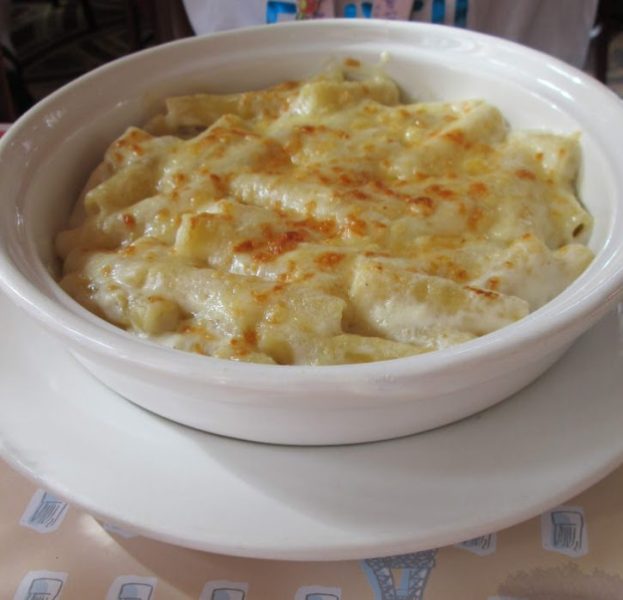 Poulet Fermier roti a la Lyonnaise, puree de pommes de terre – Half all natural rotisserie chicken, mashed potatoes, tomato vinegar sauce – $32.95
Boeuf Bourguignon, linguini – Braised beef in Cabernet, baby onions, carrots, pasta – $34.95
Filet de boeuf grille, sauce poivre, gratin Dauphinois, haricots verts – Grilled tenderloin of beef with green peppercorn sauce, potato gratin, green beans – $42.95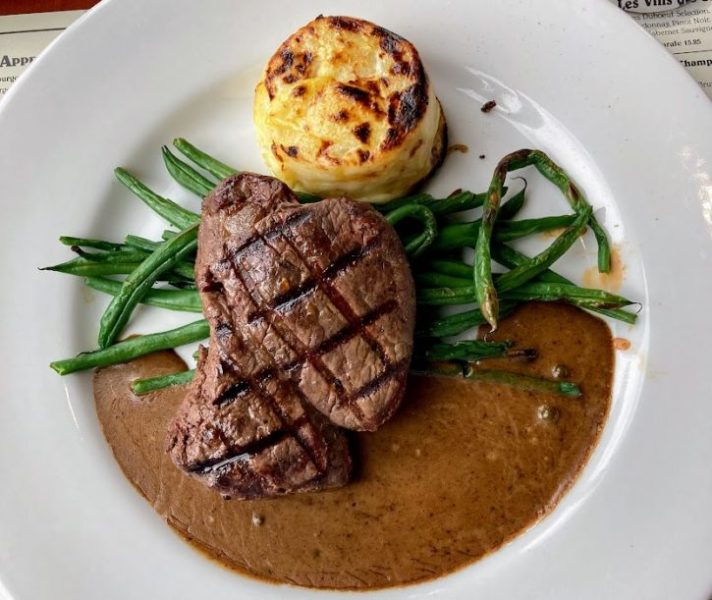 Plateau de fromages et charcuteries – Imported cheeses, charcuteries, house made bread – $40.95
Desserts
Crème Brûlée – Vanilla Crème Brûlée – $13.90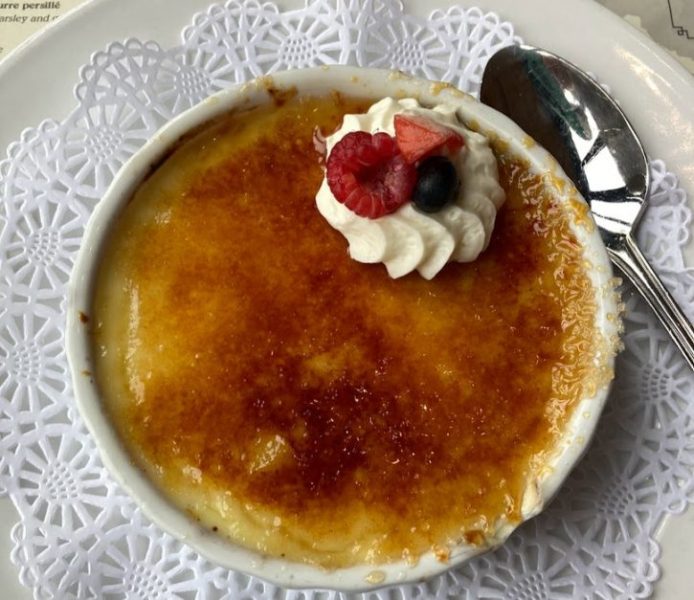 Tarte au Chocolat Valrhona, glace a la vanille – Chocolate tart, ganache, chocolate mousse, cocoa sauce, vanilla ice cream – $14.95
Cygne profiterole, glace a la vanille, sauce chocolat – Swan cream puff filled with vanilla ice cream, chocolate sauce – $13.95
Gateau Opera – Coffee sponge, coffee whipped cream, chocolate ganache, vanilla ice cream – $14.95
Gateau au argumes, creme fraise citron vert, fruits rouges tiede – Citrus cake, strawberry lime cream, warm berries compote – $13.95
Assiette de Sorbets du jour – $13.95
Prix Fixe Meal
Menu Francais
One Appetizer & Choice of one selected entrée (Filet de saumon, Gratin de macaroni, Rataouille sur quinoa, Poulet fermier roti, Boeuf Bourguignon) & One Dessert & Choice of one glass of: Chardonnay, Cabernet Sauvignon Georges Duboeuf, Non Alcoholic Beverage – $65.95
Wines
Assorted Wine 
Cocktails & House Specialties
French Martini – vodka, Chambord, pineapple juice, lemon lime foam – $16.75
Cocktail des Chefs – sparkling wine, Lejay cassis – $13.95
St-Germaine Cocktail – sparkling wine, St-Germain, sparkling water – $18.85
Coupe de Champagne – Malard, Excellence, Brut – $21.95
Kir Royal – Champagne Malard, Lejay cassis – $22.95
Kir Imperial – Champagne Malard, Chambord – $23.95
Kir au Cassis – Chardonnay wine, Lejay cassis – $11.50
Pernod-Ricard – Anise (liquorice) aperitif, water on the rocks – $10.45
Dubonnet White or Red – dry or sweet wine aperitif on the rocks – $9.40
Biere Kronenbourg 1664 – French beer – Bottle – $9.95
Non-Alcoholic Beverages
Coca-Cola, Sprite, or Diet Coke Caffeine Free – $4.75
La Glace- Nestea Iced Tea– $4.75
Lait- Milk – $4.29
Jus d'Orange  – Orange juice – $5.00
Diabolo Menthe – Sprite with Monin green mint syrup – $5.25
Shirley Temple – Sprite with grenadine with a maraschino cherry – $5.25
Tea – Selections of teas – $4.50
Cafe – Locally roasted, signature blend coffee, 100% Arabica – $4.25
Cafe Expresso – $4.75
Cafe Cappuccino – $5.25
Imported Waters and Sodas
Evian – Non-Sparkling – $9.95
Perrier 750mL– Sparkling – $9.95
Perrier 33mL – Sparkling – $5.00
Orangina – French orange soda – $6.75
Limonade – French sparkling Limonade – $6.25
Les Chefs de France Kids' Menu
Kids' Entrées
Blanc de Poulet Grillé (Grilled chicken Tenderloin)  – Grilled chicken tenderloin and chicken sauce served with choice of green beans, mashed potatoes, or French fries – $11.95
Croquette de Boeuf en Brioche (Ground Beef Steak)  – Ground beef steak in a brioche bun served with choice of green beans, mashed potatoes, or French fries – $12.95
Filet de Saumon (Seared Salmon) – Seared Salmon served with choice of green beans, mashed potatoes, or French fries – $13.95
Kids' Desserts
Mousse au Chocolat – Chocolate Mousse – $6.95
Tarte aux Fraises  – Strawberry Tart – $6.75
Kids' menu items for children ages 9 and younger.
Look for the Disney Check icon on printed menus to find options that meet Disney's nutrition guidelines.
** Les Chefs de France Menu and Prices are Subject to Change Without Notice **