Resort Restaurants | Beach Club Resort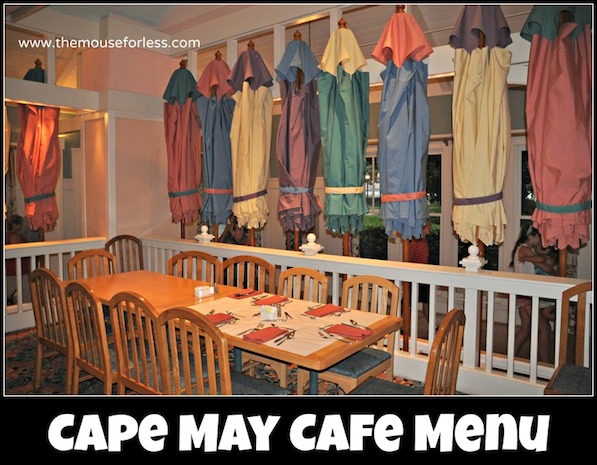 Breakfast Buffet Menu   Dinner Buffet Menu  Reviews

At Cape May Cafe, start your day with Goofy and friends at this dog-gone good hearty breakfast buffet or go full steam ahead to a clambake with a steamy assortment of fresh shellfish and seaside favorites.
Restaurant Info: American & Seafood, Breakfast Character Buffet, $$ – $15 to $34.99 per adult / Dinner Buffet, $$$ – $35 to $59.99 per adult
Find out how you can save money on dining at Walt Disney World by using one of Disney's Dining Plans.
Cape May Cafe Buffet Menu for Breakfast
Menu Date: 06/2016
Booking Info
Minnie's Beach Bash Breakfast: All You Care to Eat Character Breakfast Buffet with Minnie, Goofy and Donald Duck in their beach attire.
Character Breakfast:
7:30 a.m. – 11:00 a.m. (hours vary seasonally)
Average Adult Price: $31.95
Average Child Price (ages 3 – 9): $19.17
Prices vary by season and include tax, but not gratuity.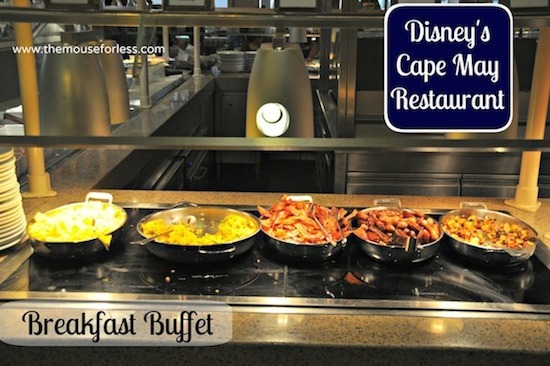 Cold Offerings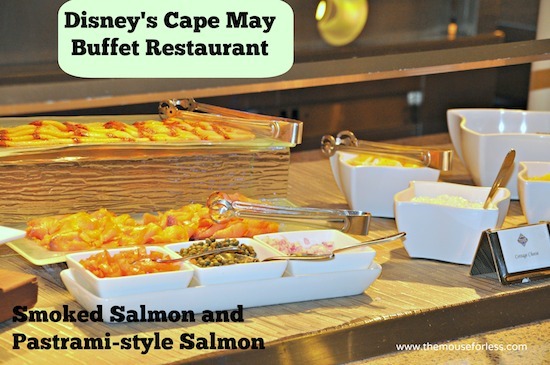 Sliced Salami and Capicola
Selection of Cheeses and Meats
Smoked Salmon and Pastrami-style Salmon
Capers, Onions, Lemons, and Tomatoes
Hard-boiled Eggs
Lowfat Cottage Cheese
Apple Sauce
Healthy Grain Fruit Salad
Yogurt Bar with House-made Granola
Fresh-cut Fruit
Apple Walnut Spinach Salad
Assorted Kellogg's Cereals
Hot Offerings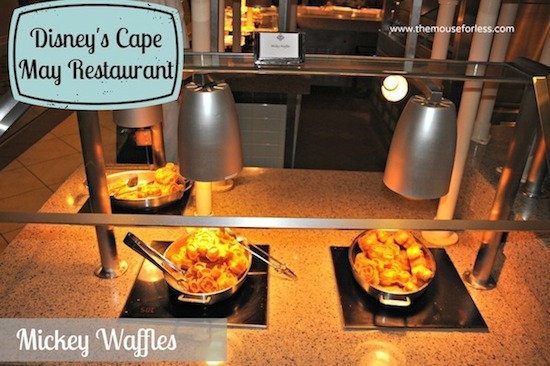 Scrambled Eggs
Chorizo and Four Cheese Scrambled Eggs
Frittatas
Breakfast Potatoes
Hand-carved Glazed Ham
Pork Sausage Links
Smoked Bacon
Seasonal Vegetables
Creamy Cheddar Grits
Biscuits with Home-style Sausage Gravy
Hot Apple-Quinoa Cereal
From the Bakery
Cinnamon Rolls
Chocolate Danish
Cherry Danish
Apple Danish
Cheese Danish
Blueberry Muffin
Chocolate-chip Muffin
Oatmeal Muffin
Croissants
Breakfast Breads
English Muffins
Assorted Bagels with Condiments – Smoked Salmon, Pastrami-style Salmon, Cream Cheese, Capers, Onions, Lemons, and Tomatoes
Additional Condiments – Butter, Strawberry Preserves, Orange Marmalade & Gape Jelly
Cape May Cafe Buffet Menu For Dinner
Menu Date: 06/2016
Booking Information
All American Buffet and New England Style Clambake:
Nightly 5:00 p.m. – 9:00 p.m.
There are NO characters at this location during Dinner.
Average Adult Price: $42.60
Average Child Price (ages 3 – 9): $23.43
Prices vary by season and include tax, but not gratuity.
Soups
Soup of the Day
Cape May Seafood Chowder
Carving Station
Hand-carved Strip Loin – with Horseradish Cream
Cold Offerings
Fresh Fruit Salad
Four Bean Salad
Pickled Red Beets
Cape May House Salad
Caesar Salad
Loaded Potato Salad
Marinated Seafood Salad
Chilled Marinated Shrimp
Quinoa Salad with Hearts of Palm
Marinated Olives
Jicama Slaw
Hot Offerings
Chicken
Pasta of the Day
Mashed Potatoes, Gravy
Steamed Corn on the Cob
Steamed Red Potatoes
Seasonal Vegetables
Seafood Offerings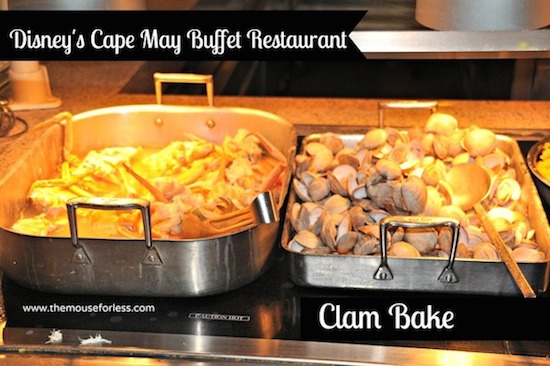 Steamed Mussels – with a side of Tomato Sambuca Broth
Paella
Crab Legs
Steamed Clams
Herb-marinated Salmon
Batter-fried Shrimp (Sun & Wed)
Batter-fried Calamari (Tue & Fri)
Fried Clam Strips (Mon, Thurs & Sat)
Children's Buffet
Macaroni and Cheese
Chicken Drumsticks
Fried Cod Nuggets
Cheese Pizza
Dessert Buffet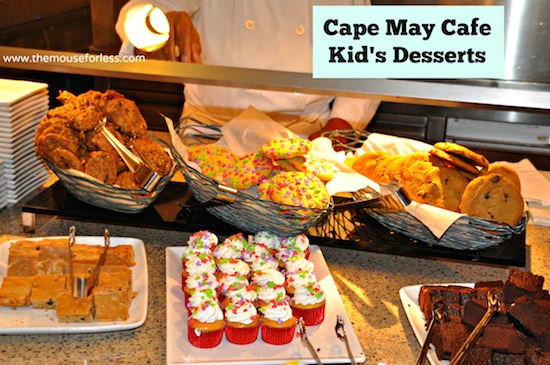 Assorted Pastry Desserts from Yacht & Beach Bakery (varies):
Pistachio Cheesecake with Whipped Cream
Flourless Chocolate Cake with Raspberry Puree
Lemon Chiffon Cake
Boston Creme Cake
Individual Caramel Flan
Cupcakes
Fudge Brownies
Individual Caramel Flan
Cookies
A standard, non-alcoholic beverage is included with meal
Visit our Character Meet and Greet Opportunities page for other opportunities to meet your favorite characters.
** Cape May Cafe Buffet Menu and Prices are Subject to Change Without Notice **