Resort Restaurants | Contemporary Resort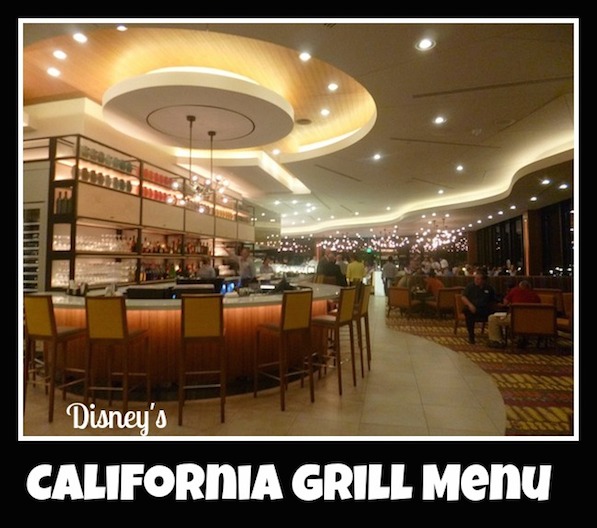 Brunch Menu Dinner Menu   Kids' Menu  Reviews
Enjoy a spectacular view and fine dining with a focus on fresh seasonal creations. Opens daily at 5 p.m. Check in at the podium on the second floor before taking an elevator to the 15th floor. Guests who exit the elevator on the 15th floor will notice a new display case with 1,600 bottles of wine on display. The restaurant offers club service, delivering a magnum to the table to pour by the glass in a really fun presentation. In all there will be about 250 wines on the list, with more than 20 sommeliers on staff to help guests select a wine pairing. Book your seat at the Sushi Bar to enjoy the 10 to 14 course Omakase Menu. Seatings are at 8 p.m. each evening and cost is $175 per person. Guests who dine at the restaurant any time during evening can return with their receipts and take advantage of the California Grill's outdoor fireworks viewing area.
Restaurant Info: Californian Brunch/Dinner A la carte, $$$
California Grill 'Brunch at the Top' Menu
Menu Date: 12/2015
Booking Info
The new 'Brunch at the Top' will be available at the California Grill on Sundays from 10 a.m.-1 p.m., beginning February 7, 2016. Brunch will showcase fresh, market-driven cuisine, an over-the-top Bloody Mary Bar as well as wines, cocktails, craft brews, and a new signature brunch cocktail. Reservations open December 16, 2015 and can be made by visiting DisneyWorld.com/dine or by calling 407-WDW-DINE.
Start your experience with an assortment of house-made breakfast pastries and jams delivered to your table. Guest will also have the get the chance to interact with the culinary team in the open show kitchen while savoring charcuterie, sushi and market-inspired salads. Finally, enjoy an entree delivered tableside and finish with dessert!
Cost for Adults: $80 and includes complimentary valet
Cost for Ages 3 to 11: $48
Assorted Pastries for Your Table
Caramel Apple Monkey Bread
Tillamook Cheddar Biscuit
Cranberry Scones Pecan
House-made Jam
Orange Blossom Honey Butter
Selection From the Show Kitchen
House-smoked Orange Honey Ham
Deviled Lake Meadow Naturals Eggs
Greek Yogurt with Vanilla-scented Granola and Fresh Berries
Kale and Apple Salad
Baby Iceberg Wedge with Cherrywood Bacon and Avocado-buttermilk Ranch Dressing
Hardwood Smoked Salmon
California Rolls with Jumbo Lump Crabmeat
Spicy Tuna Rolls
Shrimp Tempura with Orange Drizzle and Mango
And Much More
Entree Selection Served Tableside
(Choose One Per Person)
Pan-Fried Buttermilk Organic Chicken Cutlet with Haricots Verts, Toasted Almonds, Frisée, Beurre Noisette
Sweet Potato Pancakes with Caramelized Heirloom Apples, Dried Cranberry and Raisin Compote, Vanilla
Custard, Warm Canadian Maple Syrup
Shrimp and Grits, Gulf White Shrimp with Tillamook Cheddar Grits, Spicy Tomato Broth,
Espellette-Spiced Tomato Ragout
Poached Lobster Benedict with Butter-Poached Tail, Two Soft-Poached Eggs, Honey Ham,
Yuzu Hollandaise, Marble Potato Hash
Chef's Frittata with Three Lake Meadow Farms Eggs, Florida Heirloom Tomatoes, Roasted Poblanos, Chorizo, Creamy Goat Cheese, Marble Potato Hash
Grilled Flat Iron Steak with Soft Poached Eggs, Chimichurri, Marble Potato Hash and Charred Red Onion.

Desserts to Share

Sweet Mini-Desserts
Macaroons
Chocolate Truffles

California Grill Dinner Menu

Menu Date: 12/2015

Book your seat at the Sushi Bar to enjoy the 10 to 14 course Omakase Menu. Seatings are at 8 p.m. each evening and cost is $175 per person. A La Carte Dining items are listed below.

Appetizers

Pork Confit Flatbread – Pork Shoulder Confit, Sweet Onion Purée, Cabbage-Apple Slaw, Manchego, Gouda, Brie – $16.00

Bacon, Lettuce, and Tomato Flatbread – Marinated Tomatoes, House Bacon, Chiffonade Romaine, Lemon Mayonnaise – $16.00

Three-Meat Signature Flatbread – Anson Mills Pork Belly-laced Grits, Pickled Fresnos, Chimichurri – $16.00

Atlantic Blue Point Oysters – Wood-fired Oysters, Roasted Beef Bone Marrow Emulsion, Baguette Croutons – $20

Handcrafted Charcuterie – Butcher's Variety of House-made Charcuterie with Seasonal Accompaniments – $18

Sonoma Goat Cheese Ravioli – Tomato-Fennel Broth, crispy Mushrooms, Tiny Basil, Benziger Estate Olive Oil – $15

Bell's Oberton, Michigan – A wheat ale fermented with Bell's signature house ale yeast, mixing a spicy hop character with mildly fruity aromas. The addition of wheat malt lends a smooth mouthfeel, making it a classic seasonal bee – $9

Hand-Rolled Sushi

Tuna Three Ways – Wasabi-crusted Tuna Roll, Poke, Teriyaki Tataki, Orange-Chili Sauce – $26

Yuzu Marinated Sashimi (sah-SHEE-mee) – Yellowfin Tuna, Salmon, Izumidai, Hamachi, Wasabi Oil – $24

"Dragon Roll" – Spicy and Tataki Tuna, Shrimp Tempura, Avocado, Dragon Sauce, Hijiki-Shirataki Salad – $25

Spicy Kazan Roll – Crab, Shrimp, Scallops, Tuna, Fireball Sauce – $26

California Combination Roll – Jumbo Lump Crab, Avocado, Cucumber, Shrimp Tempura – $24

Pork Belly Nigri – House-cured Pork, Bacon and Yuzu Rice, Spicy Teriyaki – $22

Truffle-scented Tofu Roll – Avocado, Jicama, Quinoa, Crispy Fingerlings, Silken Tofu, Truffle Emulsion – $22

Soup and Salads

Crispy Rock Shrimp Salad – Spicy Baby Greens, Subarashii Pear, Red Onions, Soy Reduction, Wasabi Cream – $18

Autumn Dry Farm Pear Salad – Tuscan Kale, Toasted Cashews, Red Pear Butter, Valdeón Blue Cheese – $17

Pumpkin Bisque Mocha Latte – Roasted Pumpkin, White Chocolate, Espresso, Almond Biscotti, Spiced Chantilly – $12.00

Artisan Romaine – Roasted Garlic Dressing, Boquerones, Sun-dried Tomatoes, Brioche Croutons – $16

Baby Beets and Citrus Salad – Creamy Goat Cheese, Candied Kumquats, Hazelnuts, Kohlrabi, Uncle Matt's Vinaigrette – $16

Entrées

Pork Two Ways – Grilled Tenderloin, Goat Cheese Polenta, Mushrooms, Lacquered Belly, Applesauce – $39

Oak-fired Filet of Beef – Midwestern Sweet Corn Risotto, Grilled Corn Relish, Green Onion Oil, Popcorn Shoots – $49

Crispy Seared Redfish – Andouille Sausage and Beluga Lentil Stew, Fried Rock Shrimp, Sweet and Spicy Aïoli – $43

Seared Jumbo Scallops – Purée of Sweet Potato, Heirloom Apples Two Ways, Pomegranate Pinot Noir Syrup – $48

Bell & Evans Chicken – Organic Mushroom and Cranberry Bread Pudding, Thumbelina Carrots, Cabernet-Chicken Jus – $37

Wagyu Beef Strip Loin – Snake River Farms Wagyu, Cauliflower Purée, Autumn Vegetables, Maple Gastrique – $55

Artisanal Trofie Pasta – Goat Cheese and Squash Cream, Chanterelles, Figs, Root Spinach, Pumpkin Seed Brittle – $35

Bison Strip Loin – Benziger Arbequina Olive Oil Potatoes, Brussels Sprouts, Cherrywood Bacon, Madeira-Fig Demi-glace – $50

Jumbo Gulf Shrimp a la Plancha – Summer Vegetables, Fregola Pasta, Oven-dried Tomatoes, Lemon-Tomato Vinaigrette – $48

Pacific Halibut – Parsnip Silk, Roasted Heirloom Beets, Arugula, Macadamia Vinaigrette, Beet Syrup – $45

Desserts

Chef's Selection Cheese Board – Selection of Five unique Cheeses with Accompaniments – $21

Chocolate Pudding Cake – Luscious Chocolate Cake with Nutella Filling, Meringue Kisses, and Chantilly Cream – $14

Vanilla Crème Brûlée – Rich Vanilla Custard, Caramelized Turbinado Sugar, and California Strawberries – $13

Warm Homemade Fritters– Banana-stuffed, Cinnamon-dusted Fritters complemented with a Trio of Dipping Sauces – $13

Sundae Sampler – Unique and playful Sundaes with a nostalgic twist: Coconut Cheesecake Cone, Shirley Temple Float, White Chocolate, and Huckleberry – $13

Coffee Cheesecake – Hazelnut Brownie, Orange-Vanilla Bean Sauce, and Chocolate-covered Gooseberries (No Sugar Added) – $13

Heirloom Apple and Walnut Cake – Heirloom Apple, Fig and Dried Cherry Compote, Roasted White Chocolate Mousse, Brown Sugar Ice Cream, and Candied Walnuts – $13

Featured Wines

Heitz Wine Cellars Chardonnay, Napa – $15

Honig Cabernet Sauvignon, Napa – $17

Frog's Leap Zinfandel, Napa – $15.00

Roederer Sparkling Brut, Anderson Valley NV – $14

A full bar featuring beers, wines and cocktails is available

California Grill Kids' Menu

Menu Date: 11/2015

Kids' Appetizers

Baby Iceberg Wedge Salad – with curled Carrots, Baby Tomatoes, and Fat-free Ranch Dressing – $5

Grilled Seasonal Vegetable Lettuce Wraps – with Hummus Dip – $5

Kids' Mickey Check Meals

Served with choice of small low-fat milk or small bottled water

Chicken Breast – Citrus-glazed Grilled Chicken Breast with Steamed Green Beans, Crushed Sweet Potatoes, and Seasonal Fruit Kabobs with Freshly Made Yogurt Dip – $15

Wild Salmon – Seared Wild Salmon with Steamed Green Beans, Brown Basmati Rice, and Seasonal Fruit Kabobs with Freshly Made Yogurt Dip – $16

Grilled Beef Tenderloin – Grilled Beef Tenderloin with Steamed Green Beans, Crushed Sweet Potatoes, Ketchup Sauce, and Seasonal Fruit Kabobs with Freshly Made Yogurt Dip – $18

= Meets Disney Nutrition Guidelines for Complete Meals without substitutions.

Kids' Entrées

Hand-formed Provolone Cheese Pizza – served with choice of Small Lowfat Milk, Small Dasani Water, or Small Minute Maid Apple Juice – $10

House-made Macaroni & Cheese – served with choice of Small Lowfat Milk, Small Dasani Water, or Small Minute Maid Apple Juice – $9

Kids' Desserts

California Grill Signature Puffed Rice Sushi – $7

Seasonal Fruit Kabobs – with Freshly Made Yogurt Dip – $6

Cookies n' Cream – Fresh-baked Petite Chocolate Chip Cookies with Vanilla and Chocolate Pop Rocks Ice Cream – $6

** Menu and Prices are Subject to Change Without Notice **